Quick Big Brother Spoilers
Head of Household: Cameron
Nominees: Felicia and Izzy
POV Players: Izzy, Cameron, Felicia, Matt, Jared, Jag
POV Winner: Jared
Veto Ceremony: Veto wasn't used.
Havenots: Everyone except for Cameron is a havenot this week. Everyone is on Slop, Everyone takes cold showers, and they all take turns sleeping in the havenot room.
Lock your ranks in before midnight
The SituationEverything I had hoped for is happening. It's a fun day to watch feeds 🙂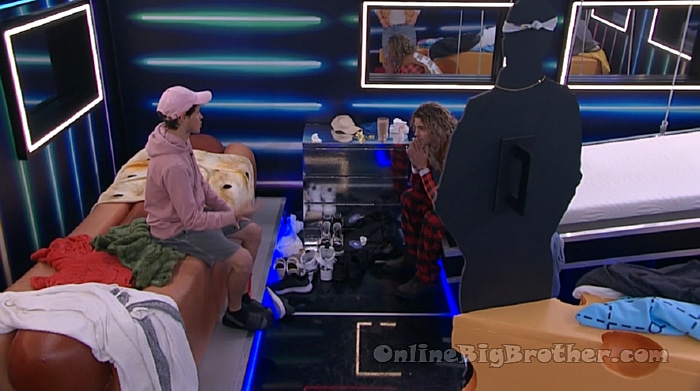 2:40 pm Corey, Matt
Corey – I've known about 7 deadly sins for three weeks I was told by guess who?
Matt – Jag? Jared?
Corey – jared told me three weeks ago. This is their f***ing plan they have two groups they didn't tell us about each other and we're supposed to target each other.. Jared is going up to the HOH room and throwing me under the bus
Corey – he's throwing you under the bus to me.. he's saying that Matt isn't in our core he's not in our group we have to evict Matt next week. That is what he is saying
Corey – I trust all of you my hesitation with you is I knew how close you were with Jared. I was really scared to say anything to you I didn't know you were going to tell him. I know you are close to Cirie to. There's 5 votes, Me, america, jag and MEME That is all we need. My core is you, Me, America and Jag.
Corey – I am being bullshitted by a lot of people
Corey – my brother was on survivor.. here is who I told. America, Jared, Cirie and izzy. I need them to trust me. I went and talked to Cameron he's telling me that America leaked that information to him. America didn't it was JAred and I know Jared did. What Jared told me is I can't trust America she's leaking information all across the house.
Corey – I told America 3 weeks ago I told JAred a week ago and right after I told them it leaked.
Matt – goddamn
Corey – Jared is bullshitting me.. To be clear I don't want to work with cameron.
Corey says the next people on the block will be some combinations of him, America and Jag.
Corey – Izzy is pissed that America told MEME that Felicia is getting voted out.
Corey goes on about how Jared has screwed him.
Matt – he's got connections with everyone.
Corey – the path moving forward I thought it was going to be me, You and Jared.
Corey – did you play in path to power
Matt – yeah
Corey – did you win
Matt – yeah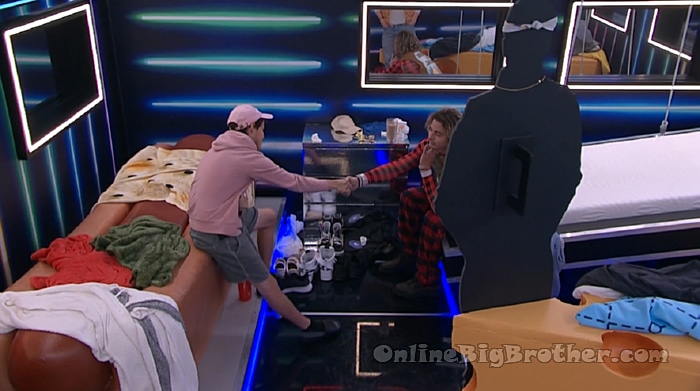 Corey and you saved Jag.. NICE
Corey points out it means that the three path to power people that the fans voted for are Matt, Jag and Corey "I think they want us to work together"
Jag joins them.
jag – F*** the 7 deadly sins.. they burned every bridge with everyone. Jared I've been telling you.. Blue I guess Told Jared I was nervous about Jared.. We can't trust Jared at all.
Jag explains that Jared told Cameron everything about their conversation yesterday. "About Cam driving a wedge between us"
Jag – Blue is with Jared tells Jared everything. Cirie is in the middle of it all.. I told you we cannot trust Cirie. Izzy is in that too..
Corey – Izzy, Jared and Cirie are three.
Jag – Me, You, Corey, America, Meme and Bowie
They all agree they don't want to work with Cameron.
Jag – we are not doing this for Cameron we are doing this because we just realized they have been playing us the entire time. The fact that he's known about 7 deadly sins from Jared for that long. We were f***ign committed to the 7 deadly sins
Jag – are we doing this thing? Are you down
Matt – I need to think about it a lot but of course.
Corey – three out of the four are in this room that tells me something we work together this sh1t could be really good. After this vote we have a lot of good chances with this HOH.
They talk about how they have to beat Jared in the HOH comp.
Jag – I don't give a f*** about JAred.. F*** Jared
MAtt – after this move he's going to gun for us… especially you (Jag) and me
Matt – at this point we can't pretend to be working with Jared.
Corey – he through both of you under the bus. He is loyal to Cirie and Izzy.. I thought I was in that group.. NO shot
Matt – same.
Corey – once I started hanging out with america I was cut off..
Corey leaves…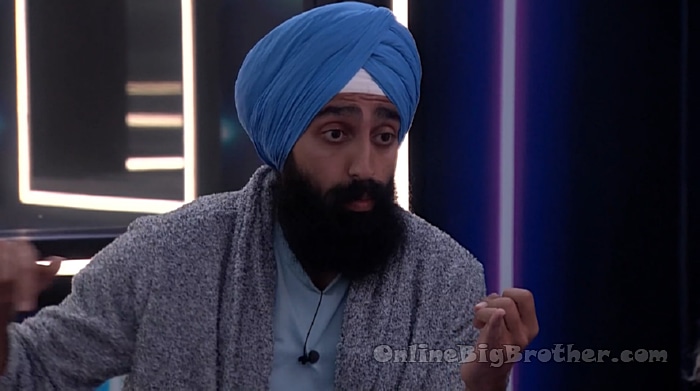 Jag – how are you feeling
Matt – so potentially something big is happening tomorrow.
Jag – we're loyal to each other when somebody proves to be disloyal we can't be stupid about it. If the 7 deadly sins had not f*** us over we would have gone to the end with them.
Jag – I'm telling you this is a move we have to make we have to seperate from the 7 deadly sins they have proven to not be loyal. Cirie cannot be trusted.
Matt – I hope we're not being played as fools..
Jag – here is why.. Corey just came to you and to me and told us everything about his game.
Jag – he's someone I really trust. America as well
Matt – She's scary but she's someone that will lock in on us
Jag goes on about how Jared and Cirie cannot be trusted.
Jag – we are in danger with the 7 deadly sins.. If we keep Izzy she has a really good chance at winning HOH. Izzy is not just working with us izzy is working with America, Corey adn MEME. THe only people they are not working with are Cam and Bowie. they use to work with Cam and Bowie until they backstabbed them.
Jag – they backstabbed Hisam they backstabbed REd
Jag – me, You, Corey, America..
Jag goes on about how all the shit is getting pinned on America by Cirie's side of the house. Jag has been trying to figure out who to trust America or Blue "Right no it is very clear I am trusting America"
Jag – that means everything from now on I am trusting America she has been very honest with me.
Matt – I will be a HUGE target now I gave my word to Izzy I would save her
Jag – I gave her my word as well.. Here's the thing..
MAtt – I will be seen as a threat by that side
Jag – It's Game on there's two sides..
Jag – right now with Izzy out who do they have left? Cirie, JAred, Blue, Felicia. They don't have numbers to do anything now. They have 4 people. (MEME?)
Jag – Cam will take shots at them we have to get Cam out too
Jag – do we win HOH? Yes we win all of them.
Jag – talked to MEME.. MEME is down he realized she's not in the core group.
Jag – there will be a line they only have 4 people.. We can take Felicia and Cirie in a physical comp. Blue as well..
Jag – they broke our trust that means we can go after them.
Feeds flip to Corey and Cameron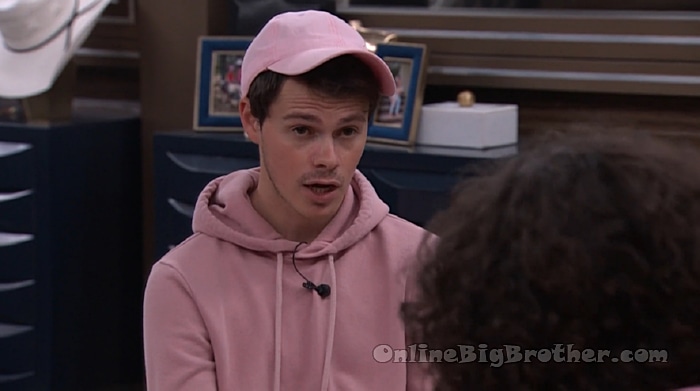 3:05 pm Corey and Cameron
Corey says Cameron has the votes now to evict Izzy, MAtt, JAg and Him got together and compared notes.
Feeds flip back to MAtt and Jag
Jag – we have to pretend who the f** flipped that's our move.
Matt – Cirie, Blue and Jared.. that's three they'll know we all flipped.
Jag – F** them..
Matt – we just have to know we cannot let them win HOH they will put two of us up.
Feeds flip again to Corey and Cameron.. When we're back.
Jag – we could make it 5-4. if it's 5-4 everyone will be like who the f** flipped.
Jag says they need to talk to America and Corey first but if they are down with it.
Matt – we can still be on that side. then we win and we put their biggest people up. Blue and Cirie they are next in line.
Jag – Cam is right they used us as tools. They used us that is what they've been doing.. Using us as numbers. They knew we were loyal and played with integrity and they used that against us. Every conversation we've had in the 7 we've been honest with. My ass volunteered to go up as a f***ing pawn.
Jag – every conversation They've had with us they haven't been honest with us. They are pretending to be solid with someone else. They've just burned all their bridges. WE found out, Corey and America found out, Meme found out, Bowie found out.
Jag – I literally think this is the best thing to happen to us in this game outside of you getting the power and saving me.
Jag – this clears everything up I think this group of 6, MEME, Corey, America, me, you and Bowie are honest and we'll f***ing blindside them. I am 100% onboard.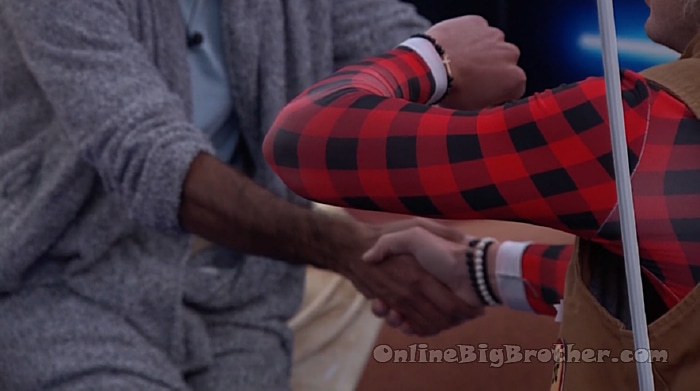 jag – we'll be here to the last minute
They do their minuteman handshake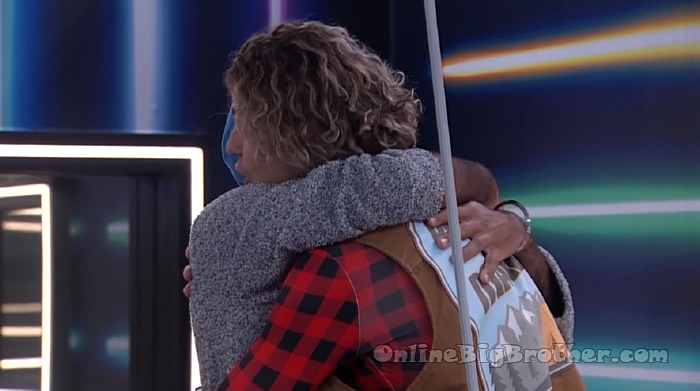 They hug it out.
Jag goes on about how good he feels about their squad says the inner squad is America, Corey, Matt and Jag.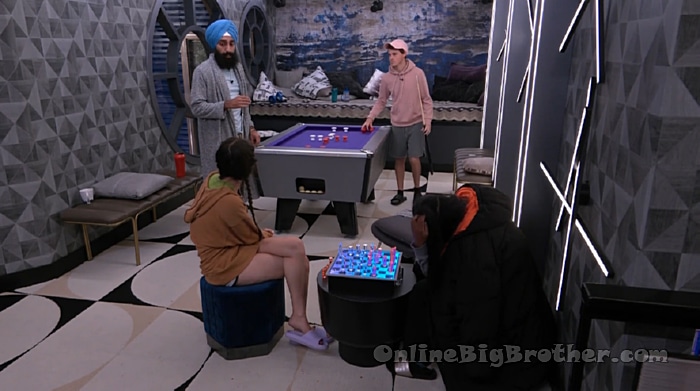 3:18 pm
Jag – he's good.. he just heard everything he's down but it's a lot to take in.
Jag asks if they should make this a 6-3 or 5-4
Bowie – No 6-3
Corey – there's no reason
Bowie – let's not risk it.
Corey – if it's 5-4 it'll send them into a frenzy
MEME – they'll be in a frenzy anyways
Corey – if it's 6-3 all our cards are shown we have to stick together.
COrey explains if it's 6-3 and one of Cirie's side wins HOH they can't go scurry back up to the HOH.
Jag – understands says it'll be 6-3

3:30 pm America and Matt
They compare notes with what Corey and Jag said.
America says the fact that the three of them got voted to play in path to power means they are playing to right game.
America – all night blue tells me when the time comes she'll kick Jared out.
Matt – he says the same.. he said once he hits top 6 she's gone
America – no way.. they tell each other everything.
America says she tells Blue anything and it gets spread throughout the house.
Matt – I trust you guys
Matt says Bowie is riding with them. "She f**Ing hates them.. they've been rude to her.. they've been mean to her"
Matt – I feel bad.. she's goofy
America – they are so mean
Matt – I'm goofy too.. she's being taken advantage of.
America – do you hear the things they say about her?
Matt says he's in a lot of those conversations but he misses a lot "I hear 20% of the convos when it's groups"
Matt – Is MEME solid with us?
America – that is just with the vote.
Matt is worried if after the vote MEME goers back with Cirie and Felicia
America – I feel Iffy with MEME because she's so close to Felicia. For now we just keep it to the vote.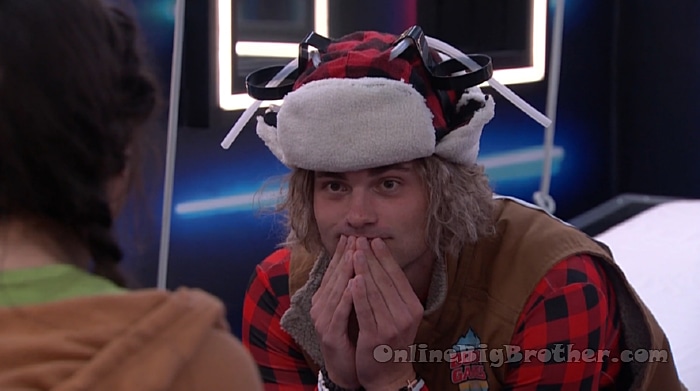 Matt – do you know about the 7?
America – there's a of sevens.. 7 deadly sins they told me it was fake. Three weeks ago..
America points out that they put Jag on the block and he was part of the alliance with Jared. "they've been trying to do these groups of 7 with everyone" (DING DING DING)
America – they told me Blue, Jag, Matt have to go we don't trust them. Izzy came to me last week and said I don't trust Matt he's got to go.
America – they've been playing everyone This is the time we have to take the shot
Matt – they are freaking out right now because none of them have come upstairs and we're all up here
America says if they win HOH it has to be Cirie and Jared.
Matt – Blue and JAred
America – it could be I'm down.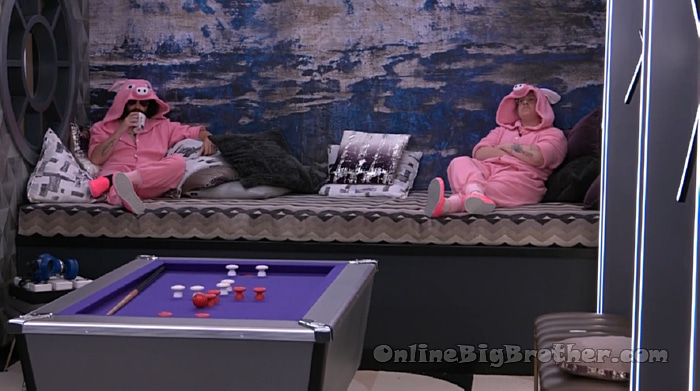 3:45 pm Piggy Party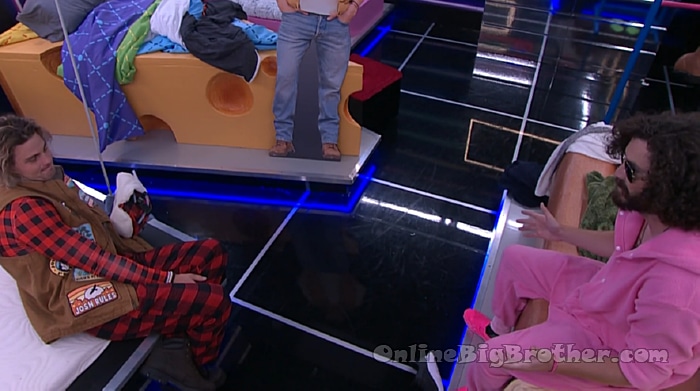 3:55 pm Matt and Cameron
Matt says he's pissed off because he's been getting played this entire time.
Cameron – f**8 the house. the house doesn't sign my checks.
Matt – they made promises to everyone.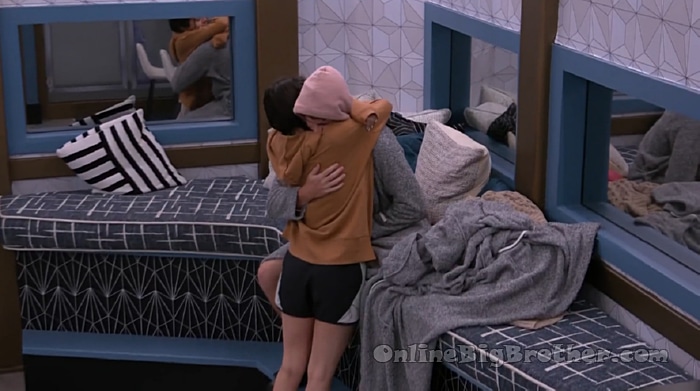 3:56 pm Corey and America
C – where is where we are at. Matt we're good.. Bowie and Jag We're good..
Corey says he told Matt and Jag Everything.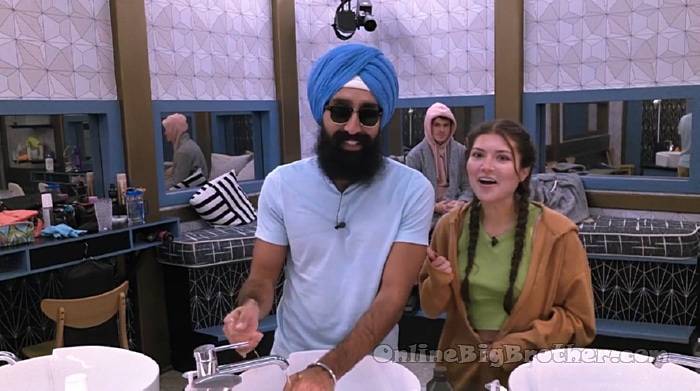 Jag joins them
America – F***ing Blue is telling Matt.. Blue is saying I'm getting close to America so I can get information from her.
A – she told Matt I'm putt him up and she told me she putting up Matt because he volunteered.
They dance.
Corey says he's telling everyone he's pissed at America
C – it'll be 6-3 as long as nobody f***s up.
Jag leaves.
Corey says it was telling Matt they have known about 7 deadly sins for 3 weeks that convinced him to join them.
Corey talks about their core being MAtt and Jag.
Corey – next week my target is not Cameron its Jared.
Corey says if Anyone thinks they are close to Cameron they are in trouble. "You got to shit talk Cam"
Corey – next week who are we targeting?
America – Cam
Corey – who are we really targeting
America – Jared
C – I wish it wasn't Izzy up I wish it was Cirie or Jared.
COrey warns if Jared wins the HOH there's a good chance he's going up.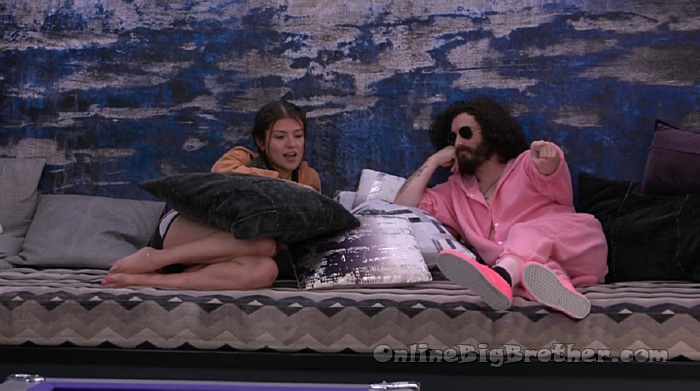 4:39 pm America and Cameron
America – they are mad because I told Felicia the truth.. F** off you tell her instead of giving her false hope. They were telling her she had the votes to stay.
america – I'm so glad this is happening
Cameron – Good it was my plan this whole week lets f***ing go..
America – maybe you should call them out.
Cameron – if they have the f***ing balls to walk into that door (HOH) I will grab the tastiest snake and I will stare them down as they talk and I will tell them everything that they thought I didn't know.
Cameron says if JAred has the "sack" to come into the HOH and talk to him "it will not go the way he thinks it's going to go"
Cam – If Cirie has the b@lls to come sit in that room with me. I am going to give her her moneys worth but I'm not going to chase them down.
A – they're hiding downstairs
Cam – they're cockroaches scattering They are so out of their element this is not the game they thought they knew how to play. I took them out of their comfort zone. They have to play the same F***Ing game that they've been forcing us to play this whole time. F*** em.
Cam – I want them to play our game.
America says Twitter is going crazy right now with this flip news. "Finally"
Cam – dropping bombs.. this ain't my first rodeo
America – Izzy is so condescending and self righteous.. She's a mean girl too
Cam – she told me she didn't want another pretty or popular person to win this game.
Cam – let it burn let if F***ing burn to the ground
America – i'm so over this I'm so over everyone lying. It's going to be so sweet.
America mentions Izzy saying today that she didn't need her vote she has all the votes she needs.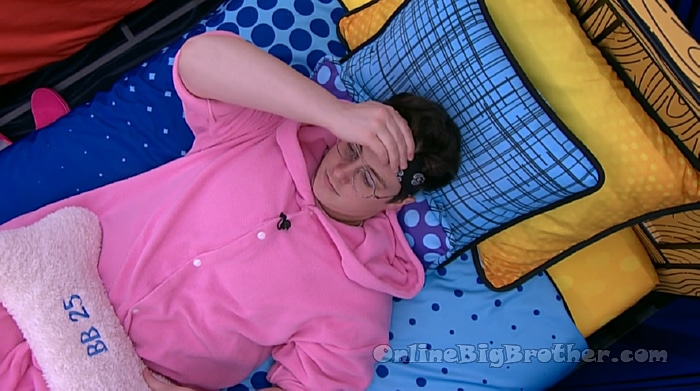 5:17 pm Izzy spiralling
"Corey is going to do it… I trust.. ohh am I going to bite my tongue? I trust That Corey will vote for me to stay. He will evict Felicia… I don't want to meet Julie.. I don't want to meet Julie.. I "
"did I mess up?"
Feeds cut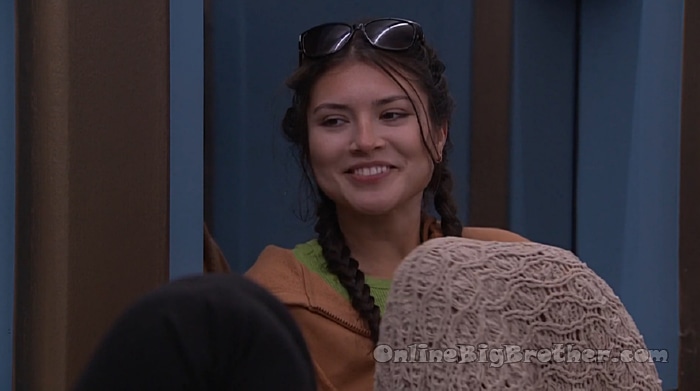 6:00 pm America and MEME
They are talking about America warning Felicia she didn't have the votes.
America – they were already coming after me so whatever.. It'll just be an annoying night and day tomorrow if they are still mad at me.
America says they know who is voting out Izzy and those are the same people that are telling Felicia they are voting for her to stay.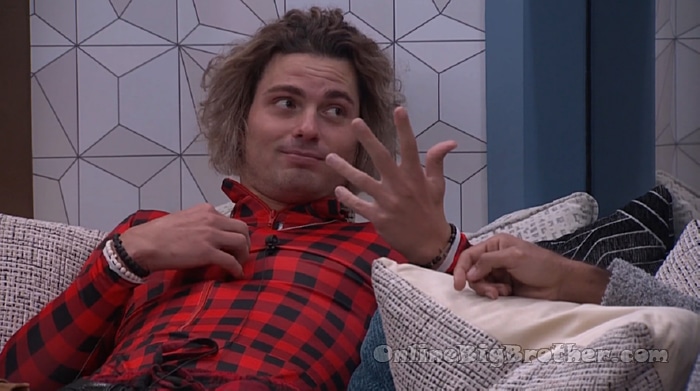 6:25 pm Jag and Matt
Jag – I'm 100 percent locked in
Matt – sam e
Jag – I'm excited. It'll be BIG.. we have to win the HOH we just have to win it. It'll be BIG
Jag – what's our move? what are we going to say to them? (Cirie)
Jag – are we just going to pretend to also be blindsided?
Jag – we can either act up or say Izzy said one of our names. I don't know which one is better.
Matt brings up Corey and America knowing about 7 deadly sins for 3 weeks.
Matt is worried Cory and America are playing them.
Jag – No they're 100% I'm telling you I trust Corey
Matt – Same
Jag – I trust Corey way more than I trust JAred and Cirie
Matt – yeah .. Jared is really good at lying.
Jag – he's really good..
Matt says he can't keep up with Jared when he starts lying.
Jag – Cirie really good at lying.
Matt – she's good at obtaining information.
Jag – Cirie has been on survivor three times.
Jag – her game play is being aligned with everyone so she's always comfortable.
Jag – after we vote Izzy out are we also going to be confused?
Matt – how are we the vote is going to be 6 to 3
Jag – will they know? To cause Doubt amongst them?
Jag says he brought up the 5-4 vote to Corey and Bowie and they want it 6-3 "Which I'm fine for"
Matt – we'll talk about it with them tonight.
Matt thinks it's worth it to split the vote. They agree Cirie's stunt side will be super confused trying to figure out if it was Corey or Matt that votes to keep Izzy.
Jag – I don't know it's worth it because if doing it 5-4 makes Bowie, Meme or America uncomfortable.. Corey mentioned that us voting 6-3 makes it all of us are locked in with the 6. It makes it that no one person has a way out..
Matt – right right
Jag – there will be no doubt in Corey, America's, Meme or ours that we're f***ing for reals.
Jag says he wants to start getting closer to MEME.
Matt says after Izzy leaves MEME and Felicia are going to get closer. He asks are they going to regroup with Cirie's side?
Jag – or is she going to bring Felicia to us?
Matt – we can manipulate them a little bit. "those three votes.. were Cirie, Blue, Jared she will realize they voted against her.. they wanted you out and MEME will back that up.. they wanted you out"
6:38 pm Jag and Corey
Jag is going to work on MEME to commit to something more long term. Matt thinks she'll be down "she loves Felicia"
Jag – I just wonder if there's a way to bring in Felicia
Matt – Felicia has too much mouth BRO
Jag – that will be our alliance us 6. We'll have to talk to Corey about what we do with Felicia.. do we bring her in as a number?
Jag says right now all that Cam knows is the alliance is Bowie, America, Jag, Matt and Cam.
Jag – if we win HOH who should we put up?
Matt – Cam wants Jared and Cirie that way the physical is gone and the mental is gone
Matt – to be honest Jared scares me the most he will gun the f** for us
Jag – yeah, Should we not backdoor Jared
MAtt – maybe.. Blue an Cirie?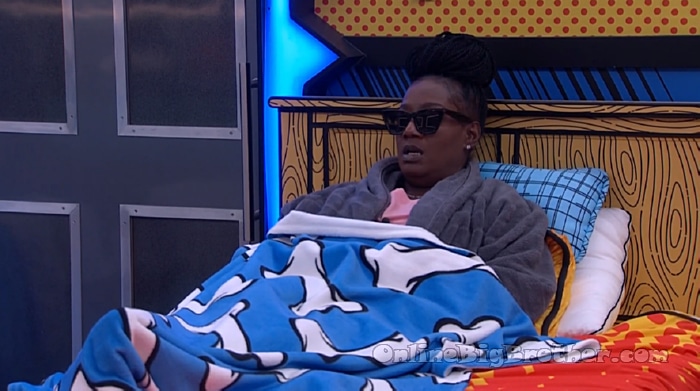 6:38 pm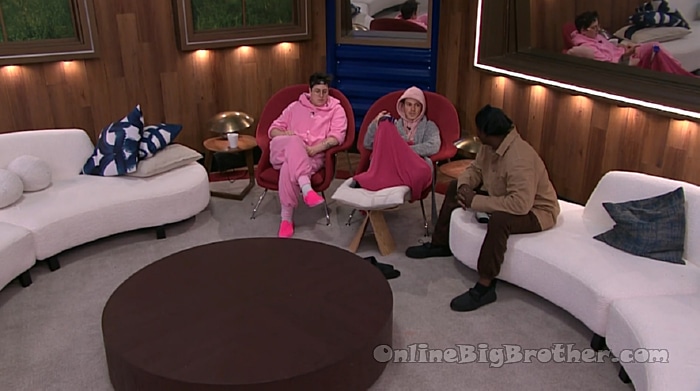 6:55 pm Jared, Izzy and Corey
Corey is talking about his conversations with Cam "he's telling me you are going to put me and America up"
Jared – that is funny he's trying to pit you against everybody
Corey says he's now thinking about targeting Cam ang Jag
Jared says his wish from a week ago, Cam and Jag
Corey – someone wins the veto it doesn't make much of a difference as long as they are on the block together
Without your support this site and these spoilers wouldn't be possible.
Please consider a donation to keep the madness going.