8:40pm Sam and Adam listening to the HOH music.Bathroom. Dane and Damien. Dane – if its a triple tomorrow, you're probably going to go for it right? Damien – yes. Dane – I will be too.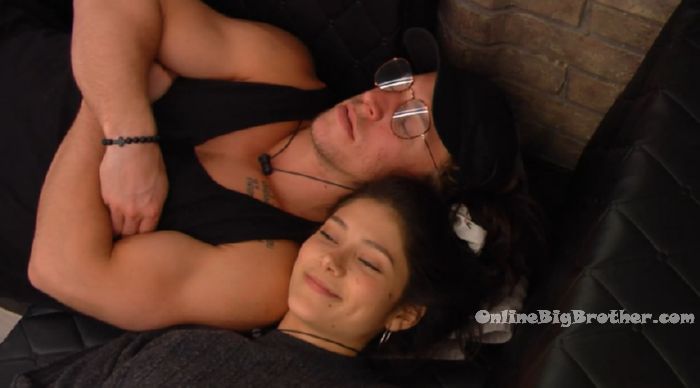 8:47pm HOH room. Adam , Sam and Kyra.
Kyra – I just feel like its my fault. Sam – its very probable that I would have won
the next one and you won the one after that. Adam agree. Kyra – I called a lot. Sam I'm a big girl, I can make my own decision. Kyra – I Adam – its fine, this was going to happen no matter what.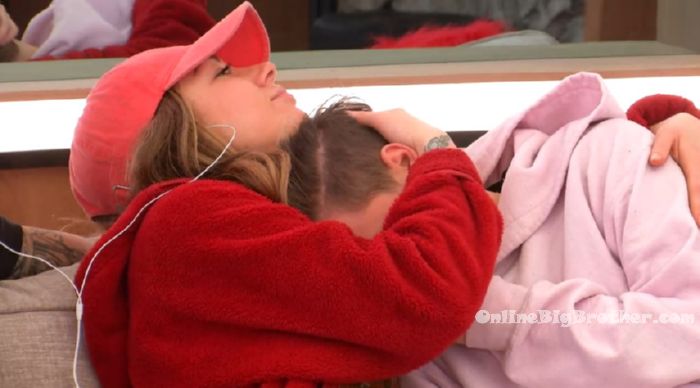 8:45pm Hot Tub room. Cory, Mark and Anthony.
Mark – I got kicked out of the HOH room. Cory – oh yes, sorry dude. Mark – you gave them a bottle of beer too? Cory – yup. Mark – Nice.. Cory – I love how you say that with disbelief. Mark – that's like 20% of your beer right there. You've got to ration that. Cory – Adam's still in the game so… and Sam's in jury.. right!? You've got to think about those things. And Adam's tore up.. I don't know how much Sam is but I feel for him. His poor heart is taking a beating today. Hopefully this will help. Anthony – enough about them… I've had discussions with Cory.. I am just going to come right out and say it. You obviously know I am good with Cory. You're good with Cory. Going into next week I don't want to just say you're safe. We'll sit down and have discussions. Mark – that's kind of how I was feeling as well. We'll sit down and chat tomorrow and then after.. Mark – I agree. I've had good chats with you Cory. And I can compete, I'm not dead weight. Mark – I'm in to you. Anthony – I'm kind of into you too.. And you're kind of good looking too. They comment on
Share it YO!!
Tweet