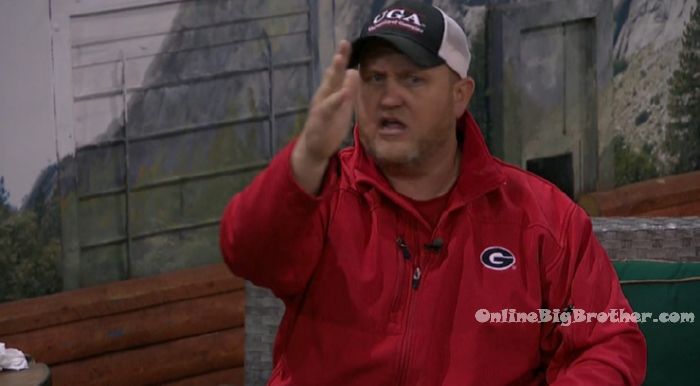 1:45am – 2am Backyard – Cornbread is talking to Kryssie and Neeley. Kryssie – you said you were going to play a clean game. Cornbread – yeah but she (Shelby) is making my stay miserable. She has gotten under my skin so bad, that's why I've been walking around biting my lip. We've had some times that were good and then right at the end of it she went right off the deep end. And I'm like what in the f**K!?! She came in my room the other day and I was talking to my roommates. She lays down on someone else's bed.. uninvited. I'm telling a story .. I'm almost at the end of it and she's like AHHH F**K THAT SH*T! THAT'S BULLSH*T! And then she gets up and walks out. In the middle of my god damn conversation that was in my room! Not hers! I was like what the f**k is going on here. I'm having a motherf**King conversation in my motherf**king bed and you're going to come in my domain and god damn run your motherf**king trap!?!!! Don't f**king bring the ghetto out of me! I'll get on your a$$! I'm telling you right now. I'll throw some sh*t at you that will hurt your god damn feelings but that ain't the person I want to be. I feel like I've got my hands tied. She is lacking some kind of medication. And if America wants to send me home for some f**king b***h driving me crazy. Kryssie – as of right now America can't send you home. Cornbread – I can't go talk to her about it because it's going to cause a bigger problem. I give what I get. The number one thing that gets me is if a motherf**ker shhhHHH's me. I've turned this down twice and now I'm here the third time. We were put in here for our true core person to come out. I've been a shitty person longer than I've been a nice person. And I don't want to be a sh*tty person. Kryssie – you and I got real caught up. I have a real problem with letting my buttons get pushed. You and I are both very sensitive people and also very strong. You can't play a game if you knock your piece over right away. Danielle and Justin join them.
2:05am Bathroom – Shane, Scott and Alex are talking about how Cornbread is blowing up his own game. Scott – he said it in front of me, Kryssie and Neeley. I'm not even going to discuss it any more. Shane – its week 1, we just need to chill. Scott – when he said it to me privately I was going to take it to the grave but now he's saying it in front of Kryssie and Neeley. Alex – he's blowing up his own game. Alex – he has brought it up at least 5 times today. I can't listen to it any more. Shane – he's making himself an easy target. Scott – I thought he would take this as a learning experience but he's not. I was hoping he could get past this but he is just fixated on it. Alex – he is more worried about it than being nominated by America. Scott – if he had just dropped it, it wouldn't even be a thing but now he's saying it in front of Kryssie and Neeley.
Watch the BBOTT Live Feeds FREE for 1 WEEK!
Click here for your: FREE Trial!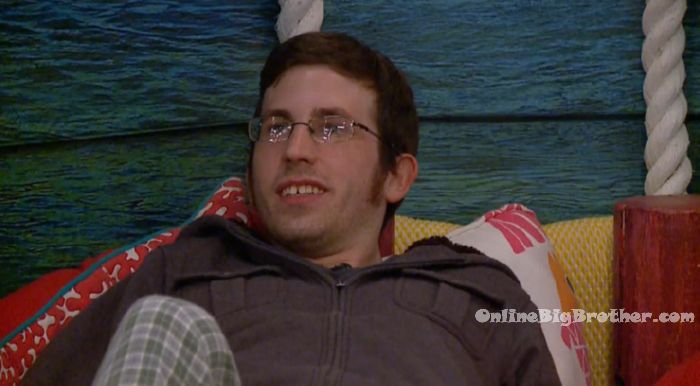 2:10am Bedroom – Alex talks to Shelby. Alex – Cornbread is digging his own grave outside. He is just running his mouth and being obnoxious. People are getting really tired of him. Shane and Scott were like we can't do it any more. They were like he's blowing up his own game. Shelby – then I'm glad he won't talk any game with me. Let him blow up. Alex – he's such a loose cannon you don't want to talk game with him. Alex – he's going to get kicked out of this game and it will be 100% his fault. It kind of sucks for us because he is an easy person to align with. He is making this really difficult. Shelby – out of all the people he is the person I was worried about snapping at. Alex – Justin is definitely not in the middle of the house, he is with that group. They shut off the light to go to sleep.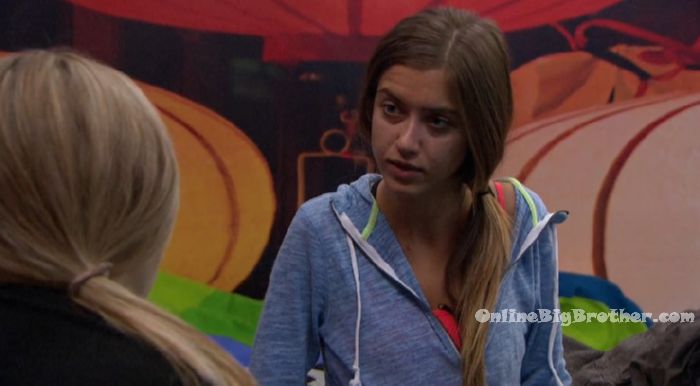 2:30am – 3:30am Backyard – Danielle, Shane, Jason, Kryssie, Scott and Cornbread are hanging out talking about shows they watched during the land before time. They continue talking about random things. The big brother game, George Orwell's 1984, etc. Everyone but Kryssie and Jason head to bed. Kryssie – I hope they backdoor Shelby. Kryssie – man Cornbread was going off about how much he hates her to me and Neeley. Jason – did you talk to Monte .. because I saw him holding court with his minions. Kryssie says she did. Jason – Shelby was saying we'll see if I still call her a hooker after she wins HOH. Yeah I will still call you a hooker. I call everyone a hooker. Kryssie – she f**ked herself royally today by pissing off Cornbread because Cornbread and Monte are like best friends. He does not like Shelby. Jason – Maybe I go talk to Monte and tell him if he really wants to stay good with everyone next week .. put up Shelby. He knows he can't go after me next week. Kryssie – his options for backdoor are Shelby, Me and Justin. I feel more safe today than I did last night.