HOH: Tiffany
Secret HOH :
HAVENOTS: BIGD, Alyssa and Claire
Nominations:
Power of Veto Players:
Power of Veto:
Power of Veto Ceremony:
Big Brother 23 Houseguest Rankings – – RANK THE HOUSEGUESTS –
View the previous day ranks on the – Ranking Grid
Big Brother Spoilers – Next two weeks are Double evictions.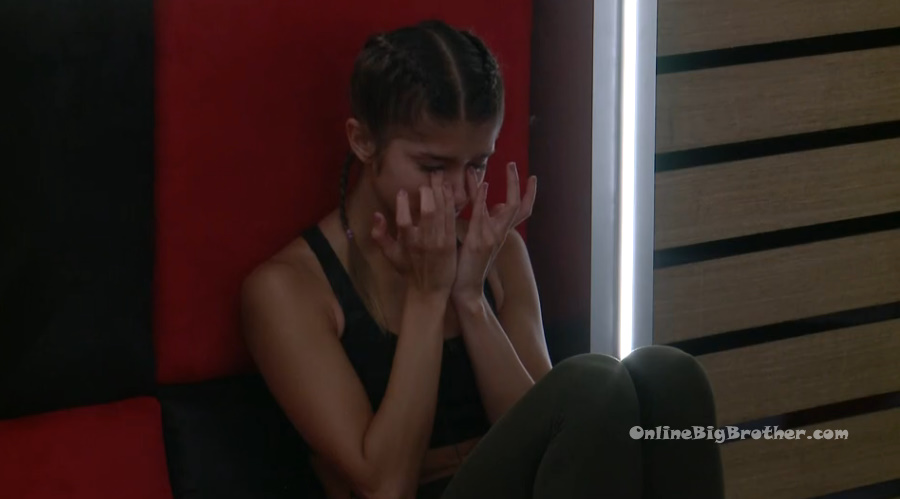 7pm Chess Room – Alyssa and Xavier
Alyssa – I can't.. I can't do the slop again! I get so skinny! No one else has had to do it three times! I am going to get so f**king skinny from doing this all the time. Like I don't even care that I lost. Whatever!! Xavier – I am surprised they picked 3 people to be havenots. Alyssa – doesn't matter I dropped second anyways. I just f**king puked everything I ate and now I have to eat slop .. its just like I am going to be so skinny. I am just so over it dude! Its not even fun anymore. Its literally not fun in here anymore! Every week we have to worry and every week I am just stressed and bored and eating slop. I am just so over it! Like I literally don't even care. I don't care if I go up. Xavier – you can't let this game beat you. Alyssa – I am just over it. I can't do it anymore. Xavier – we just have to go to work again and see if we can pull off another miracle again. Alyssa – I just don't even care anymore. I am so over it. Its just so fake!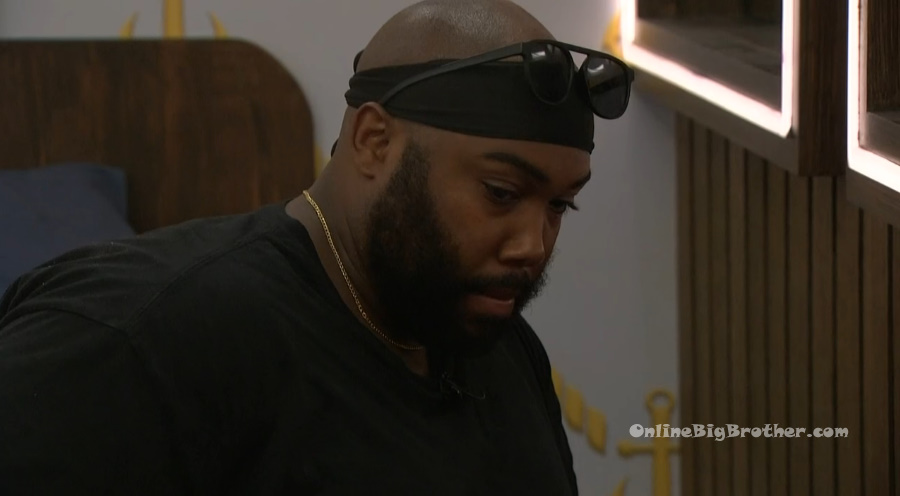 Bedroom – Big D and Alyssa
Azah – I always take from everything I do. I take from what god is telling me. And god told me a couple things. First thing he told me is Azah if I want you to win a competition nobody is going to need to throw it for you. You're going to win it by yourself in your own right. You know what I'm saying? Big D – yeah. Azah – Second thing is .. god opened my eyes about Kyland again but I learned my lesson this time and I am not going to get mad and throw a tantrum and be upset and cry. I am just going to take it as it is. With Kyland and Tiffany up there I know TIffany is going to have to send Alyssa home. But I was praying that Tiffany won that because… Hannah joins them. Big D complains about how coming in to the house he thought the competitions would be different to accommodate people like him but they're just the same old bullsh*t.
7:30pm Azah – am I hard on you? Big D – No, I'm just checked out. I am just tired. I feel like its just unfair. Now I have to eat this nasty a$$ slop. I understand he just lost his friend and I should be like are you okay but I am not okay and I know that he is not okay. So it is better off for me to just stay away from him. I'll be alright. You go socialize and do what you have to do. Azah – okay, I love. Big D – love you.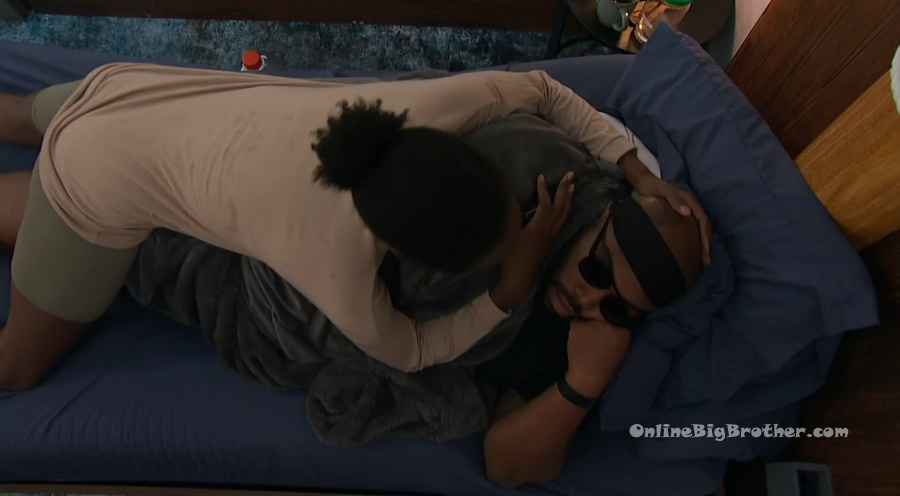 Bedroom. Alyssa, Xavier and Azha.
Alyssa is crying that she has to be on slop again for the third time. I am not even mad that I lost. Azah – if anyone knows how to compete while being on it .. its you. You came in second place first week. You're able to compete with it. Alyssa – I know, I just hate it. Azah – I know but you're capable of playing the game while on it which a lot of people can't including me. I know it sucks but I empathize with you. Azah leaves.
7:37pm Bathroom. Claire and Tiffany celebrate.
Claire – they're pissed. THEY ARE PISSED!! Alyssa is crying. X is mad. Big D is about to sh*t himself. They're so mad! Alyssa is like I am just upset about being a have not.. I'm like OKKAY?! SURE?! Tiff talks about how Ky didn't throw it like he said he was going to. Your family is going to be like .. ANOTHER LETTER?! This is literally the best case. I could not have won that comp! Tiff – I am looking at him (KY) like what the f**k!? Claire – he was shaking! I was like its just a matter of minutes now. Your family is so excited! Tiff – if I go out at least I go out with some.. Claire – Iconic! It was so amazing!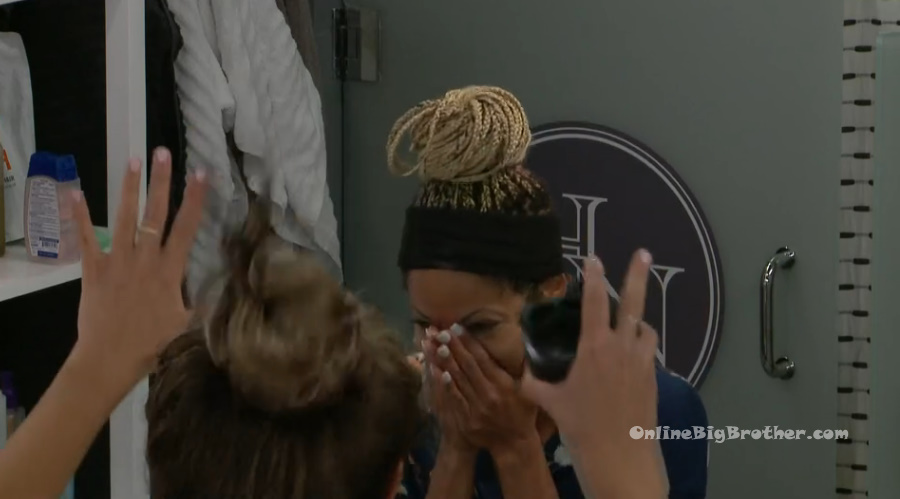 Bathroom – Kyland and Tiffany.
Kyland – I'm good. I'm a lot better than on a lot of stuff other than this. Just fill me in.. I could have dropped 5 minutes earlier. Tiff – I wanted to win. Ky – and that's fine. Why didn't you say that? Tiff – I said it. Ky – I couldn't hear you. I kept saying what's up, what's up!? Tiff – I said I could be up here all night. Ky – I couldn't hear you. I am just wondering now I shouldn't win next week. That way both you and I are both in it (the following HOH). Xavier and Hannah. Hannah questions if Tiff is the first person in BB history to win HOH two weeks in a row. And the final one doesn't count because everyone is eligible to play.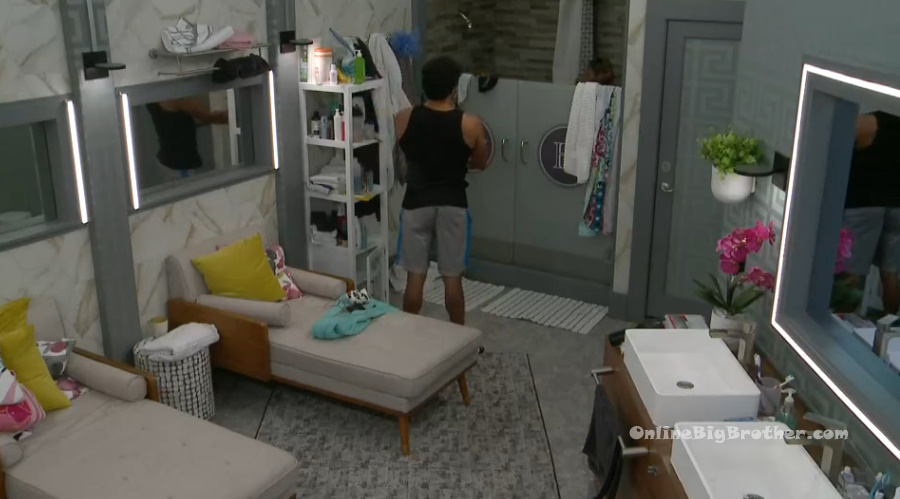 8:35pm Bathroom – Hannah and Tiffany.
Hannah – I would do him and her. Tiff – okay. For you, me and Azah it works to keep Claire here till seven. And if Claire happens to win the seventh HOH me, you and Azah are safe. Hannah – I know. Tiff – I know that they're looking out for themselves. They sent out Christian. They sent out DX. Hannah – and Britini. Tiff – so this is the one time that they're going to have to lose somebody too. Don't say you're carrying us no mo! Hannah – exactly. You have just as many HOH's as Kyland and I have just as many veto wins as X. Tiff – Carrying who!? I wish the girls would pull their weight. We pulling all our weight .. back to back! Hannah – back to back to back to back! Tiff – win this veto! Hannah – I know! Hannah asks Tiff about her conversation with Ky. She explains how she kept saying she wanted it but he kept asking what you want to do!? You think I am going to let you get your third HOH?!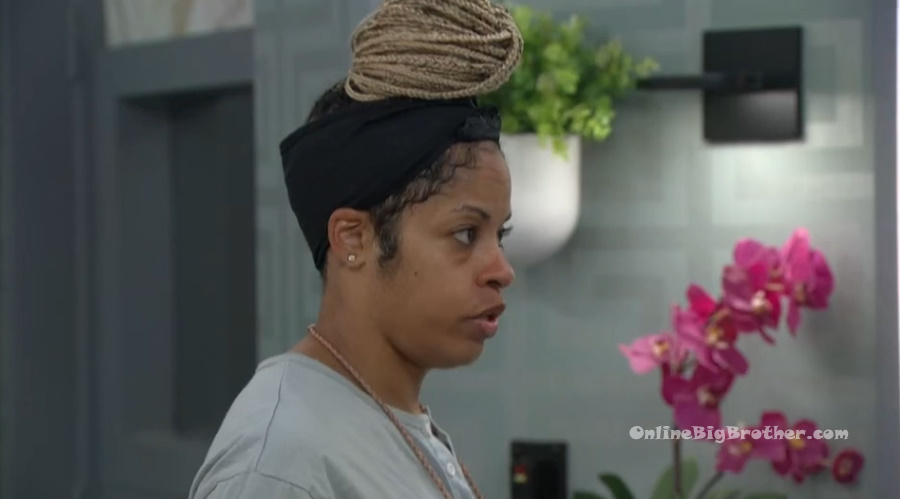 8:40pm – 9:10pm bedroom. Big D and Azah
Azah – if you ain't about something .. then don't say you're about something. Don't sit there and say .. you know how many times this BRAH said oh you know .. I would love to give it to Big D or you. I think we should all have a chance to get this.. and blaa blaa blaa.. this and that. He knows damn well that if he had gone off, Tiffany would have gone right after but he stayed on .. he wanted to win. He went in there and told them what he wanted in his HOH basket. he wanted this HOH. He talks sh*t. You don't need to talk sh*t to me. Why are you talking sh*t to me!? You said you would throw it to me 3 weeks ago.. and you didn't and everyone saw that you didn't. He is the type of person to win HOH and put up Tiff and X. He is the first member of the cookout, to put a cookout up. Big D – which was my idea so I can't knock him. It was my idea. Xavier joins them. Azah – this is going to be a tricky week because now Tiff has to put up Alyssa. Xavier – which is why I was told I shouldn't win. Like he knows why I want to win HOH. So I'm throwing competitions and no one else is sticking to the plan. That does piss me off! Azah – are you mad at Tiffany. Xavier – not mad .. just overall regardless of the responsibilities of the HOH that is not why I want to win .. its something a little more personal. I keep putting it off because that is something I need to do. If everyone is going to play for their own self-interest. Either way as long as one of us wins its food.
10:45pm Bathroom – Tiffany and Kyland.
Tiffany – you safe this week brother. Kyland – thank you. I appreciate it. Tiff – you can be mad at me that I won but just appreciate it. Ky – I'm not mad at you that you won. I was just like why don't you just tell me. Tiff talks about her conversation with Xavier – I know my relationship with Claire and I cannot say that I know I can get her to do what I suggest her to do but I feel very strongly that she will go with me in making her decisions. I trust you with Alyssa, trust me with Claire. Either way we are in the same boat next week if either one of them win.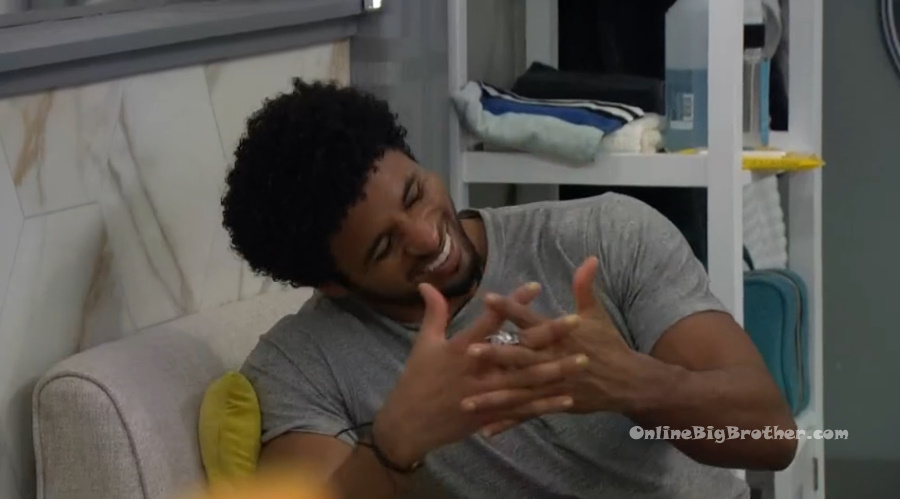 10:55pm Big D and Azah playing chess.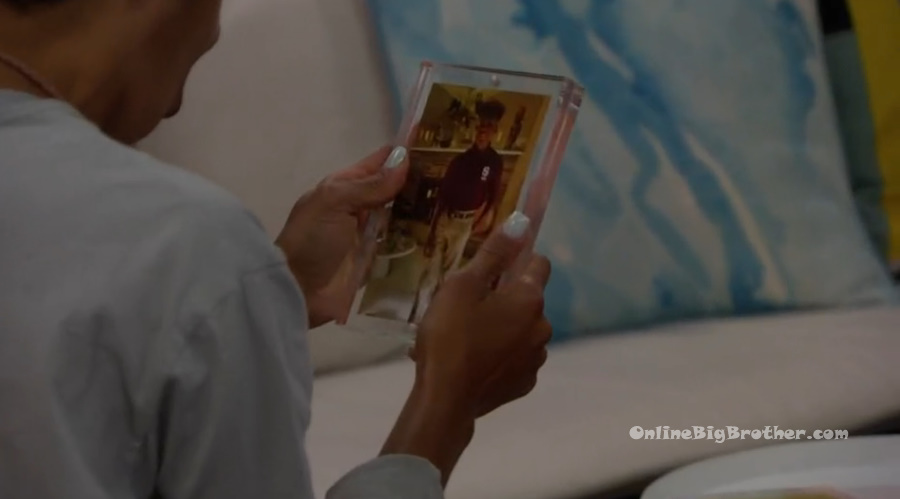 12:06pm – 1am Tiffany comes out of the diary room – Who wants to see my HOH room! They head inside and look at her HOH photos and HOH basket. Tiffany then reads her HOH letter.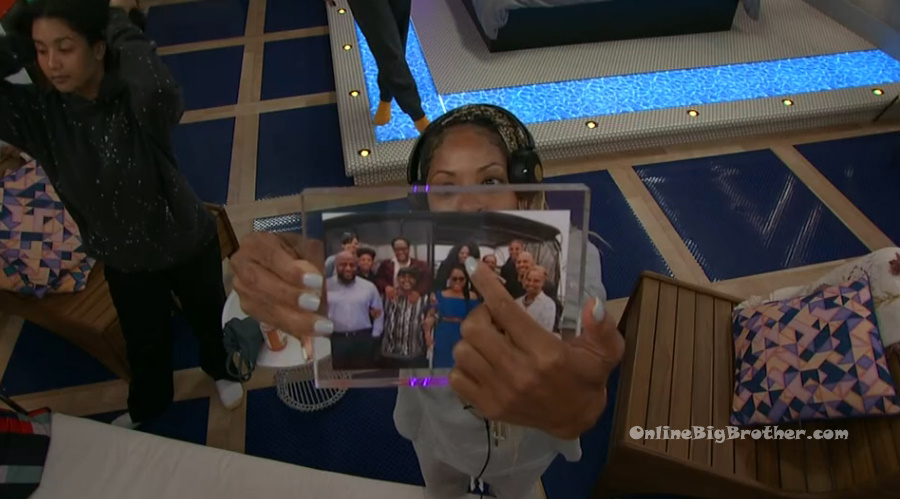 Show your support :) Without your support this site and these spoilers wouldn't be possible.
Please consider a donation to keep the madness going.