Quick Big Brother Spoilers
Head of Household: Felicia
Nominees:
POV Players:
POV Winner:
Veto Ceremony:
Havenots:  America, Matt, Red
Lock your ranks in before midnight
10:05pm The live feeds return from being blocked since 12pm for the live eviction episode.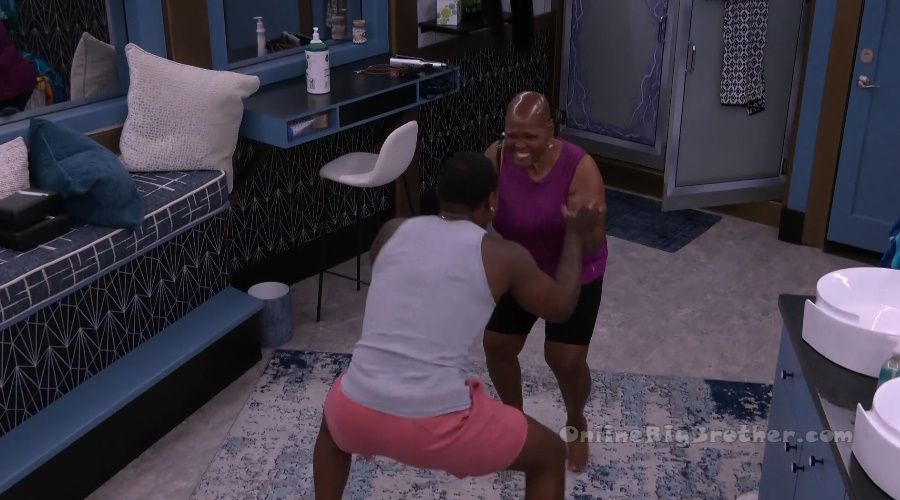 In the bathroom – Felicia has the HOH key around her neck. Felicia is the new HOH. Jared joins her and they celebrate.
PUNISHMENT: Felicia has some sort of SLIM Punishment where she gets slimed throughout the night and/or others get slimed as well.
In the comic bedroom –
Izzy, Cirie, Hisam and Bowie.
Hisam – Oh my f**king GOD! When she got a 53, I looked at their faces and they were like.. (jaws dropped) F**K! Cirie – Don't count the old B***hes out! Hisam – I could not have been more f**king thrilled! Cirie – nobody thought she would win an HOH. Hisam – NOBODY! Izzy – And she gets to see her f**king family! LETS GO!!! AGHHH!! Hisam – That's right. She went from being on the block to being on the top! Cirie – that's what this game is about! Hisam – I can't believe it. Cirie – I believe it. Hisam – never count anyone out. Because literally you get a game like that and some of it is skill and some of it is luck… like you never know who could win a game like that. Cirie – yup! Hisam – which is why it is so stupid like we paired up with all of the young people.. Cirie – the oldest person in the house. Bowie – yes, so good, so good! The best thing is that no one can be angry at her about anything because she is so nice. Cirie – what do you mean, everyone's HOH is their HOH. You can get angry or not. I don't even care if people be angry or not. Hisam – that was AMAZING! That will be one of my favourite moments of the season. Hisam – I am so f**King proud of her. Cirie – me too. Hisam – and we keep the power. I feel so good about our position. Hisam – I wonder what she is going to do? Cirie – she gonna want to talk about it.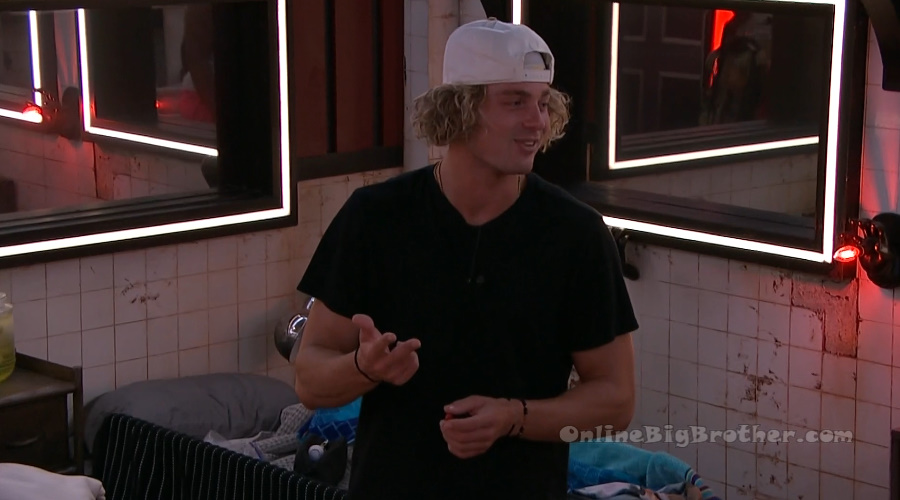 Bedroom – Jared, Blue, Matt
Jared to Matt – eat a lot tonight BRO deada$$! EAT A LOT! Matt – you know what I said? Jared – what did you say? Matt – I was like damn you lose a girl one night and become a havenot on the same night. That's a hard night! Jared – at least you're good though. Matt – yeah I'm eating big tonight. I'll find a way to make the slop taste okay. Blue – how are you doing? Matt – I miss her (Reilly). Blue – I saw the q-tips. It was cute. (Message from Reilly)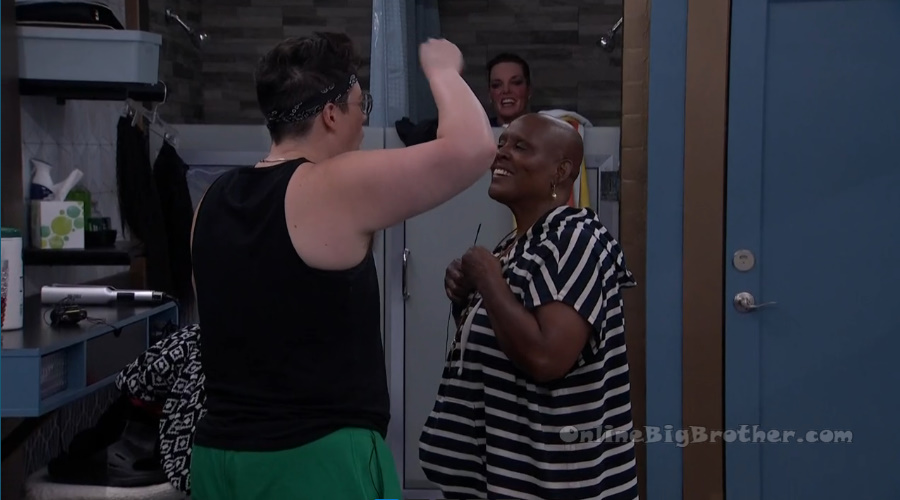 10:15pm Bathroom – Izzy and Felicia
Felicia – I said do you see me now?! Now you see me?! Izzy – I am so stinking proud! That you are sleeping up in that .. you earned that all on your own. Felicia – yes, all on my own. Blue – let me know when you get to be slimed because I am ready to be slimed. Felicia – right, right, right. (Felicia got a punishment to be slimed.) Blue – for one of the middle of the night ones you can wake me up.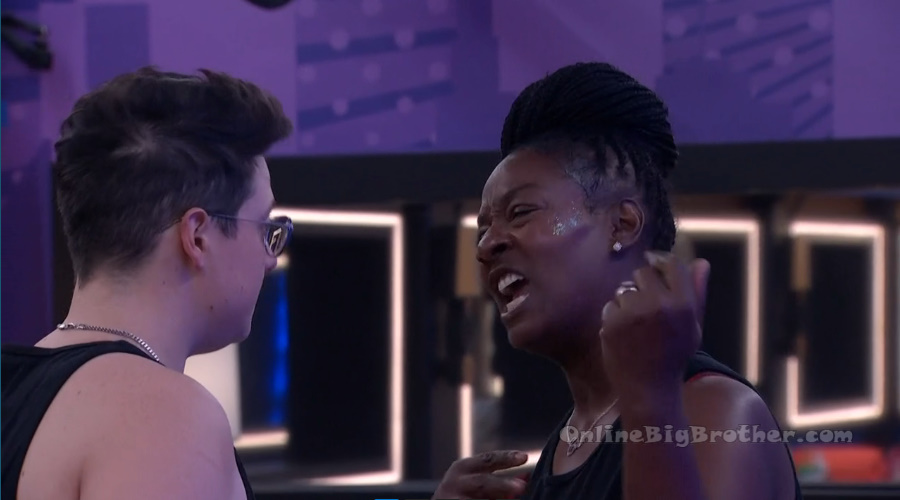 10:25pm Comic Bedroom – Cirie and Izzy
Cirie – Cameron came in here.. Get the f**k out of here. Izzy – so Hisam better .. oh you do whatever you want bla bla bla.. and is all excited. I f**King HATE HIM! Cirie – remember we're leftovers you motherf**ker! I wanted to say it but I can't say it. Izzy – do you think Felicia is going to be down to backdoor him this week? Cirie – she better! I think she should put up Cameron as a pawn. Izzy – me too. Cirie – and she could put up Blue or one of them. Izzy – I think Cameron and Blue or Jag. Cirie – yeah, then Cameron will fight like hell and then he comes down and then we put Hisam up. Izzy – we have to talk to her tonight. Cirie – we her people! Izzy – do they think that we're tight?!!?! Like I don't f**king speak to YOU!!!!! Izzy – girl we are doing this thing!! Cirie – I bet Hisam's a$$hole puckered. Izzy – We get to be excited this week …like even more so than Bowie or .. like we are not going up on the block. Cirie – she can't put up Jag and Blue .. they both might not win. Izzy – Jared is f**king close to Blue. Cirie – trust me. Blue ain't nobody. Listen I'm his mama! F**K Blue!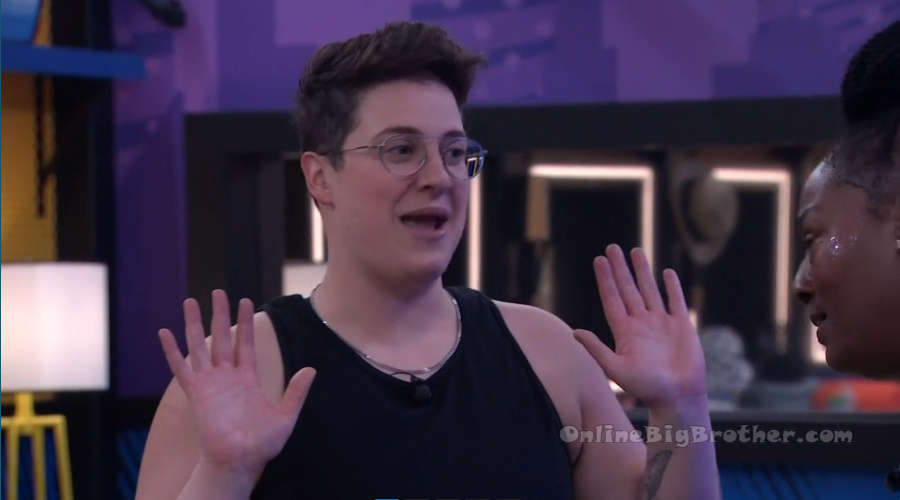 10:45pm Bedroom – Cory and America
Cory – I think Red is going up and that second nom is Cam maybe. Jag maybe. Might be Bowie but probably not. And I think right now the plan is to backdoor Hisam. Which I do not think he is expecting from Felicia. America – he feels safe. He is probably shocked that she won. You know because he is calling them the leftovers. Cory – Hisam was in the game room saying its so nice to see an older person win. They get counted out all the time. I think there is a … if there is ever a world where we can get him to throw this veto. America – I think we could. He is not going to want to win 3 vetos in a row. Cory – the only thing is if Felicia wants it to be open or not. Like if Felicia makes it clear that he is the target .. we are f**ked.
10:50pm Matt crying in the havenot room because he misses Reilly.
10:50pm – 11pm Storage room – Jared, Izzy, Cirie and Cory.
Cirie – tomorrow she is going to have to nominate and she said that she doesn't want to talk game tonight so we are only going to have in the morning. Izzy – I was thinking Cam and Jag. She is mad at Jag for lying before. Cirie – and Cam will be our pawn. Cory – is the plan still to backdoor Hisam? They all say YES!! Cory – we might be able to get him to throw the veto. Izzy – YES! He laid on the couch and said man I am so comfortable, I am so happy. Cirie – I hope she has a good a$$ speech. Izzy – oh Felicia is going to have a good a$$ speech. Cory – if Hisam somehow wins this veto … I am fine with Cam going. They all say they're happy with Cam going too if Hisam wins veto. The thing about Cam .. f**king Cam and Jag are up in the game room reminiscing about Reilly right now.. Cirie – are you serious!!? Izzy – why are they obsessed with her. I don't even think that she (Reilly) is that pretty. Cirie – okay the memory wall picture is not a good one but she is cute. I've seen better but she is a cute girl. No I mean like walking around in Jersey City, I've seen better.. but she is cute. I don't know about the obsession but she is cute. Cory leaves and then comes back. Izzy and Cirie leave. Cory – this might be a good week for us to distance ourselves from Cirie and Izzy because we don't need to talk this week. Jared agrees.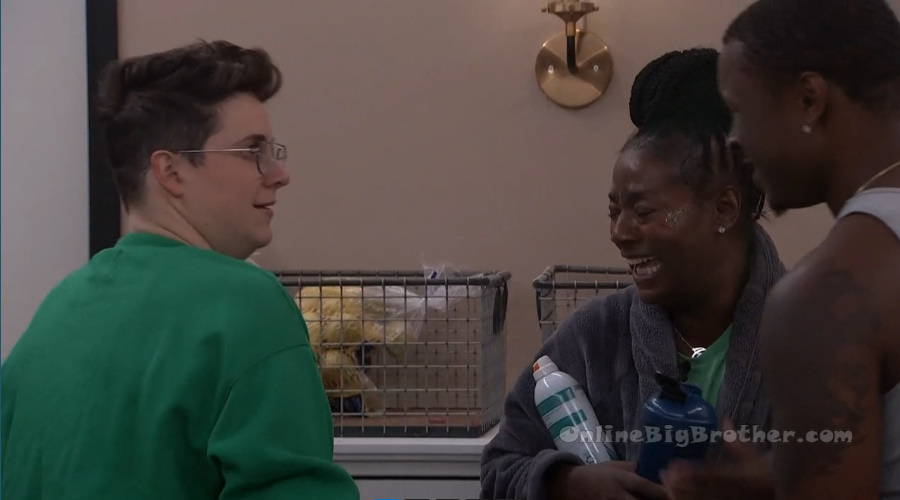 11:20pm The house guests are eating dinner.

11:23pm – 11:49pm
Big Brother blocks the feeds.
Bedroom – Cameron, Jag and Blue reminisce about Reilly. Blue – it finally just hit me before dinner. Like damn its quite in here. Jag – yeah the energy is different. Blue – its not goofy anymore. She was the weirdest one. Cam – yeah she sucked pretty bad. Blue – she TALKED! She was a talker.
11:52pm Kitchen – Bowie, America, Cory, Felicia
Felicia – well Blue already volunteered (Something to do with the slim punishment). So I am pulling her first. I am pulling Jag.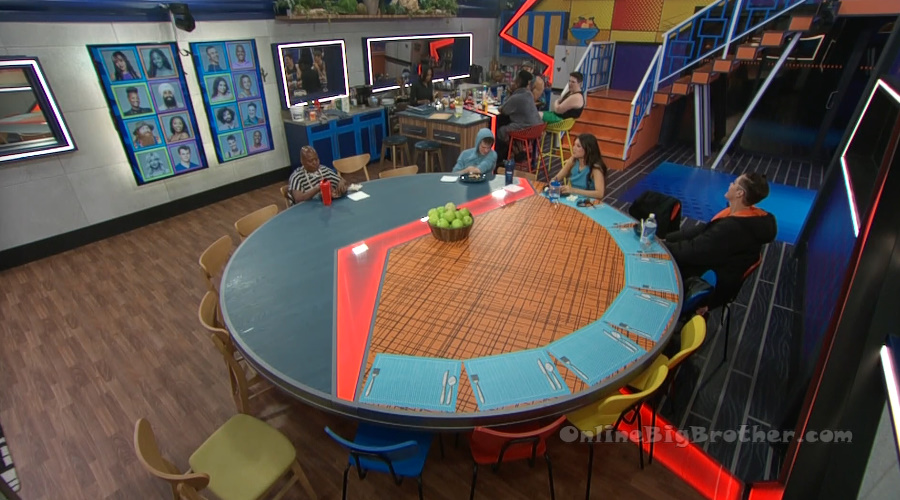 12:09am – 12:35am Big Brother blocks the feeds. Felicia and Blue were slimed. Felicia – your bathing suit matched the slim. Hisam – I am also amazed that they slimed another person. Well this will keep the next 24 hours interesting.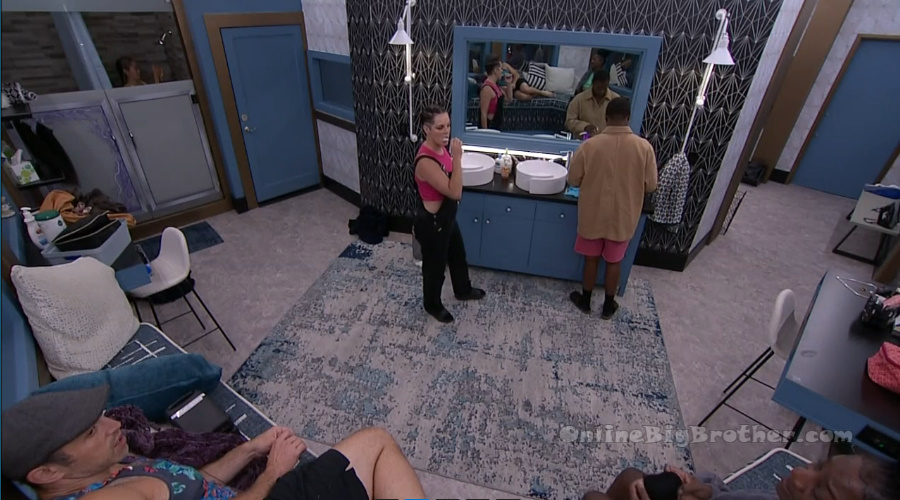 Drop a TIP to show your support! Any amount is greatly appreciated!
If you enjoy OnlineBigBrother, please consider donating to keep the madness going. Thank You!