Head of Household Winner – Holly
Have note are: Cliff, Nicole and Jess get punishments
Nominations are:
Power of Veto Players are –
Power of Veto holder –
Power of Veto Ceremony –
Grab your live feeds —-> BB21 Live Feeds Subscription Link
Rank your houseguests —-> Big Brother 21 Ranking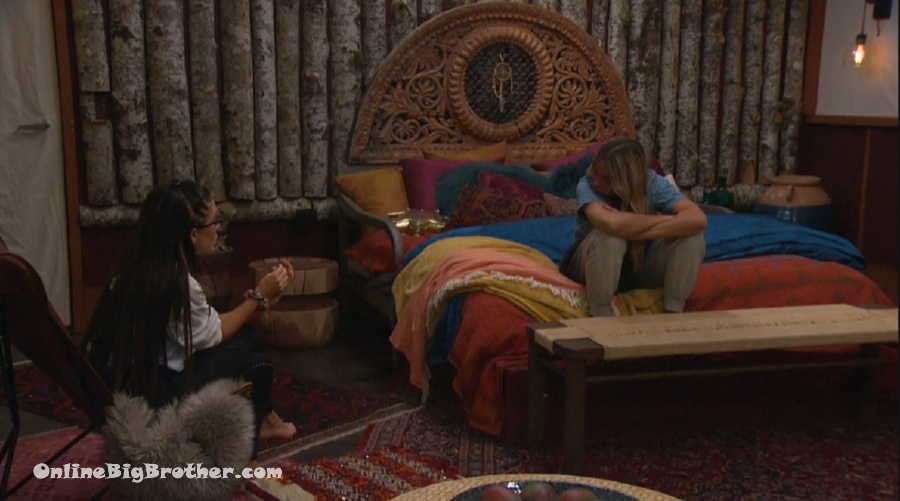 1:35 am Christie and Holly
Holly mentions Sis saying there's already a new 5 person alliance.
Christie says Tommy told her cliff said to Sis it was Holly, Jess, Jackson, Cliff, Christie
CHristie – Nicole's not in it that's why she was upset and told Jess
Holly – weird ..
Holly brings up noms and Christie and Nick going up
Christie – obviously I prefer not to. Obviously, I did say I would go up as a pawn. I didn't realistically mean. I didn't know that meant right now. I was assuming when we get to 5th
Holly – I'm running out of idea about who else to put up the bigger factor that guarantees you play in the veto and to me that's really huge.
Christie – I'm scared if he wins and comes down who and I sitting up against do I have the votes to stay I don't know where people lie
Holly goes on about wanting to do everything she can so Nick doesn't win the veto. She doesn't even know how the pranks fit into the week she's worried her noms might be impacted.
Christie – I feel confident playing in a veto against Nick as a pawn
Holly – Christie I low key hustled. We put in leg work (to save her)
Christie – I get it if that's what you need to do, I'll fight for the veto.
Christie – this is not my HOH this is yours at the end of the day I don't have a choice but do I feel Okay if you could assure me i would have the votes. Yeah I will have Jess, Tommy.
Holly – if it's you and Nick 100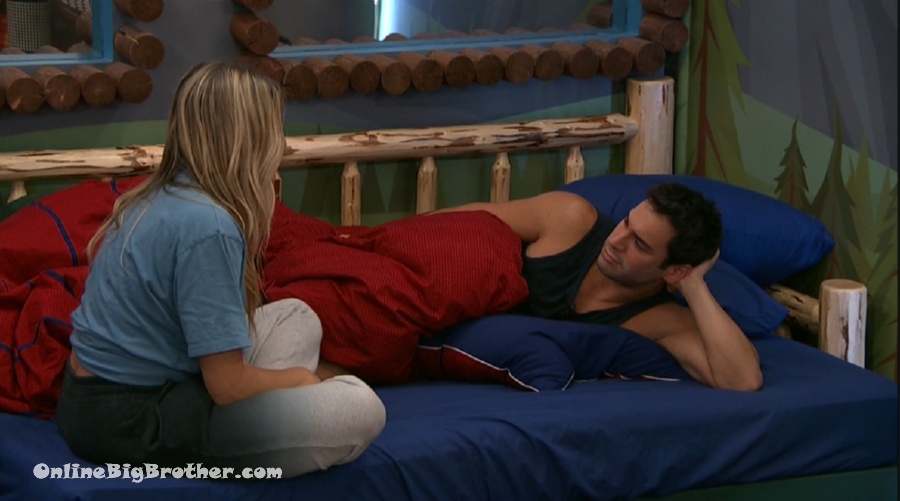 2:00 am Christie and Tommy cam 3
Christie relays her conversation with Holly in the HOH. Says she's probably going up as the pawn.
Very quiet whispering. Christie says something about acting really cool about going up as the pawn.
Christie – I think Nicole and CLiff might be with them (holly/Jackson)
Christie – if anything I would love it to be me, You, Cliff and Nicole
(I missed that these two discuss the recording that was played exposing their duo. Christie talked to production and they assured her it's been taken care of. Tommy says he was thinking about changing his vote because ot if. He said in the DR but they wouldn't air it. )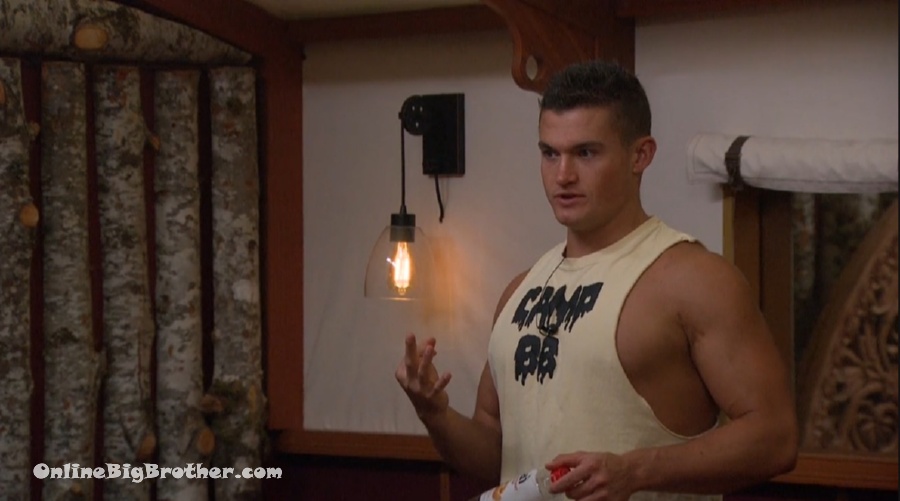 2:00 am Cliff, Nicole, Jackson, and Holly HOH
Cliff – whichever way you choose you got our votes
Jackson – whats it takes.. 3 to evict
CLiff – 3 to evict no tie so we control
Jackson – that's wild
Nicole – here it is
Holly – I have an OK idea with the direction to go I want to feel out tomorrow and get a better sense.
Cliff – I know Christie mentioned being pawns and all that I guess she's serious about it all.
Cliff – it really doesn't matter you got our support either way you go
Holly – I didn't think she was wanting us to cash that in so early. I mean she offered time and time again
CLiff – the votes are in here right now to determine whether a pawn is…
Jackson – is a pawn
Cliff – yeah
Jackson – if I recall correctly she was sitting right here use me I'll be a pawn I'll go after Nick I'll be a shot for that guy
Jackson – that's crazy four people can decide who stays.. 1 HO and 3 votes. that's wild to me
Cliff – next week it's 2 -2 and a tie. If someone on the other side wins and has two people. it's coming quick
Holly says she wasn't wanting to win the HOH. They talk about finding out Nick was "trying" to make deals with Christie for this week so she wouldn't put him up
Nicole comments how she's only played in one veto so far.
Cliff – you're going to get your chances now
Cliff – if we do thin kit's hide the veto is their merit with telling each other where you're putting your veto so you only go after the other people
Jackson – Absolutely, or to check where other people are to make sure they are still there
Cliff – I got a couple of spots but I'll be seriously looking here for the next day or so
Cliff reassure them that "they're four" and there's no game talk going on with Nick
Jackson – I trust you and if anything I would want you to be in the room next to him.
Cliff tells them with Tommy and Nick "Both down there" He'll keep an eye on things "and keep it honest"
Cliff brings up that Nick was asking him if he was going up, "I'm a little surprised he would think I would potentially be a target"
Jackson saying Christie going off about "I'll take fifth"
Jackson – who is she thinking is 3 and 4? I don't know I don't' want her to know
Cliff – If one of the bigger targets on the other side go home it limits their capability.
Cliff leaves.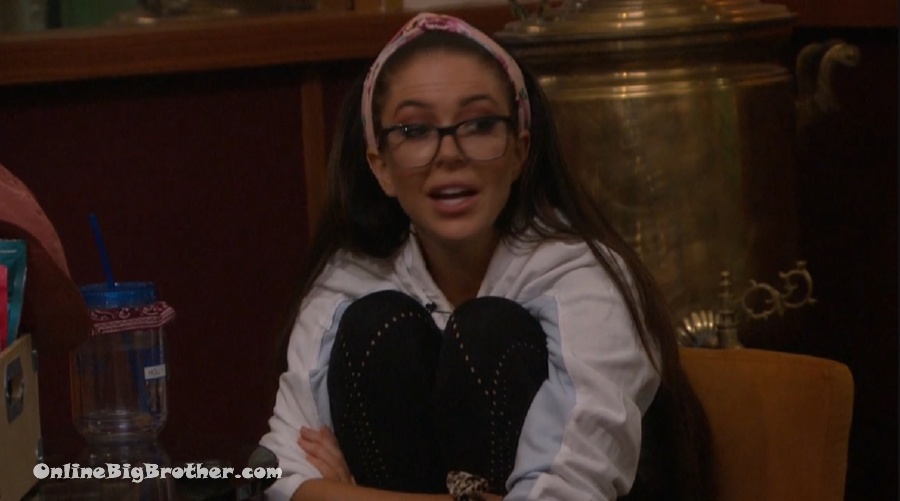 2:17 am Nicole, Jackson, and Holly
Jackson to Holly – you have three possible campaign Jess, Tommy, and Nick
Nicole – Nick was asking me how I felt as well. I was like I never know what's going on
Nicole – I know before all this went down. Because Nick, Talks and talks and Talks. He said he would go after Christie and Jess but he changes.
Holly – I heard my name a few times
Jackson – I also heard my name
Holly – he's trying so hard to convince Christie he wouldn't come after he. She just told me right before the comp.
Nicole – he told me Christie and Jess that's what I'm doing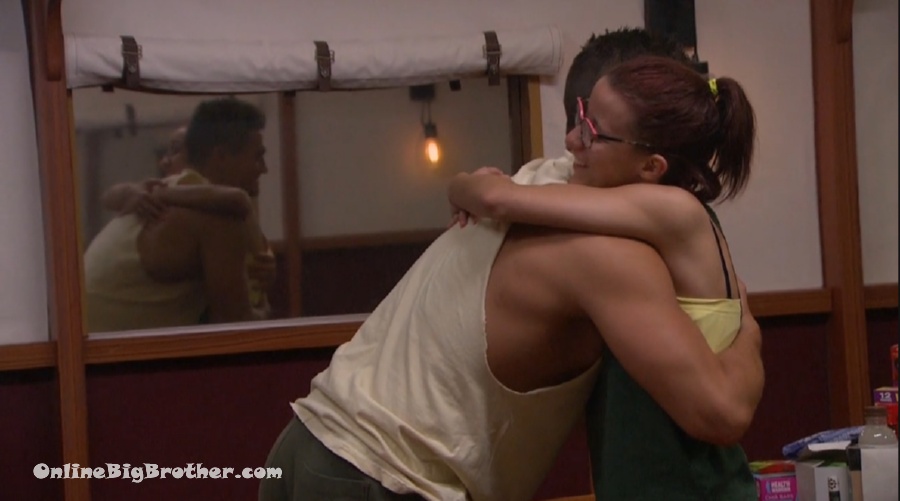 Nicole leaves they hug it out
Holly – if there are any whisperings I feel like Christie was a little nervous leaving here
Nicole – about herself or about
Holly – I don't know .. I was like well I'm not making any decisions right now
Nicole says she's in the RV with Christie she's sure she'll find out
Holly – Please fill me in
Nicole – I will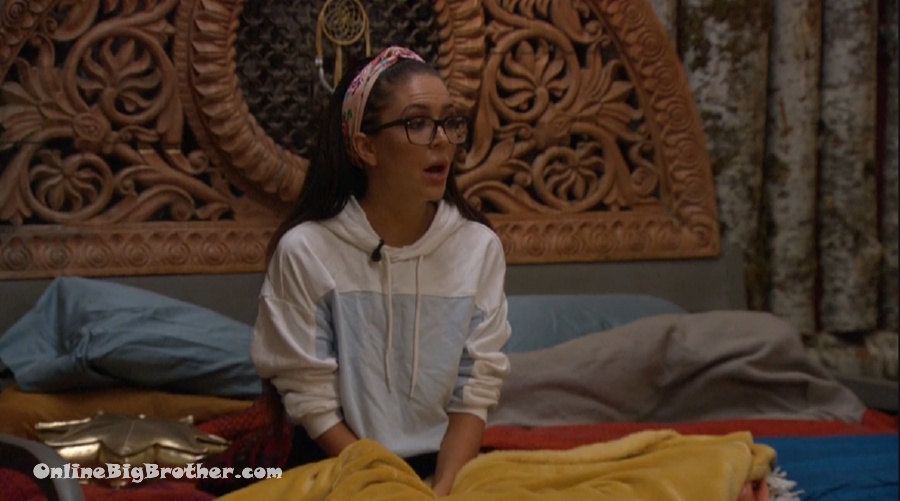 2:23 am Holly and Jackson
Holly – I'm kicking myself I should have waited until tomorrow to talk to Christie
they talk about how Christie is not on board with going up
Jackson – that's the whole reason why we kept you here
Holly – I was so afraid of this. I had such a bad feeling keeping her because I know he (No sh1t sherlock)
Holly – She was like, WEll I don't think I would go up so soon
Holly – I'm also like well we didn't really time it that's not how this game works
Jackson – you said (Christie) you just wanted another week. well we gave you another week
Holly mentions tells Christie she's going up as a pawn and Christie was "Wait what me a pawn"
Holly – yes you a pawn she was backtracking so much
Holly – she said well I do appreciate your vote for keeping me.
Holly – My Vote like we hustled like very low key and finessed you staying here. I just didn't cast a vote
Jackson – I rerouted my entire plan for the month
Holly – she needs a reality check at some point
Jackson – I'll talk to her tomorrow and remind her
Holly – I was afraid of this. WE did a lot to keep you (Christie)
Holly says if Nick wins the veto Jess goes up "I think I would rather Christie goes if Nick doesn't get ou. I don't know if it will be smarter to send Jess or Christie home"
Holly – If Christie vowes to keep working together. I kinda think in her mind this is a one time deal me putting her up as a pawn that's alright the end
Jackson – she said she would take 5th, 6th it didn't matter
Holly says she's playing up how stressed she is and she's trying to show people she more weakminded.
They go back and forth about whether or not keeping Christie was the best idea.
Jackson – at the end of the day, all of America saw Christie sit there and say USE ME .. USE ME.. OKAY
Holly – Christie, she's already going back on her word. She needs to know what pivotal part you and I had in keeping her here..
Jackson – I know
Holly – she literally just said well I appreciate your vote.. MY VOTE .. No F* my vote you're welcome for my voice
Jackson – and my HOH
Holly – we're the sole reason she's in this house
Jackson brings up how he had secured all the votes to evict her last week she was gone until he said otherwise.
Jackson – she volunteered to be used to get Nick out. Guess what there are two seats
Holly – she was shocked when I said her like I thought she was up here because she had speculation it might be her
Jackson – I'm truly having a hard time wrapping my mind around this. Does she not recall the conversation we had today, yesterday and Last night
Holly – today in the storage room.
Holly – she was like well I didn't think it would be this soon. what do you mean this soon you have to be kidding me
Jackson – you f*ing said you wanted to get Nick out. Guess what Christie, Holly won
Holly – Nickl's not going to walk out the door on his own if I ask him to. Ther'es steps involve. I won't risk firing blanks at Nick for the second time in this game

Jackson asks what her options are for a backdoor on Nick, "the odds of him getting picked are high but do you think he'll play with the same intensity if he's off the block"
Holly – what do I do Christie and Jess
Jackson – explain they are pawns then there's no shock
Holly – Jess is not going to understand she's a pawn and I want Christie out. SHe'll be like WHAT you just saved Christie why are you doing this.
Holly doesn't want to share anything with Jess "Any information she gets she wants so share that she got information. How do you do that? by telling everyone the information you have so I don't dare tell Jess any information.
Holly – maybe that's better because if he does win it and doesn't use it Christie goes home she's still a power player she does make me nervous as heck especially now.
Jackson – or at the end of the day if Jess goes home that's still not a lose.
Jackson says if she pitches this to Jess she'll get salty and "run her mouth"
Holly – Jess trust me, Trust me trust me you are a pawn. She's going to be salty
Jackson says he can talk to Nick and say he talked her off a ledge to keep Nick safe
Jackson – if I spin it, Hey dawg I'm trying to help you out
Holly is worried Christie is running her mouth off to Tommy.
Holly – I can't believe her whole spew was all I have is my word and my authentic self I was like Christie you've proven to people in this house time and time again that your word means shit why is that your campaign speech. you've betrayed most of the people sitting in this room.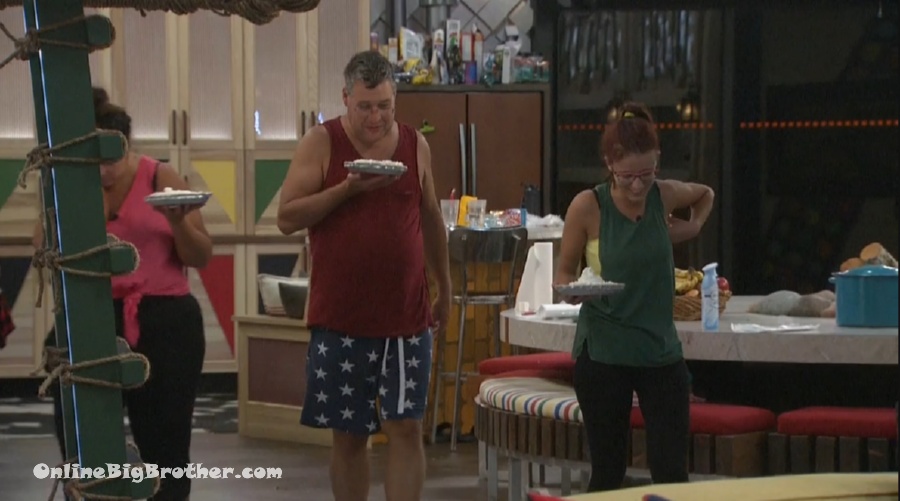 3:00 am Everyone in bed lights out
3:20 am they get called for pies.
Nick gets pied
Tommy gets pied
Christie gets pied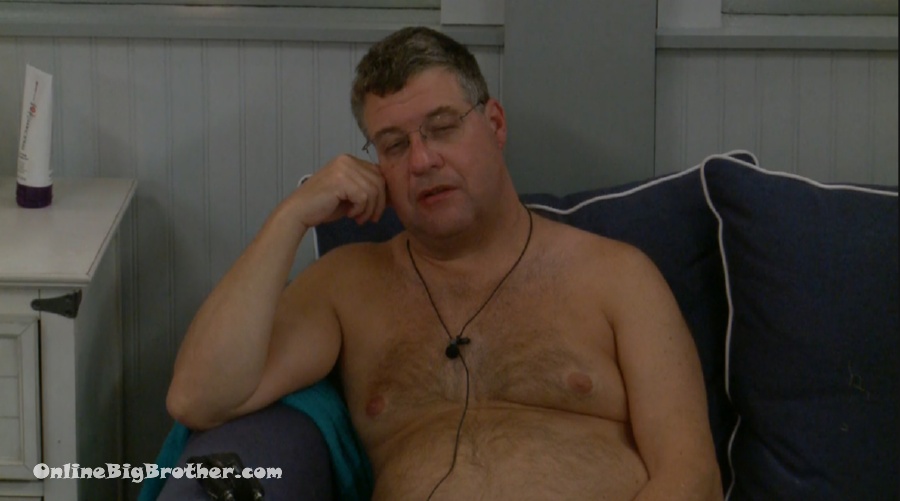 4:00 am Cliff up talking to us feeds watchers.
6:10 am Sleeping around 9 the feeds went to kittens.