HOH: Christian
SAFE: Xavier, Alyssa and Sarah Beth
HAVENOTS: Azah, Big D, Britini
WILDCARD Competition Winner: Claire (safe 2 weeks)
Nominations: Hannah & Whitney
Power of Veto Players: Christian, Hannah, Whitney, Claire, Azah, DerekX | Host Alyssa
Power of Veto: Christian
Power of Veto Ceremony: Christian did not use the Power of Veto Nominations are locked.
Big Brother 23 Houseguest Rankings – – RANK THE HOUSEGUESTS –
View the previous day ranks on the – Ranking Grid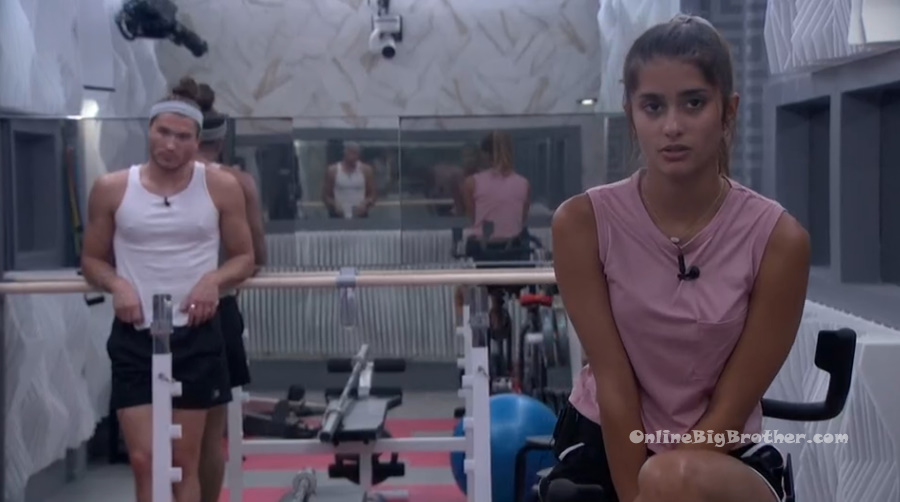 11:20pm Gym. Christian and Alyssa.
Christian – I'm not playing an individual game. Alyssa – but they think that. Christian – okay, but you know I'm not. Alyssa – I just know if I win HOH, I am going to have solo talks with people. Christian – You are my number one! You know that right!? Alyssa – I know that. Christian – quit making me think that I am not. Alyssa – no, but it is making me think that I am to you and you're not to me.. which helps your game. Christian – I just don't want you to doubt it. Alyssa – I'm not doubting it. Christian – well it seems like it. Alyssa – then you're taking what I'm saying wrong. I never once doubted it. Christian – opportunities that came my way were presented to me. Alyssa – I know. Christian – do your own thing but just know we're good. Alyssa – I know, I don't want you to think that I am doubting that. Christina – I know but no matter what if you do do your own stuff we're still going to tell each other. Alyssa – exactly, I tell you every conversation. Did you think I wouldn't? Maybe I am wording wrong. Christian – it wasn't really what you said it was how you reacted when I told you about Britini. Alyssa – you have conversations.. Christian – but you know that is what happens when you're HOH. Alyssa – I am not saying what you said isn't true, I just haven't had those yet so I am just hoping that I will get the opportunity to do so and of course I'm going to tell you. I don't want you to think that is how I took it. It just makes me think that if I left, you would be fine and if you left I wouldn't have people around me. Christian – but your best number 2, you know who that is right.. Alyssa – X? Christian – yes. Alyssa – I know, I just want to have the conversations that you were lucky enough to have. Christian – right but what are the actions you're going to take based on this conversation? Alyssa – I just hope to win HOH so that I can have those conversations. Christian – got it! Alyssa – if I leave you still have those two other final twos.. if you leave I have nothing. I need to start having those conversations whether they're fake or not. Christian – and I want to go back to Britini and involve you. I see what you're saying but I only have one thing without you. Christian – I'm going to see if I can get you in with Britini. Alyssa – wait until after HOH because if I win I am putting her up. .. but we all know the chances of that are slim so maybe we need to have the talk .. I don't know.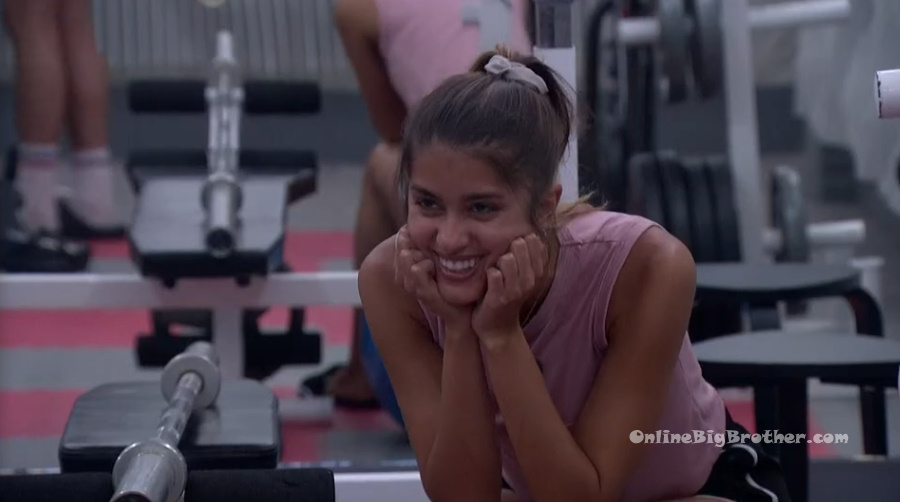 11:37pm Bedroom. Derek X and Claire.
Derek – what I am thinking is what does the group look like after SB (Sarah Beth) is out maybe. Like I don't want Christian coming for me. Claire – its weird because I genuinely kind of think that Christian and Alyssa do kind of what to keep the heat for next week. Derek – I honestly believe it but at the same time Alyssa is such a great liar. Claire – I think she is. I think Christian isn't necessarily. Alyssa is a great liar but Alyssa has not been talking about me. Derek – she has? Claire – she has not. Derek – Like I have been trying to talk more with Alyssa and I genuinely think that she wants to ride with the 8 for as long as possible. Claire – I think that she wants to ride with the 8 until the 8. Derek – no for real. Claire – I was talking with her today and she was saying that Big D should be the 9th. Derek – she said that? Claire – yeah because I was talking to her about who the f**k is going to want Big D out. Everyone is going to want to bring Big D to the end because everyone is going to be able to beat him. She was like yeah I think he should be 9th. And I'm like wait we're having two different conversations.. Derek – like whoever puts up Big D is going to pawn'd! Claire – people aren't afraid to put up Christian but they are afraid to put Big D up. Derek – I would be petrified to put Christian up. Claire – why!? Derek – he would win veto. Claire – so you could backdoor him. You have to backdoor him. The earlier the better. Derek – why? Claire – his chances of getting picked (for veto) are lower. Derek – yeah, that makes sense. Claire – I just don't know if that's what's best for you. Derek – I know, I do think that Christian here now is good for my game because he spreads out the attention when it comes to comp beasts. Claire – for sure. But he is also a comp beast. Derek – and you saw in the video he can beat me head to head.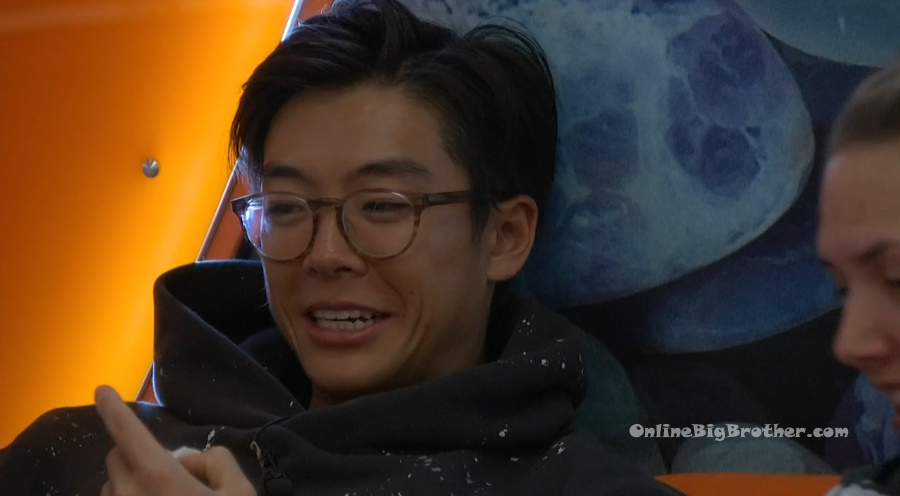 12:08pm Living room. Tiffany, Hannah and Xavier.
Tiffany – DX (Derek X) can get Christian out if that's what you want. Xavier says something but its not loud enough to pick up. Tiffany – I understand that but when you want to get Christian out Derek X can do it. And then you and Ky will have to get DX out. Hannah – I would want to keep DX longer. She (Sarah Beth) is coming after me or she is considering me as an option. Tiffany – she might put you next to DX or she might put you next to me. Hannah – I know. Xavier – when we had originally talked I had said Christian but hearing that she is so adamant about coming after you I would much rather want SB gone because Christian isn't coming for any of us.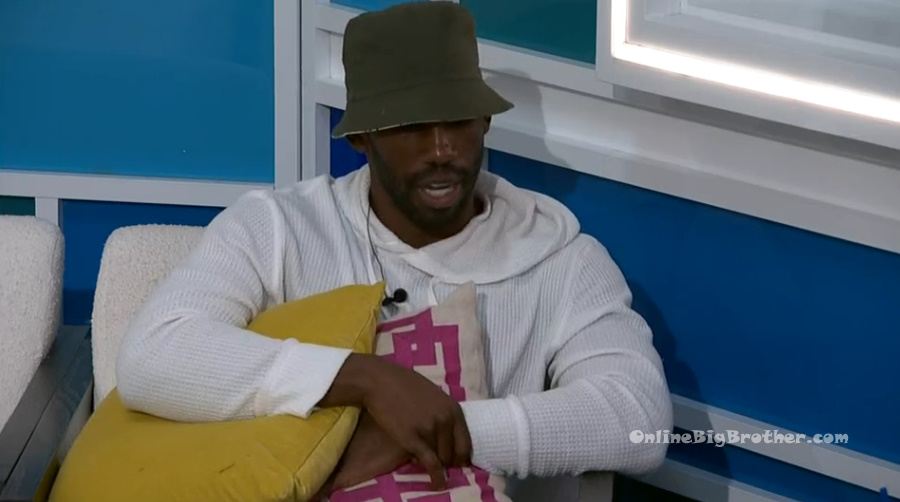 12:20am Whitney and Xavier…
Whitney – I think Hannah plays the social game to hard.. like you can tell when she is working people. I would like her to make it far though. I don't think Claire will last too much longer. They talk about how Britini is an easy person to put back up on the block. Xavier – I think if she goes up on the block again, she is going home.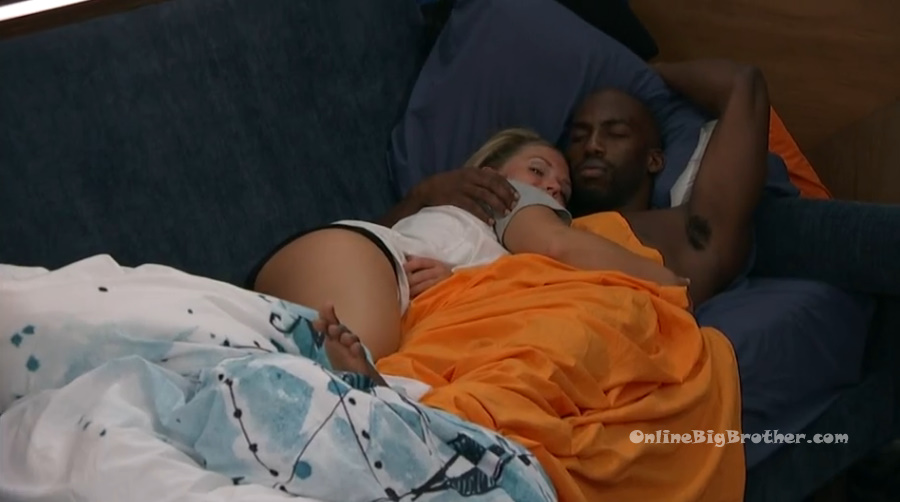 12:55am – 1:25pm Bedroom. Tiffany, Claire, Derek X and Hannah.
Tiffany – so how do y'all feel about the upcoming HOH? Claire – I'm in a weird spot. I think I want to know.. is it teams based. If its individual and I don't get team safety, I don't think I should win it because I don't need it. I've I'm being very honest with you. Tiffany – no I understand that. Would you throw it to me? Claire – yeah. Hannah – would you throw it to me? Claire – yeah. Big Brother switches the feeds away and back. Tiffany to Derek X – you don't have to throw it to me. Just make sure I get to sleep in that bed. Derek – of course. Tiffany – keep your a$$ down here with Hannah. You're going to have three girls in your bed. Derek – I'm going to sleep down here then. Hannah to Tiffany – do you really want the HOH? Because its your birthday? Tiffany – yes, because its my birthday, because of my son, the letter. And I would put her (Sarah) up for you and I would hope that she goes home. But I hope I would get to compete against her in the veto. Derek – I think the jokers would pick me for HG choice. You would pick me too. Tiffany – she (Sarah) would pick Ky, unless she picks Christian. Hannah – she would pick Ky. Tiffany – if she was smart she would pick Christian because she doesn't want to show her cards. Hannah – but would Christian pull her off the block? Tiffany – I don't know but I would bust my motherf**king a$$. I will beat Christian's a$$ in a veto just because I am mad at this point. Claire – if that was the case you could always threaten him. Tiffany – win if you want to but if you do your a$$ is going home next week. Sarah joins them.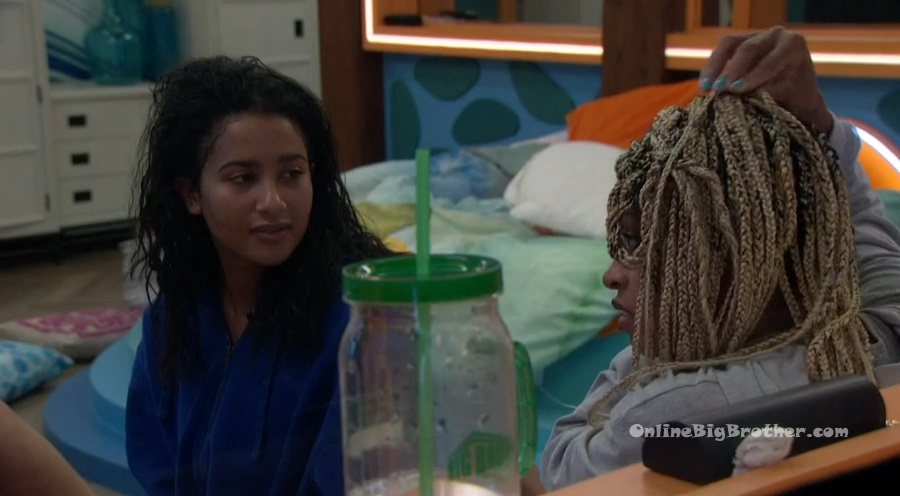 1:40am – 1:50am HOH room. Alyssa and Christian laying in bed chatting. The others are also heading to bed.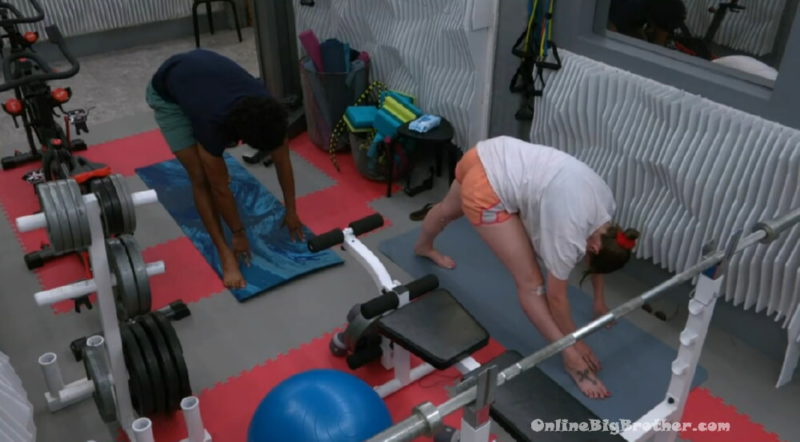 2:30 am Kyland and Sb working out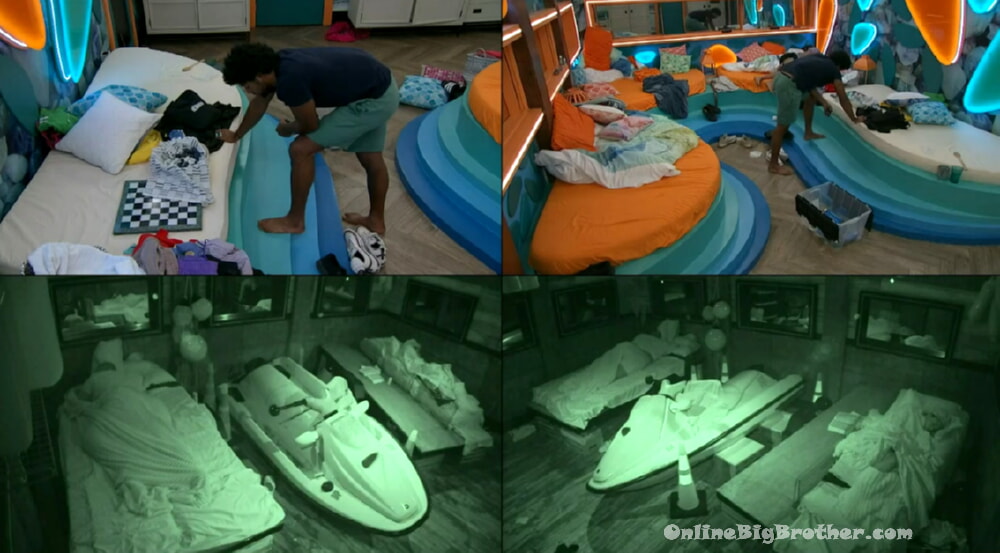 3:00 am 3:47 am Kyland studying
3:50 am everyone sleeping
9am Big Brother is waking up the house guests..
Show your support 🙂 Without your support this site and these spoilers wouldn't be possible.
Please consider a donation to keep the madness going.