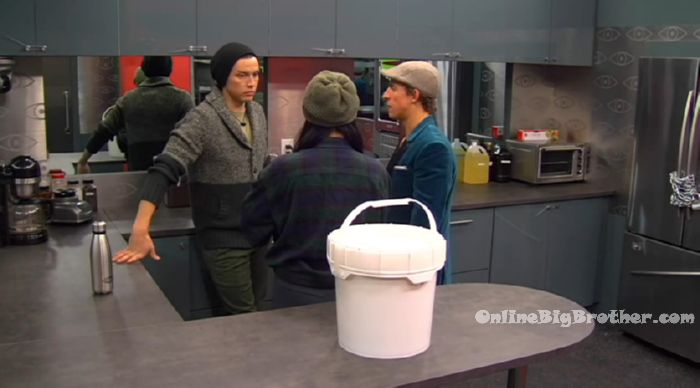 7:17pm Storage Room. Dane, Damien and Est.
Est – I heard who they wanted to put up as a replacement nominee.. that's who I heard it from. Sam was giving me this weird a$$ look because right away Adam looked at me. I told Sam right after she came out of the thing. I was like you can guess who I heard it from. So you heard it from them too.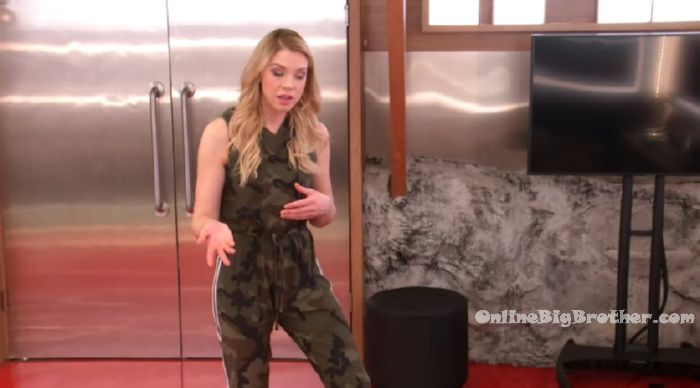 7:25pm HOH room. Chelsea and Kyra.
Kyra – how are you doing? Chelsea – good, just kind of in my head. I was like f**k what if Mark told Kiki about the plan .. and then I was like it doesn't really matter because at the end of the day I'm going to tell them anyways so ..in order to maintain balance I to tell everyone that was my plan all along. If I tell Kiki this was my plan all along… that she is not a disposable player to me. I knew you were going to be able to pull yourself down. I knew that I couldn't put Kailyn up because I knew she would get taken down or convince somebody to take her down. Everyone is going to know anyways. Even if that leaks, that would be okay. I am telling people because I want them to think that I trust them. So the people that are in the loop right now .. I am doing it on purpose. I just don't want Kailyn to know. Dane already knows. Kyra – you told Dane? Chelsea – Adam told Dane. Kyra – are you serious? It should have been you to tell Dane. Chelsea – yes. Kyra – when I make mistakes, I get shat on.. but anyways.. Chelsea – so then I went and told Dane. Should I tell Kiki tonight? Kyra – tell her that you didn't want it to get out but that you want her to sleep easy tonight. Chelsea – Mark should never have been in on it. I don't know why they trust him. I don't trust him. Kyra – I don't trust him at all. Chelsea – if you win next week, you should get him out. Kyra – 100%! I'm going to win next week. Chelsea – visualize it.
8pm – 8:59pm Big Brother blocks the feeds.

12:20am HOH room. Chelsea and Sam.
Chelsea – I feel like everyone f**king knows what's going on at this point. Because when I came up earlier today and you and Adam were in here.. it seemed like Dane knew (that Kailyn is going up as the replacement nominee).. So after I went and had a conversation with Dane. Chelsea – I feel like you and Adam are good with Cory. I'm good with her. I think pretty much everyone knows except for Eddie and MammaK. After I am going to tell Kiki that she was always the pawn because I need her to know that she isn't disposable to me. Sam – I don't think she feels like that … I think she is just grateful to be here.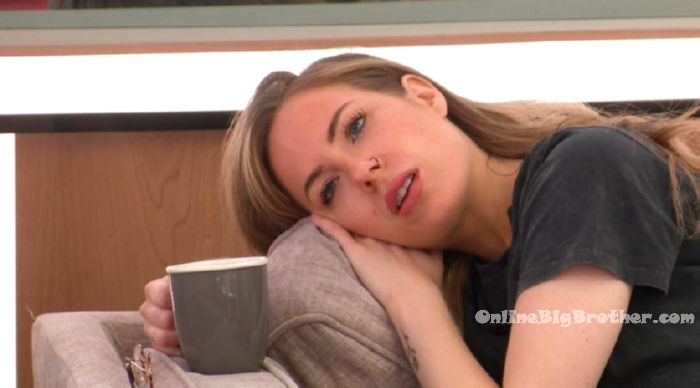 Support the site and purchase your Amazon goods through our link below. It doesn't cost you anything and we get a percentage of what you buy.
Amazon Canada
Amazon USA