POV Holder:
Jared
Next POV
April 9th
POV Used
Yes
POV Ceremony
April 11th
HOH Winner:
Maddy
Next HOH:
April 14th
Original Nominations:
Jared and Kelsey
Current Nominations:
Kelsey and Raul
Last Evicted Houseguest
Paige, Sharry, Christine, Kelsey, Loveita, Dallas, Mitch
Have Nots
Raul, Nikki, Kelsey
Watch the Big Brother Canada 4 Live Feeds anywhere in the world with HideMyAss VPN.
ALLIANCES IN THE HOUSE
There will likely be a lot of alliances during the season – keep track, read our alliance help guide.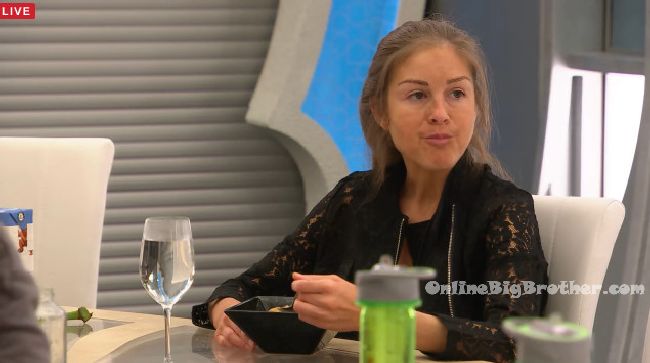 9am Nick is sitting at the kitchen table with his head covered with a towel over a hot bowl of water because he's stuffed up. Nick gets called to the diary room. Nikki sits down with Tim at the kitchen table and complains about Cassandra. Tim says she's being a cow. Nikki says its ridiculous. Nikki tells Tim that she can't wait to put Cassandra on the block.

9:50am In the bathroom – Tim, Jared, Kelsey, Cassandra. Jared says we all know Cassandra has a deal with everyone. Tim says I'm not going to play like that.. Its fine at the start when you have double deals with everyone. When it starts getting pointy you just have to pick the deal that's most convenient at the time. So if that means they're going to put us up, she'll work with them. So that's why it needed to be squashed. The fact of the matter is you can't have double deals with everyone if you're working with a team of people. I haven't got double deals with everyone, I've said no to so many people. I don't have deals with anyone, even though I've been offered. Cassandra comes into the bathroom and says any of you that think I'm working against you, put me up on the block! I don't want to work with you if you think I'm working against you.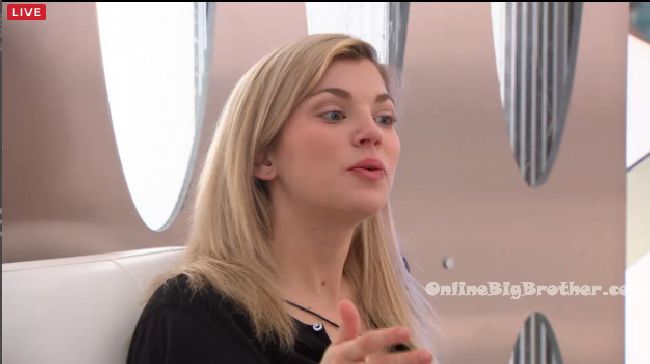 9:55am
Raul asks do you think when we get out of here we're going to have psychological problems? Cassandra and Kelsey say yes. Cassandra says I think a lot of people had psychological problems coming in here. Raul leaves. Kelsey tells Cass to go fix it. Cass says I've been helping you all week, can't you go talk to him. Kelsey tells her you need to go fix it.
In the bathroom – Kelsey tells Cass I think you should go have a real conversation with him. You're the one that is having issues with him, you go talk to him. Kelsey says she misunderstood the question and thought he said they would put her and jared up. I already cleared it up with him. You need to go talk to him. Cass says if he doesn't trust me that fine. Kelsey says if I didn't talk to Jared for two days he wouldn't trust me either. Kelsey then goes and talks to Jared about Cassandra.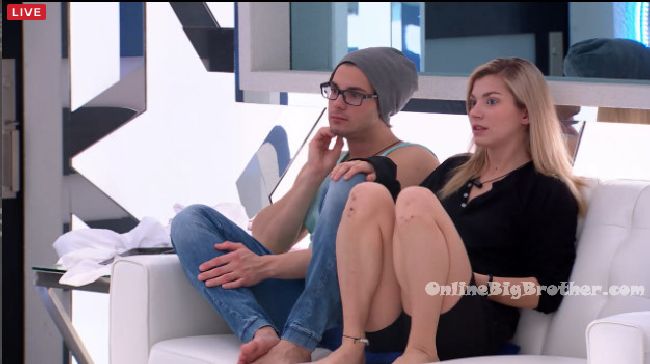 10:35am In the HOH room – Ramsey tells Maddy that he walk in on the tail end for the Cassandra and Tim fight and so he thinks its real because they didn't know he was there. Ramsey asks do you think Joel will put us up? Maddy says no he's scared of us.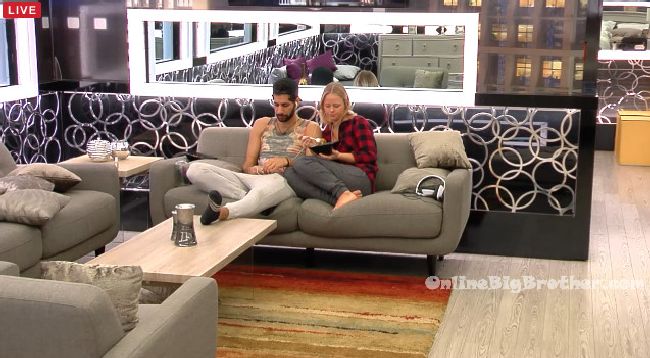 10:40am – 11:20am Big Brother tells the house guests to go to the head of household room for a lock down. All the house guests head into the HOH room. Big Brother blocks the feeds.
1:10pm The live feeds are still blocked.
1:30pm – 1:50pm The live feeds return to the house guests having just been released from the HOH room. In the bathroom – Kelsey says she knows what she's going to say. She says that she doesn't want to tell Raul because he will just steal it and use it like he did last time. Kelsey leaves the bathroom with Jared and tells him what she has so far. Kelsey says coming back into this game, I've realized that this is an individual game and that sooner then we think there will be two people standing at the end. I still need to think of a good ending. Jared says he likes it. Kelsey tells Jared that Maddy told her in the kitchen "See I told you, you weren't going." Kelsey and Jared head back into the bathroom. Kelsey says I'm just starting to get worried about Cass. Jared says yeah we all are. Kelsey says she'a all over the place. Jared says she's too emotional. Big Brother blocks the feeds again.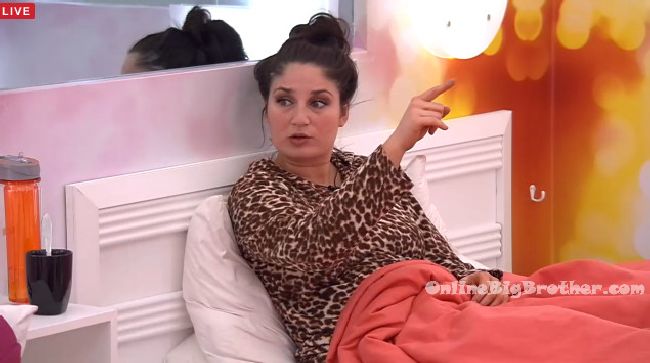 2pm – 2:25pm Cassandra is in the bedroom talking to Joel about her drama with Tim. Cass says that Kelsey had told her that Phil/Nick said they would put Tim & Nikki up. Kelsey then denied saying it. Pack of f**king idiots! I don't think he will actually put me up. I've never once been disloyal. Joel says I just hope that if Nikki wins or he wins… Cass says Nikki will put my up. Joel says that's so illogical! Don't they realize that's part of the game to distance yourself. This is the most irrational group of house guests. Cass says I just can't believe it. And Kelsey is so stupid! She didn't even campaign this week. Her only campaign was Rual's anti-campaign. She will never win this game. Joel says that's why I want to work with her. Jared is so irrational. Kelsey says they're so dumb. Nick joins them. Cass leaves. Joel asks I wonder what is going on in the high roller room? Nick says yeah that's where we do the nominations but nothing on eviction day. Nick leaves. Tim joins Joel. Joel tells Tim that for him personally… everyone wants Jared and Kelsey on a plater .. but I want Maddy and Ramsey. Jared would not come after us I think. Tim agrees. Cass joins. Tim tells Cass that she's treating him like a leper. If you need time alone just say it. Tim tells Cass that he wouldn't really put her up. Joel tries to calm them down. Tim says lets get rid of the brothers. Cass thinks its better to get Maddy out first and then the brothers. Tim says I think we have a good thing with Maddy right now. Maddy and Ramsey came to me to make a final 4.. but I didn't want to because we have a four with Jared & Kelsey. Tim tells Cass that he thinks she has a double deal with the brothers & Joel. (Which she does) Cass says she doesn't have a side deal with the brothers. Tim says if the brothers aren't part of any side deal then they can be sacrificed tonight. I think they have a side deal with Maddy. Tim says I don't have a side deal with Maddy .. I couldn't beat her on finale night.
2:30pm – 3pm The Cassandra drama continues… Ramsey says and this is why the girls keep getting voted out. Tim says what Mitch was doing, Cassandra is quite good at it too. Trying to make other people mad at each other. She's trying to get the brothers mad at me and me mad that the brothers. I called her out on it and then went straight to the source.
3:45pm Big Brother blocks the feeds.
Nikki's lucky tonight's HOH is a viewers vote with a high stakes game of chance and not a comp @bigbspoilers #bbcan4 pic.twitter.com/bpMd5Y7IFm

— Dawg (@DawgsBigBrother) April 14, 2016
Want to watch the rest of big brother Canada 4 & all of Big Brother 18?
Sign up for the 6 month plan with HideMyAss VPN.
[polldaddy poll=9385720]
[polldaddy poll=9383597]
Share it YO!!
Tweet