POV Holder:
?
Next POV
April 30th
POV Used
?
POV Ceremony
April 25th
HOH Winner:
Kelsey
Next HOH:
May 9th
Original Nominations:
? and ?
Current Nominations:
? and ?
Last Evicted Houseguest
Paige, Sharry, Christine, Kelsey, Loveita, Dallas, Mitch, Raul, Maddy, Jared, Nikki
Have Nots
?
Watch the Big Brother Canada 4 Live Feeds anywhere in the world with HideMyAss VPN.
ALLIANCES IN THE HOUSE
There will likely be a lot of alliances during the season – keep track, read our alliance help guide.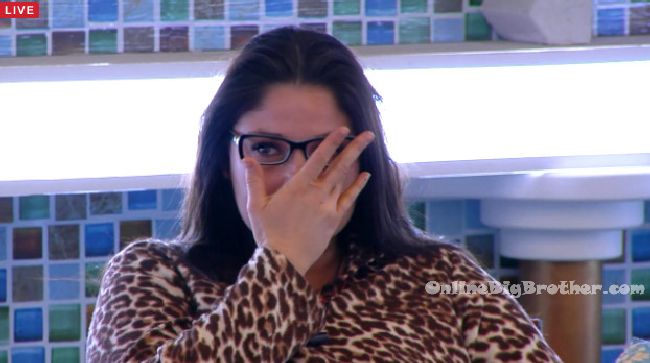 9:50am – 10:35am By the pool – Tim tells Cass you know I will always vote for you to win the show. Cass starts crying. I don't know what game they're playing the honestly game or .. They sit there and call me a liar. You just sit there and don't say anything. Tim sasy I don't think you're going home this week. If Its you and me, I'm going home. If its you and anyone else… Tim sasy you sadi you would never cry in this game. Cass says I know. Tim says the tricky thing is that no one knows about Joel. Cass says I shouldn't have used the veto. Tim says lets just wait until after the veto. Cass says I'm not mad at you. I expected to go up. I went after you number 1 ally and I knew if you won, I would go up. Kelsey says I'm not trying to be an a$$hole. If nothing else we are friends. Cass says I'm not frustrated with you. Cass says that she wasn't going to use the veto and then Tim said something to her. Tim tells Kelsey that she plays on a heart level. Cass doesn't except for that move last night. Tim says Uh OH The Black widow has a heart. Kelsey leaves. Cass says that Joel needs to win the f**king veto. The person we've been protecting this entire game. Cass says if she hadn't used the veto on Tim, Joel would have voted to keep him. It would have exposed him and he would have been public enemy number 1. Cass says we need to get the brothers out this week some how. Tim says out of the freak show one of us has to win the veto. Cass asks did we sign up for big brother or the friendship making game.? Cass says if Joel goes this week, its not the worst thing. We'll try for the brothers and if not Joel. Tim tells Cass you never should have invited me into your bed.. we're both like bad people. Tim says we're both psychopaths. Tim says the way you've done this game is exactly how I did Australia.. there's no off switch and its exhausting. Cass laughs about the idea of the brothers walking in to Jury house and telling Jared that Kelsey was HOH. Tim and Cass agree they would vote for Kelsey over the Brothers.
10:50am
Tim tells Joel we've got a plan. Best case scenario is you win the veto and second scenario is I win the veto and take Cass off and convince Kelsey to put up the brothers. I think this is our week. We know your best chance at the end is with eiter of us. Cass says that Tim is our little Australian mentor. Cass says lets get freaky this week! Lets do it! Tim asks can we make the veto who stared in and who won the awards!? Joel says if its anything in a ten foot tree and I reach up and grab it. Or hackysack, I'm good at that. Soccer I'm good at that. Cass says if you (Joel) win the veto, I will run around the house naked! Tim says I will too. TIm says what the brothers did last night making the deal with you .. was grounds for Kelsey to go hold on wait a minute. Tim tells Cass that she gives her word out like some game wh*re. We're obviously the smartest in here but we have the worst luck. Cass says the brothers need to go.
11:15am Hot Tub room – Kelsey says truthfully I don't think Cass has played that good of a game. She's leached on to people. Phil asks who do you want to go this week? Kelsey says I don't know yet. I think Tim has played the better game. He is the bigger threat. Tim is very smart and does want to win. Nick joins them. Phil says they're going to be working Joel so hard this week. Phil tells Kelsey that Joel would take you over Cass. Kelsey says I don't know. Phil says what is great next week is all about the POV. If you win it you decide who goes. Kelsey says I do believe Tim is the bigger threat in comps. Kelsey says bottom line is Joel and Cass aren't physical threats. I'm just very irritated by Joel this week .. he is a snake too. He tells us stuff but he tells Cass everything. He will never be with us. Phil says if we win the final HOH I would be so happy to take you (Kelsey). Kelsey says same.
12:15pm HOH room – Kelsey is listening to her music. Meanwhile in the backyard – Tim and Cass are working out. Tim tells Cass that he's glad he lasted longer than Nikki.
1pm – 1:20pm Hot Tub room – Tim tells Kelsey I really respect that you told us that we're going up so that we weren't wondering all day. Cass joins them and says they kind of knew they were going up. Tim says i think at the end of the week .. Cassandra and I are the two that you would definitely beat at the end .. at the end of the week you will know .. ah yeah I know what I need to do. I just really don't think the brothers will take you to the finale because the jury is stacked in your favour. Kelsey says I would have Rual and Jared's vote but not Maddy. Tim thinks Jared will persuade her. Cass leaves. Kelsey says I know people are going to say that I have the votes in jury but I don't necessarily think that. Tim says next week you're relying on Joel to save you since you can't compete. Kelsey says or the brothers to take me to final 3 at least. Cass joins them again.
2:10pm All the house guests are in the hot tub room chatting about travelling.
3:35pm – 4pm In the bedroom – Joel, Cassandra and Tim are studying. Meanwhile – Kelsey and the brothers are hanging out in the hot tub. Phil tells Kelsey he could never evict her so that he could win. Nick says I would rather see you win then see one of them win 20K. Kelsey asks I wonder what Joel's plan in all of this is. Nick says to play both sides. Just know the brothers have your back. Kelsey says I know. Phil says she knows.

HOH room – Kelsey and Cass are talking. Cass says I know your 99% sure and that you're not changing your vote. I know you're open minded. Kelseys she's open minded. Cass says if Tim wins and comes off I go home. Phil comes in. Cass asks to have a minute. Phil says open door policy. I know you're spreading rumors about me. Cass and Kelsey say she's not. Cass says get off your high horse. Phil says fine, I'll leave, I just know what you're capable of. Kelsey asks if she should call them out on what they said to you the other day? Cass says you can. Kelsey asks so they actually said lets all just go against Kelsey. Cass explains what happened before she won HOH. They go to talk to Tim.
In the bedroom – Tim explains how Kelsey knows how they've (Brothers) have played the game hiding behind the power. Tim tells Kelsey that Cass and I are probably your best chance to win. I whole heartedly respect how you played the game.
In the kitchen – They all sit down at the kitchen table and have an "open door" meeting. Cass brings up the conversation in the pink room last night. How you still love me. Phil says on a game level. Cass says and you wanted to still be BFF's with us. Phil asks absolutely not! WHAT!? We said you were dead to us. Nick ask do you have the word ass on yr face because you have one on your ass and your face because all I hear coming out is sh*t! We said if you used the veto you were dead to us!!
Sign up for a 6 month subscription and watch the rest of Big Brother Canada 4 AND Big Brother 18 with HideMyAss VPN.
Share it YO!!
Tweet