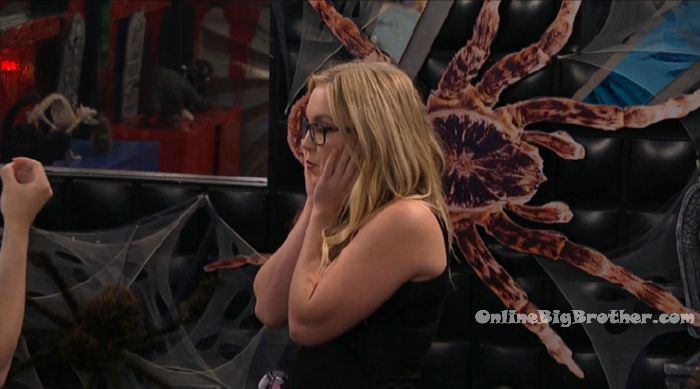 8:45pm Alex – Jason basically told me that he can convince Danielle to keep you and I (Scott & Alex) off the block this week if we keep him safe and don't touch me (Jason) next week. Scott – he told he if he convinces Danielle to not put us up, then if he is on the block as America's nominee that we go after one of our own people. Alex – if you don't put me on the block …we can work with that deal. We can work with that deal! Scott – exactly. I don't even think he is going to be America's nominee. Alex – how is he going to keep Danielle from nominating us? Scott – because the strategy is that Danielle is going to nominate the two weakest competitors. Nominating us would be the high risk, high reward strategy. If they win the veto, then one of us is going home. Alex – if we win the veto they are completely screwed. Scott – they're scared of us because we're competitors. HOLLA POWER COUPLE! They want to nominate weak competitors so they can win the veto and take off the third nominee .. so that Shelby's care package doesn't mean anything. Alex – who would they put up? Whitney & Shelby? Scott – that's what I would assume. Alex – I still don't believe Danielle won't nominate us. Its too good to be true. Scott – they have to prove it be for we do. I don't think Danielle even knows about this. Alex – Jason is playing this brilliant. Danielle is getting nothing out of it and Jason is getting everything out of it. Justin joins them. He tells them he doesn't think they're going up. Justin leaves.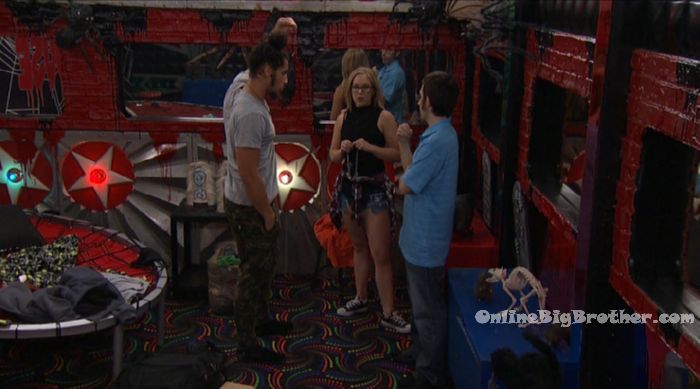 10:15pm – 12am lounge room. – Morgan, Shelby, Alex, Whitney and Scott are hanging out chatting. They talk about what their spirit animals would be. Shelby brings up how on day 1 Danielle was all over Monte. They talk about how he was hot but how he had no personality.
Meanwhile – in the HOH room Justin, Kryssie, Scott and Danielle are chatting. Jason – they're being nice today.. but they got a care package today.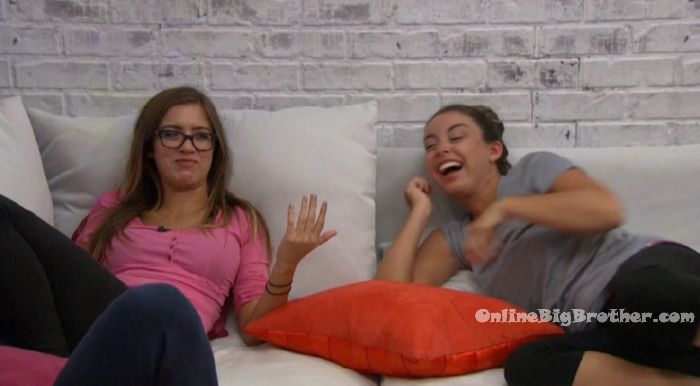 12am – 12:30am The havenots are no longer havenots and can eat. Jason – I've never met food before. Danielle cracks open her Lime-A-Ritas. Danielle – eewww.. they're gross but worth every 8%! It's malt liquor. Jason – they might as well have given us mad dog 20-20. All the house guests are chatting and eating.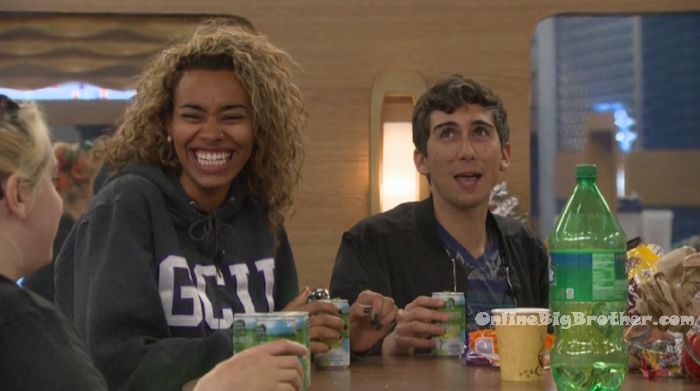 12:45am – 1:05am Kryssie – tomorrow is just the safety ceremony. Jason – bad day to quit smoking. Kryssie – why? You're not going up. Jason – no because its a boring day. Danielle, Jason and Scott get into the hot tub.
Whitney and Morgan paint something on the storage room handle as a prank.

12:55am Bedroom –
Alex, Shelby and Morgan lay down to go to sleep.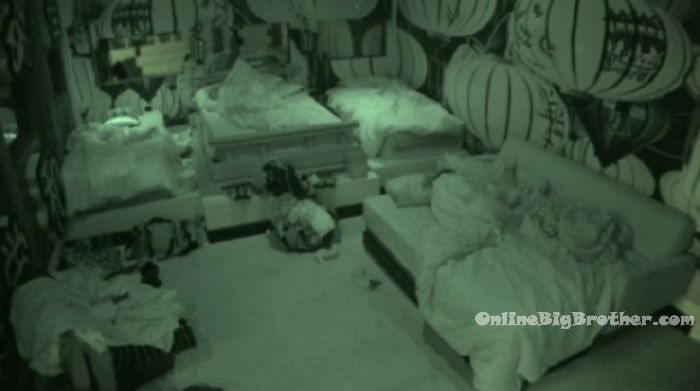 1:10am Hot tub crew hanging out talking about random things..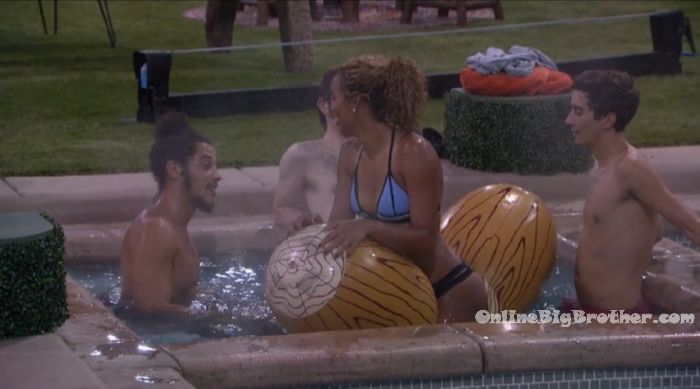 Watch the BBOTT Live Feeds FREE for 1 WEEK!
Click here for your: FREE Trial!
[polldaddy poll=9564863]