Quick Big Brother Spoilers
Head of Household: Felicia
Nominees: Cameron and Jag Hisam
POV Players: Cameron, Jag, Felicia, Izzy, Red, Corey – Host is Bowie
POV Winner: Jag
Veto Ceremony: Jag used the veto on himself. Felicia nominates Hisam in his place.
Havenots:  America, Matt, Red
Lock your ranks in before midnight
The Situation First Blindside.. KABBOOOM
9:47pm Bathroom – Jag and America
Jag – I do like him to and I want to talk to him. I was also tripping out this morning but that is also because of speculation and game talk and sh*t like that. Obviously Hisam is the target, he is going home. All there really is, is the HOH left. Stressing out over game stuff. America – plain and simple, we just have to win it. I am also paranoid and feel sus'd out as f**k by everybody and every conversation I have … oh they're going to tell this person or they're going to tell this person. Like I hadn't told Izzy about the Hisam conversation calling them the leftovers until everything else came out. Jag – and then when you did it comes back on you. Cory joins them. Jag – have you told your dumba$$ idea to Cory yet? America – I said should we call ourselves The Students? Cory – I knew about the group (The Professors) but I didn't know about the name until 2 hours ago. America – is there anything against us calling ourselves The Professors. Jag – but with a "z" on the end. They wonder if they should call themselves The Unreliables. I really likes the Unreliables.. I think we should pitch that.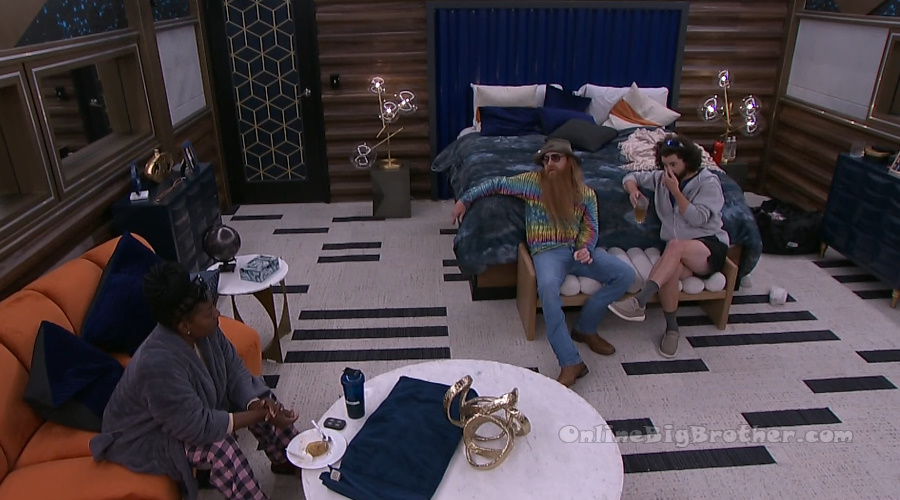 10pm – 10:20pm HOH room – Cirie, Cameron, Red.
Cirie – I am excited about this Cam because I don't ever want to feel like they aren't a part of something. And that was the old, right.. that has dissolved. This is going to be the new that includes all of us. Red – equally. Cirie – equally, right. Each time everyone says they're not going to be dictator but that's what it felt like. Right? And we can't have that. Cam – We're not allowed to use Right. Right?! Right?! Right! Agh.. shut up! (LOL) Cirie – no, its not right! Cam – its awful! Right!? Red – but the Hisam era has passed and there is no need to dwell in that. Moving forward I am Jag's target, next week. Cam – basically Cory told me that. Red – he told Matt the same thing. Cam – Jag told Cory that. And Cory goes, Jag knows that I am close to you.. so he said take this with a grain of salt but Jag is throwing out Red's name. But seeing as the usual platform the last couple weeks .. I can only think of one person that would go up next to him (Himself – Cam). Red – The only scenario that makes sense and maybe America …but if Jag, Blue or America win, I would say us two would end up on the block. Cirie – and we got to make sure that don't happen. Cam – so I told him… again Thursday is important. Felicia joins them. Then Izzy, Matt and Meme come up to the HOH room. Felicia – if we do win HOH this week what are we thinking? Red – if I win, it would be Jag and Blue. I am his target. 100% I am his target next week. And the backdoor possibility would be .. I don't think we would need it but if one of them win, I am putting up America .. just because I don't trust her. Izzy – that sounds great to me. Cirie – we just need Meme and Bowie (to come up and join their meeting). Felicia – are you guys sure you don't to do Jag and America right off the bat. Cam – I think Blue and America are sitting ducks once Jag is gone. Jag is the fuel behind the fire. He is the one that has the more competitive edge. And he is the one that went so eminently against me. He is the only person that is legitimately listening to Hisam. Red – But America would be an easier go without a fight. But if we get rid of Blue we gain back poo.. but if we do put up America .. it would be much easier to get a unanimous vote.. But at the same time I really want to see Jag go because he is after me. Felicia – right right. Cam – but I think that I am a very close second. They see Meme in the kitchen and Red goes to get her. Red – now that Jag is down there (DR) and the showmances are separated.. so this is about the only chance we'll have to talk. Matt is totally on board.. and I think we just names this awesome a$$ alliance. LEGEND 25!. Bowie – and we talked about who to put up next week but I came in later as well so.. Red – what's your thought? Meme – I think the other people that are not in this room.. are probably feeling some type of way maybe not particularly about us but the events that transpired over the last week. Red – I am the target next week for sure. Meme – related to Hisam.. but I don't think they would be apposed to taking a shot at any of us. If there would be anyone to head up the alliance it would possibly be Jag. And so who he goes up against.. I have not qualms about. Red – Jag and Blue or Jag and America. Meme – I am not apposed to either. Jag and Blue because you tear something a part that was a trio. They all get in a circle and yell "Legend 25!"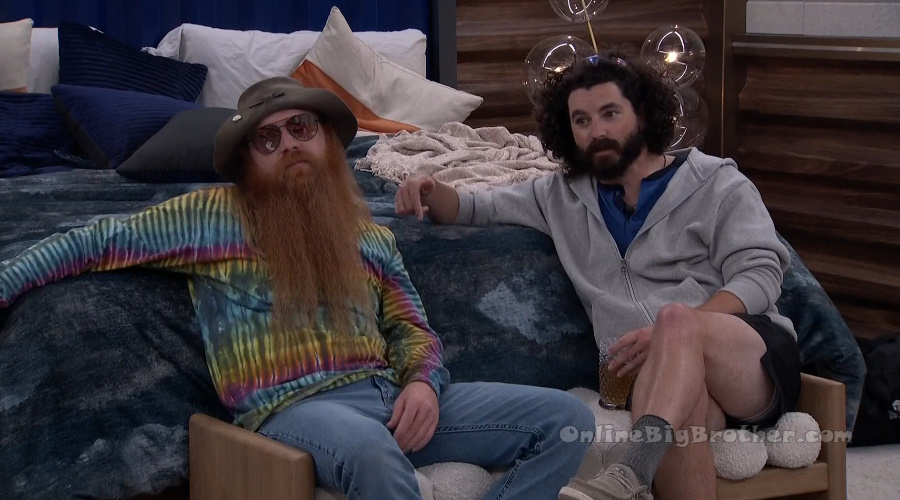 10:30pm – 10:45pm HOH room – Jared, Matt, Izzy and Hisam.
Felicia – I need you to understand that it is fake. This is what we have to do. Izzy – but also like Jared.. Jared – Once people start thinking funny, they start moving funny and I don't got time for that. Felicia – exactly. Izzy – I agree with that. Jared – you have to say what you think because if you don't this is why this type of sh*t get f**ked up. You got to put it out on the table. If we telling him (Matt) then we need to tell everyone in our 8. If we're the only 6 that know in this eight .. and two people don't know .. what do you think them two people are going to do when they catch wind of that sh*t? Hopefully they aren't trying to play ya'll and then they go back and tell them and then that makes that even worse. Izzy – well of course I think they're trying to do that. Jared – well that is why they would probably rather hear it from me than hear it from them. Izzy – but I would also rather it came from one of the people that are in the thing than you telling. Jared – we all in this thing. Izzy – okay. Jared – you got to understand. Izzy – okay. Jared – if you got side sh*t that we don't know about then that is something completely different and I don't want to work with somebody that got side things that I don't know about! Izzy – I don't have side sh*t! Jared – that is what I am trying to say there is no such thing as people outside of the thing. Izzy – okay! Jared – once we're in a crew together.. we're in a crew together. If you got side sh*t that I don't know about then I don't want to rock like that! Izzy – you know I don't! Okay! Okay! Jared – because the moment one person, two people start feeling funny ..this whole 7 is f**ked. And I don't have time to be going back two days ago when I had to go back and find out if Jag was on the same page. That is going to f**k this whole sh*t up! Izzy – okay! Jared – I don't trust him. I don't want him to feel uncomfortable. Let him feel as comfortable as possible. I have no time for nobody in this group to be trying to do side sh*t that we don't all know about because the moment people start feeling sketchy .. this sh*t blows up. And then we cannot trust people with the f**king information they bring .. and those two (Camron & Red) we need to keep close.. because if the moment we feel like they're moving funny .. just like 3 days ago! We start panicking. 3 days ago, this just happened. The proof is in the pudding. I can't do that! I can't! Felicia – we do, we do. Izzy – I am not upset .. I am just listening to you. YOu tell me to calm down all the time.. I am telling you to calm down.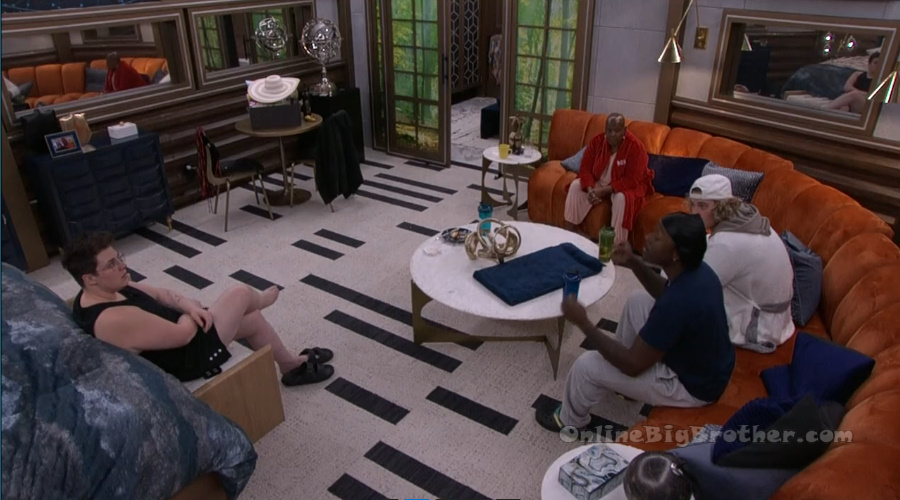 11:57pm HOH room – Blue, Izzy, Felicia, Matt.
Cirie – we got a NEW Hisam. Blue – who? Cirie – Red. Red is the new Hisam. Felicia – so I know before long they're (Cam and Red) going to put me and you (Cirie) up together. That is exactly what they're going to do because they want one of us to go. Blue – who do they want as the first block? Felicia – you and Jag. Cirie – He said that Jag wants him and he wants Jag. Felicia – we tried to say why don't you put America up and they said she would be the alternate if one of you guys come down. Blue – so wait .. who is it .. you four? Izzy – us four, Cameron, Red, Bowie and Meme. Blue – oh not America. Cirie – not they don't trust America. Felicia – they just think because of the Reilly thing they need to get rid of you two. Blue leaves. Cirie to Matt – you could not have said no to this alliance because then you would have become a target.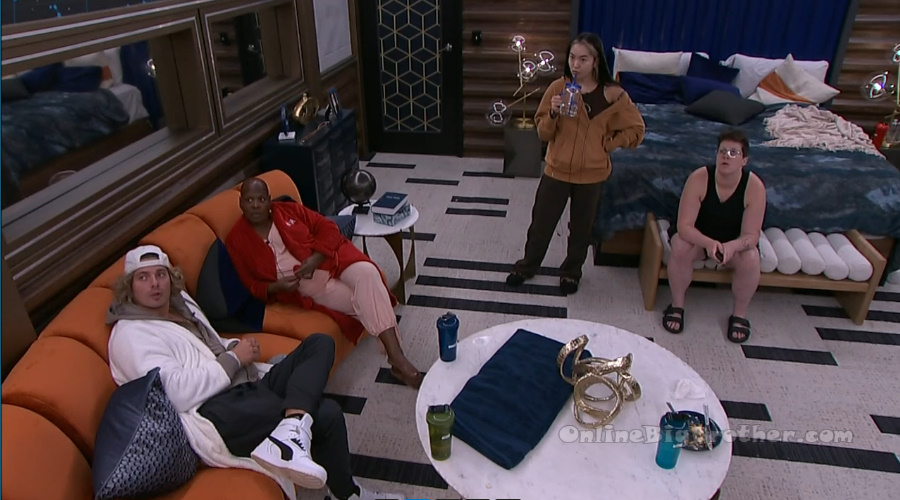 11pm – 11:27pm Bedroom – Jag, Jared and Blue.
Blue – so its not America, its Meme. They already had a conversation. Its everyone, but its not America .. its Meme. And they want to put us (Blue & Jag) on the block. Jag – me and you? They already talked? Blue nods yes. Jared – who? Blue – Red. Red is the new Hisam they said. Jared – oh I knew that. I knew that as soon as he started spiralling. We already knew they were going to put you on the block it was who were they going to put next to you. We have to WIN. Jag – Bro this next week is going to be huge. Jared – we need to convince Cirie and those two that its okay to f**king put up Red and Cameron. We have too many people on this side to not take out people that threaten 3 of our people. Jared – I don't want them to think that we bugging but we got to twist that sh*t. We got to twist that sh*t. I really don't want to rub them the wrong way but you got to understand we are in grave danger if the motherf**kers win tomorrow.. Thursday. Jared leaves. Jag to Blue – that is crazy! What the f**k. Blue – at this point we just have to win. So the 5 people we're up against are America, Cameron, Red, Bowie, Meme. BRO like he (Cameron) is so comfortable.. he is so bold right now. He is on the block! Like and he doesn't even care. If we found out about this and we weren't in the alliance we would take a shot at him. Blue – dude we should have never trusted him. Jag – that is what I am saying .. we knew! I had a feeling. Okay this is a crazy thing.. probably no way this would happen but what would happen if Cam goes6+ home. Blue – dude! Jag – They would never go for it. He would also be loyal to the people that keep him. Jared comes back. They talk about needing to win the HOH and how they're going to be gunning for it. Jared – get some good rest fella's .. we got a game to win.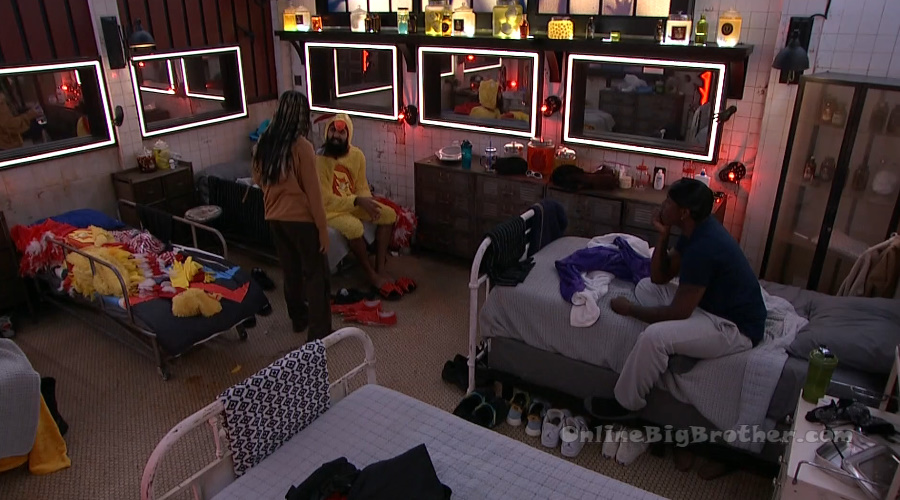 11:36pm Cameron, Jared, Blue and Jag.
Cameron joins them. Jared – he (Hisam) is trying to rally the troops hard. He is literally telling them not to trust me and me not to trust them. And he doesn't think that we are all going to come back and talk about this sh*t?! Cam – that is genius .. so dumb. Jared – that is why I am ready for Thursday to come so it can just be over. Like this sh*t is getting old. Cam – stop dude, stop.. like go out with your head held high. You're just digging and digging and digging. Like stop, not for me but for you. Jared – the crazy thing is that he thinks he's got it. He is actually kind of delusional. Cam – now you're just looking like a f**king fool. Jared – it was hard to see him down .. but he was running in circles.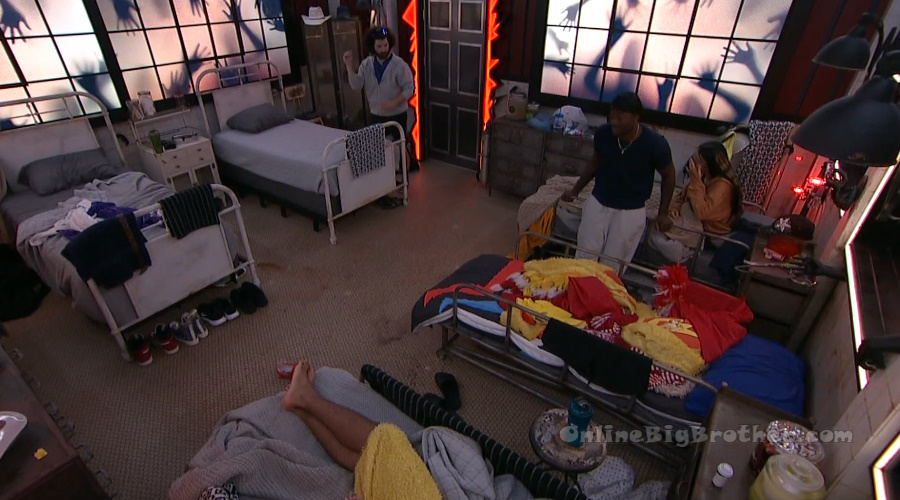 11:45pm Early night in the BB house..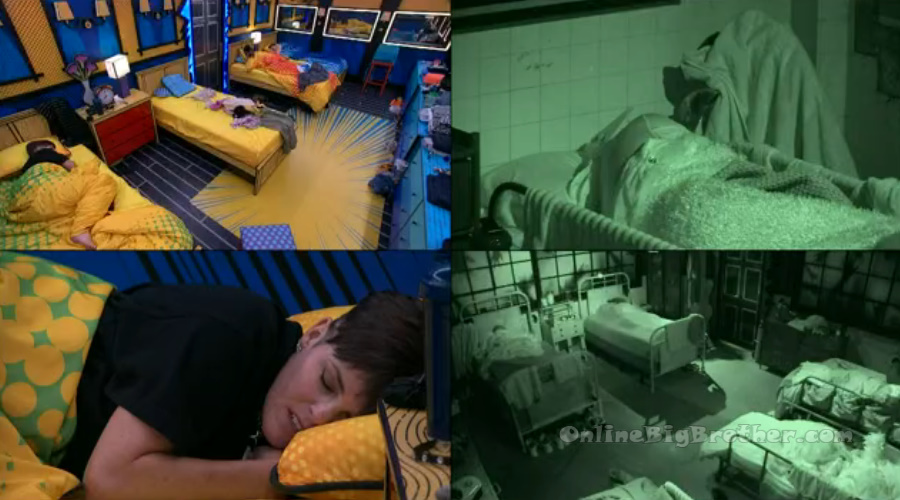 12:14am Everyone is asleep… zzzzz
Help support all the free content we provide by giving a donation. Any amount is greatly appreciated!
If you enjoy OnlineBigBrother, please consider donating to keep the madness going. Thank You!