POV Holder:
Bruno
Next POV
April 10
POV Used
?
POV Ceremony
April 12
HOH Winner
Bruno
Next HOH
April 15th
Nominations:
Johnny and Sarah
Have Nots
Brittnee, Pilar, Willow (Pickled Eggs & Chicken Feet)
POV Players
Bruno, Sarah, Johnny, Bobby, Brittnee and Kevin
Zach is the POV host
If you are outside Canada and want to watch the FREE Big Brother Canada Live feeds sign up for a VPN service here https://www.hidemyass.com/vpn/r16399/. It's safe to use, easy to set up, and cheap. Need to know more check out this post explaining how to set it up.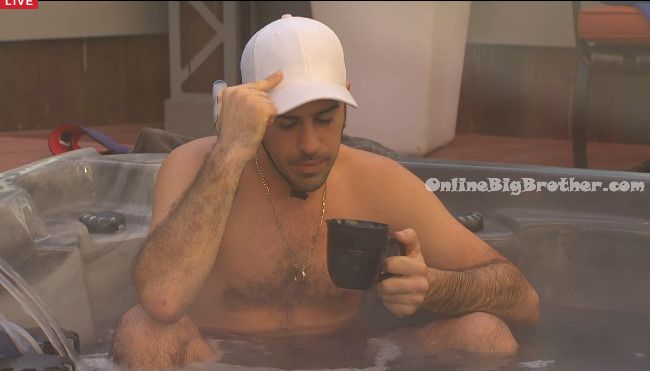 8:40am Big Brother wakes up the house guests. Bobby and Bruno are out in the hot tub. Bruno says Zach has Jp and Ash. If Zach takes out Kevin. Then Pilar would go to Zach and Ashleigh. Bobby says first things first. Kevin has to go. I wonder how commited Ashliegh is to our final 2 deal. I asked her yesterday and she acted stupid, which she always does and it pisses me off. Bobby says Willow knows Zach will take Ashleigh over her. She knows we have to separate them. Willow would come with us then. Bobby says we need to just take out Johnny first. Bobby says don't approach anyone with that Zach thing. You can't trust anyone. Not even God. Bobby says if we had an army would could swing it but its too early. I don't think Zach would take a stab at us. Bruno says Johnny was saying he's in a 5 person alliance with the girls. Bobby says I don't believe that. Bobby says I don't think Zach would take a stab at us. Bruno says I think he would put up Sarah and Pilar. Bobby says and then backdoor one of us? Bruno says if I did it we would have the votes. They count out the votes and realize the would need 5 votes. Bobby says it would blow up our alliance. Bobby says talk about that plan in 2 weeks. Bruno says I think you, me and Godfrey are good. Bobby agrees. You're the only person I trust here. I don't trust Zach at this point. G really screwed us. Bruno agrees. Bobby says I am going to go hard for the HOH. I would want to get out Sarah and Britt but we have to break up the other first. Bruno says Kevin first. Bobby says I still wish the Chop Shop could be some kind of legend. But we haven't gotten together in a week.

Bruno talks to Kevin in the backyard. Bruno asks Kevin where his head is at? Kevin says he's been thinking a lot about people he would want to be with. Bobby is a great guy. Bruno agrees. Kevin says Willow is great. Godfrey is great but you never know when he will blow up. Bruno says people are saying Double Eviction this week.. so I don't know. JP is a great guy but I don't ever see him that often. Kevin says Johnny using the veto on me, I didn't know until hours before. Burno says I thought you guys were super tight. Kevin says we aren't. He's great guy though. Bruno agrees Johnny is a great guy. Bruno says Johnny is willing to do ANYTHING to be here. Kevin says I am glad to see him going. Bruno says I am NOT using the veto. You guys have nothing to worry about. Kevin says I'm sure Johnny's fans are upset. I bet he has a lot of them too. Bruno says the plan is Johnny is going to go. I wanted to tell you, don't worry about it. I am not using the veto. No backdooring. If we could get something together I think the lines are going to start getting drawn. We need to start locking stuff in. Bruno says if Sarah wins HOH, I am f**ked. It would be between me, you, Bobby or Zach. B probably same thing, us four. Actually she would probably put up Godfrey.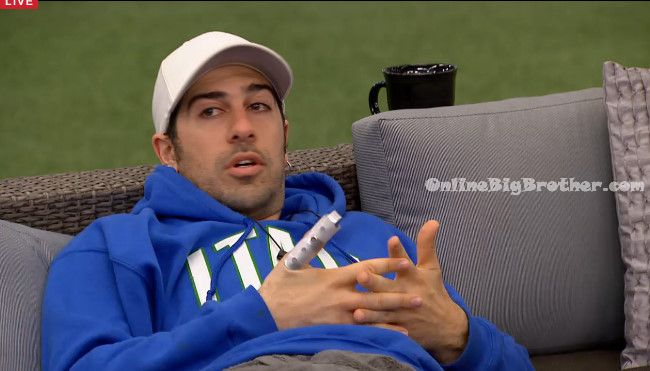 9:30am – 9:35am In the bedroom – Brittnee and Sarah are talking about trying to convince Bruno to use the veto. Britt asks who would he put up as a replacement? Zach or Parhar (Jordan)? Sarah says maybe? Zach and Ashleigh aren't going to separate and Zach and Parhar (Jordan). Do you think Johnny should try? I don't want to be the one pushing because I could still be up there. Britt says I don't feel like Ash or Pilar are even playing. It's so frustrating. Sarah agrees. I don't know, I'm just scared. I think it might work. Britt says but he is trying to put down the "I'm a man of my word" thing. Sarah says okay, lets not say anything yet.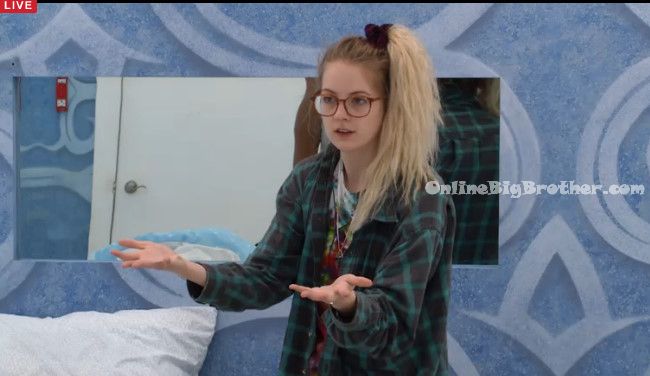 9:45am – 10amKevin and Bruno continue to talk in the backyard. Bruno says we have to separate Johnny and Sarah for sure. Kevin says yeah and it's happening. Bruno says I love how they brought the boys together. Kevin asks if the Veto thing is coming up later today or what? Bruno says yeah. Bruno says I get along great with Bobby and You. We just need to figure out where our numbers lie. Willow joins them. Willow says she wishes she could drink coffee. Kevin asks why she doesn't. Willow says I would rather lick slop off Bobby's body than drink coffee.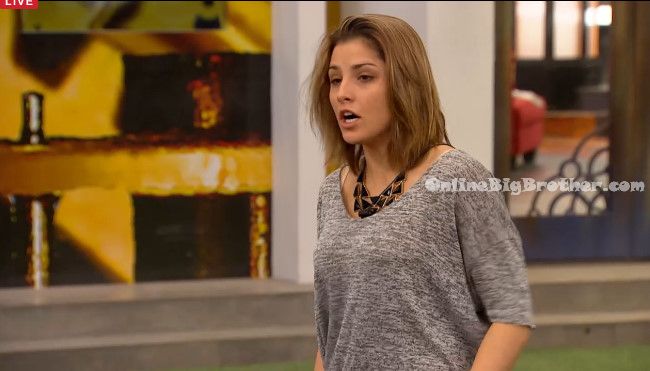 Willow, Sarah, Britt and Bobby are out in the hot tub room. Bobby is suntanning while the girls are talking. Sarah looks at her legs and says my legs look like a bag of milk. Sarah says her brother invented the selfie. She says when they were younger the film in the camera would run out so quick and when they developed it, there were all these photos of himself. They head inside. Bobby continues to suntan.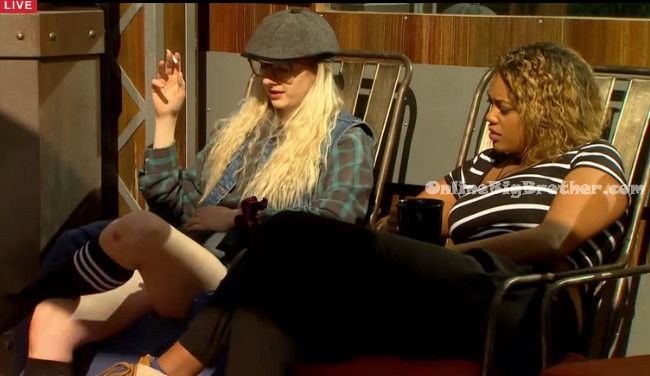 10:35am In the backyard. Brittnee, Sarah, Pilar, Jordan, Bruno, Ashleigh, Zach, and Johnny are hanging out by the chairs talking about random things. Bruno says what they gave him for his birthday yesterday was the best thing he's ever gotten. Meanwhile in the storage room – Willow is making an iced coffee. She dumps half a package of cinnamon in it and says "Whoopsies! Cooking with Willow"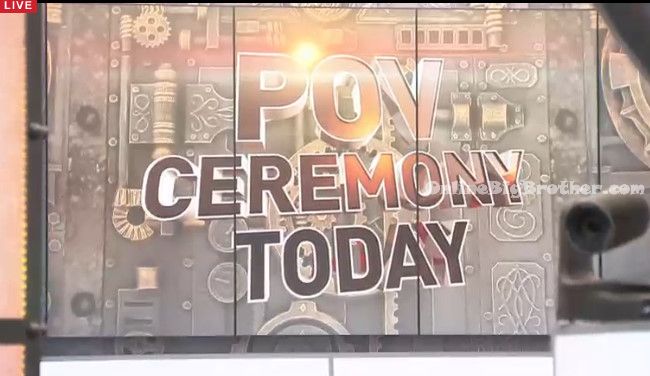 Jordan and Willow talk by the bathroom. Jordan says Easy week, Johnny is going home. Jordan says that the couples are ones we need to watch. They'll never turn on each other. I think they're fine for now but just something to be aware of. Willow says Zach came up to me and said I don't want you to think that me being with Ash affects us. Willow says she was thinking why are you bring this up right now. Willow says I still trust him. Jordan says I want to win an HOH but why at this point. Willow says Zach wants to win it. Jordan says let him. The first three weeks in this house go to sleep. Willow says just like Godfrey. Jordan says Godfrey's playing it perfectly. Willow says that Kevin and Pilar are making me nervous. Sarah joins them. Willow says I have something to tell you.. and please don't get upset. Bruno is not going to use the veto on you today. Jordan laughs. Willow suggests they get day drunk. Sarah says Its not the best idea for me. I need to keep my wits about me.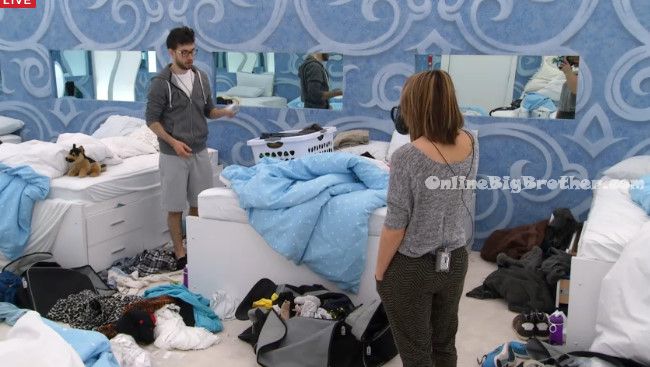 Willow tries on Sarah's dress.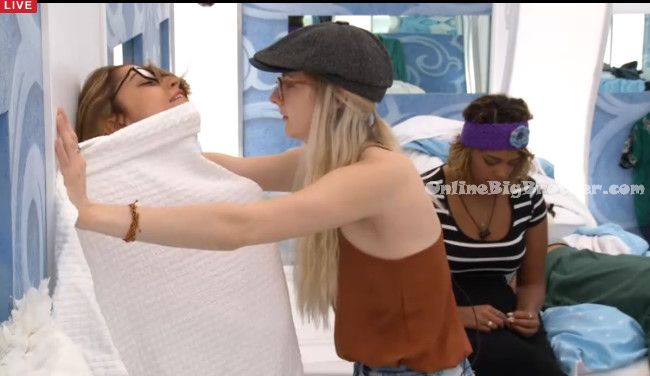 11:20am Outside the bathroom – Jordan tells Ashleigh about Willow being paranoid about Zach and her. Ash can't believe Willow is still talking about it. Jordan says its my job to sniff it out. The girls join then and they try on high heel shoes.