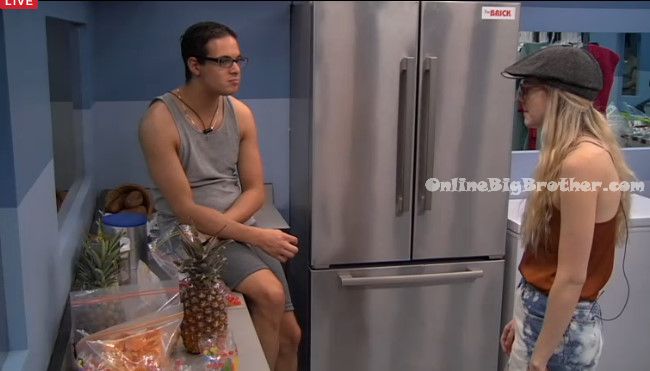 11:30am In the storage room –
Sarah talks to Johnny about talking to Bruno before the veto ceremony. I tried to feel out Willow and it didn't feel like … The only person she is scared of is God. Johnny asks God, really?! She says we could try and just say there is one more option. Johnny says he's avoiding me. Sarah says everyone is. Johnny says especially when I come in a room. It depends on how close he is to Willow and B. If he thinks he has their vote, why wouldn't he do it. Sarah says she feels like Bruno wants to keep everything the same. But its like a bandaid once you rip it off… It can't hurt right?! Johnny says it can't hurt.
11:40am – 11:50amOut in the hot tub room – Willow, Brittnee, Bruno, Sarah, Ashleigh, Pilar, Zach, Bobby.They're talking about Oprah and Ellen. The conversation turns to talking about divorce and relationships.

In the bedroom –
Jordan and Kevin talk. Kevin says that Zach is getting Bobby to throw the HOH. Godfrey too. Kevin talks about throwing it to Jordan once the others are out of the running. Jordan says at nominations he could look at Kevin and say I nominate …Bobby. Kevin says that's perfect! Jordan says Zach and I really want it. Jordan says its funnier if you don't get it so then they're surprised.

Johnny packing his bag.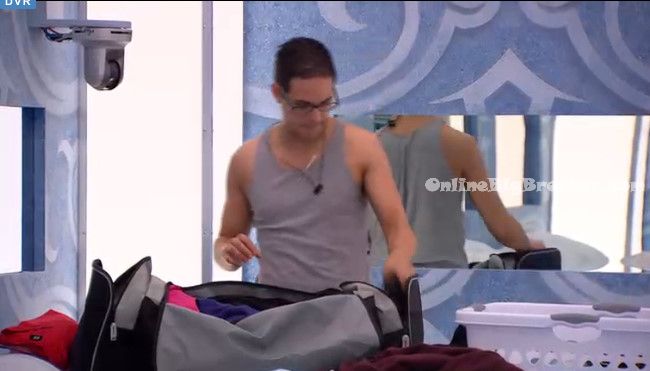 [polldaddy poll=8790527]
[polldaddy poll=8794961]
ALLIANCES IN THE HOUSE
Week One there's a lot of Alliance but we've tried to make sense of it all.. Read our alliance help guide
Support the site and purchase your Amazon goods through our link below. It doesn't cost you anything and we get a percentage of what you buy.
Amazon Canada
Amazon USA
Share it YO!!
Tweet