POV Holder:
Sarah
Next POV
May 15th
POV Used
Yes
POV Ceremony
May 10th
HOH Winner
Ashleigh
Next HOH
May 13th
Nominations:
Sarah Brittnee & Godfrey
Have Nots
Canada voted for: Sarah & Brittnee (They will compete for the Secret Power)
POV Players
VETO PLAYERS PICKED: ASH, Sarah, Godfrey, Zach, Brittnee, Bruno
HOST is Pili
Brittnee won the Have Not Power
Q) After the secret power is used, who picks the replacement nominee(s)? A) The secret power holder, not the HOH
Q) Does the secret power holder vote? A) Yes, as long as they are not a still nominee after making the switch(es)
Q) Can this week's HOH play in the next HOH comp? A) No, as per usual
Q) Does the secret power HAVE to be used? A) Yes, on one OR two nominees
Q) Who is SAFE from the block when secret power is used? A) HOH and regular POV holder
8:50pm Zach and Brittnee
Talking about how the season has been a crap shoot they could have easily gone home earlier.. Sarah and Bruno join them they start talking about the evicted houseguests. Bruno and Graig were the only 3-'s Risha the only 40's the rest were in their 20's.
Zach says Sarah and Heather were the best looking girls last season..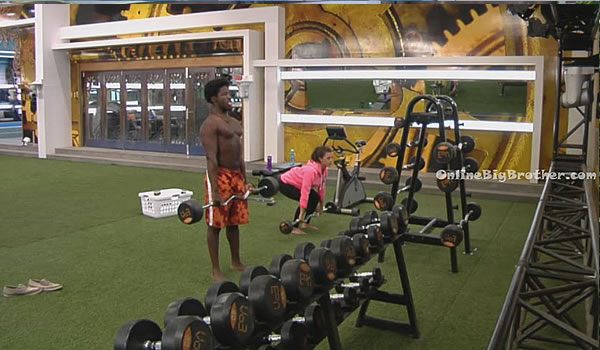 9:25pm Everyone in the backyard.. Working out, playing godball, Stretching or laying around eating.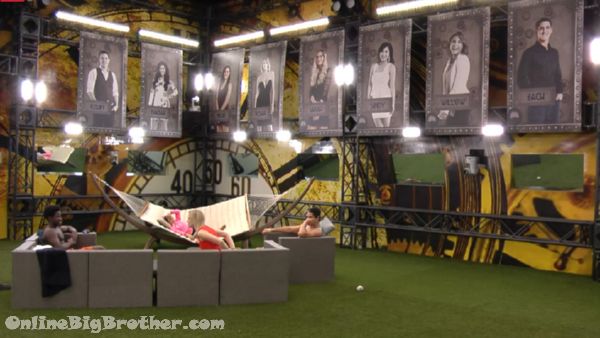 9:42pm Backyard
Godfrey says a "double conjure" is two words that can mean the same thing
Ashleigh says she's never heard of that before
Godfrey – you didn't
ASheligh gets called into the Diary room
Godfrey tells her to ask them in the Diary if "Double Conjure" is real says for her to just throw it into a conversations see if they understand.
Godfrey – I always have my stuff packed yoo.. i just taek it from the top too lazy to pack it yo
AShleigh comes back says its "double entendre"
Godfrey – that's what I said.. (LOL)
Godfrey defends he said the right thing it was his accent that made it sound different. the girls dispute say he said Conjure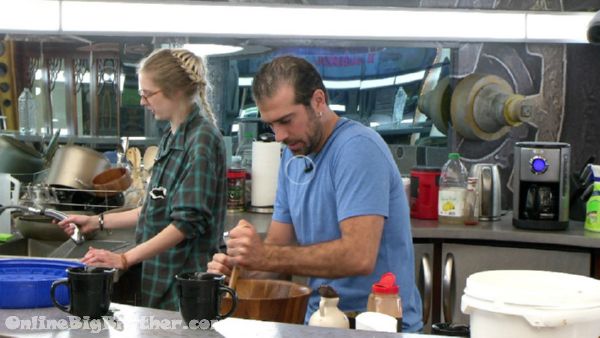 9:47pm Bruno and Sarah Kitchen making cina-slops
Talking about taking out Zach. Sarah says if they don't win the HOH it's their last chance they've blown it.
Sarah – I hope you can trust me I know it's hard.. you'll see
Sarah – if he (Zach) wins this HOH he's won the game as far as I'm concerned..
10:00pm
Ashleigh is in the HOH watching her shomi movie. The rest of them are around the Pool chit chatting.. they want to go tot he hot tub but it's raining heavily outside.
Pool bunch talking about first impressions and who sketched them out.
Godfrey – Bobby
Pili – Johnny
Zach – Bobby and Kevin
Bruno agrees says Kevin was really hard to read but he was also sketched out with Bobby
Godfrey – Kev was really weird he seemed happy to be nominated.. He didn't seem much stressed.
Sarah joins them, they start talking about the evicted houseguests.. They agree Bobby was really nervous sometimes.
They start to suspect Bobby had a secret that is why he's so nervous the first day. They think he was worried about getting noticed. They remember he could sing and play guitar they wonder if he's a musician
Godfrey – Secret career.. dudes a male stripper.. he did say he won the best butt
Bruno brings up when Bobby told him after he left they were going to show a video about him that wasn't game related.
Godfrey jokes that Bobby wasn't a virgin he was a gigolo.
They all agree Bobby sketched them out the first night but after they got to know him he was super cool.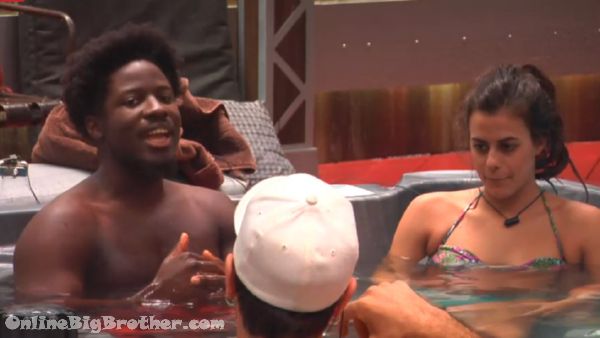 10:37pm Hot Tub..
Godfrey says he feel slike one of those Snow monkeys that go into the hot water
Zach – Monkeys are crazy I would like to own one
They start a conversation about Monkeys. Godfrey – Mokeys adn Apes yo.. apes will mess you up yo they're strong..