POV Holder:
Sarah
Next POV
May 15th
POV Used
Yes
POV Ceremony
May 10th
HOH Winner
Ashleigh
Next HOH
May 13th
Nominations:
Sarah Brittnee & Godfrey
Have Nots
Canada voted for: Sarah & Brittnee (They will compete for the Secret Power)
POV Players
VETO PLAYERS PICKED: ASH, Sarah, Godfrey, Zach, Brittnee, Bruno
HOST is Pili
Brittnee won the Have Not Power
Q) After the secret power is used, who picks the replacement nominee(s)? A) The secret power holder, not the HOH
Q) Does the secret power holder vote? A) Yes, as long as they are not a still nominee after making the switch(es)
Q) Can this week's HOH play in the next HOH comp? A) No, as per usual
Q) Does the secret power HAVE to be used? A) Yes, on one OR two nominees
Q) Who is SAFE from the block when secret power is used? A) HOH and regular POV holder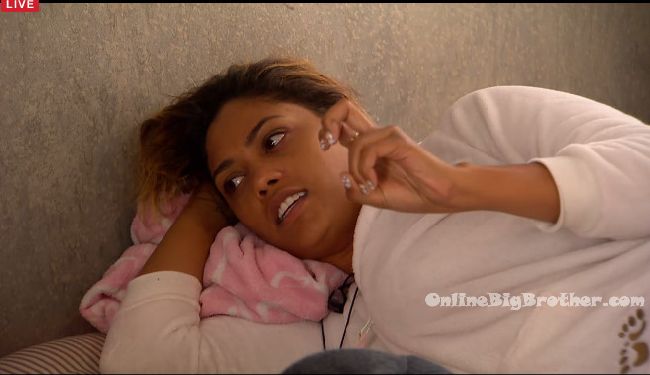 9:30am Big Brother wakes up the house guests. In the havenot room – Sarah says when I talk to them today I am going to be non-urgent. Brittnee says that's ..when we talk to them there shouldn't be too much pressure. We should just be this is what's up. You can believe me or you don't believe me. What does your gut tell you? Brittnee asks why do women always do that? As like females? Sarah says that's an untrue statement. Some women do but I've always been supported by women. Women's resource centre. I know a lot of nurses in the same situation. Sindy and her pageant stuff. They're really really supportive of each other. Britt says in the plus size modelling community we are supportive as well but its a well known thing that women get caddy. Sarah says no but that's the stereotype that people place on women because its easier than seeing them as strong. Britt says but they're (Ash & Pili) living up to it. Sarah says you can't say that because something happens …that it always happens. Britt says no but I've seen it a lot in my life. Sarah says I've seen guys turn on each other just as much as women. Britt says I've always seen this comradery and bros before hoes. Like its not even a question that you take your boy over a girl. Sarah says I've seen the opposite. Brittnee says I would rather see us all help each other. Sarah says I do see that though. I've never had a woman turn on me ..like more than a man or men or more than I've seen men turn on each other. Britt says I just feel like we don't spend enough time uplifting each other. Sarah says and I don't think its a well known fact that women are caddy. Brittnee says they are pretty caddy. My girl friends are more caddy than my guy friends. Sarah says but that's not a fact, that's your experience. Britt says I feel like its very dog eat dog and that's not only men its women. In North America its who are you willing to step on to get there. Sarah says men have it easy, that's why they don't have to turn on each other. And like when you watch movies you see women being caddy and fighting each other over men. We're creatures of what we're brought up in. I can't blame women for fighting for a little meat on a bone.
10am – 10:45am Big Brother instructs the house guests to go to the head of household room. All of the house guests pile into the HOH room and find a spot to lie down. They all lay in silence. Big Brother ends the lock down. Ashleigh showers in the HOH bathroom while Zach takes a bath. Bruno comes in and they talk about why the backyard is locked down. They talk about how they hope they get a task today.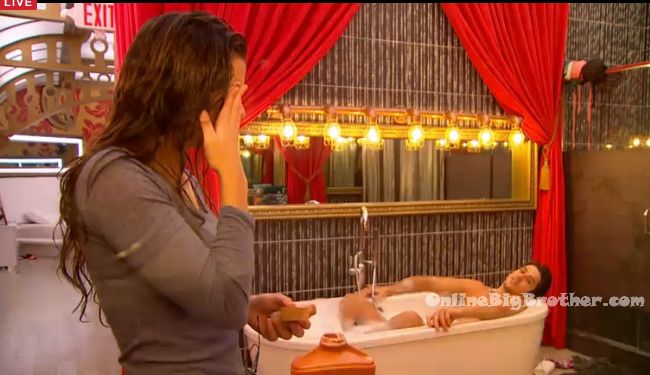 11am HOH Bathroom –
Pili tells Zach I can't get myself to talk to her (Britt). (To tell her she's voting her out.) I just don't want to hurt her. I have to though. Zach says I think she knows already though. Pili says well frig, yeah.
11:10am – 11:25am In the kitchen – Brittnee asks Sarah how she's doing? Sarah says stressed. Brittnee says hard not to be stressed. You gotta do what you gotta do. Britt asks Godfrey ..so you're going to have Sarah's back when I leave? Godfrey says obviously. You don't know you're going. Britt says its pretty much implied. No one is talking to me and you're in good with them.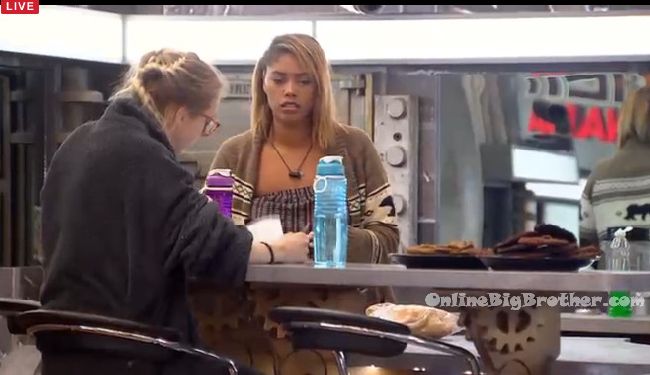 11:45am In the kitchen – Brittnee and Pili are talking about how hard it is to trust people in the house and how its hard having others not trust your word. Britt tells Pili its good that she has Ashleigh. Britt talks about the triple eviction.
11:50am UP in the HOH room –
Pili tells Ash I just feel so fake talking to Britt. Ash tells her that Britt will bring it up today. Pili says if she brings it up I will tell her.. and if not .. Zach tells her not to worry about it. Ash says this is big brother technically you don't have to tell her. You could tell her in your goodbye message. Ash says if Godfrey and Bruno are on the block we could contemplate sending Bruno home. Pili says I can't stand him. He is just so fake! He says it would be fine just tell her. How can you be so cold about a situation like that. Don't tell me it will be all right if it won't. I just don't like the way Bruno is handling this. It's not easy. Stop pushing me.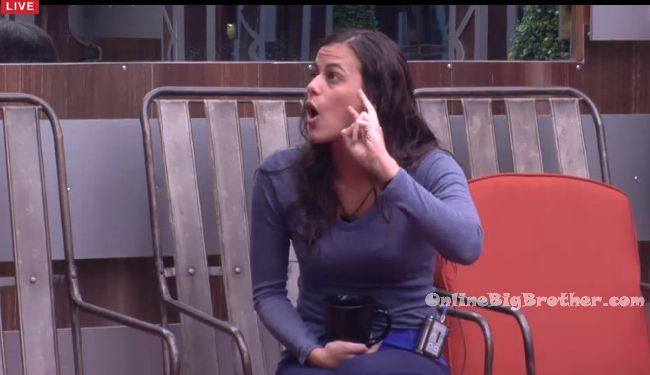 11:55am – 12:05pm Hot TubPili heads out to the hot tub room. Sarah tells Pili I am really nervous. I think we're going to get picked off. I think you, me, Britt and Ash should talk later. Pili says yeah we should talk. Pili says if she stays she is going to try and get rid of the couples. Sarah asks why do you assume that because that's what they tell you. You're not a couple. Pili says Zach and Ash. Sarah says not Ash .. and not Zach right away as far as I know. Bruno and Godfrey are one in the same. You have to think what's logical. Do you think B wants you out before he wants Bruno out?! That's the perfect situation for them if we go after each other. Sarah continues to work on Pili. Pili says we all need to talk. Sarah says that questions have come into my head (Diary Room) that lead me to believe the guys are coming after us. Something is going on. Its a fact! Sarah says I know there's a reason why Bruno is putting doubt in my head about you guys. There is a reason why they don't leave us alone together. Pili says I know. Okay we'll all talk later. Pili heads inside.
12:30pm Sarah & Pili are sitting under the stairs on the couch. In the kitchen – Godfrey and Britt are talking about life. Godfrey says the best day of his life was when he got the call to be on Big Brother. Being on this show is something I could have never imagined.
All the house guests are sitting around the living room chatting about the season. First impressions, favorite competitions, costumes.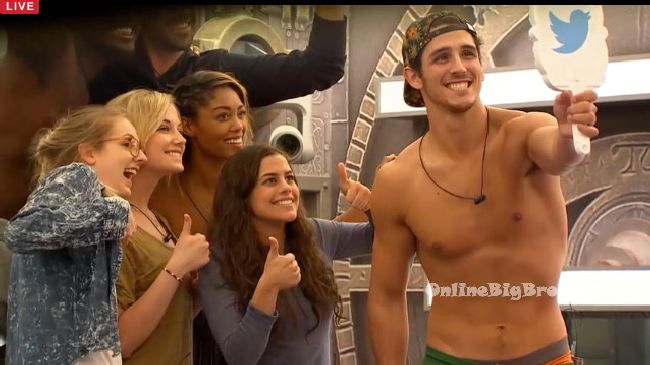 1:10pm
Ashleigh gets called to the diary room. She comes back out with the twitter camera. They take a "final 7" photo. Britt says its so weird not having Sindy here.. duck face! Ash asks do you want one in the havenot room? Sarah says yeah, and we'll write "thanks Canada! We love you too!" They head up to the HOH room to take more photos.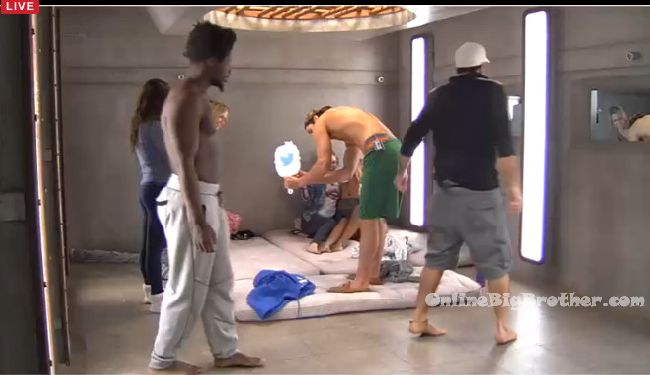 1:30pm
Sarah tweets her boyfriend Scott #missyou ( @plasticmoose )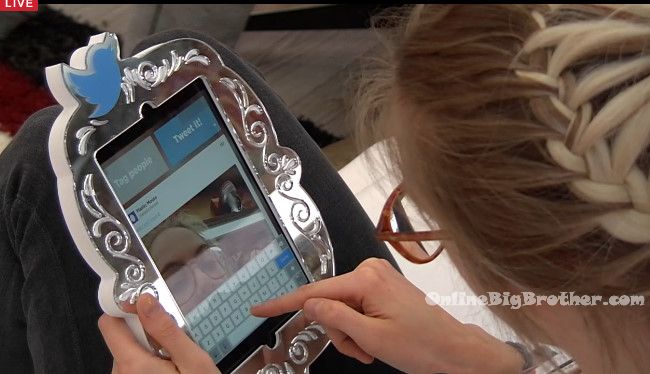 2pm
Sarah gets upset about missing her boyfriend Scott. She says that in the tweet she did emojicons of a turtle and a snail. "I'm the turtle he's the snail" Brittnee and Pili hug her. The house guests sit around chatting about blogging and other random things. Pili doesn't know what a blog is.
If you enjoyed this site's content please consider a donation or checking out our How to support OnlineBigBrother.com page. Any help is appreciated, this site is only here because of your support.
[polldaddy poll=8849979]