HOH: Derek X
HAVENOTS: Christian, Xavier, Alyssa
Nominations: Britini and Sarah
Power of Veto Players: Sarah Beth, Britini, DX, Claire, KY, Alyssa | HOST: Hannah
Power of Veto: Britini
Power of Veto Ceremony:
Prize / Punishment VETO Results:
– Sarah won 5k
– Derek X bathroom punishment – he has to unlock the washroom every time someone needs it for the next 24 hours
FYI – Teams are done, Wildcard comps are done, Twist next week with Fan involvement
Big Brother 23 Houseguest Rankings – – RANK THE HOUSEGUESTS –
View the previous day ranks on the – Ranking Grid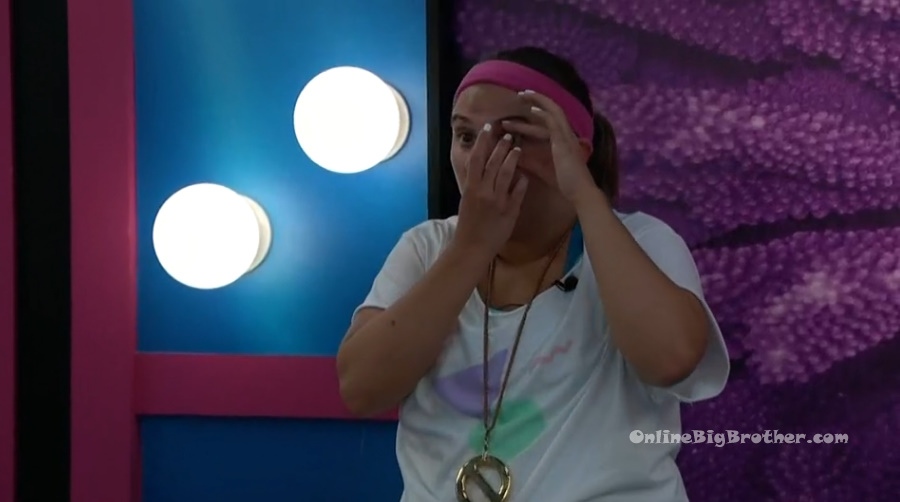 6:03pm – 11:03pmBig Brother blocks the feeds for the Power Of Veto competition.
BRITINI WON THE VETO!
11:03pm Bedroom. Claire and Britini
They're celebrating. Claire – I am so so proud of you! I can't even imagine what your family is going to think! Britini – My family is going to throw the tv on Sunday and put it back together on Monday… or Wednesday. Derek comes in and says I don't want you to think that I was crying because you won the veto. I was crying because I f**ked up. Britini – no, no you're all good. YOU GOOD! Derek – I am very happy for you! Brit – thank you! Derek – good job! Claire – I am so happy for you! I am so happy for you! Brit – I can breathe! I can just tan. Every day we're outside. I am going to go rehearse. HI, everyone its time for the meeting.

Bathroom. Hannah and Derek X
Hannah – I thought you were going to backdoor Christian? Derek – I am. Hannah – oh I thought you said not going backdoor Big D. Derek – no I am telling them I am putting up Big D. Big Brother blocks the feeds. Hannah – how money typically appears in the game to other house guests. Derek – okay then why are you telling me to take the money?! Hannah – well because it seemed like you wanted to take the money but I am telling you on the flip side I think this really helps your game. Yes, you're down $5,000 but this could definitely prolong your life in this game. Derek – maybe if I stay an extra 5 weeks. Hannah – yes but if she becomes the target next week because people are pissed at her for what she did to you… which people are already talking and people aren't too happy because she was talking sh*t on the bench .. I guess she was saying stuff like Brit is so dramatic and no body would take this money … I don't know ask Tiffany about it. She was talking a whole lot of sh*t on the bench. So by her taking this money and guilting you into not taking it from her she could be the target next week and then you don't have to worry about anyone putting you up because you put them up. I personally think you not getting the money helps your game. And you not winning the POV helps your game. Derek – one thing I said coming into this game was if I ever get a chance to take money versus staying in this game.. I will always take the money. Hannah – I am just thinking of all the people who when on to win the game and Derek is the only one that accepted money. But typically the people that take the money .. they become the target next week. Derek – I'm okay with it 5K isn't that much. I am okay with it now .. I am just mad that I was weak. Hannah – yeah you need to grow some thick skin. Derek – yeah I am not meant for this game. Hannah – I think you are. Derek – when it is game, I am good with that. Like backdooring Christian, I am good with that but when it is that personal .. it just kills me. Derek – So they said I only have to do it for 24 hours? Hannah – yeah. Derek – How is that.. I am so confused.. is that even a punishment? Hannah – yeah because any time someone gets up to to go the bathroom you have to come downstairs.. or they will come find you. Derek – its not that bad. I get to hang with people and listen to them poop.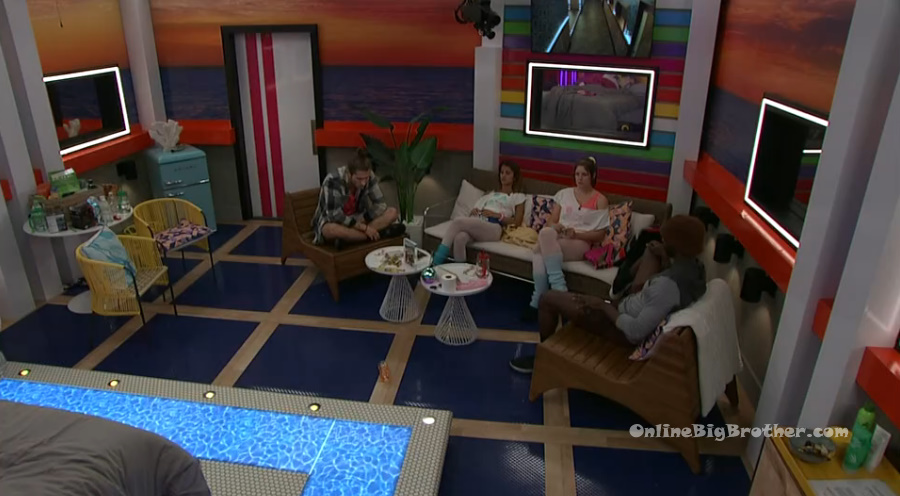 11:15pm Bathroom – Tiff and Derek.
Derek – I just feel bad. Tiff – you should have kept the money but its okay. You can't be emotional in this game. Derek – I am not going to lie I played it to my emotions because I thought I could get sympathy. Tiff – Okay good. Derek – I wanted SB to feel very bad. Tiffany – F**K SB! She was on the block talking sh*t .. did you know that?! Talking about Britini she is so f**king annoying. I can't f**king stand it .. she is so f**king annoying! Derek – when she was sitting on the bench. Tiffany – yes, Claire heard everything! You need to talk to Claire. Claire said she didn't have no tears. Not none… even when you tried to take the money. Even when you tried to take it and she started to cry and everyone had empathy for it. And everyone was like Damn .. why didn't he take it. And I said because she started f**king crying!! Its okay.. can we send her (SB) home! Derek – at this point I think we have to. Tiffany – so who are you going to put on the block next to her? Derek – oh you mean send her home now?! NO! We will talk later.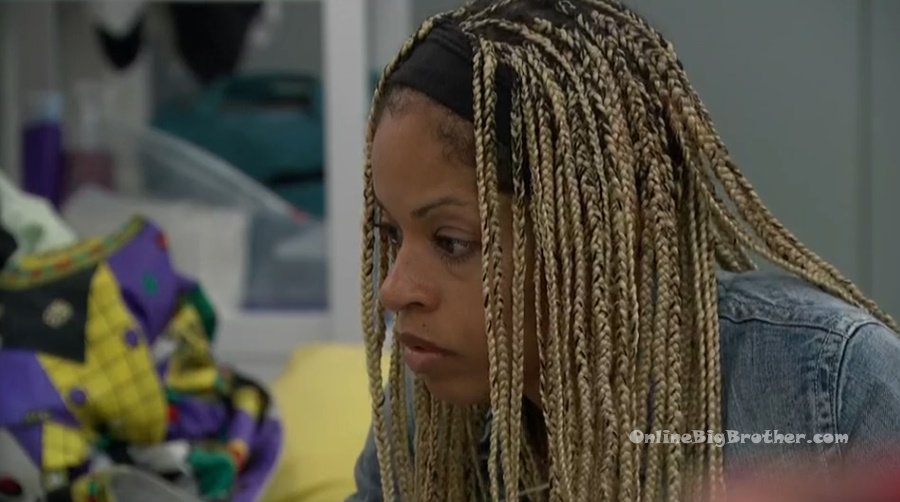 HOH room. Alyssa, Xavier, Sarah and Christian.
Sarah – Tapping it. I think I was one of the only people that figured it out the first round. So if everyone would have just shut up I probably could have made it further. Xavier – the reason why we told you (Alyssa) to widen your stance was because she (SB) figured out a hack. But then Big D caught on. Sarah – and one thing you can count on Big D to do is to not shut his f**king mouth and he goes and tells everybody. Xavier – MMMmhhmmm. Big Brother blocks the feeds. Sarah – I think everyone watching that is going to be pissed because that was clear as day! Alyssa – and I am going to say that. Christian – say that in the DR. Alyssa – the helmet didn't even fit my head. I am not going to say I lost that. Christian – but if they suggest you say anything else .. you say no because that is the reason. Alyssa – I could have got that you guys! Christian – that's why why we are all upset because we know it could have been yours. Don't say loose .. tell them it was too big.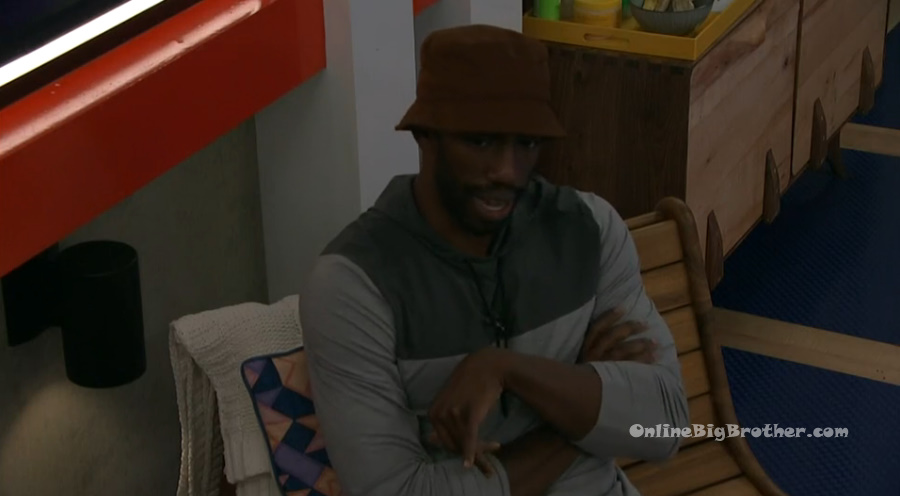 Bedroom – Sarah, Claire, Tiffany and Hannah
Hannah – he turned the money down and you have it. Sarah – I feel so bad. I feel like it was really stupid of me. I just panicked in that moment and I was like I am on the block, I could go home… I am going to have a punishment on my birthday. Claire – it is not worth feeling guilty or remorse or anything… we can only move forward in the game. Sarah – until it gets me sent home! Tiff – you got 5k for your birthday. And you are on the block if I was in your position, I wouldn't want anyone to take it from me neither. Claire – me neither.. no one would have. Sarah – all I said was please don't! Tiff – and he didn't .. so he had a choice. Hannah – its not like someone held a gun up to his head and said you can't take it. He made that decision by his free will. Tiff – so if he regrets it that is on him. He had a choice and he made his choice. He will have to get over it. This is big brother. Sarah – I have to deal with the most obnoxious winner in the house. Tiffany – well that is true too. I am not going to lie to you. Hannah – I mean she earned the f**king thing.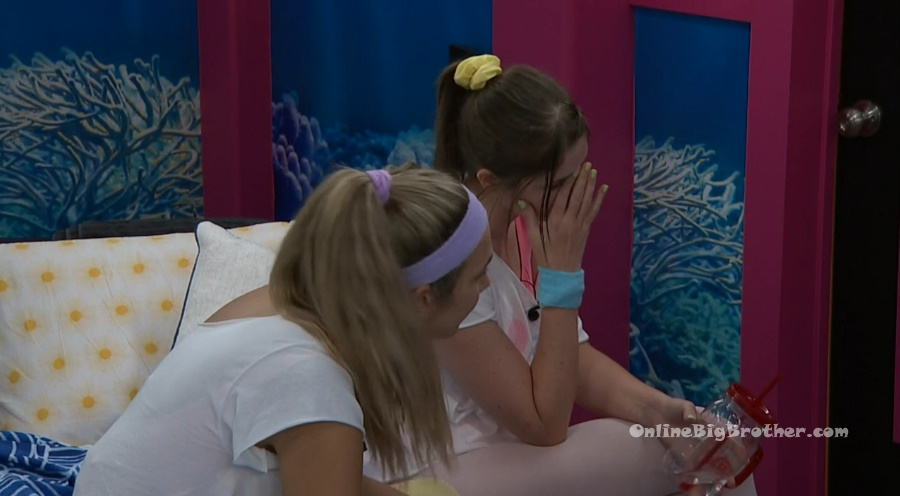 11:31pm Storage room. Tiffany, Alyssa and Christian.
Tiffany – …and started crying and didn't have a f**king tear and she wanted the money. He said from the beginning if I get the money.. Alyssa – yeah when I sat next to him in the beginning I asked do you want prizes or money and he said prizes. I said if we're at the end throw it to me and you can have the money. I don't want it. Tiffany – SB pulled that sh*t on him. Christian – that was selfish as F**K! Tiff – that was very selfish. And she asked me did that look bad and I was like MMmmmmm. It didn't look good! Alyssa – I could give a f**k about the money. Christian – so what is the f**king move? Tiffany – she (Brit) comes off the block and he (DerekX) puts up somebody else. Alyssa – its not going to be any of us. We're still keeping SB right?! Christian – Are we? Tiffany – I don't want to! I am just going to be honest with you. I am not going to lie. Christian – I am a little f**king salty .. you're on the f**king block. Me and X were talking about this doesn't take the veto .. already looks sketchy.. Ky comes off.. Kyland comes into the storage room and the conversation stops. Big Brother cuts the feeds.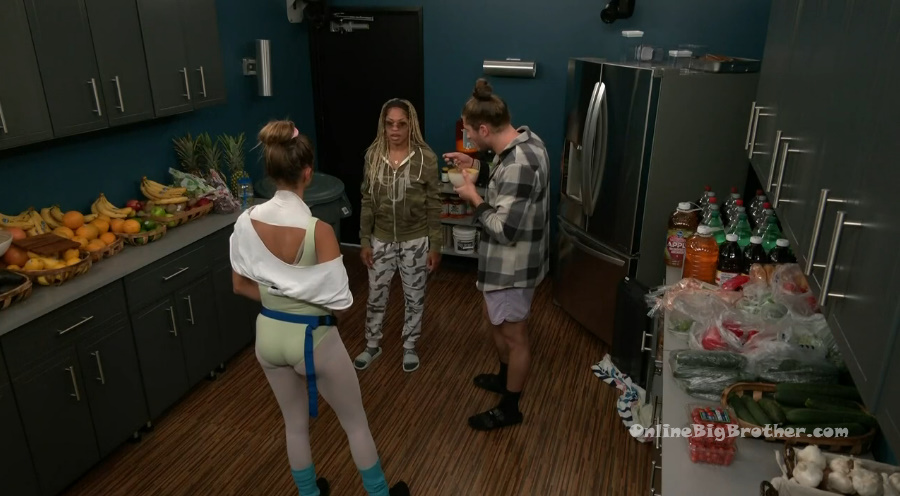 11:35pm Bathroom. Tiffany, Claire, Derek X.
Tiffany – yes, you can leave her (SB) in this game unless you become public enemy number one with this move so you have to think about it and think about it real good. Right now you are in a great spot. I don't know the answer. Derek – I think Azah is behind it. Big D is behind it. Brit is behind it. Like for sure! Tiffany – Christian? Derek – yeah. Tiffany – okay. Derek – I think it is just against Alyssa and X. Tiff – we have SB and KY I guess but they at the bottom of my f**king list. Derek – I think SB has empathy.. she had real tears. Tiff – she had no tears. She is playing the sh*t out of us!!! Big Brother blocks the feeds.
11:46pm Bedroom. Derek X and Alyssa.
Derek – why didn't you take it from me? Alyssa – oh my god can you imagine!? That would be stupid as hell! I am on slop so I have to sh*t so much so you are going to have to keep opening the door. Alyssa – so I don't get it .. you have to come and unlock it. Derek – yeah .. 24 hours is not that.. I don't care about this punishment. I feel indifferent about it. Alyssa – do you wish you took the money? Derek – If I could go back.. Alyssa – you said you were going… you need to grow a pair. Derek – I know I do! Alyssa comments on how we're working our a$$es off to get you (SB) off (and she took the money). It made me think why are we working for you.. like what the f**k. That pissed me off honestly! Derek – well we did our first Luxury comp .. congratulations! Alyssa – thank you. Derek – I am very happy for you actually. Alyssa – do you think I have proven myself a little more? Derek – yes. You are literally placing head of all the girls in all the physical comps.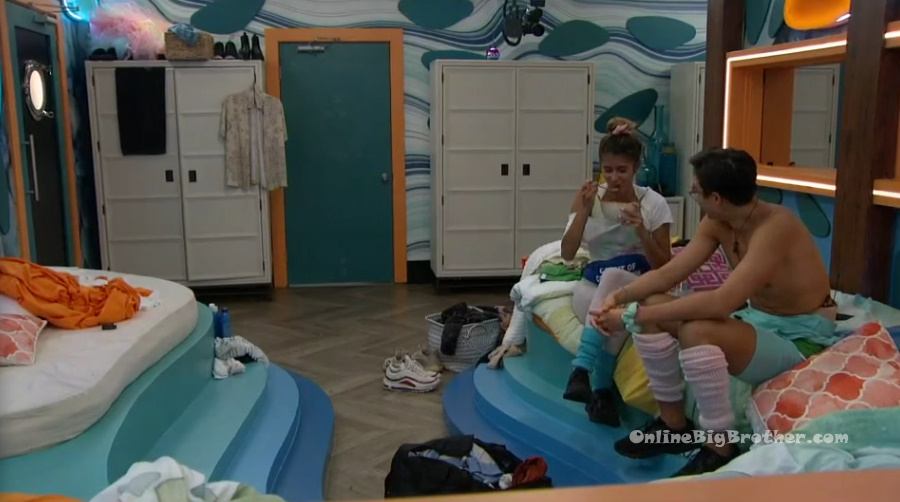 11:45pm – 11:55pm Bedroom – Sarah and Britini
Sarah – it just means he (Derek) nice. Brit – here is the great thing about this game .. it ain't over till its over. Because either one of us is going to know what is going on in his brain. Whatever happens you have to promise me you are going to fight. Sarah – I will fight! I have to. Brit – I would go to him and be like look obviously Brit is coming down here are the potentials like if I am not your target this week and if you can see us working together in the future… these are the people I would feel comfortable sitting up against. If it comes down to campaigning I can help you with what I asked on my one on ones. Big Brother blocks the feeds.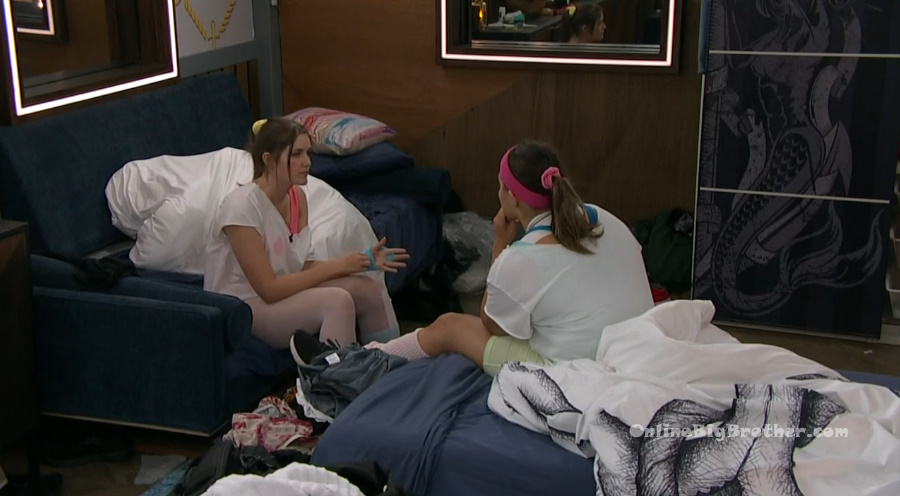 12am Bedroom. Alyssa and Xavier.
Alyssa – I said I was going for the veto and I'm not even on the block! And it pissed me off because we have to get blood on our hands but you (SB) don't?! Xavier – and you (SB) get 5k?!! Alyssa – you're (SB) on the block before jury .. but me, Ky, Derek… do not take a prize.. like what if Brit had it on her and she kept it. Honestly that pissed me off and I said I am not going for the veto! Xavier – not only not taking the veto and keeping it with a king she just subjected the rest of us to possibly getting backdoored if there is some sh*t that we don't know about. Alyssa – yeah! Because lets say Ky, Derek X, Brit anyone else wins.. we are all still available to be backdoored. Alyssa – yeah! Xavier – you (SB) taking that money basically just said f**k you to all of us. Alyssa – yeah! I am sorry but I didn't like that! And honestly Derek is not wrong in that. It wasn't fair of her to say don't do it. You're on the block, you could have copped a deal. I looked at Derek and said what the f**k! So I have to get blood on my hands. Derek has to get blood on his hands… and Ky has to but you (SB) can keep 5k! Big Brother blocks the feeds..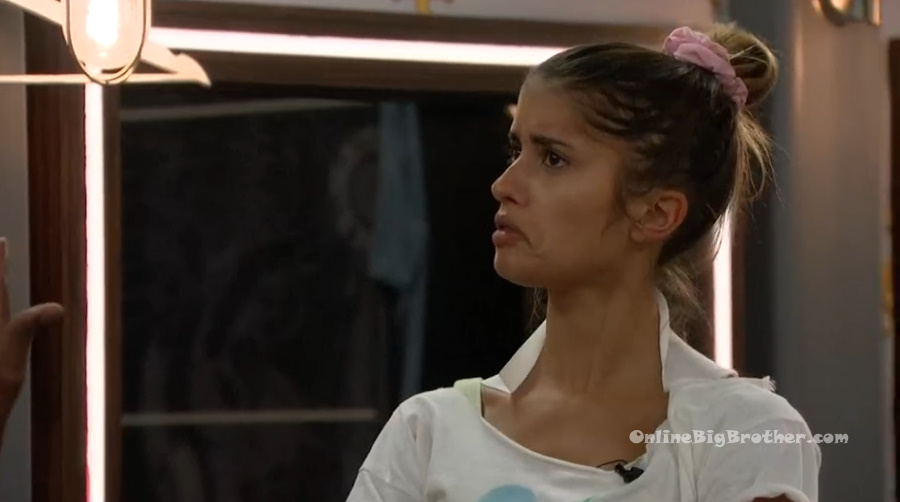 Show your support 🙂 Without your support this site and these spoilers wouldn't be possible.
Please consider a donation to keep the madness going.