HOH: Xavier
SAFE: Christian, Alyssa and Sarah Beth
HAVENOTS: Claire, Kyland, Tiffany
WILDCARD Competition Winner: Tiffany
Nominations: Brent & Britini
Power of Veto Players: Xavier, Brit, Brent, DF, Whitney, Christian
Power of Veto: Christian
Power of Veto Ceremony: Veto Not used The original nominations are locked.
Big Brother 23 Houseguest Rankings – – RANK THE HOUSEGUESTS –
View the previous day ranks on the – Ranking Grid
Big Brother Spoilers – Brent's leaving and is still clueless. A lot of planning out next week. Sounds like Brit, Alyssa, Christian or Whitney are all possible targets. Feeds cutting a lot again.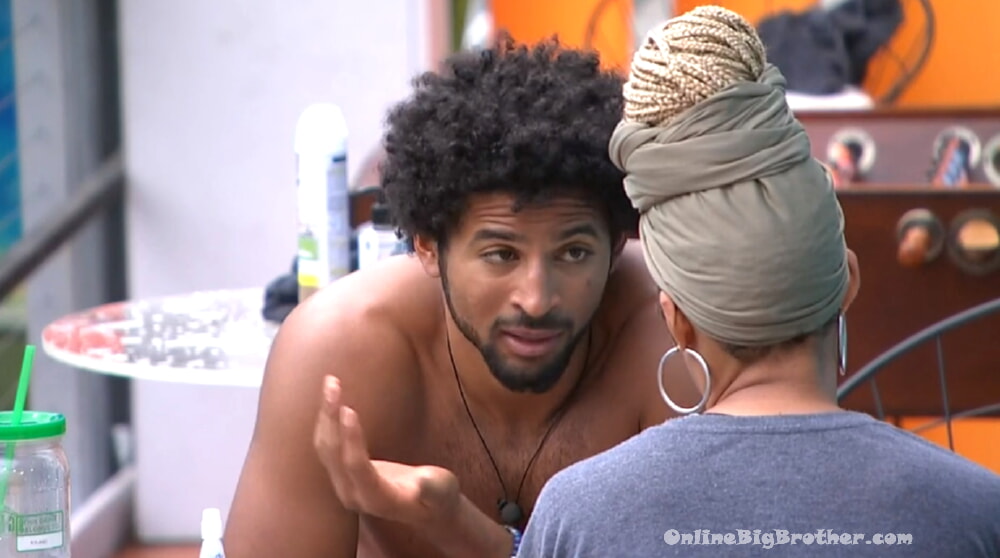 3:23 pm Tiffany and Kyland
Tiffany is saying she's true to their final 2, She likes the 8 but she's loyal to the original 6 cookout.
Tiff – I would love to keep Little D with us. he's a POC. I love Little D, I love LIttle D from the very beginning he's no different than us to me. other people might view that differently he's the only one.. we got six he got one. you know
Ky – I feel the same about the POC thing.. there's something else we'll talk about it later.
Ky – the only separation I find between the 6 and the one is that he is the one this year there was a one that won (Jun)
Ky – if one of us had won a previous season I would play the game differently
Tiff – I agree with that.. I think a guy and a girl is awesome
Kyland asks if she's teamed up with Claire and SB?
Tiff says no.
Tiff is nervous that Claire hasn't mentioned a final 2 yet. She thinks Claire and Sarah Beth might have something.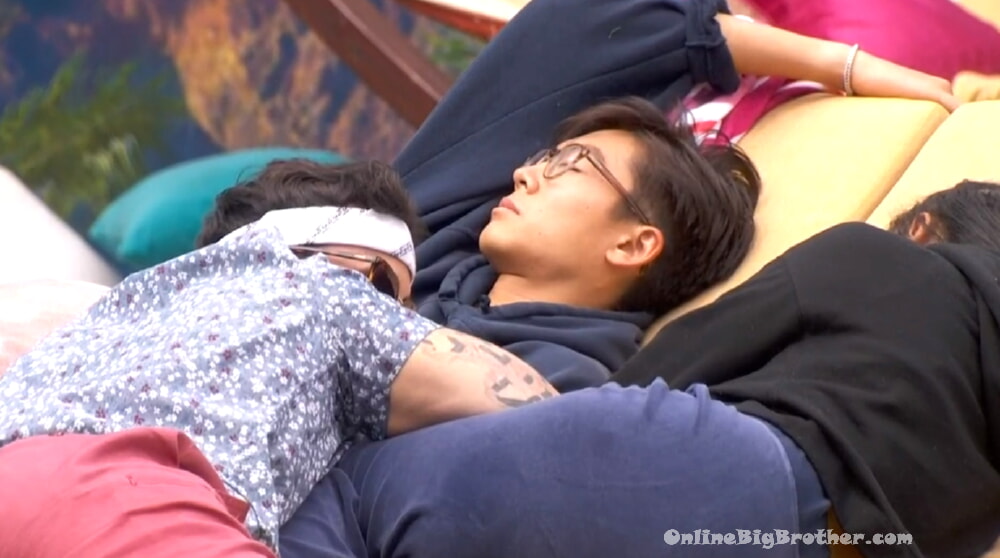 3:34 pm DX and Hannah
Hannah is talking about her conversation with Christian where she asked how was he feeling about the HOH. He said he's in the only four-person team
Hannah – I said we're starting from square one there are no more house targets after Brent leaves..
Brent cruises behind Hannah right after she says that. (See gif)
Hannah – what's up?
Brent – whatever you want to do for HOH I'm down
The bullshit begins..
Brent – we tricked them into thinking they had control
Brent says "the Guy" told him it's like "inception" (DR?)
Brent says he's so glad Alyssa told him this morning. "man, if this works out it's going to be legendary it really is"
Hannah – they are going to be the ones that are blindsided
Brent – I know it's going to be SO FUNNY and the aces will go down in history as the greatest bamboozlers in the world
Brent – the first time in the game we have control now.. .. watch my dumb a$$ goes home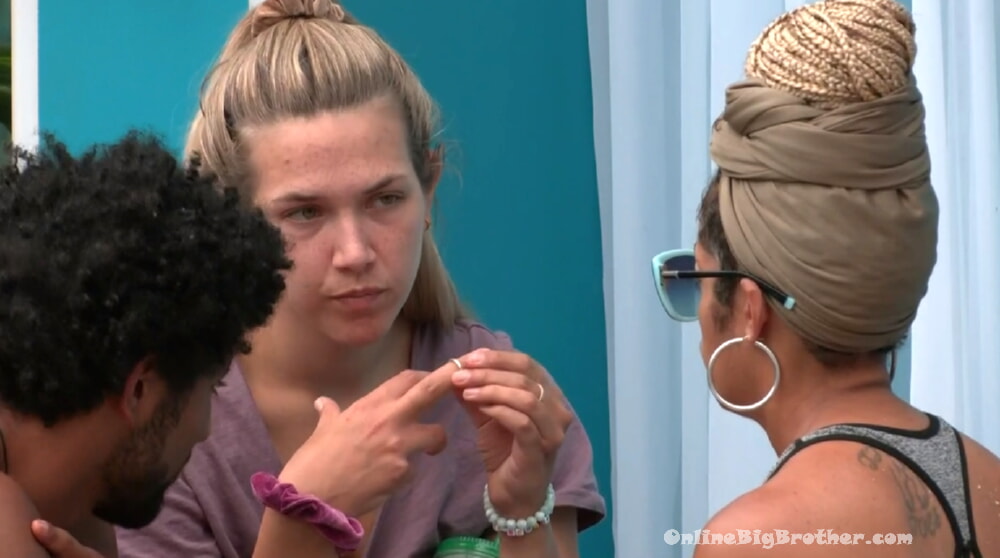 4:00 pm Kyland, Claire and Tiffany
Still planning who they want to take to jury, jury votes etc..
Kyland says they can beat BIGD in "anything" adds that he's expressed a real need for money. Kyland wants BIGD in the jury.
Claire – the counter case for BIGD he will be biter he is someone that will call you out to your face and call you a liar. He said he will target physical threats.
Tiffany – Azah doesn't respect my game so she will be a vote for either one of you.
Tiffany says Azah know this game well but she's an emotional player "So who the f*** knows"
Claire – if we're worried about jury votes now we doing it WAY too early
Kylan – you're right
Claire – WAY TOO EARLY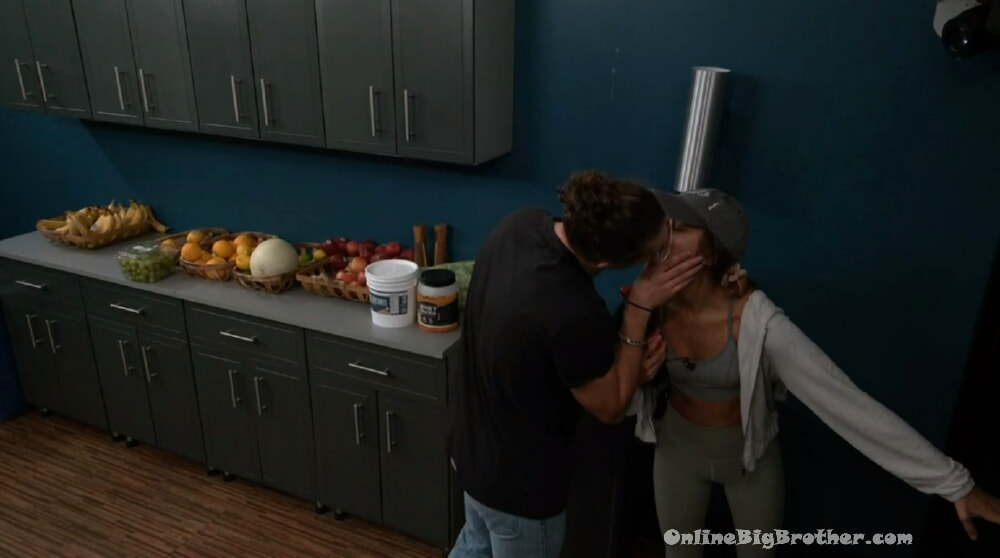 4:08 pm not a showmance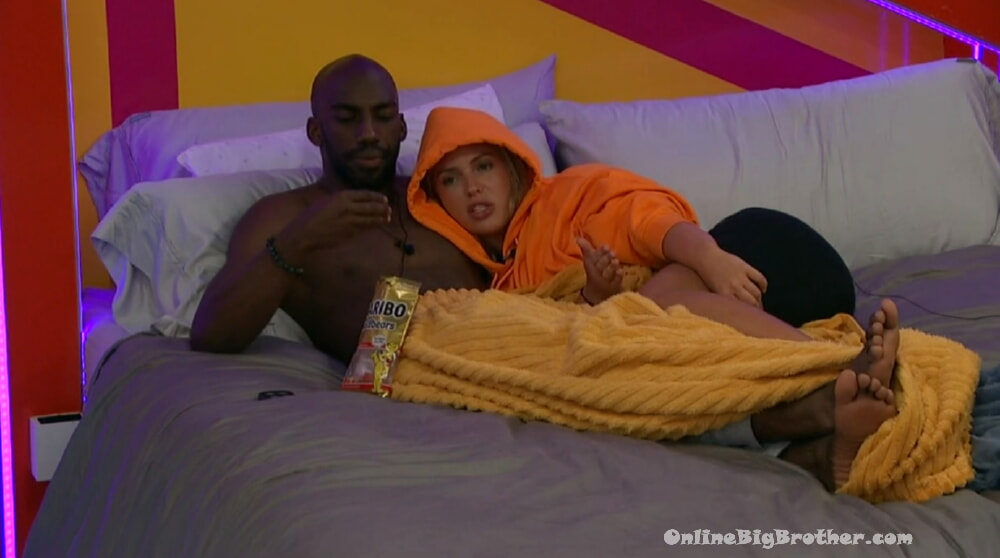 4:10 pm Whitney and Xavier
Whitney – I'm very curious who everybody will put up next week for three weeks in a row we had a very clear idea of what is happening. I just don't know what people are thinking for the upcoming.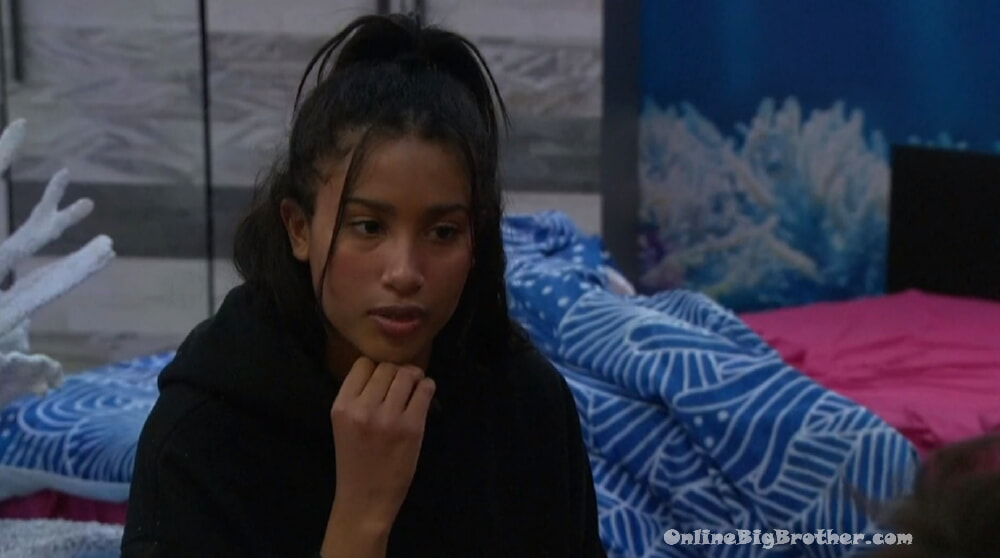 4:16 pm Hannah and DX
DX – what's your read on the jokers
Hannah – they're on an island why target them.
DX – after the team twist is over. who do you trust the most in that team
Hannah – Azah.. Brit and I never talk game and BIGD has loose lips
Hannah – I trust Azah the most. If I told Azah something she would keep it confidential. She's not a cunning player she's playing this game on a personal level
DX – she does
Hannah says it's smart to not have a super big alliance "Six people is a lot"
DX – really?
Hannah – yeah
Hannah says she likes Whitney but doesn't want to take her far in the game. "She has kids and is a strong competitor"
Hannah says people will say why give the money to a 21 year old without a real job when you have a single mother with 2 kids.
Feeds cut.
Hannah doesn't think the Queens want to win HOH they don't want to take the shot at the Kings.
Hannah says Whitney would be the most OKAy with taking a shot at the KINGS
Hannah stresses that the kings need to go down a number. "Sarah Beth isn't a priority for me.. She really doesn't talk game with anybody"
Hannah says X told her he thinks Kyland or Sarah Beth will win the game.
DX – I know you are close to TIFF and Claire but what about Kyland.
Hannah – I trust Kyland as much as you can, on week three. I feel the same way about Claire and I feel the same way about Tiffany
DX – ohh sh1t okay.
Hannah – I just started talking game to Claire three days ago.
They agree Whitney is a flip-flopper. she never talked to them week one then after Frenchie imploded she went back to her team.
Hannah – we could use a flip flopper to our advantage
DX – for me best case is Whitney wins HOH
Hannah – you and I are safe
DX – she'll take a BIG SHOT
Hannah – Christian did say out of our team he feels the least safe with Whitney .
Hannah trusts X the most out of the Kings. She's going to throw the next HOH.
Hannah – maybe we can convince them to only target the jokers.
DX – you don't think the kings will go after me and you at all. We technically have nothing with them outside of personal relationships
Hannah doesn't think so
Brent joins them again..
Brent about BIGD "He legit has not idea what is going on he's just going to coast and keep cooking and cleaning. That's his strategy"
Brent – there's a lot of people that have no idea what is going on
Hannah – like who
brent- like if they weren't told they have no idea what is going on
Hannah – do you think people are doing that on purpose?
Brent – I don't know
Hannah – do you think people now more than they're letting on
Brent – I guess.. Azah is completely lost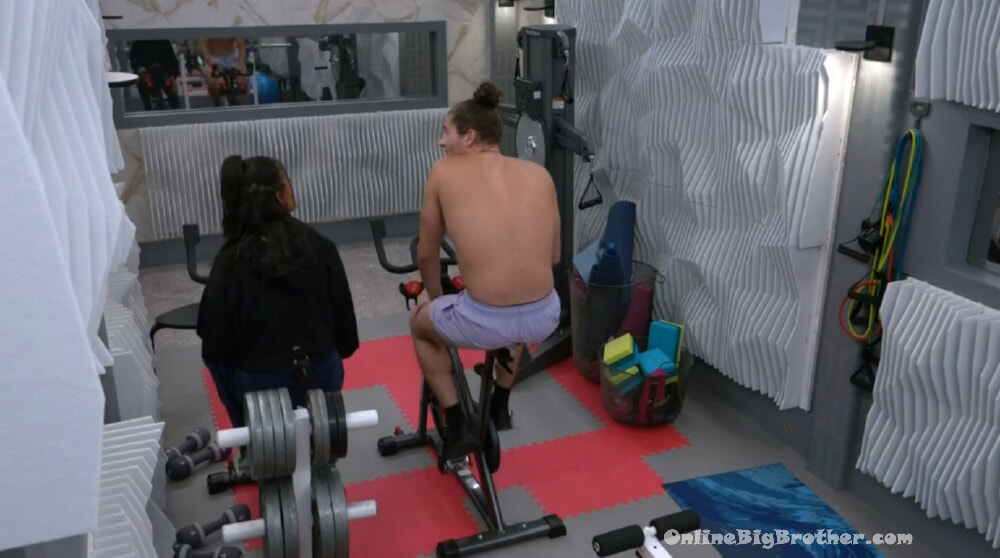 5:25 pm Christian and Hannah
They talk about keeping the ruse up with Brent.
Christian – I think it will but there's a lot of time left.
Hannah – I'm pretty sure we're fine. Hew as saying. imagine if it was a unanimous vote against me
Hannah – I was like don't even joke about that knock-on wood. And then he said he's going to look at X right before Julie reads out the vote he's going to go Checkmate.. That's how cocky he is. (LOL)
Hannah says she hasn't heard anyone mentioning her name as a target. Unless there some secret Backdoor plan.
Christian – I don't mean any offense by this but taking you out right now wouldn't be a big move.
Hannah says that's her plan right now lay low.
Christian thinks he shouldn't win the HOH because he doesn't want to add another thing to his resume right now.
Alyssa joins them.
Christian – I feel good with the queens.
Hannah – if jokers win?
Alyssa – we're going up
Hannah – 100%
Alyssa – we're the only 4 person team leaft it would only make sense
Hannah says the jokers would probably put up Christian and Alyssa. If it was BRit it would be X and Christian.
Alyssa – X and Ky because Ky put her up so
Hannah – they are still drinking Frenchie's koolaid. When Fnrehcie left he direct them to go after you guys
Alyssa – I thought he said go after Brent and Whitney..
Hannah – Frenchie fed them a lot of KoolAid .. he poured out the whole pitcher
Hannah says Kyland and Tiffany can direct Claire away from targeting them.
Alyssa points out that Azah and DerekF haven't left the back room, The aces call team meetings in front of everyone. She just saw the queens talking outside. She wants to know why are the KINGS being solid what everybody is talking about?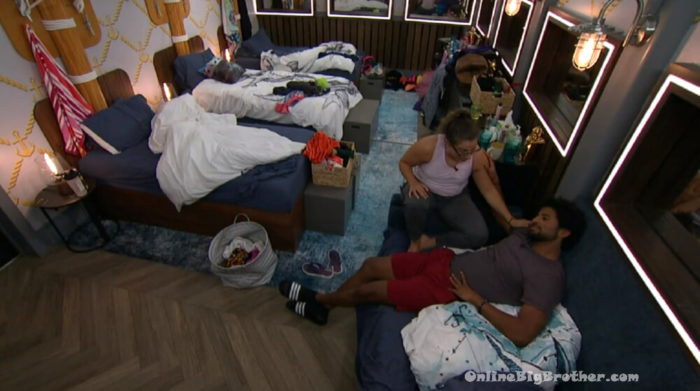 6:15 pm Brit and Ky
They've been talking for a while. Lots of feed cuts..
Brit – I swear to god America I swear to god if I get up again I will throw a gasket (LOL build the shrines we need Brit on the block)
Brit goes on about only winning comps that are necessities. She's pushing for the Kings to go but they can't do it.
Brit asks him who the biggest threat in the game. "I think you know your answer"
Brit – answer the question..
Ky – I don't know
Brit – answer the question.. You know the answer..
(LOL)
Ky thinks if the Kings make it past the next 3 evictions they will be able to count on each other's votes.
Brit – 3 people start winning you the eviction when you get to three votes Ky
Brit says at 9 people 3 people bring it to a tie
Ky – F***
Brit – their entire team can be a tie..That's only four people away.
Brit – for me next week if I get it that's not my shot. Not right now. But .. but if things were to change if I hear things see things that are different Like I told you I have the willingness to take any move aI want. Hopefully, we don't win someone from our team wins.
Brit – right now we need to get off everyone radar.. I have been the centre of attention for two weeks and as much as we love that I hate it in this game.
Brit says if the Kings make it to Jury intact they will control the vote.
Brit – with 9 people 3 people is the vote..
Brit – we have to do it next week
Ky wonders if the four are tight enough to go to the end. He wonders what would break that up
Brit – An eviction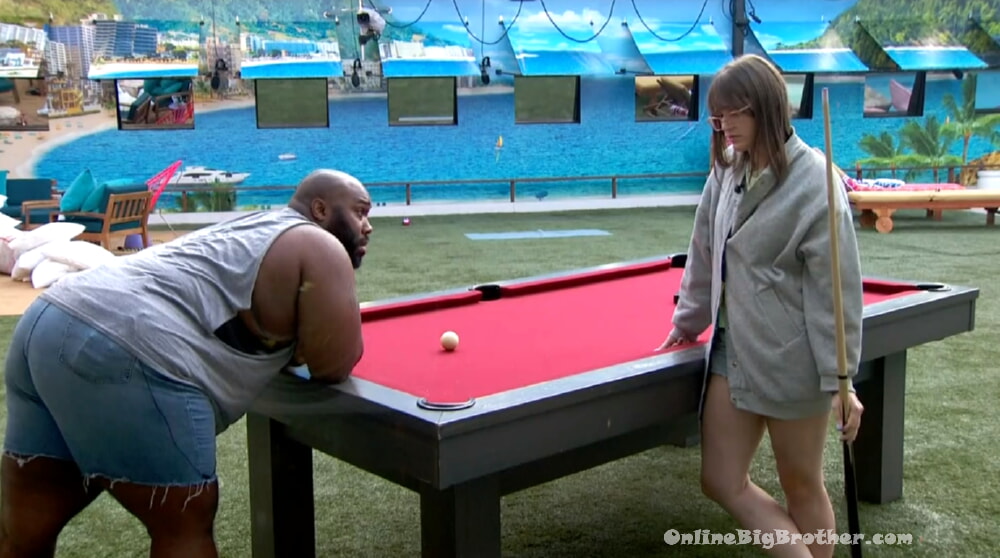 6:34 pm DF and SB
DF- DerekX he's GOOD
SB – he is goo d
DF – that dude can do anything when he is.. he can win so much he can control this whole entire game because he's himself.. I dunno
DF – I woud liek to win and go fo rit. but then I'm like Who do I go for? I don't want my team to keep being the pawn. We're not even a threat. there are so many bigger targets. So many bigger guys. I'm not going to lie some of these girls really smart too
feeds cut..
6:50 pm
Pool
If you like these spoilers please consider a donation to keep the madness going. We accept donations via paypal How to support OBB