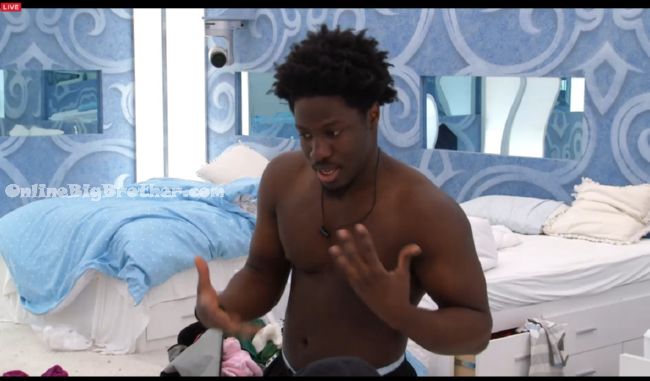 12:30am Bruno and Godfrey
Godfrey – If he doesn't backdoor kev I think I can have the votes.
Bruno saying if they are still in the house next week they have to flip the sh1t
Bruno- if you and JP are still on the block you have me and Bobby 100.. all we need is two more..
Godfrey – three
Bruno thinks they can pull in Kevin and Sarah
Godfrey – I'm really not that worried
Bruno – we get rid of JP he (Zach) has Ashleigh that's it
Bruno – I'm telling you right now man if it's you and JP on that block.. you have my vote baby .. we're going to flip this sh1t dude
Godfrey – Zach cannot win this veto
Bruno says if Godfrey comes down and Kevin goes up they get rid of JP and Bring Kevin in.
Bruno says he is laying low right now until the Veto competition
Bruno- we can f***g flip this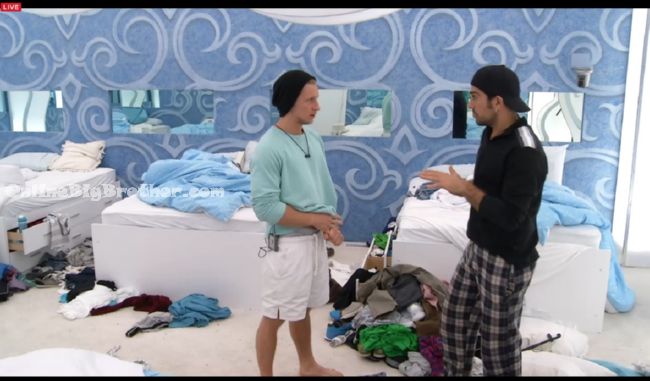 Godfrey leaves and Bobby comes in Bruno says they have to get out a girl next week because there will be 5 of them.
Bobby tells AShleigh the plan

12:43am Bobby and Willow in the storage room
Bobby tells her about his plan each person in the chop shop find someone so even if they don't win HOH they control the numbers.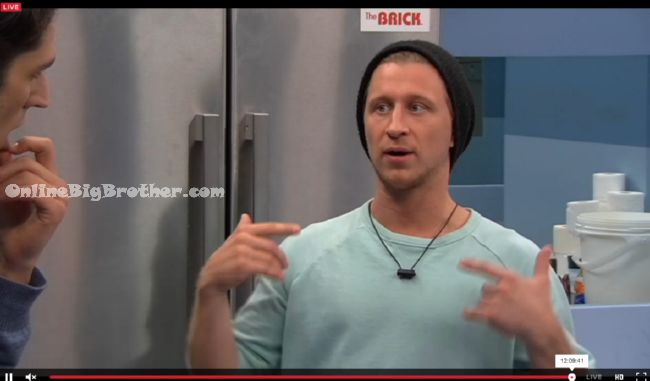 12:48am Storage room Bobby, Zach and Bruno
Bobby tells them about the pentacut plan.
1:00am Jordan and Willow
Jordan tries to make it look liek he doesn't know where Kevin's head is at and Zach putting him up caused a rift between them.

1:10am Pilar adn Kevin giggling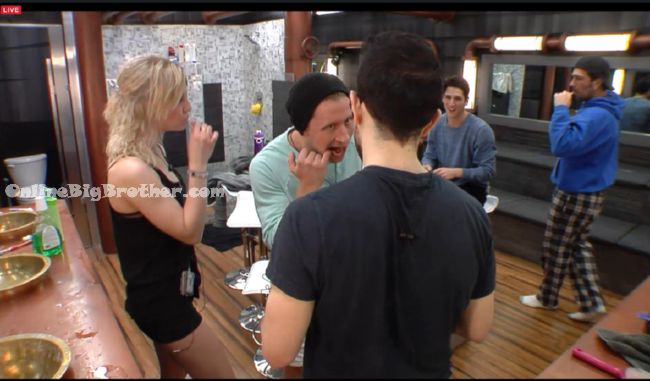 1:20am Bobby broke 1/2 his tooth opening a beer bottle. Apparently it was already dead..
1:23am Bruno and Godfrey Have nots
Talking about taking out Jordan this week but not telling it to Bobby yet. they have to see how the Veto is played.
Bruno says the worst case is if Zach wins the Veto.
They agree they have to win the veto.
Bruno – if we can f***g flip it
Bruno – Their tight like this that's the only reason he put him up
They think if Kevin wins the veto he'll use it and maybe Sarah will go up.
Bruno talking in circles wanting to get JP out and pull Kevin in. They are confident if JP stays on the block they have the votes.
Bruno – I F***g hope you win it
1:37am HOH Zach, Ashleigh and Jordan
Zach tells them about Bobby's Pentacut plan. Says it makes sense. Zach says it's going to suck to make this move so early in the game. Ashleigh and Jordan let him know they have his back.
Jordan says that Bruno told him they have to take out the couples (Bruno said the girls)
Jordan and Zach agree they will pick Willow if they get Houseguests choice.
Zach says the Chop shop told him they are keeping Jordan over Godfrey
Jordan – Cool
Jordan says next week if it's double they'll win it and finish off the job (Take out the last two remaining members of Bru's Crew)
Zach sighs.. says it's going to be hard, "I'm so emotionally checked into people… especially Bruno"
Jordan – if you don't want to do it you don't have to.. it's your HOH.
Zach – it has to be done.. I just don't want to get rid of two people that don't want to get rid of me.
Zach says Bruno is a target sitting in front of him.
Ashleigh mentions they still have Bobby
Zach – but after Bobby..
Jordan – you have Kevin
Ashleigh mentions after Bruno, Godfrey and Bobby are gone they have the numbers to clean out the house.
Zach – Sarah's going to pull one out of her a$$ and backstab me
Jordan – she doesn't have the balls … she won't make a move unless I'm on board.
Ashleigh doesn't think Bobby will try to win teh next HOH
Jordan calls Bobby a idiot
Jordan thinks they can pull Godfrey in points out that Godfrey is after the girls still.
Zach – even if someone got me on the block next week they don't have the votes.
Zach – nobody will put you and me up against each other nobody has the balls to do that.
Jordan – nobody has the balls to take out Bruno, we have to .. well you have to
Jordan leaves.. Zach justifying how getting Bruno out this week is the best play for his game but says he's emotionally attached. Zach thinks it's pretty early to make a move like this. Says they still have 11 people in the house and for him to stab a close allies in the back like that.
Zach – he would never do this to me.. never do this.. it sucks so bad.
Ashleigh comforts him by playing with his hair tells him it's a game
Zach – I'm not even going to look him in the eyes.
Zach – I could put anybody else on the block and it would be easier.. that is the reason he has to go
Ashleigh think it will be this hard with everybody else.
Zach – I hope this is the right move
Ashleigh – I think it is.. we're thinking weeks ahead… You'll survive next week for sure
AShleigh tells him Bobby will still be tight with the Zach (Chop Chop) if Bruno goes home.
AShleigh thinks Kevin and Zach can bounce back and win HOH back to back if they wanted to.
AShleigh says worst case Bobby wins HOH and Kev goes home, "We could lose Kev"
Zach says it's time for everyone to play win the vetos and use them to save each other. Zach wants Sarah to win a veto and use it if he's nominated.
Zach asks Ashleigh what her favorite Kiss is. they start smooching…
[polldaddy poll=8803897]
[polldaddy poll=8797487]
[polldaddy poll=8803903]
Share it YO!!
Tweet