POV Holder:
Godfrey
Next POV
April 24
POV Used
Yes
POV Ceremony
April 26
HOH Winner
Pili
Next HOH
April 29th
Nominations:
Sindy and Brittnee Godfrey
Have Nots
Brittnee, Sarah, Kevin, Godfrey
POV Players
Godfrey, Pilar, Sindy, Willow, Bobby, Kevin.
Host is Sarah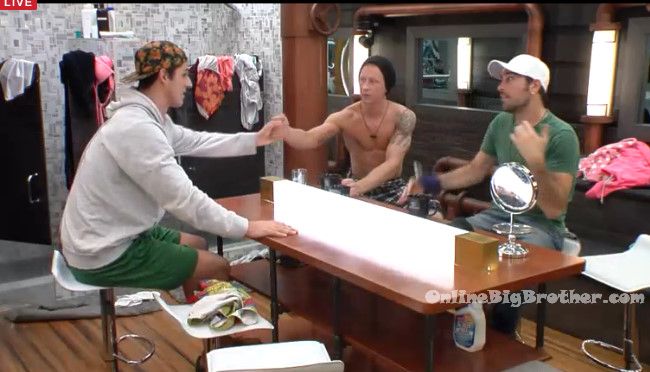 1pm In the bathroom – Zach, Kevin and Bruno are talking. Zach thinks they'll be having a fast forward week. They basically cram 2 weeks into 1 week. Zach says we have to have a physical HOH soon. We haven't had one since yours (Bruno's HOH) and that was on day 21. Zach says that the couples alliance is taking a lot off heat off Chop Shop. Zach says that if God does win and goes after the couples .. If He puts me and Ashleigh up and I pulled myself off he would put up Kevin or Pili. They're like a buffer for us! Like that is f**king money! They wonder about pulling in Godfrey. Bobby comments on how he's seen him talking to them. Bobby says maybe Bruno and I can suck something out of him. Bruno says I don't know about that I'm not sucking anything out of him. You can do that buddy. They all laugh. They talk about how Sindy has no clue whats going on. Zach says I knew she was just trying to blow smoke up my a$$. Bobby says she sunk herself ..she should have come in and laid back but she didn't. She did the opposite of what she should have done.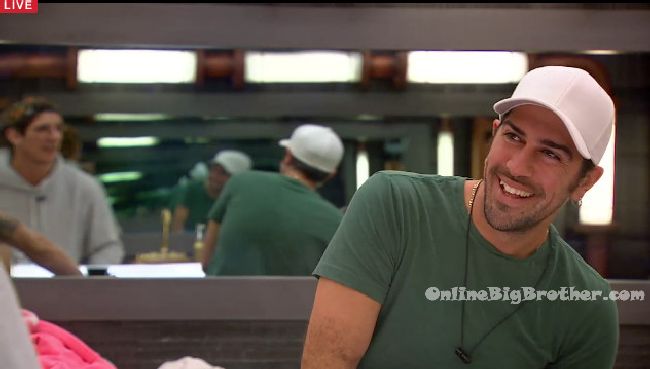 1:20pm UP in the HOH room – Kevin, Pili, Willow and Ashleigh are talking about Big Brother Canada 1 when Topaz was up in the HOH room talking about her possible nominations and the other house guests watched her on the living room tv. Willow says if it was me and I was up here I would be like don't trust you, not talking. Kevin says I am the other way I have so much faith in production… if I go out that way then its meant to happen.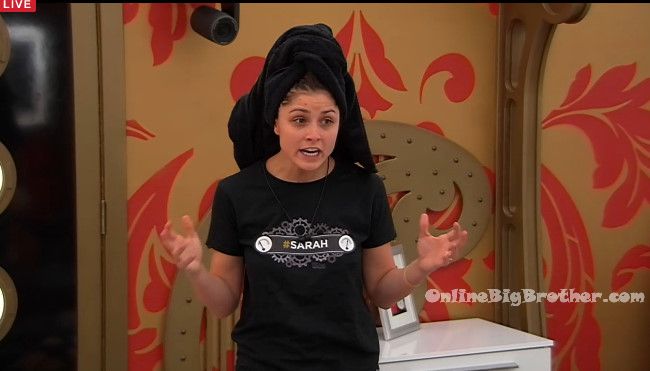 1:25pm – 1:45pm In the bedroom –
Bruno and Sindy are talking. Sindy says can you believe the crowd cheered so loudly when we said we wanted to get out Bobby and Zach. And how when I said I wanted to get out Zach the people wearing team Bruno cheered. Zach is doing something sneaky for them to cheer like that. Bruno says I genuinely wanted to work with you. Sindy says you've never talked game with me. Bruno says You're telling people about the chop shop… you're working against me. You say you've wanted to work with me but have never tried to talk game with me. Bruno says I sat back because everyone wanted to talk to you but I was hearing everyone say you were saying this, this and this. Bobby joins them and the conversation ends. Sindy and Bruno continue their conversation when they're alone again. Bruno says I was doing great and then you came in and blew it all up. Now I have to regroup. I think you leaving and being able to talk and come back in is bullsh*t. How am I supposed to work with you when you throw me under the bus. Sindy says I am willing to put it aside with Bobby if he comes and talks to me. If Bobby will vote for me to stay and then Godfrey votes with you …we can do this. If you vote for me to stay its a clean slate. Bruno says let me see what I can do.

2:10pm In the living room – Willow, Brittnee, Sarah, Zach and Bobby are sitting around talking about their height. Bobby says he's 6'3″ with his hair spiked up. They said I was 5'8″ but I know I'm 5'9″. The conversation turns to tv shows and other random things.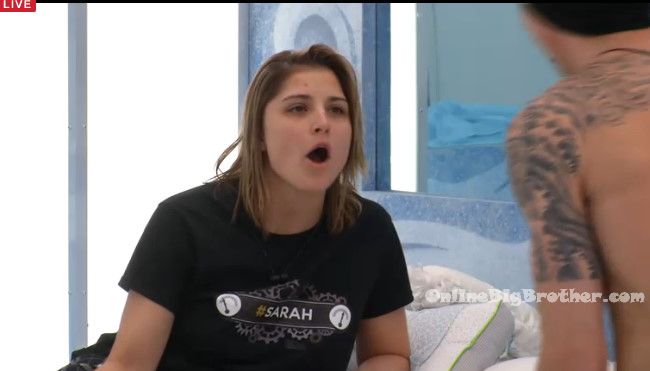 2:35pm – 2:45pm Willow says everyone thinks you have it. They were talking and Zach said this week we'll have to play it cool but next week we'll have to do something. Bobby says its better that they think I have it. I want to gain Sarah's trust … Willow says when you get a chance today talk to Sarah. Bobby asks do I tell her about my veto? Do I try and gain her trust like that? Willow says it will be a show down between the nomance and the showmances. Bobby tells Willow I want to tell you something .. its not game related but everyone will laugh about it after.. I'm not a v!rgin at all. Willow laughs. How many girls have you slept with? Bobby says like 10. My ex-girlfriends are laughing right now. Willow says and you keep saying you're going to find a nice girl … and get laid when you get out of here. This made my day. It made the day so much better. Willow tells Bobby about the "Purple Cobra's" (Hexagon Alliance) Bobby says you can trust me and Bruno. I'm playing both sides right now. Bobby talks about being in the vault and trying to convince Sindy he had a secret veto. Willow gets called to the diary room. Bobby says "There you go Canada my life is in Bruno and Willow's hands."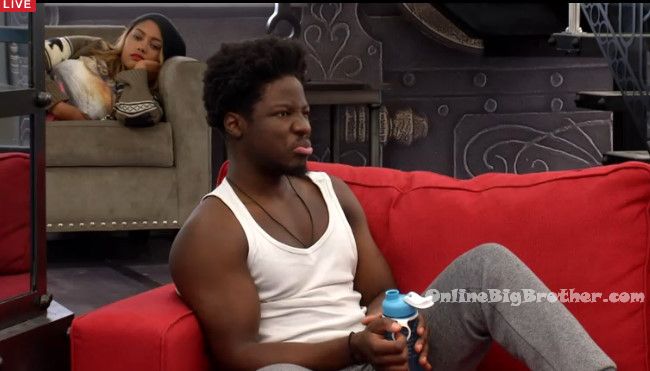 2:55pm – 3:35pm
All the house guests are lazing around and eating. Godfrey's steak-slop "Just sniff some steak and then eat the slop" They comment on how they can hear a lot of people out in the backyard. Zach says imagine if we were locked inside all day Sunday, Monday, Tuesday. Sarah says maybe its for a luxury competition. They bring up how Graig said he's slept with like 300 girls. Bobby says I would have dumbed down that number a lot more. Godfrey says and you (Brittnee) were almost on that list! Brittnee says no I wasn't. We laid together but that was it. They other house guests question her. Britt says just on the couch. He would have had to put in a lot more work.
3:45pm – 4pm Ashleigh tells Zach I am 90% sure that Bobby and Bruno are with us. Because afterwards .. like after the speeches Bruno came up and went out of his way to tell me don't worry we have the numbers. If he wasn't he wouldn't go out of his way. He's not that kind of a guy. Zach says yeah I agree. Unless he's really good. Ash says there's no way, no way … well theres still 10% chance.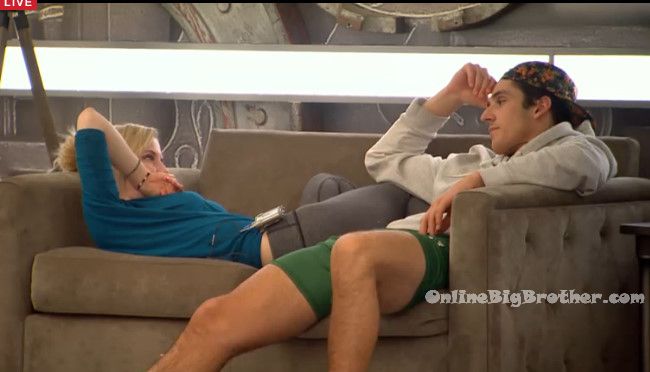 4:25pm All the house guests are sleeping … well almost everyone..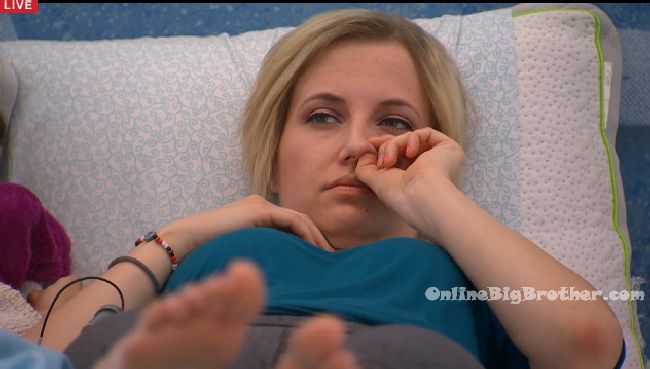 5pm – 5:20pm
Big Brother wakes up the house guests. Brittnee checks on Sarah and comments how cute she is. Sarah says she hates not being able to sleep. Sarah says they're stressed about the showmances thing. What do they expect?! Brittnee says they're not going to want to get farther away from their showmances. Britt says the girls are going to all get butt hurt. Sarah says I think they've put all their eggs in that basket. Britt says the whole vibe has changed with them. They're trying to see who is bothered by the showmances. Sarah says everyone is! You want to say to people what they're thinking in their head. Britt says it doesn't always work. I was talking to Ash yesterday and she was trying to use reverse psychology .. Sarah says because they're scared of Sindy. They're going to get her out first and then Bobby. Britt says Sindy really did have a point. Sarah says of course she did. Britt says Pili was too scared to do it. Sarah says Pili shouldn't be here. If there is one person that shouldn't have been cast, it is Pili! She adds nothing game related and it pisses me off. The conversation ends when Ashleigh comes into the room. Willow joins Sarah on the floor.
5:40pm – 5:50pm In the living room – Bobby is making his cinna-slops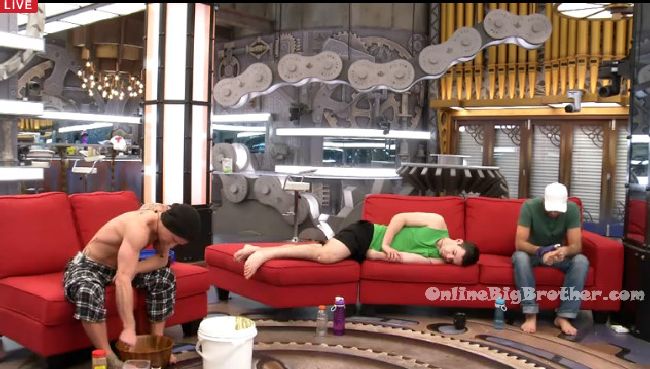 ALLIANCES IN THE HOUSE
There are always a lot of Alliance but we've tried to make sense of it all.. Read our alliance help guide
[polldaddy poll=8819718]