Quick Big Brother Spoilers
Head of Household:  Hisam
Nominees: Reilly & Cameron
POV Players: Reilly, Cameron, Hisam, America, Matt, Blue
POV Winner: Hisam
Veto Ceremony: veto was not used.
Havenots: 
Lock your ranks in before midnight
The situation Veto was not used. Nominations stay at Reilly and Cameron.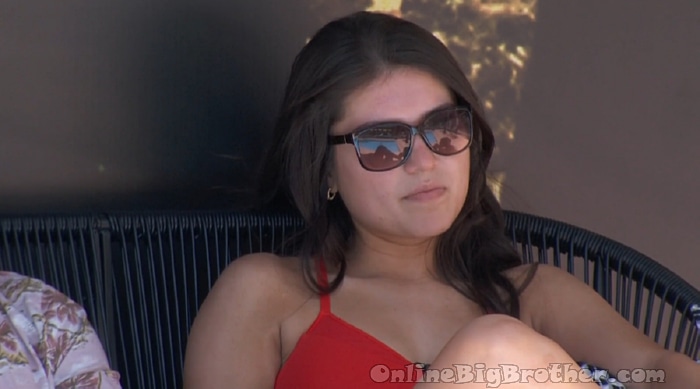 12:48 pm Corey and America
Corey – who's got to go before jury? that's not that many people left. There's three more people
America – I really don't want Hisam in Jury
Corey – He's not going to make Jury. There's too many eyes on him I just don't see it. Bowie, Cam, Red and another person on that side. Those are the people that will go I think.
America – I hope so
Corey – I don't know how good of a job Cam can do to reintegrate because he burnt a lot of bridges that first week for no reason.
America – yeah people don't trust him. He's no in with the comic room and he's not in with our side.
Corey – he rubs Izzy the wrong way
America – she rolls her eyes every time he talks.
Corey – Hisam will be gone in the next few weeks.
America – hopefully
Corey – I think he will be
America – don't tell that to anybody.. you can't go around saying that switch. I feel bad I said it in front of Matt the other day. Matt's not a smart player.
America complains that she has to coach Matt on how to speak to the HOH.
Corey – the only time I will talk about getting rid of Hisam is when someone comes up to me and is like I want to get rid of Hisam.
America – Do you think it was Cameron that went to him and spilled everything
Corey – Cameron went to the comics people.. we went to everyone. Apparently Red was advocating for him to join that side. Red was going up to people saying 'Yeah Cam's good man'
America – They're bff
Corey scoffs – Red told me they're just friends outside the house.
America – They were talking so much shit this morning when I walked in they went silent.
Corey – I don't like red.. he's funny
America – I like him you just don't know what game he's playing.
Bowie joins them. They talk about Hasmin POV speech.
Bowie – part of me is ohh that's his personality and part of me is like ohh that is twisting the knife.
Corey – the part that surprised me was .. I ask all of you to vote her out..
Corey – my whole thought was like you're intentions were very clear we know
Corey – that is not the speech I would have given..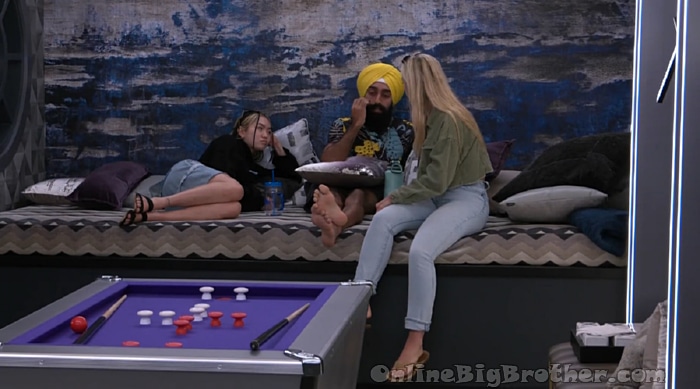 1:02 pm Jag, Blue and Reilly
Reilly – angry?
Jag – yeah, that was like.. .yeah.. He didn't need to say all that or do all that. I think people al sensed that. It was unnecessary to go to that extend. It felt very direct and personal. He only addressed you.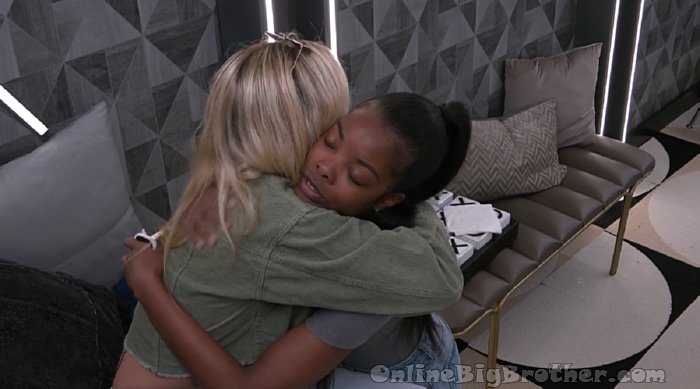 MEME walks by and drops a hug on Reilly.
MEME – that was rough I wanted to check if you were ok.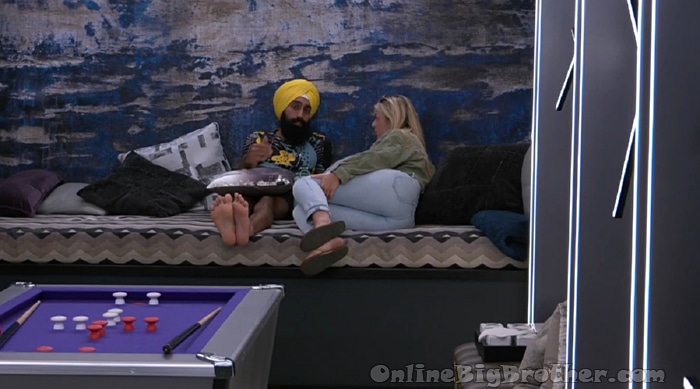 Jag – Everyone felt that was really personal
Reilly – if I was someone on his side and I say that I would reconsider.
Jag – he could have just pulled you aside and said all that stuff he didn't need to put all the blame of what happened last week onto you. It's not fair.
Jag – MEME pulled me and Matt aside and was like that was rough. Even like Felicia looked shocked.
Blue- Him and Izzy rallied up the other side and did exactly what we did in the beginning it's so not fair and very irreasonable to put all the blame on you and on top of that it was not just your decision it was all of our decision .
Blue points out that Reilly's HOH was to take one person out out of Four people that lost in the first game. Hisam's HOH allowed him to pick anyone in the house, "He went after you because you mentioned his name what's the point of you mentioning the name when you can't play HOH"
Reilly – this is SO personal he's got something against me.
Blue Leaves.
Reilly – It was super embarrassing that he did that but I'm glad he did that
Jag – yeah I think it hurts his game and I think that.. everyone felt that it wasn't a moment.. like you know what I mean..
jag goes on about how he would have been kinder in his speech.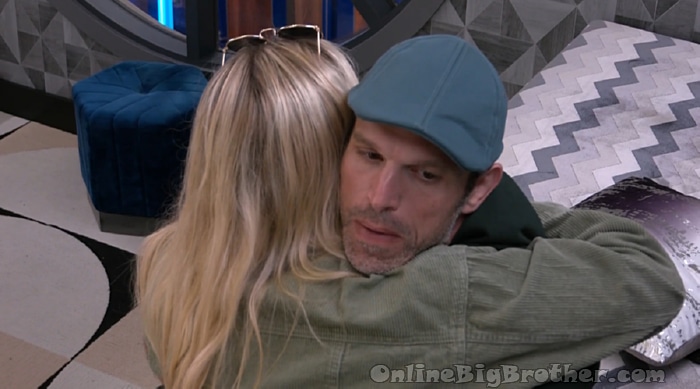 Hisam joins them and Jag leaves.
Hisam – I was overly harsh I'm sorry that was my mistake. umm.. That was too much and I am so sorry
Reilly – thank you I appreciate that.
Hisam – it wasn't meant to come out the way it came out. I was trying to explain and i think umm… I ahh.. Lost a little bit of kindness (WTF)
Hisam – that was never my intention. right.. it was never my intention to not be kind. right.. umm.. I'm sorry..
Reilly – thankyou
Hisam – that was too much and umm.. I wish I could take it back.
Reilly – It's okay there is a lot of things I wish I could take back too
Hisam – no no no this is unnecessary.. Right.. (damn this guy and the rights. )
Hisam – it was never my intention to do that right.. I'm sorry.. right.. I hope you hear from my heart that was never my intention right.. I just f***ed up right.. I just f***ed up..
they hug all you can hear under the muffles is "RIGHT"
Hisam – It's important when you f*** up you say you f** up RIGHT.. and I f*** up .. I am so sorry.
Reilly comforts Hisam "Don't beat yourself up I am a tough Cookie"
They engage in one of Reilly's classic way too long hugs..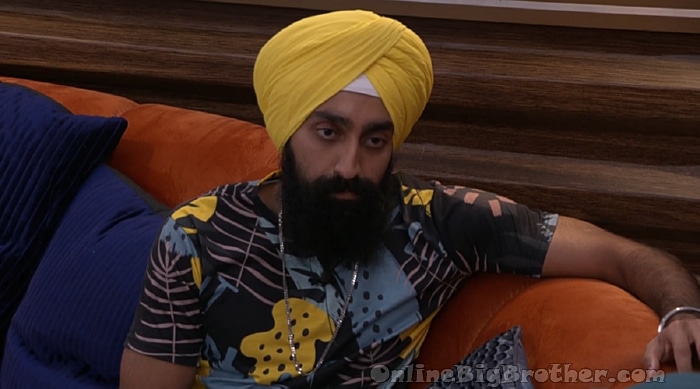 1:32 pm Hisam and Jag
hisam continue his "too much.. .crossed the line of kindness" campaign
Hisam – I feel bad about it … Right.. Right… I apologized.. right.. it's been a few crazy weeks right.. I am emotionally full right.. but that doesn't mean I have the right to project that on other people right..
Hisam – I am emotionally full and then it comes out.. right.. I am normally much better at controlling myself and much better at being smart.. right
Hisam – I know you would have a response to this as you should Right.. Because it was too much.. right
Hisam says he's hoping to get Jag's forgiveness and trust… .right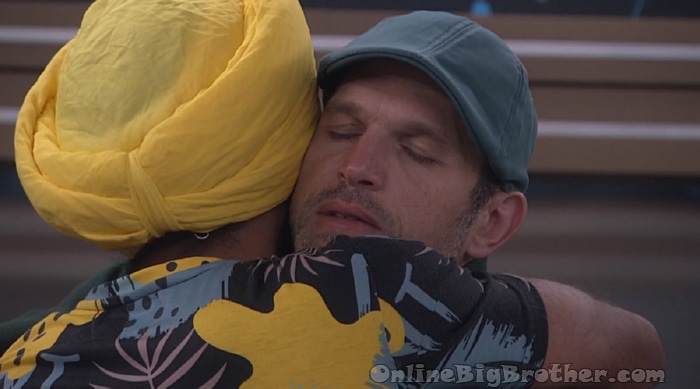 Jag goes to leave.. hisam hugs him "I'm sorry I'm so so Sorry"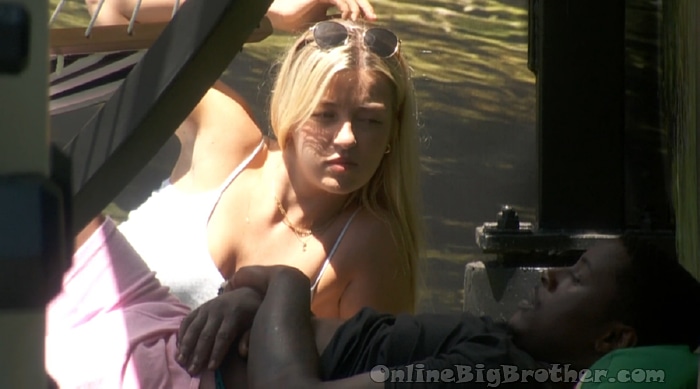 1:36 pm Reilly and Jared
They talk about the vote. Jared says she only has 4 that are for sure. Jag, Him, Matt, Blue. Reilly thinks she has Corey and America.
jared talk about how the social game is more important than the competitions.
2:00 pm Jag and Jared
Jag tells Jared Hisam is on Damage control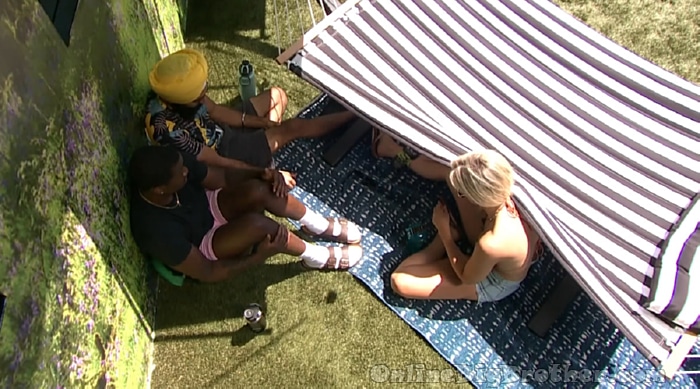 Feeds flip .. when we're back Reilly is with them.
Jared – this is my thing Jag.. I'm going to be upfront with you. We said we cool so we better be honest with each other I knwo you all got your situation right. about y'all
Feeds cut..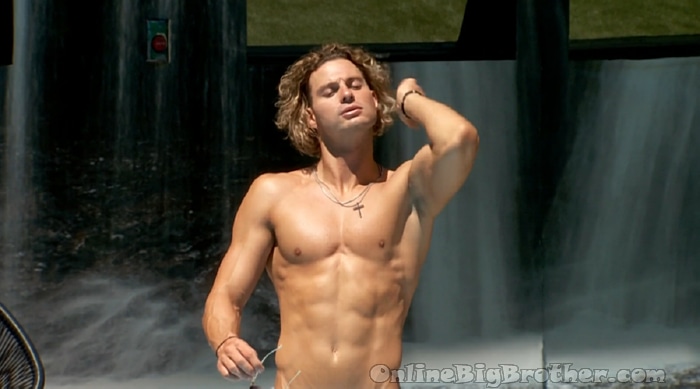 Matt is hanging around the pool.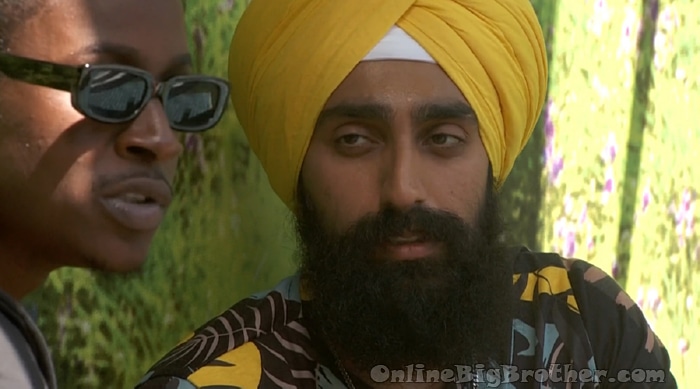 2:32 pm Jared, Jag and Reilly
Jared says they need to pull in Cerie and Felicia into a room. Bring him if they need him. "The moment I see y'all I'll enter the room.
Help support all the free content we provide by giving a donation. Any amount is greatly appreciated!
If you enjoy OnlineBigBrother, please consider donating to keep the madness going. Thank You!