HOH: Tiffany
HAVENOTS: None
Nominations: Sb and Ky via HOH, Xavier Via punishment
Coin of Destiny Coup D'etat: Claire won and kept noms the same
Power of Veto Players: SB, Claire, Hannah, Kyland, Xavier, Alyssa
Power of Veto: Hannah
Power of Veto Ceremony:
Big Brother 23 Houseguest Rankings – – RANK THE HOUSEGUESTS –
View the previous day ranks on the – Ranking Grid
Big Brother Spoilers – Hannah has Veto. If Veto is played on Kyland or Sb Claire puts up Alyssa. If it's used on Xavier nobody goes up. Kyland and Xavier want off the block. Zzz
Claire won the coin of destiny coup d'etat
– She kept the noms the same (Sb and Ky)
– Tiffany was dethroned as HOH and no longer has the room.
– Tiff can play for HOH again next week.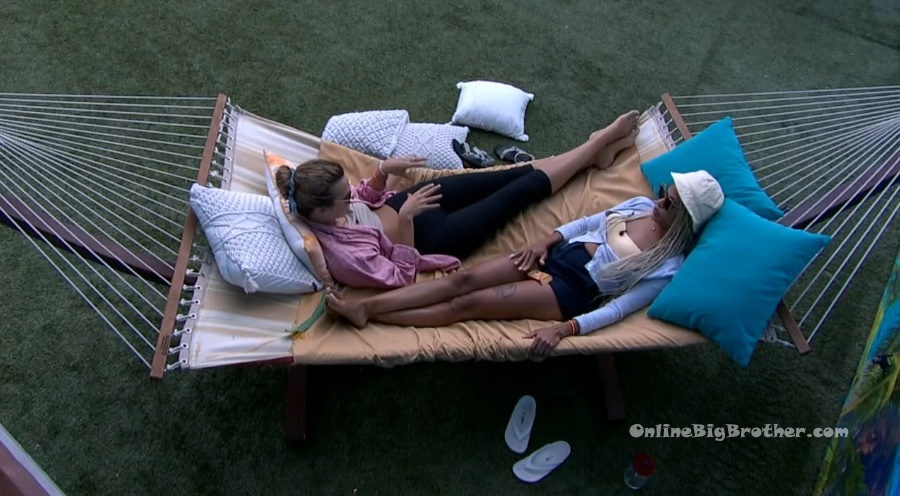 6:18pm Hammock. Tiffany and Claire.
Tiffany telling Claire what to say to Ky – okay, I am hearing your points. I would like to talk to everyone else and lets catch back up … but don't give him a flat out no. Just make him feel good. Make him feel smart. Claire – make him feel heard. Tiffany – definitely make him feel heard. Claire – she (Hannah) was like I haven't talked to Ky.. I just want to be like I am not doing it. Ahhh.. maybe don't do that. Tiff – Naaa… Chaddha you got to play a little game. Clarie – but she wanted to be like why have you talked to everyone else but you haven't talked to me. Tiff – yeah I understand. Claire – one thing I learned was when someone wins veto they want all the information. Tiff – MMmmhmmmm.. because that's their chance at power. Claire – that is how Alyssa felt like two weeks ago when she won it and Ky got the double one. Tiff – yeah dealing with a guy like Ky .. he is smart and intelligent. He is egotistical as well. He is very confident in himself. You have to feed his ego a little bit. You can't just shut him down. that is going to make him.. Claire – ..be against you. Tiff – you can tell him no but you just can't tell him no right away. Claire – yeah. And I know his biggest fear in this game is being misunderstood. Being cast in a bad light. Not feeling heard. Like he really wants to be seen as an amazing game player.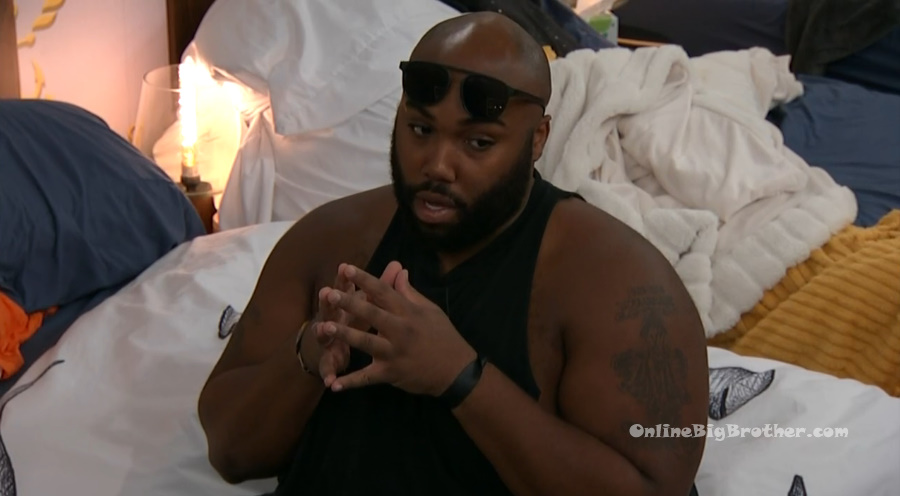 Bedroom – Xavier and Big D.
Xavier – basically he (KY) wants to be taken off so that he can give SB a sympathy vote. Big D – Ah okay!? Xavier – that is kind of the premise of his pitch. Big D – Between me and you .. I don't feel comfortable with him. Xavier – me neither. He wants to throw her a sympathy vote. That sh*t don't matter at this point. Big D – and someone else can throw her a f**king sympathy vote. Xavier – and if she pulls me off .. I am someone that has reason to. Big D – right. Big D – my thing is that I don't feel comfortable with him because he is not … I communicate with him and I communicate with you. He has not communicated with me which allows me to know he has my best interests in this game. And for me I want zero part of it.
Bedroom – Xavier and Claire.
Xavier – do you think there are things that I should be saying to her to get her to use it? I know its Chaddha's decision but she also doesn't want people to know that you, me, Chaddha and Tiffany are close. I did want to tell her that if she were to use it on my she would gain an ally in me and Alyssa without really damaging with what the anonymous HOH has planned for this week if the put up Ky and Sb. Claire – yeah. Xavier – Especially with you, her and Tiffany because I feel the three of you are somewhat connected. Claire – yeah, I think Chaddha worries about next week and I think she worries about being an island someone in this house with all these duos. I would say anytime anyone has power .. they want to feel important. They want to feel like people want to talk to me and I want to use this to my benefit as much as possible. I know Alyssa had the veto two weeks ago and expressed frustration that no one was talking to her. Xavier – I would give her reassurances that if I won HOH her, Tiff or you would not go up.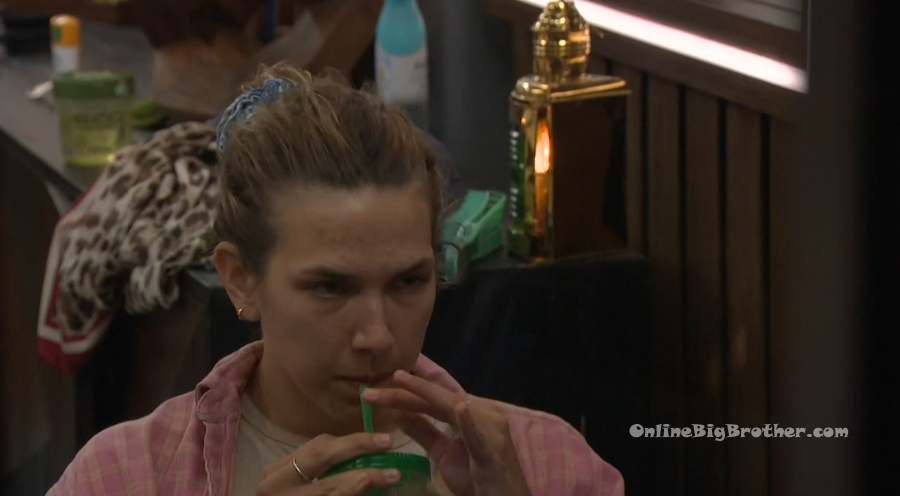 7:45pm Havenot room – Xavier and Hannah.
Xavier – I feel like right now he (KY) views me as his biggest threat he is just too scared to admit that sh*t. Hannah – well yeah the bulk of our conversation was him comparing himself to you and justifying why he is better. Xavier – he is. Hannah – and let him think that. Xavier – I am fine with that. Hannah – for my ego it is frustrating when people undermine my intelligence because I am smart. I know that. But for people to underestimate me in this game .. it is not a bad thing at all! Xavier – exactly. Last week he was talking to me about how he hoped the women would start winning some sh*t to take the heat off .. and then this week you and Tiff sweep the week. I was like they're doing it this week, that means they're in charge. They're in power, we follow their lead. That's a part of being a team. Hannah – he is not happy about the women having control this week. Xavier – I don't get why though. You're still safe. And they want some wins. Hannah – yeah he is not happy about it. Xavier – this is one I am going to try and talk to you about tonight. Its about some things he said to her and its going to be insulting. Hannah – to me? Great!? Lets give this a whirl. Xavier – eluding to your age and your lack of game skills as apposed to knowing just basic big brother knowledge. Hannah – okay! Xavier – I am telling you, he is pissing me off! Hannah – does he just think that no one in this house talks? Xavier – I'm like does he not realize that he is only still here because of the six?!! They wrap up their conversation. Xavier – do you think you're going to use it (veto on him (Xavier)). Hannah – yeah. Xavier – awww that's so sweet.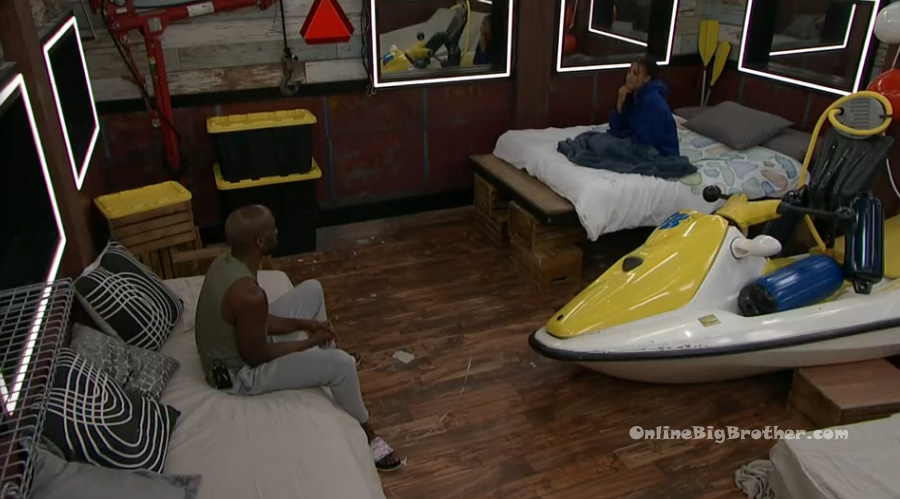 8:15pm Storage room – Xavier and Tiffany.
Tiffany – did Chaddha tell you what he said … about how he feels now he has to win HOH next week. He is just.. I want to win it and I would sit his a$$ next to Alyssa's. Xavier – yeah I am fine with that. Its getting to the point where I was to be with the six but he is testing me. Tiff – yes! Xavier – you testing me and he like pissed me off! Tiff – that is why I don't want to leave you up there. I would be too afraid of where we would be on Thursday if all three of you were sitting up there. Xavier – exactly! Tiff – its not worth it but he has to be up there.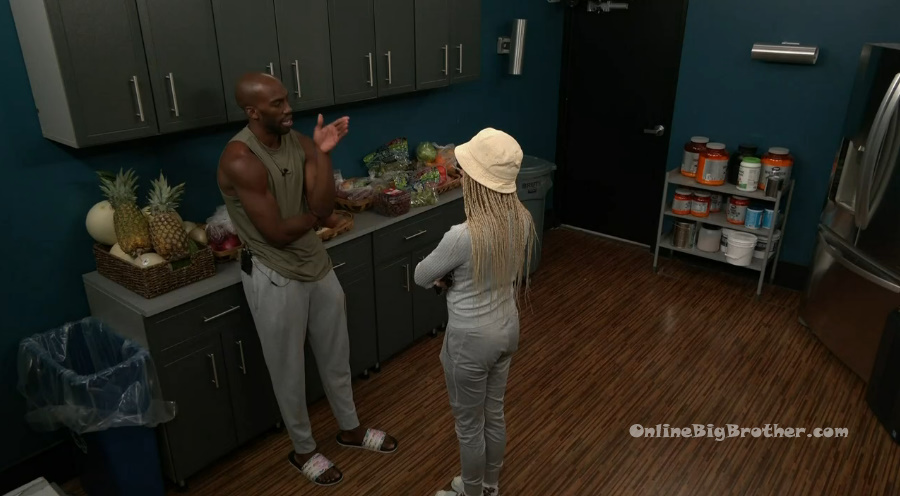 8:43pm – 9pm Bedroom – Ky and Big D.
Big D – I don't want you to feel like no one is listening. I know it can feel like that with the six of us. So I want you to know that I am listening. Ky – Actually you know what its not the listening .. its the honesty. I feel like I have consistently felt like. I feel like your honestly is consistent. Azah's been pretty consistent with me. I think X has been consistently. But I don't know if he is saying the same things to you as he is to me. Big D – I try my best to make sure we're all on the same page. But you know where my loyalty is. I just don't want you to feel like everyone is not giving you the truth… the thing is that people are not cut like you and me. Some people are going to have to tickle around…the truth or make up excuses. Where they should just tell you no… and that's okay. But some people don't want to hurt your feelings or hurt my feelings or hurt others feelings.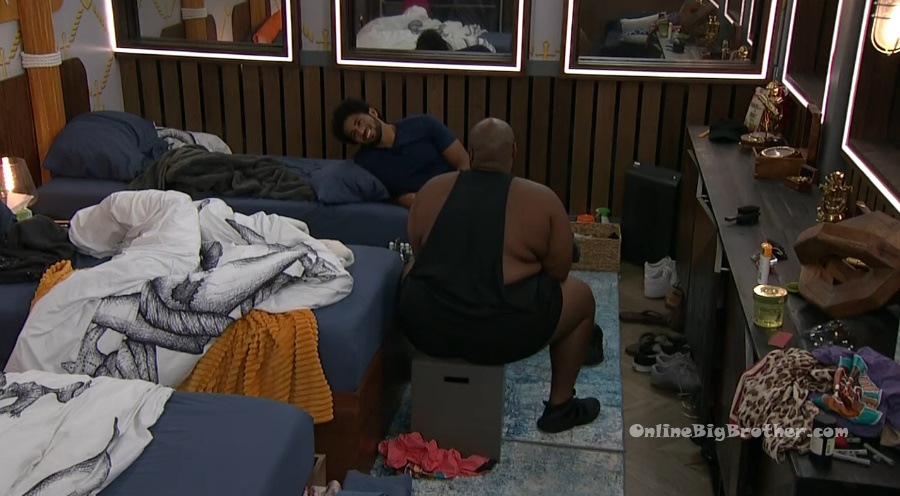 Xavier breaks up their conversation to say – you got to stop meeting with everyone in the cookout. Claire is starting to catch on and its making sh*t sketchy since only Chaddha has the veto. Ky – AHHHhhh.. yeah… who am I meeting with?! I am doing the same thing that every single person on the block has done and meet with everyone in the house. It just happens that's everyone in the cookout. Big D laughs – its true! Ky – its also suspicious that Ky is not talking to anyone. Xavier – Except that Chaddha has the veto and usually that happens after the veto. So I think that is why it is ringing as suspicious. Ky – yeah but you also have to talk before the veto too. Big D – I just told SB that she needs to to start talking to people. Xavier – I am just saying maybe for tonight.. Big D – yeah I am good. Xavier to Ky – you good?! Ky – I mean I am good in the sense of … I feel like I am hustling for weeks and weeks and weeks giving every single motherf**ker everything they want and then now I am just like hey can someone just give me an honest answer!? And now I am like not getting that?! So now I am like can someone help me understand this?! And now I am not getting that .. except for you two! Xavier – I gave it to you straight up. Ky – yeah besides you two. SO I am like what the f**k have I been doing any of the weeks.. this motherf**ker (Big D) put himself on the block … you put yourself on the block. And now when I am coming to someone and they're not giving me a straight answer .. like they are dancing around stuff and I am like why?! Why can't everyone within us just be straight up!? It just sucks!!! I am not asking for much! Xavier – lets just keep the tone down for tonight. Ky – I know but if I do that then its the olympics .. then its too late .. then its the morning and its too early .. and then its the veto.. so if not now then when?! Xavier – I just saying maybe not now.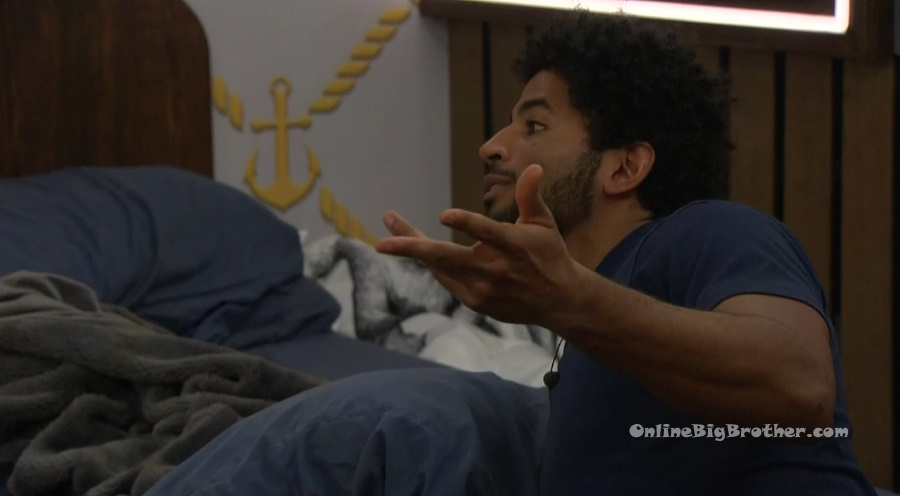 9:45pm – 10pm Dinner time…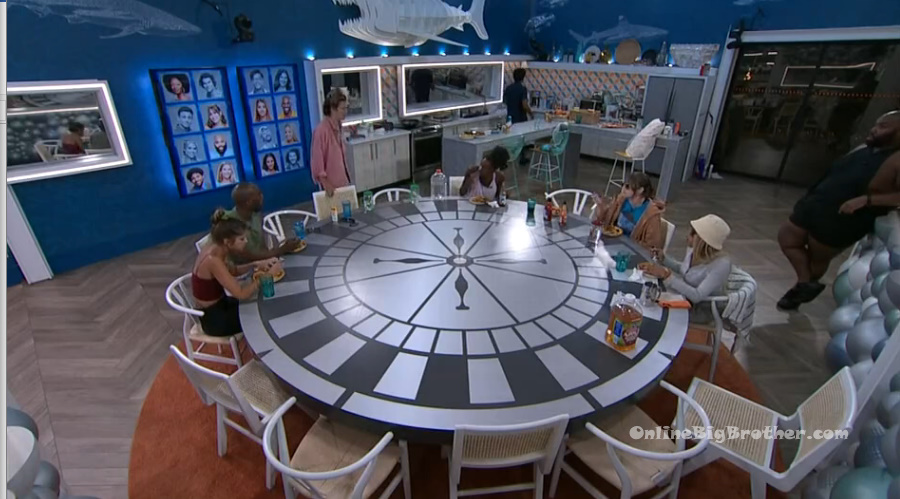 10:28pm Backyard – Time for BB Olympics – "BB23 Relay"
11:15pm Bedroom. Azah and Alyssa.
Alyssa – I don't want to throw anyone under the bus. I was going to wait till their one on ones. DX told me somethings before he left that could be untrue or true I don't really know but it is what it is. He (KY) was trying to talk to me and I was like I am just going to be honest DX told me somethings I want to keep them to myself for now and I will definitely be open to talking with you after the veto meeting. Azah – that is a good plan. Alyssa – and he was like well if there are things that could be discussed that could fix things .. you would want to talk about it before the veto meeting. Azah – nope! Alyssa – do you think that I am going to tell you that I want the veto used on you? Are you f**king delusional!? Like do they think that I don't know that they've had my name in their mouth for so long .. SB especially. Azah – they forget and think that everyone here is playing a game for them. Alyssa – I think that they have no idea that I know what they were saying about me. I want him (KY) out next! Azah – I share similar sentiments. I am not going to have one of them stay and tell anyone else that I am targeting people. I don't care if people know that I want Ky out because I think a lot of people want him out. Alyssa – I think they do. Azah – just be careful people like that can turn things around.. Alyssa – I don't know why I give people the impression that they can just throw me under the bus like that.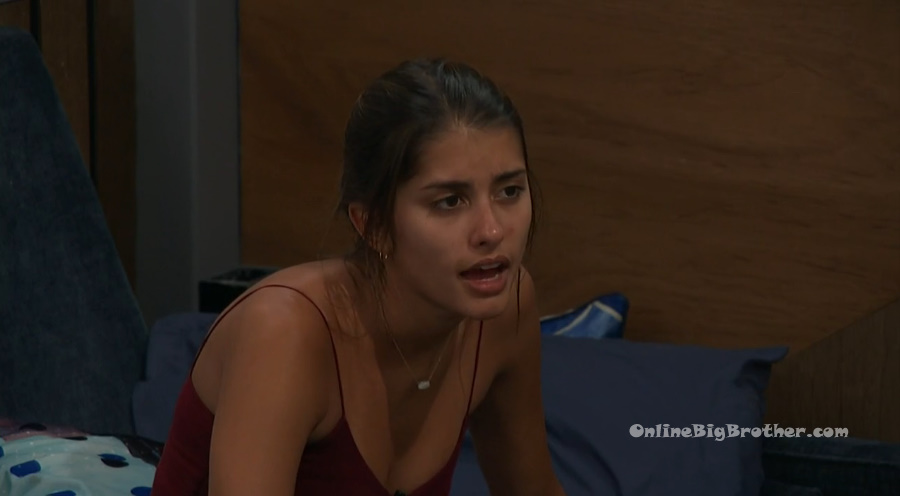 11:47 Havenot room. Sarah and Ky.
Sarah – I think this week people are going to be vague and we're probably not going to know for sure. Ky – I don't feel stressed even after talking to you. Sarah – do you often feel stressed after talking to me for awhile? We're going to get evicted back to back. Ky – want to bet? What do you want to bet? Sarah – in the jury house you have to cook me breakfast every morning. Ky – I will do that. Sarah – if I do go.. oh whatever at least I tried. Ky – but you won't go. Just know that I won't be campaigning against you.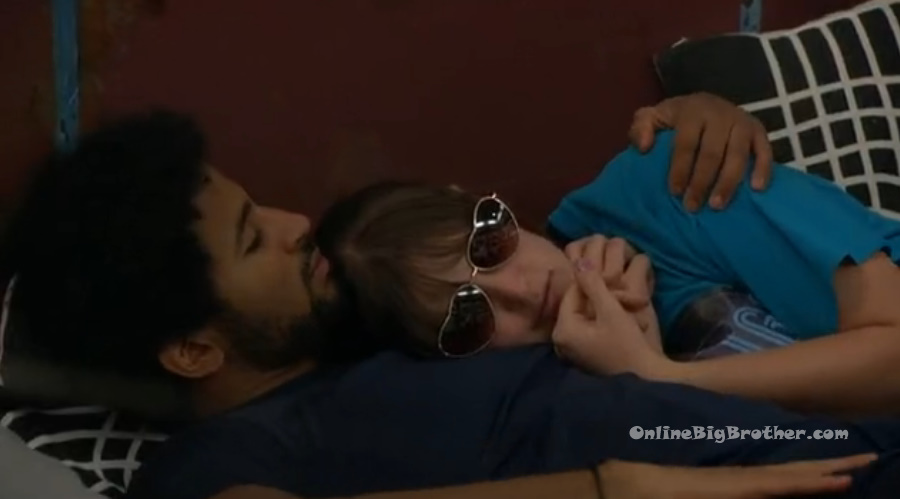 12:20am – 1am Kitchen – All the house guests except Ky and SB are sitting around the kitchen table talking about how long its been since they had s*x. They start talking about April and Ollie from Big Brother 10 who had s*x all the time. Tiffany says that she was most annoyed at their "rhythm".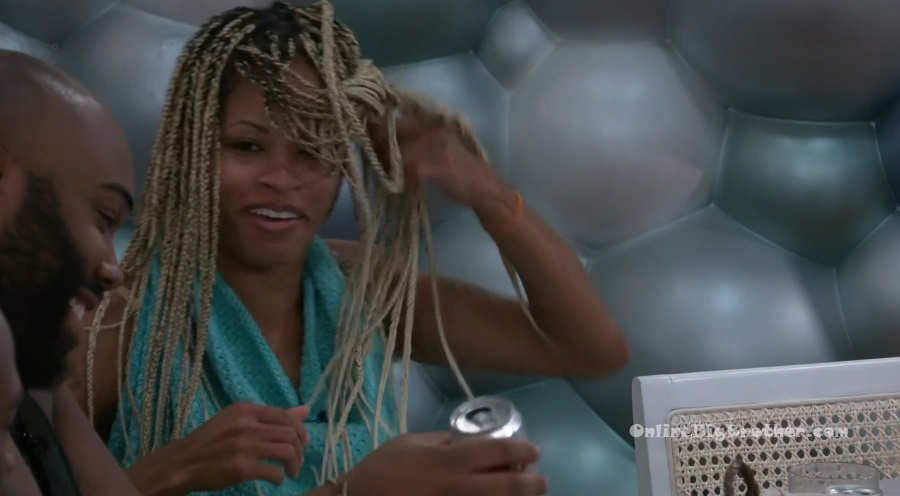 1:07am – 1:40am Bathroom – Tiff, Claire and Hannah.
Claire about Ky wanting to get taken off the block so that he can give SB a sympathy vote – It's pathetic and its so transparent and why do you think that you get to throw all of these sympathy votes and no one else gets to. Tiff – First of all if she needs a sympathy vote from you Kyland to vote for you in jury, then all of that kissing her a$$ from week one till now was a waste of your time. Hannah – Everyone thinks that Tiff is the anonymous HOH so I said if I take someone down, then Tiff is going to have to nominate someone else. Claire – absolutely and you don't want to get blood on her hands. Don't f**k me over okay Chaddha. Hannah – I said if X comes down then you would need 3 votes to be evicted so a duo would have to vote you out and they would need to convince another duo to vote you out so if you're pretty sure that either you or Ky will be leaving by the end of the week then your chances of staying are probably higher if there is only two of you on the block.. instead of three. And she was like yeah its something that I realize, and I don't think X is going anywhere.. so if my odds of staying in this house are higher if X comes down then I would be willing to give you my blessing on that. Claire and Tiff – that was smart. Tiff – I didn't think about that. God Damn Chaddha .. just make sure you put your brain in a bottle when you leave because I am going to need some! How much you selling it for? Claire – Yeah I'll buy it! Tiff – Do not let Ky talk to you tonight .. make him talk to you tomorrow.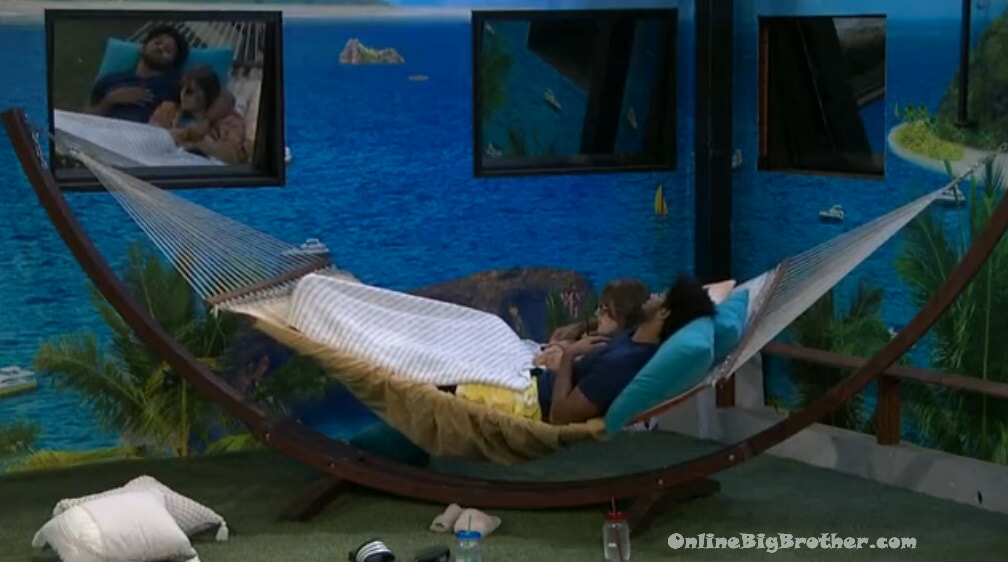 2:00 am – 3:30 am Sb and Kyland on the hammock
Words..
8:00 am Zzzzzzz
Updates will resume in the afternoon. Veto will be used on Xavier Nominations will stay with Kyland and Sarah Beth. Sarah Beth will be evicted. Nothing much is going to happen to shift the game until Thursday. Even then it's doubtful anything will happen until the week after.
OBB boys – zzzzzzz
Consider a donation to keep the madness going. BIG thanks to the people that have already chipped in.