HOH: Kyland
SAFE: Claire and Tiffany
HAVENOTS: Brent, Derek X, Whitney, Hannah
WILDCARD Competition Winner: Sarah Beth (didn't take. Nobody safe)
Nominations: Frenchie and Britini
Power of Veto Players: Alyssa, Frenchie, Britini, Kyland, Claire, DereX | HOST – Tiffany
Power of Veto: Derek X
Power of Veto Ceremony: DerekX did not use the power of Veto.
Big Brother 23 Houseguest Rankings – – RANK THE HOUSEGUESTS –
View the previous day ranks on the – Ranking Grid
Big Brother Spoilers – Frenchie's getting evicted. Frenchie's eviction and the new HOH on Thursday will cause a substantial reset of the game. Feeds appear to be cutting out a lot again. Production definitely has a stricter policy on what is said on the feeds. They are being cut more than ever. Why do you think this is happening? Let us know in the comments.
9:30 pm Frenchie packing. He lets out a sigh.
9:36 am house generally getting ready for the day
Brent – I never wore bandanas before the show
Claire – will you wear them now?
Brent – Yes
9:46 am Claire and Azah
They mention the backyard is closed.
Azah – how do you feel about Thursday?
Clair e- Good, well nervous
Azah – I'm nervous too. Depends on who wins it I'm f***ed
Claire – REally?
Azah – I Don't know it's easy to say ohh just finish off his team
Claire – people can say that about my team too
Azah – true true
They talk about the HOH competition. Neither thinks it'll be endurance. Azah mentions how she was practicing puzzles on her phone before coming in here.
Azah drops her makeup..
Azah – this pallet costs 60 dollars.. I'm pissed..

9:57 am DerekF watching Frenchie Pack
BIGD – today is the day of..
Frenchie – day of what
BigD – of me not moving from this spot.
Frenchie says this is his last day in the house he wants to have fun. Mentions a game of hide and seek.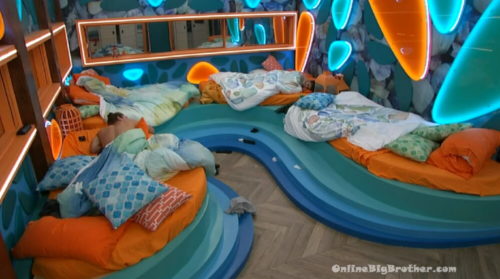 10:08 am Christian and Alyssa still laying in their beds.
Christian – when you Cuddle Do you like the be cuddled or the cuddler, or both?
Alyssa – both.
Christian – same both..
(critical Spoilers)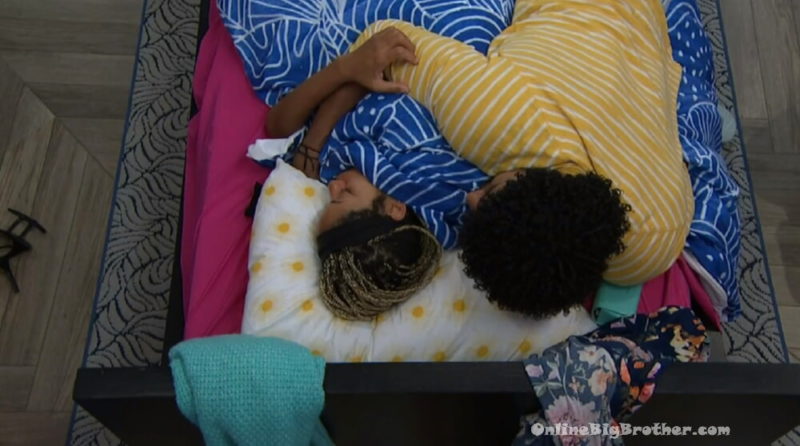 10:20 am Kyland, Claire, SB and Tiffany
Chit chat about the backyard being closed. SB really wanted to swim in the pool today.
Tiffany to Ky – you smell so good..
They mention how jit's Xavier's lotion
Sb – I gotta tell y'all yesterday me, and Azah, and Brent were outside we were talking about like Coasters and Floaters like different ways to play the game.
SB – everything was normal. like there was nothing wrong with that conversations at all. Azah was not upset. Brent tells me later with Alyssa he's like Azah got so upset with me she jumped down my throat about floaters and coasters .. blah blah blah.. what is going on in BRent's head?
DX joins them.. Chit chat.
Sb mentions how if production gives them sushi rice she can make them some rolls.
Everyone gets excited.
DX – have you ever been to Japan?
KY says that's a sore question.
SB jokes around crying saying that she was supposed to go to Osaka then Covid hit
Feeds cut
when we're back they're impersonating Frenchie
Tiffany – I'm killing showmance
DX – no minorities on the block. Kyl on the block
SB – Alyssa too
DX – I came into the house and I said two things no minorities no females.. ok Ky/Alyssa
Tiffany – when I came into this house I promised 16 people safety
DX – when I won the veto he came to me said I'm so glad you won the veto cause I promised myself no minorities on the block
They laugh..
DX – I promise you. you won't go on the block.. please go on the block
They joke around about general things at one point Tiffany and DerekX laugh about her just assuming that DX's dad was a math teacher.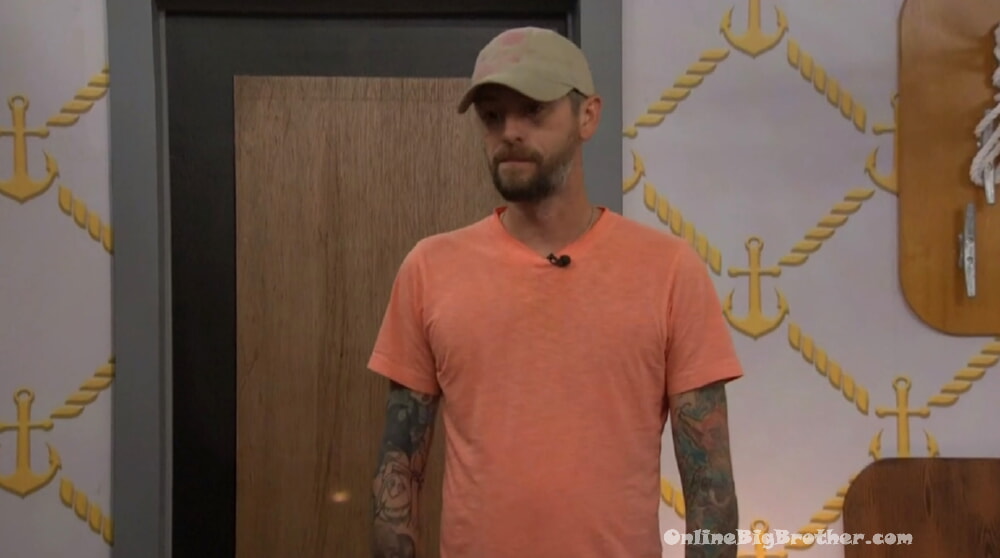 10:40 am Frenchie and BIGD
BigD – how am I going to get these b1tches out one by one
Frenchie – you'll have to find a way. I have faith in you
BigD – If I win HOH what do I do?
Frenchie – you have three weeks to get them gone if not they will run the whole game
BIGD – If I win HOH do I blow up my alliance already and throw them up
Frenchie – you won't have a choice. You'll have the whole house behind you if you take that shot
BigD – Do I put up one from each? If we lose another guy I would rather get rid of a girl so I out up Claire and WHitney
Frenchie – Claire? Claire is on your side
BigD – I know so who do you say I put up Whitney and Alyssa?
Frenchie – or Hannah and Whitney but Claire is …
BigD – I know I know I'm coming up with scenarios. I want to take a big move but I don't want to f** myself. With me blowing sh1t up left and right..
BigD – I want to do what you did BIG MOVE what you did was big because it was first week so everyone was like..
Frenchie – I would do it any week if I was still here no matter what I am making big moves I don't care what the shock value is I'm making Big moves that's what I'm here for
BigD says the biggest move he can do is put up Christian and Brent at the same time
Frenchie – that's BIG BOY MOVE right there.. that was my original Go to
BIGD says his GUT is telling him there is no girls alliance, "I want to try and get rid of these BIG dudes so I have a chance to win at these big comps"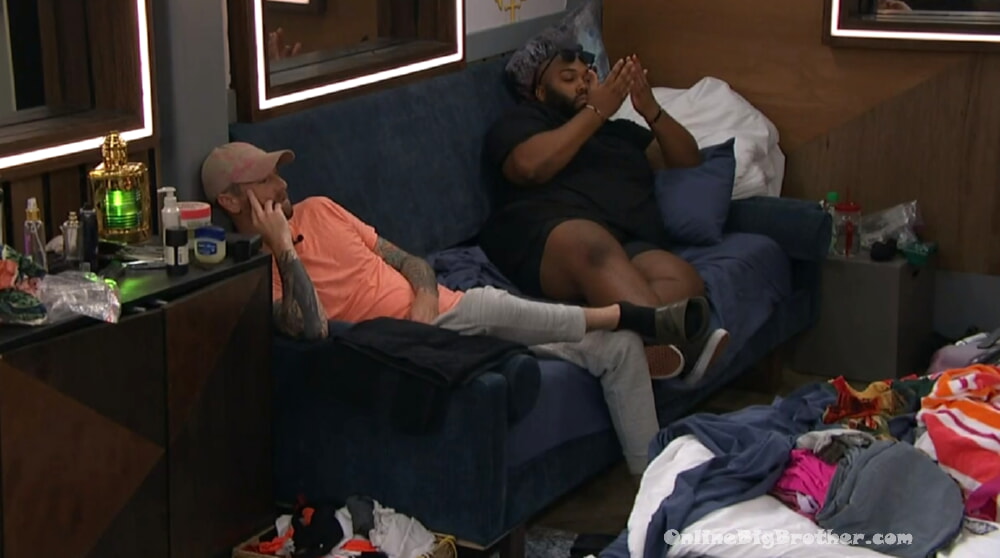 10:55 am Frenchie and BIGD
Frenchie still going on about no minorities, females, or old people and how this will be seen as a defining moment in Big Brother.
Frenchie – I put it into Action it was something I was passionate about.. I got so upset about Big BRother 21 I flipped my coffee table.. I got so tired of it..
Frenchie – I'm tired of the jock alliance.. I did what I had to do.. Before I came in here i laid out the plan I laid out the script I'm going balls to the walls for the first HOH
Feeds cut. when we're back they're fantasizing about a twist-saving Frenchie.
DF – if they really want to keep this season no beginning and good that's a way to keep it going
Frenchie – when I walk out those doors things will get complacent
DF – NO
Frenchie – I don't want them to target you next week..
Frenchie – work with Ky and Derek
DF – mmmm..
Frenchie says Ky was used as a pawn this week.
Frenchie says during his HOH "I smacked one outta the part.. a strong competitive Meathead"
DF says if Slaughterhouse wins the veto they'll put up SB and Brit
Frenchie – SB will stay
Frenchie says he called DF "My big teddy bear"
Feeds cut.. when we're back Frenchie is saying sometimes you have to cause chaos as HOH.
DF – when I came in here I knew I would trust one person you were that one person
Frenchie – same
DF – moving forward I'm not going to trust anybody else.. I'm going to play them like a fiddle.
Feeds cut when we're back. Frenchie is talking about his prize bull. DF doesn't
Frenchie – without a good bull your herd sucks
DF – I don't get that .. the cows don't look like a bull
DF doesn't understand that a cow and a bull are the same animals but of different gender. Frenchie explains. (WTF)
11:30 am DF telling Frenchie there's a few votes he can flip he's got to try.
DF – keep pushing.. you have to you owe that to yourself
(We'll add new spoilers later today. Frenchie and Brit are going to do one on ones today. )