HOH: Derek X
HAVENOTS: Christian, Xavier, Alyssa
Nominations: Britini Christian and Sarah
Power of Veto Players: Sarah Beth, Britini, DX, Claire, KY, Alyssa | HOST: Hannah
Power of Veto: Britini
Power of Veto Ceremony: Britini used the power of Veto. DX nominated Chrisitan in her place
Big Brother 23 Houseguest Rankings – – RANK THE HOUSEGUESTS –
View the previous day ranks on the – Ranking Grid
Big Brother Spoilers – As of 5 am on Thursday Christian is going to be evcited. There was a flip attempt on Wednesday but it fizzled out.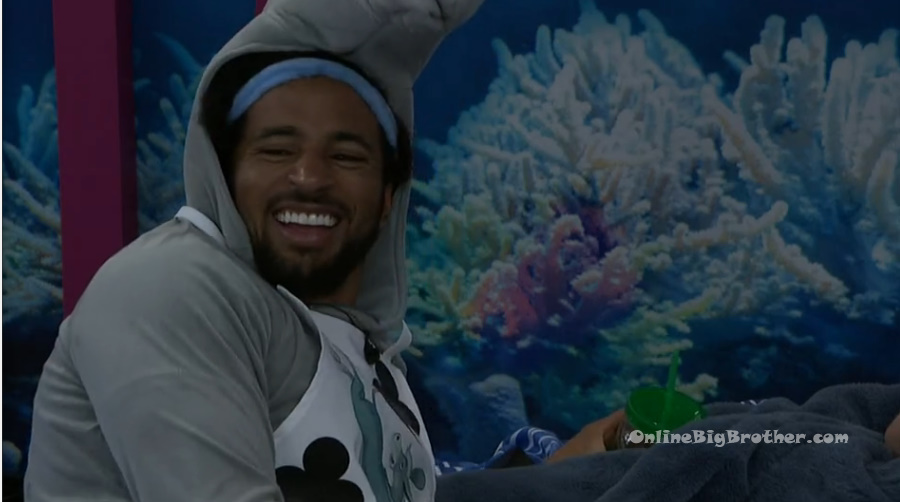 6:57pm Bedroom. Xavier, Sarah and Kyland.
Xavier – is everybody okay? Sarah – I am out of the loop to be honest but I've been told not to worry about it so I am laying low. Xavier – do that. yes! I'm still in dad mode right now. Xavier leaves. Sarah – I like him a lot. Kyland brings up wanting to make something between the three of them. Sarah – I feel I am in a weird situation because if I win HOH and I want to target Alyssa it probably will be Hannah sitting beside her. Kyland – makes sense.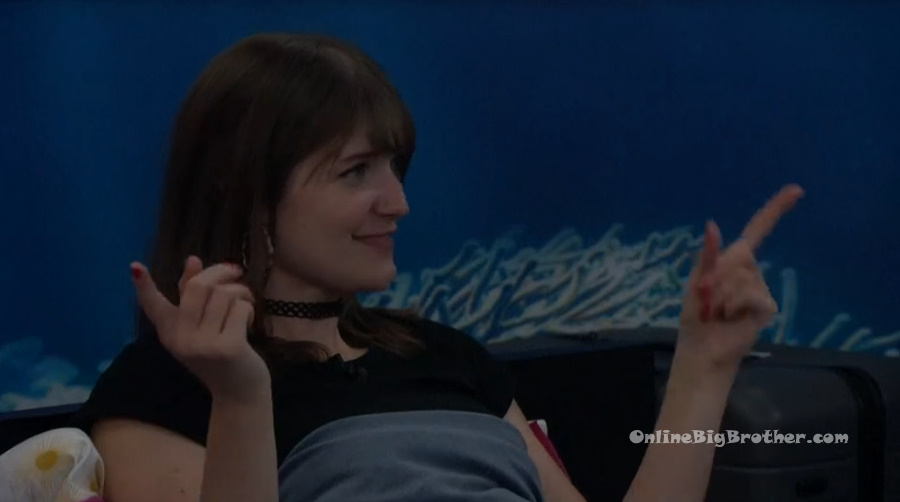 7:07pm Bedroom. Azah and Britini
Azah – he lost, he's got to go home. The same thing could happen to us but you're out here getting stressed and you don't need it. Nobody needs it and its only if you allow it to happen. Brit – I've got to stop it. I've got to stop it. Its slowly making me sick. I will tell him that it is literally making me sick. I cannot talk about the vote any more. I am not talking about it! I am done! And just be like it is literally making me sick. I am having stomach spasms. Azah – and if he asks you again just say Christina, I am not talking about it. That's it! That's all! That's all! Xavier asks them if they want to chat in the other bedroom. Brit – thank you! Its been a lot! Brit – I have decided if he comes up to me I am saying I am done Christian. I am done talking about the votes. I am done! I cannot be involved in this anymore. I am literally having stomach spasms because of how stressed I am right now. I cannot do it anymore for my health. Big D – I agree. You do not have to talk to nobody you don't want to talk to. But when I want people to talk, they don't talk. They got quiet as a mouse .. when I came upstairs with you. People got quiet as a mouse. Come on girl! Show me that bite! Let me see what it is! So quiet, why did you get so quiet girl! Because you met your match!? Azah – Xavier over here acting like a true father.. dad. Big D – what the f**k is going on!? He ain't playing! Azah – that's why he's my pool boy! Big D – at the end of the day I will be real with you .. if you don't like me .. and I tried to like you.. I gave you the benefit of the doubt even when people were like she's rude, she's this, she's that. Now I don't like you! Azah – its her game that is the one that is being tanked. Big D – Because I come from the hood .. when we make a deal, I'm a stick with that. Its a business. We ain't got to be friends. Because she will never hear from me again. I ain't got nothing to say to her. She can kiss my a$$! Her attitude I did not like last night. If she wins HOH, I will end up on the block. If I win HOH, she will end up on the block. It is what it is. I could give two sh*ts! I don't care! I am staying in the corner because if I pop the f**k off y'all thought some pots and pans was some sh*t!? I'm going to have some b***hes weaves and sh*t and lighting them on fire and flushing them… Big Brother switches the feeds. No one else knows the conversation besides us three and whoever Tiff told. So she probably told CLAIRRRRE and she probably told DX or whatever. He was just concerned about Britini. Here is the difference, Brit is grown woman.. Azah – with a masters degree. Big D – Yes, smart girl. When I talk to Brit and I need for her to understand I will talk to her in a firm voice where I am at her level. Azah – and if I need to talk to you or give you a pep talk like I did out there I am not going to talk to you disrespectfully or like a little kid. Big D – she is over here giving you Detroit Michigan ..she don't need to do that. Brit – what I don't appreciate right now is that I am at the centre of Christian's plan. Azah – you don't have to be. Brit – and I am going to stop it the next time he comes to talk to me.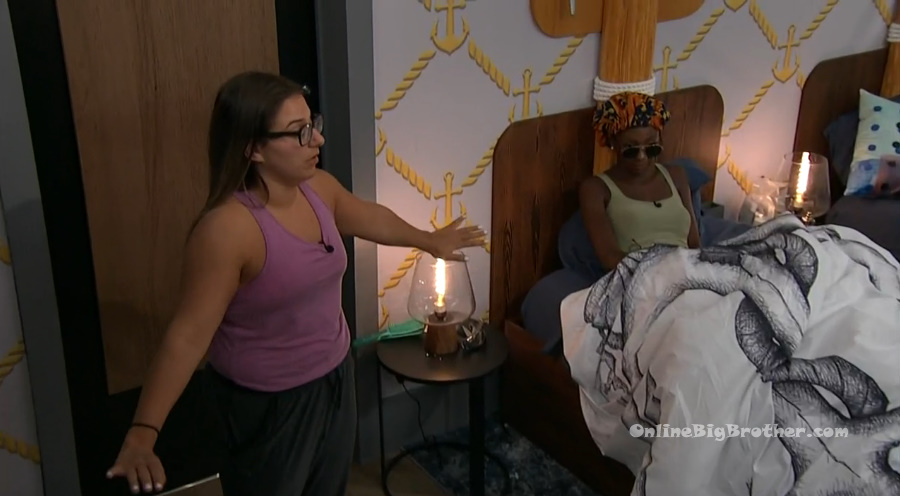 7:45pm HOH room. Hannah and Tiffany.
Tiff – His roommate was applying so he applied too. He was not a fan, he didn't even know what this show was. So trying to explain strategy, the game .. how things go.. just because he watched one or two seasons doesn't mean you fully understand. Hannah – its not even that ..it goes back to in order for him to trust us he feels like we need to communicate everything with him. I am processing things differently.. like it doesn't matter if I am not being told about the royal flush alliance or this or that. I am still putting 100% of my faith into you guys. Tiffany – MMmmhhmm. Hannah – we are all playing the game differently and that is where it is starting to make me nervous. Some strategically, some emotionally, some trust needs to be earned.. others are putting their blind faith into the six. How in the world are we going to continue working together if sh*t has already hit the fan week 5! Tiff – I think that is something that is found in many other alliances as well. Hannah – the difference is that other alliances have not had a mission. We have a mission. We have a greater purpose that goes beyond the game. Other alliances have not had the privilege, that honor … that burden I guess to execute and carry out. So that is why this is so important to me. How in the world are we going to do damage control. I mean I'm sure you don't care about your personal relationship with Azah and Big D moving forward. Tiff – that is not true. The thing that bothers me the most is that I genuinely care about Azah as a sister. I genuinely care about Big D… Like I would be friends with him and Azah too. Our game play is interfering with our personal. Hannah – okay so I misunderstood you .. for them its different where their personal is interfering with the dynamics of your guys's gameplay. Tiff – it is their personal that is interfering. When they play the tape back they are probably going to be like F**K her because when I vent, I vent! It doesn't take away that outside of here I respect them both but they lost some respect from me today because I would never come at them like that. That was not game. I need you and X more than I feel like I can have anyone else. I don't know what way Ky will move when SB is gone. If I have to choose somebody over Azah and Big D.. to trust and move forward with in this game and to have my back .. it would probably be Ky. I can trust him more because he is not playing a personal game.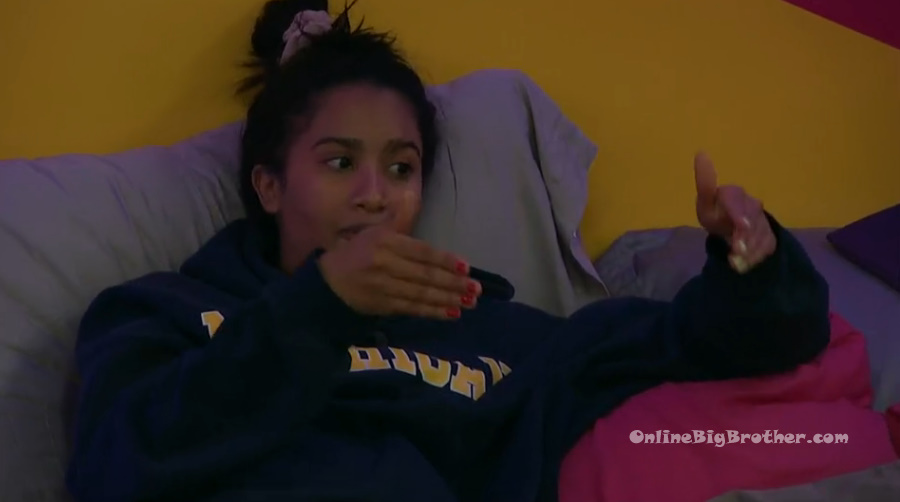 8:10pm – 8:40pm The house guests are playing the mafia game ..
8:47pm Bedroom – Tiffany and Christian.
Christian – what is happening? Tiff – I don't trust no one in this house. Christian – including me? Tiff – no I love you kiddo. I had a plan and I was getting you. I told you I don't trust the f**king Jokers! Christian – not even the one? (Brit) Tiff – you saw that sh*t that they tried to pull in that room. Why the f**k would you bring two people to talk to me? Christian – she didn't bring them. Tiff – I don't care. I ain't talk to her yet. I ain't tell her why I wanted to talk to her. Christian – its not over yet. Tiff – its not.. it just pissed me off so bad. They really messed up my relationship with them in this house. I am not giving up, I am just upset. I am always okay with you kiddo. Its not you. That was unnecessary and uncalled for ..and they know that sh*t! That was not game, that was personal so I don't like it. Christian – I agree. Tiff – but we have time. We still got time. Christian – I am not going to have any more game talks. Tiff – that is probably best for today.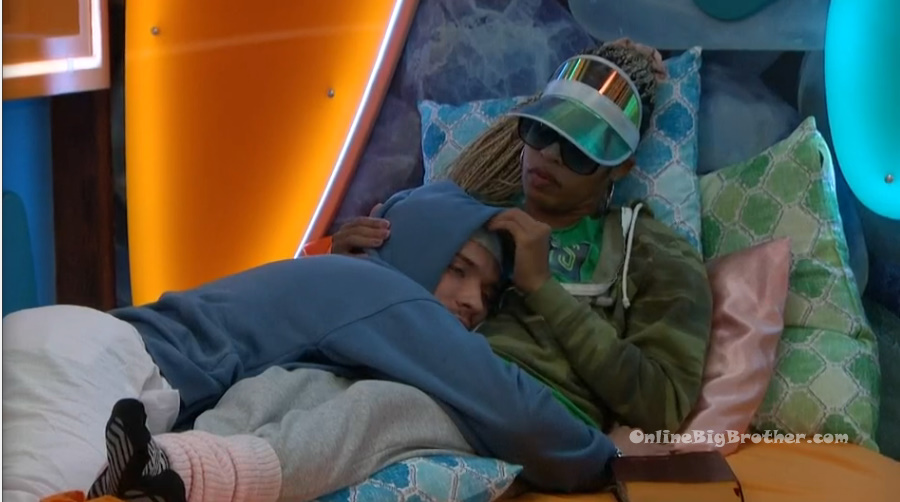 8:54pm Bathroom – Xavier, Alyssa and Christian.
Alyssa – did you talk with her? Christian – she is still fighting for me. She said that there is still a chance. She just needs to know that one of the jokers is voting for me to stay I think. But she hasn't had an opportunity to talk to them yet. When I told Brit to go upstairs it went crazy because everyone pissed her off when they followed her upstairs. So I don't want to talk to Britini in front of anyone because I don't want Tiffany to see me talk to Britini because I told them I'm not going to have anymore game talk. So one of you two need to go up to Brit and say.. Alyssa – that's what I was going to say.. Christian – one of you two need to tell Britini that. Alyssa – do you think I should because I haven't been talking game. Christian – all you have to say is Christian is staying if you tell.. don't tell her .. because Tiffany is going to go up to her. Just tell her that when Tiffany pulls you aside.. Xavier – if you do that in front of Azah and Big D .. they will probably vote the opposite way. They say they're all individual voters.. bullsh*t! They're all going to vote the same way. Alyssa and Christian – I don't think so. Christian – I think Britini is going to do what is best for her game which is keeping me. Alyssa – Tiffany is going to come up to you and all you have to say is that you're voting for Christian to stay and then he will stay. Christian – as simple as that. Xavier – if she is going to say that she actually has to follow through with it otherwise there is no point.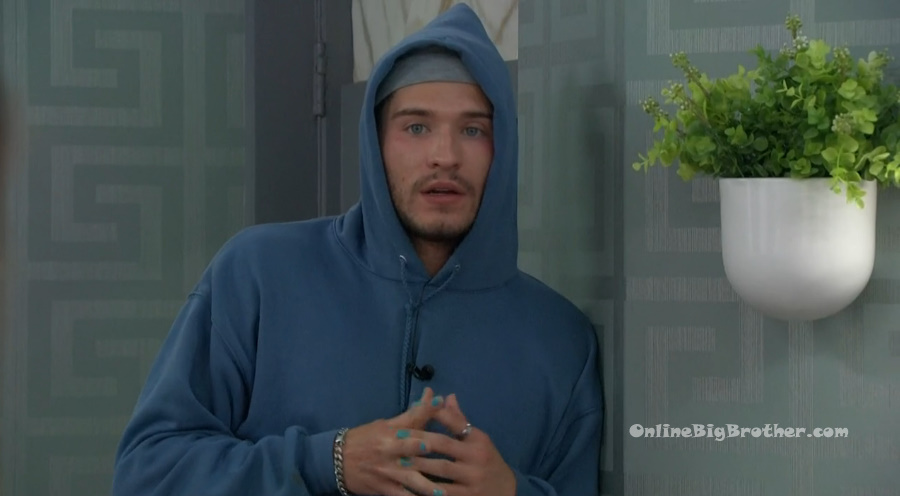 Brit and Big D walk into the bathroom. Christian – when do you want to have a conversation. Big D – I'm cooking your dinner right now. Big D goes into the washroom. Christian whispers to Brit – if you vote for me to stay, I am staying. Brit nods. Alyssa helps Brit with her nails. Alyssa whispers to Brit – Tiff is going to come up to you and ask you who you're voting for.. if you say Christian .. he will stay. Brit – okay. Alyssa – will you? Brit – my first choice is not him going .. he knows that. Christian – if she asks its yes. Is there anyone persuading you .. no. Alyssa – I don't think she really needs to tell other people .. she can tell Tiff. Christian – no, you can't tell Tiff that we talked to you. She is eventually going to pull you aside because I tried to get you up there but that pissed her off because the rest of the jokers followed her. She only wanted to talk to you. As long as you say your voting for me no matter what .. that is enough and I will stay. Alyssa – are you comfortable with that? Brit – it is a stressful position for me to be in. Christian – after this you're with us three (X, Christian, Alyssa) plus Tiff and Claire in every single battle. We are going to be fighting with each other. That is the difference .. and then SB walks out tomorrow! Completely f**king shocked!! Everyone else that thinks that she was guaranteed to f**king stay .. completely f**king shocked!! I am here and I am your shield and fighting for everyone else in the f**king house to go the f**k home. And if they win, they're coming after me and her. And you're never going to see the block again until we're gone. Because she (Alyssa) is the pawn or he (Xavier) is the pawn. And I am the target. Brit – I know, I know. Alyssa and if he stays I will not tell a single soul who the other three votes were. I will not tell anyone. In my head its 7-2 right now. I will not tell a single person that you did that. Brit – okay. Alyssa – you're helping us out, we'll help you out. Christian – this one vote can change the rest of the season. Brit –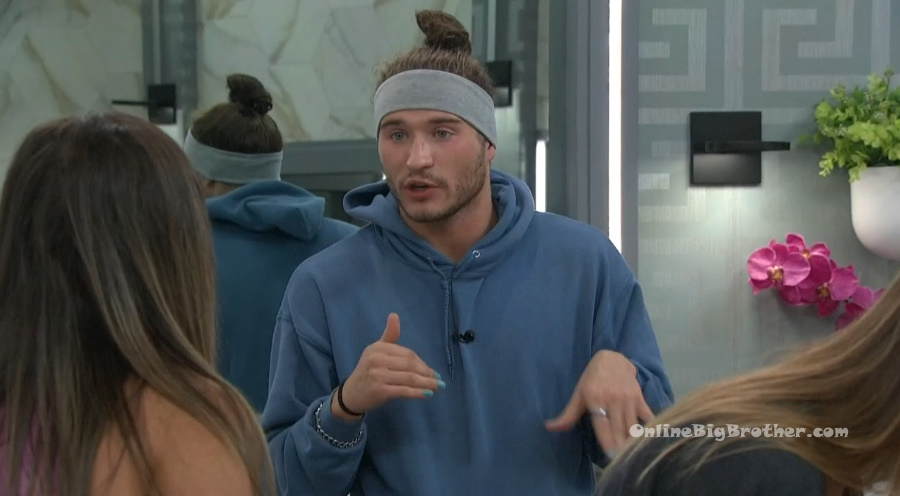 9:10pm Bedroom – Brit and Xavier.
Brit is crying. Brit – if this doesn't work they're all going to f**king hate me. Xavier – No. No one is going to hate you. Take a deep breath. Brit – I just feel like there is a lot of pressure on me right now. And obviously I want him to stay X. Xavier – alright, I am not Alyssa and I am not Christian.. what do you think is best for your game. Brit – I want Christian to stay but I am so afraid that if this vote doesn't go this way and I am on the wrong side .. then DX is coming after me in two weeks if he wins. And then I am know as the person that flips. I've already been on the block and the target.. like I could have gone home X. Like I was literally going home if I didn't win. I am terrified because I don't want to go up again .. but I know its going to happen. There are pros and cons. On a game level I trust Christian. On a threat level I don't know why I feel like this but I feel like everyone is going to be coming after me if he stays. But like I want him to stay .. I just don't know what happens if he does. I just feel like well how the hell did he stay!? I don't know X, I don't know what the right answer is right now. Xavier – that's fine. And Tiff and I are not on best terms and the fact that I …Like I have been at the centre of his campaign this whole time. Its been a lot to handle. I am trying, I really am. I don't want to be the person to blame for him going home. X – if the votes aren't there, no one is blaming you. Brit – but like everyone has been telling me what they're going to do. X – including Tiff and Cliare. Brit – yes. X – and what are they doing? Brit – that they're not. X – if they're not that's okay. You can tell that to him. Even he said that he is not going to blame you. X – was this before or after. Brit – after.
9:24pm – 9:55pm Britini and Tiffany.
Brit – are you at all seriously thinking of keeping Christian? Tiff – I was thinking about it and that is not a secret. Even DX knows that. Brit – at this point .. truth be told.. because Christina has never said my name. Alyssa I can't say the same.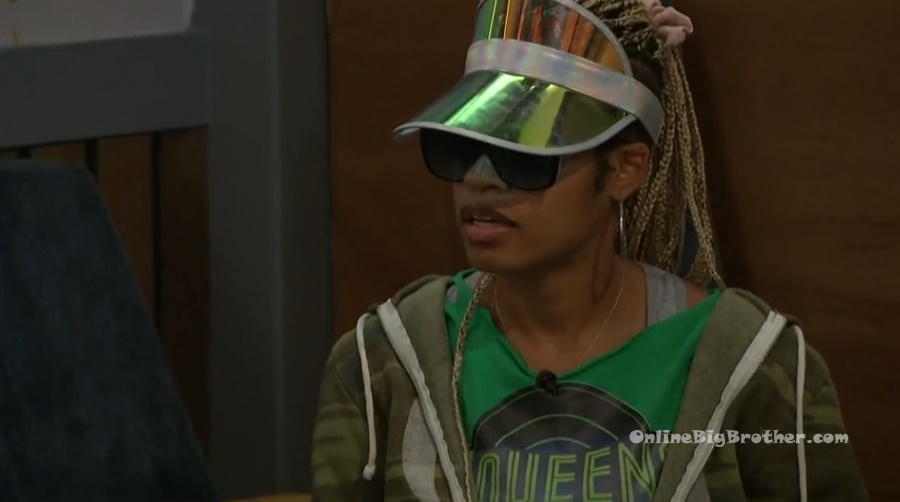 9:57pm HOH room. Derek X, Sarah, Tiffany, Kyland.
TIffany to SB – you have not had a one on one with me. I just wanted to let you know that you have been spared one more week. SB – yay! Thank you.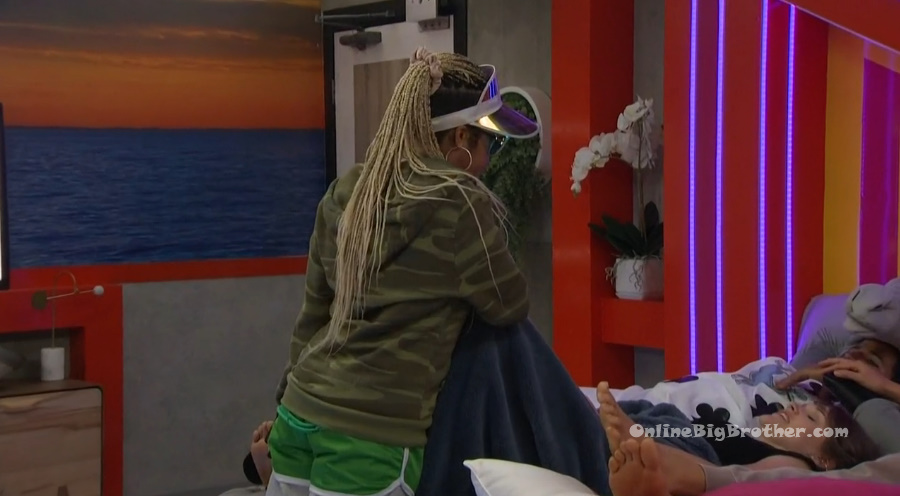 10:54am – 12am Havenot room Alyssa, Xavier and Christian.
Christian talks to Xavier and Alyssa about what he wants to say during a house meeting. Christian – its not about the point .. well it is about the points that I make but also that everyone hears what I have to say. I am not going to say anything about who votes where or anything like that. All I am saying is based on the one on ones I've had I know multiple people are scared of those 3 people. When I have this team meeting someone is eventually going to get up and walk away.. which is fine… SO I need the 3 or 2 most compelling points that convince the majority of the people. I think the majority of people would be convinced by ..there is a trio in this house, it is an extremely strong trio and every single one of the people in the trio has won a competition. I know everyone is scared of my ability to win but if I go home every single one of you which is the majority of the house .. every single one of you that are scared will be picked off one by one by those three people. And if you're working with them, just know that it is those three and then whoever else because you're at the bottom. IF I stay, I will be the target. Me making a scene right now makes me an even bigger target. So I will be the target for the remaining people on this side of the house and I will fight against every single one of them. They will target me every single week until I am out of the house. Alyssa – and that is why I am making it clear as day.. Christina – I am making it clear as day.. that with me in this game I will target every single one of these people until they're gone.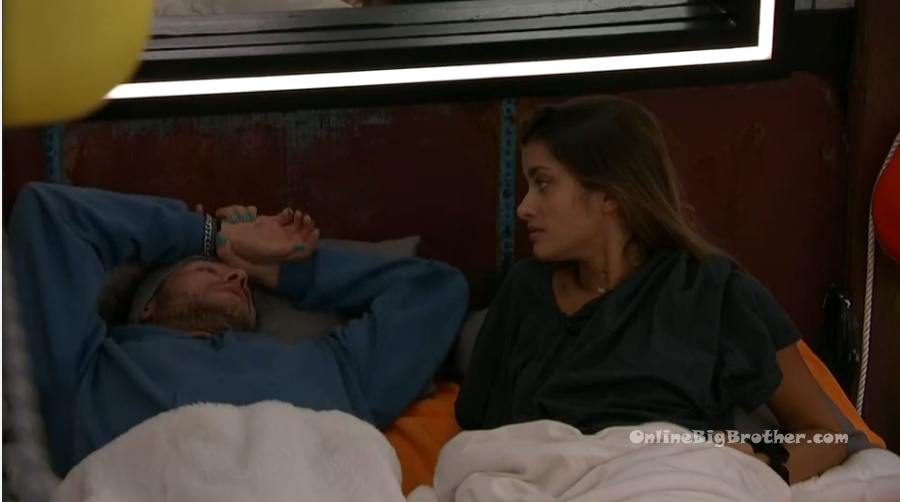 Xavier – Quick pause, you (Alyssa) talked to Ky today what did he say? Alyssa – oh a bunch of BS. Him saying that .. honestly half the time KY talks I don't understand what he is saying. I zone out. (LOL exactly how I feel listening to Ky talk!) Ky really just said that he didn't know about him going up, the only thing he knew was that a king might go up 10 minutes before. I was like that doesn't make sense Ky because SB.. Xavier – so basically you want to fully burn the SB bridge? Christian – fully burn SB bridge and I think I will take baby D out. Xavier – if she (SB) wins, we are both going up and that doesn't sit well with me. That's where I have an issue with this. You guys are assuming .. yeah SB is definitely going to throw me up. If we don't burn that bridge that is not a guarantee. Christian – SB is turning on all of us for the trio. You're the one that pointed out the trio. In what way do you stay over Baby D or Ky if she is in power. Christian – I need to point out that there is a strong trio. Xavier – you want to do this tonight? Christian – I have to. Xavier – I get why you want to do this but personally I think it is going to backfire on her (Alyssa) and I and her and I are up no matter who wins. Christian – I think truthfully you guys are gone in the next few weeks no matter what if I am gone. Xavier – I don't think so. When you do it in public you f**k over our games and we're going to be out right after you sitting in jury and neither one of us can win. Think about today everyone did everything based off emotion. Christian – so I should just go home so I don't hurt your game? Alyssa – the percentage of this changing anything is much smaller than our game being ruined by it. Xavier – I think their minds are made up. People told you the were keeping you because they (Azah, Brit, Big D, Tiff) didn't have the balls to tell you they were voting you out. Christian – well I guess I won't do it so I don't hurt your game further.
12:09pm Kitchen – The havenots get to eat again!
Tiffany talking to the cameras – they want to see a b***h from Detroit!? They gonna see a b***h from Detroit!!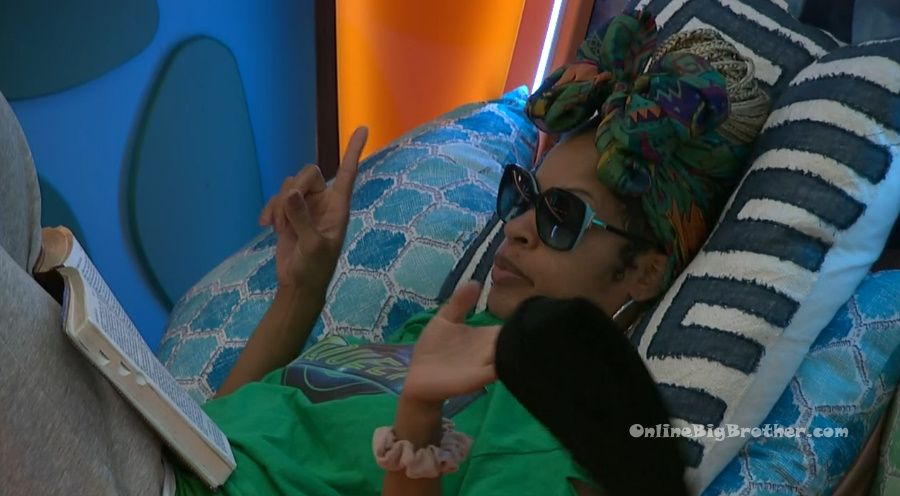 1am The house guests are sitting around the kitchen table chatting about random things and watching Claire play 52 pickup.

1:12am Bedroom. Alyssa and Big D
Big D – I just don't f**k with her. I don't like her. I don't trust her. Alyssa – Why? Big D – I can just see through her bullsh*t. She is emotional. She snaps at people! Alyssa – Who did she snap on? Big D – Its just her tone how she talks to people so I just don't really like her .. just in general. Things have just accumulated over the course of time. What happened today? Big D – No it was just her tone. And I didn't like how her tone was. And to Britini.. because people are trying to figure out what they want to do and she likes to bark orders and stuff like that at people like she is the big boss .. and I don't like that! I don't like people like that. Everyone has their own individual game. Brit is this little a$$ white girl. Alyssa – she is going to be uncomfortable if you come at her like that. Big D – correct and she was crying and sh*t. Alyssa – about what? Big D – she was like you need to go tell everyone what your decision is and she was like I don't know what my decision is. So yeah, I just don't like Tiff.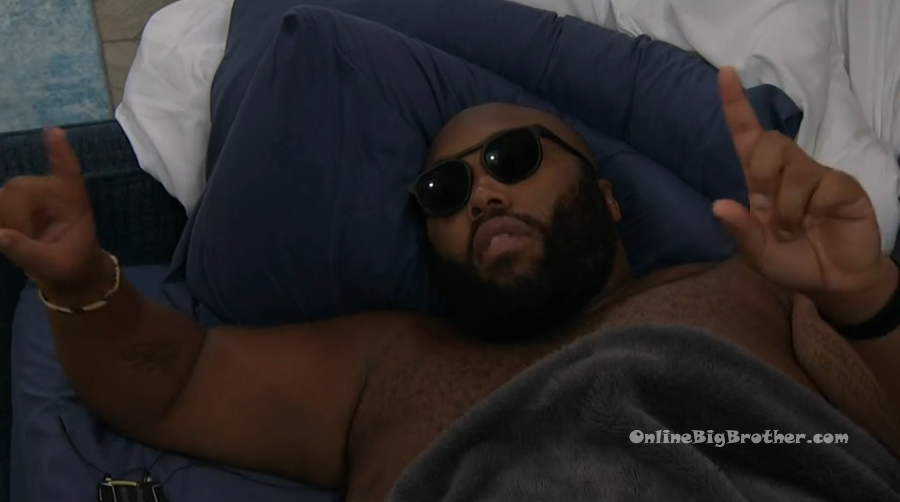 1:50am Bathroom. Xavier and Alyssa.
Xavier – I can't have SB hating us. The more people that tolerate us, the less people that are coming after us. Alyssa – you don't think if SB wins she's not putting me up? Xavier – if she puts you up I am going to try and get her to put up a bigger target than you. Alyssa – if her or Ky win, I am going up. Xavier – its not a matter of going up, its who you are sitting next to. I think you would stay sitting next to anyone with the exception of Hannah. And I don't think she would put you up with Hannah because of Derek X. Alyssa – so me and Big D. Xavier – she isn't going to put up Big D. That is doing nothing. Alyssa – Big D is pissed at Tiffany.

1:55am Bedroom. Alyssa, Big D and Christian.
Christian – I caused some sh*t today! Huh?! Big D – yes you did! They high five. Christina – you went a little pissy guy. Walking around the house – we'll have a one on one LATER! Big D – I've been letting b***Hes have it! Christian – I am happy with how I played this game. Big D – there is nothing you did wrong. Everybody's time is going to come. My time could come next week. If you look at the slaughterhouse .. the slaughterhouse is going out. Alyssa laughs – have you not noticed that?! Frenchie, Brent, Whitney, you, .. and we're f**king next! Big D and Alyssa laugh. Big D – its a f**king curse! Christian – I am going to try and do everything I can to come back. Sh*t is going to get real if I come back! Big D – let me tell you sh*t is going to get real week by week! Its going to get more and more awkward, more and more tension. If I win, I am not going to do one on ones.. I'm going to make everyone sit in a circle.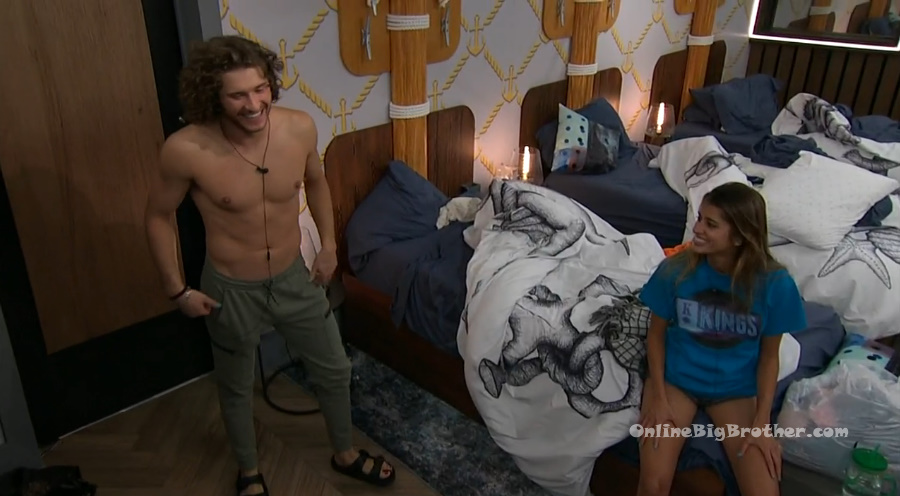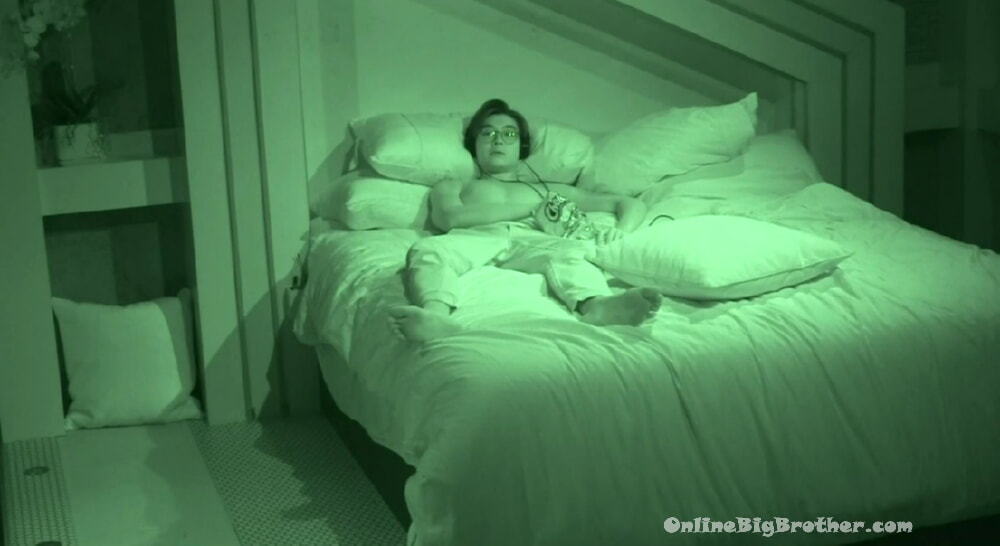 3:40 am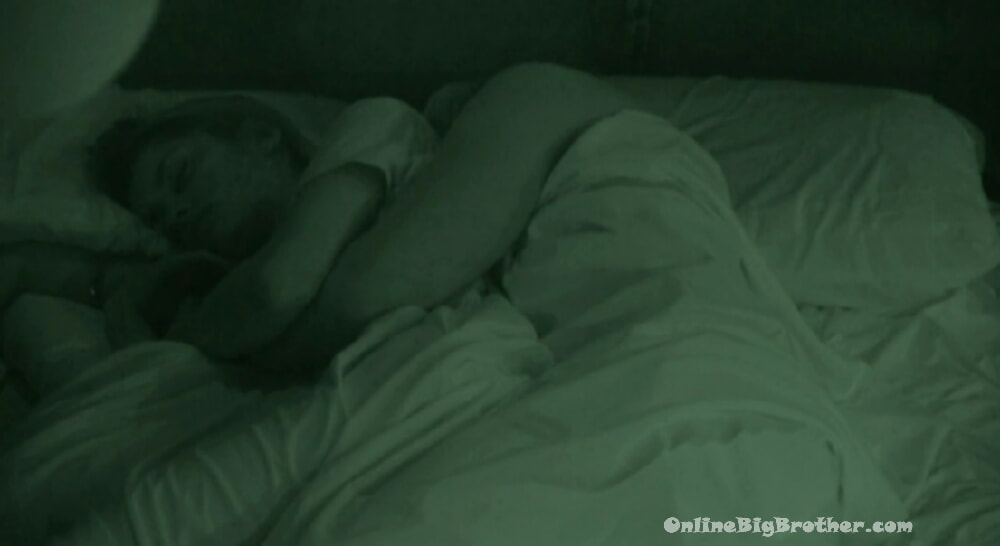 4:25 am Showmance Zzzzzzz
They chat a bit at 4am Christian goes on about never playing the game just for money.
Chrisitan – you need to stay strong
Alyssa says if she doesn't win they'll put her and X up or her and a joker
Christian – they would have done the same thing if I was here.
Alyssa – it's now a 7 to 2. I feel bad for X
Christian – Today I realized I contributed more than just competitions for you guys. I realize that the day I was leaving.
Alyssa – you've contributed a lot
ALyssa – I really suck at this.. just with SB people trying to spread rumours
Alyss a- I hope America feels sorry for me next week and gives me something
Christian says he'll give her all the votes he has and get every person he knows to vote for her.
Christian – if there's a power I can promise you it's yours
(We'll be back for the live eviction at 5pm )
Show your support 🙂 Without your support this site and these spoilers wouldn't be possible.
Please consider a donation to keep the madness going.