POV Holder:
McCrae
Next POV
Aug 31st
POV Used
POV Ceremony
Sep 1st
HOH Winner:
GM
Next HOH:
Sept 5th
Original Nominations:
Amanda and McCrae
Current Nominations:
Last Evicted Houseguest
Aaryn
Have Nots
4:53pm Backyard Amanda, Andy, McCrae and JUDD
Amanda starts campaigning to the guys in the backyard. She tells them Elissa already has 3 out of 4 of the Jury members that will vote for her 100%
She points out that it will mostly be a female jury and they will all vote on personal sh!t.
Amanda – "There is no way I will win this game.. But Elissa sure can'
Amanda says after JUDD left Elissa told her JUDD and her had a final two deal and every time he would talk to her about it she would laugh after he left.
Amanda – If ELissa can convince GM to put up me and McCrae that is a scary thing" Amanda points out that Elissa said the most nasty things about GM all season and GM knows it.
Amanda – Elissa will not put up GM next week.. it will be two of you four and if someone comes down it will be another one of you'
Spencer – 'you are singing to the choir.. or preaching to the choir"
Andy – "I feel like i've said all this to GM already.."
Amanda suggest they all talk to GM separately . JUDD doesn't like this idea he feels that theres a chance he'll go up and he doesn't want to increase the chances of that happening.
Amanda tells JUDD he is not going up it's going to be Spencer or Andy.
Amanda leaves. JUDD whispers to them that Amanda does bring up a good point.
GM joins them.. Tells them about the deal Amanda offered her if they put up Elissa.
GM says she's bringing up Nick and Aaryn.
JUDD – 'She's grasping at straws'
The guys fill her in on what Amanda is saying.
GM – 'We're all in agreeance that Amanda goes this week right'
The guys say yes. they all agree having a couple like that in the game is way too dangerous.
JUDD – 'It goes back to what I said last week we should just pack our bags and give htem the money.. I mean mother f***'
Spencer – "to would be honest with you all dude.. if she made it to the end she would win.. she played a hard nosed game since week 2.. she was a huge target'
JUDD – 'If she stays she'll win over him' (McCrae)
Spencer and GM agree that Amanda would win over McCrae because she played such a strong game. THey all do not think much of McCrae's game.
GM – 'As long as we keep ELissa cool she will go after McCrae next week'
Andy – 'We're sure about that right'
GM – 'Ya'
Spencer – 'If we didn't want McCrae to win then why did we keep picking Amanda'
GM tells them they have to make sure the exterminators take out McCrae next week.
They chat about the competition where theres a penalty to burn the clothes.
GM – ' I will even burn Nicks hat'
JUDD – 'Bear shirt hasta la vista'
Andy says if Elissa wins HOH she'll put up MC and him. If MC wins hoh he'll put up Elissa and a pawn.
Spencer – 'Amanda's pitch is keep her safe this week so we lose a exterminator next week.. but she doesn't know we are together'
5:26pm Backyard Exterminators
JUDD wonders if they can convince McCrae to use the veto on Amanda.
Andy – "no F**** way'
Spencer says getting out Amanda is a much bigger game move than getting out McCrae. Tells GM having Amanda on her resume is HUGE.
JUDD wonders if they tell McCrae that he will stay up against Elissa but if it's Elissa and Amanda Elissa will stay.
Spencer thinks it's a waste of breath.
JUDD tells them they have to go after McCrae like a pack of wild dogs because if he wins the HOH he'll put ELissa and him up. If POV is played there will be two Exterminators on the block.
THey tell JUDD he is not going to be voted out if he's up against Elissa. With so few people in the game it's going to come down to competition wins.
5:30pm Bedroom Spencer and Amanda
Spencer tells her if Elissa pisses GM off who knows what could happen, 'Thats your best bet'.
Amanda – 'But me and McCrae never win anything'
Spencer – 'Thats a tough argument after back to back veto wins'
Amanda – 'Thats true'
Spencer – 'You don't need to sell it to me'
5:50pm Backyard GM and McCrae
GM – 'I fractured my toe'
MC – 'Ohh that is horrible'
GM says she talked to Amanda about putting up Elissa.
MC – 'Are you actually thinking about putting Elissa up or are you giving me one over'
GM -'I'm thinking it over.. she made valid points.. I feel like I can't ask advice from nobody'
MC reminds her that Elissa does whatever she wants. He's worked with Elissa before and she does what's good for her first then the group second.
MC – "I don't know what deal you have with Elissa and JUDD'
GM says she swears on her life she swears no good she has no deal with Elissa
MC – 'It looks like you are working with her'
GM explains that Elissa clings to her because she's the only other girl beside Amanda. GM points out that she wanted Elissa gone for weeks.
MC – 'All i'm going to ask is for you to think about it..' He tells her if she nominates Elissa it will be a clear sign that McCrae and Amanda can work with her till the end.
MC warns her that JUDD has been distancing himself from Elissa so the house perceives GM/Elissa to be like Amanda/McCrae.
GM says that she never had a beef with anyone in the house except for Candice. GM blames the drama between her and Candice on Aayrn.
GM brings up how Aaryn would work herself up over little things. GM thinks it twas a Adderall thing.
MC – ' AManda thinks herself into crazy town.. it's a Adderall thing'
MC tells her he's going to campaign a little tomorrow but doesn't want to bother her too much. GM says she wants to go to sleep.
6:30pm Backyard Amanda and McCrae
McCrae brings up GM saying she's been seriously thinking about putting Elissa up. McCrae says we've heard that before from GM.
McCrae goes over his conversation with GM. Amanda says they should bring GM sh!t Anything as collateral.
Amanda tells him that JUDD wants Amanda gone, Spencer told her.
Elisa goes into the backyard to do yoga.
They head into the cockpit to avoid Elissa.
MC tells Amanda to keep being quiet with ELissa and let her continue the jabs. They agree GM is seeing Elissa's jabs and GM doesn't like them.
They start talking through different angles they can hit GM with (basically a continuation of what they've already said). Amanda thinks they will get more mileage out of it if McCrae does it because GM trusts McCrae more. Amanda says it doesn't matter if GM is swearing she's not working with Elissa. It's obvious she is helping Elissa this weeks nominations are proof of that.
McCrae wonders what benefit there is for GM to say she is thinking about putting ELissa up if it's not the truth. Amanda suggests she may be blindsiding them again.
Amanda -'After this week Elissa is the main target and GM is associated with her'
McCrae – 'F**** JUDD'
MC – 'Dude there is no way i'm going to give JUDD cigarettes anymore.. that guy is a f**** d1ck' MC says JUDD had 4 beers the other nights while he only had 1.
MC – 'He's going to go crazy without cigarettes.. I just have to count my packs up to make sure he doesn't steal them" (JUDD is running low on cigerettes)
Amanda – 'Hide them'
Amanda just doesn't want to be blindsided again. She just wants to know yes or no from GM.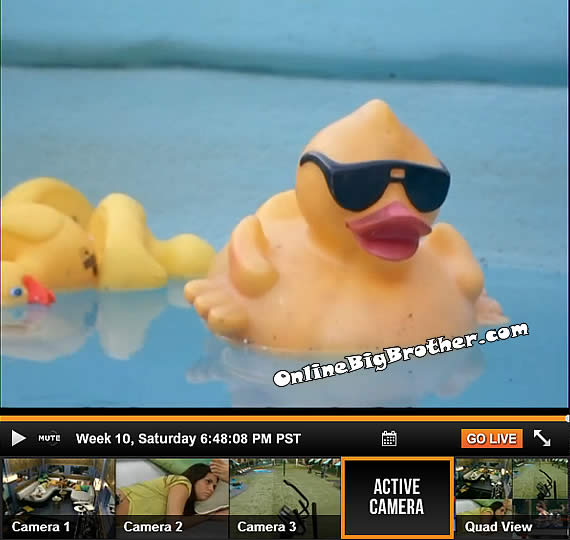 6:50pm Backyard Elissa running laps while the ducks swim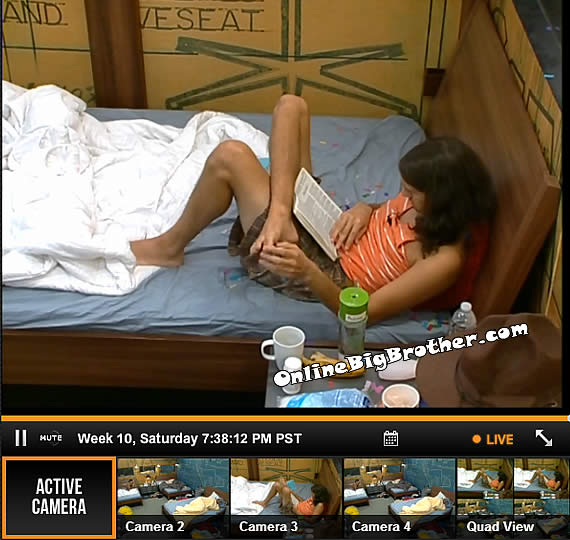 7:39pm Bible reading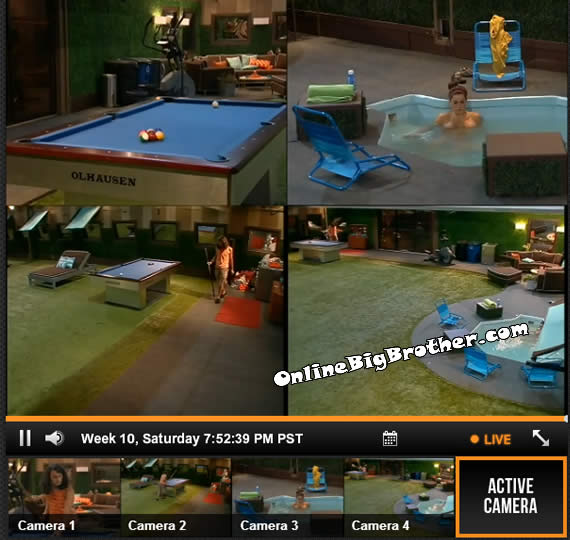 7:55pm McCrae playing pool ELissa in the hot tub
Silent
Share it YO!!
Tweet