SuperPass: Flashback and rewatch BB13 and BB12
Click here for your FREE 3 Day TRIAL: Big Brother Live Feeds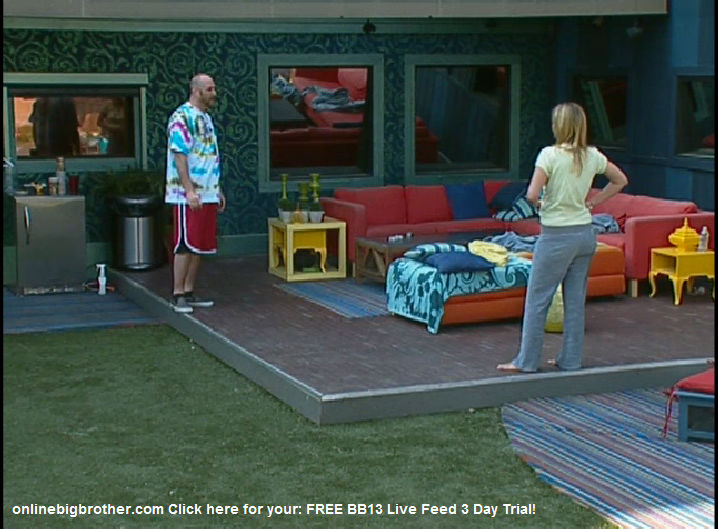 Simon and I work 24/7 all summer long to bring you all the live feed updates and spoilers, please consider donating. Any amount is greatly appreciated, your donations go directly to paying the server and bandwidth fees. Donation Link
9:40am – 10:15am The live feeds return from waking up the houseguests. Adam, Porsche and Rachel are out in the backyard. Adam chants last day, last day, last day… Porsche chants crazy, crazy, crazy… Porsche says so what do you think since we don't go back into the house should we leave the shirts (tie-dye fan shirts) in the cupboard? Or should we just ask them? Porsche heads inside. Rachel says that she is surprised they aren't on any kind of lockdown yet.. Rachel asks Adam if he is excited to see Fara tonight. Adam says YES! Rachel says she can't wait to squeeze Brendon. Rachel says that she has so much anxiety about tonight. Rachel says that she realized what Adam meant when he said this is the last day of vacation… after today I have to find a place, get my life together …and pay two speeding tickets. Rachel says that tomorrow they need to go to his school and explain to his professors why he was away so long. Adam asks didn't you do that already? Rachel says that he did but ..just to make sure. Porsche joins them on the couch. They all talk about how they have to go back to their real lives. They ask questions about what has happened this summer while they were in the BB house. What is the price of gas? What celebrities died? Is Lindsay Lohan in jail? Did Kim Kardashian get married? Did Britney's house burn down again? Porsche asks do we still have a president? Adam asks what why wouldn't we have a president? Porsche says I don't know ..you never know.. Rachel says they would have told us ..just like they told the houseguests when 9/11 happened. Adam says okay ..lets go.. Rachel says what if we are locked up there for hours? Big Brother cuts the live feeds..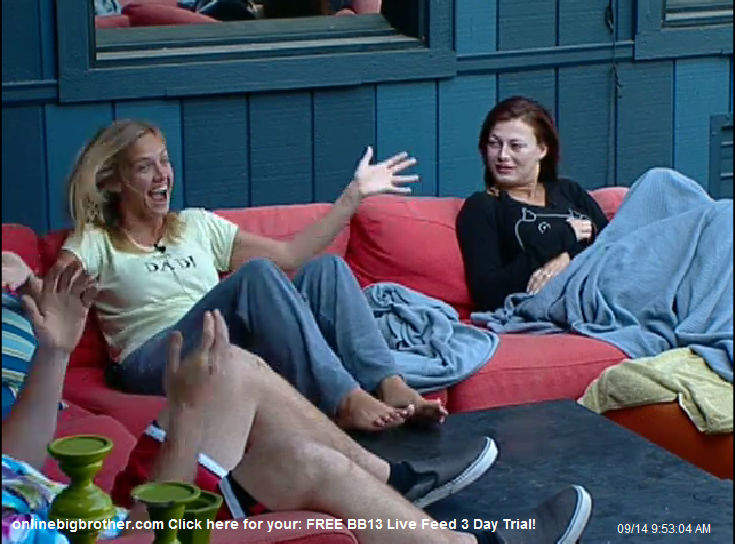 10:50am The live feeds are still showing the following screen..
11:25pm Same..
12pm Live Feeds still down..
1:10pm Looks like that's it ..for the live feeds ..
THANK YOU to all the Big Brother fans that made this another AMAZING season!
Live Show FINALE Results will be posted as it HAPPENS!
We will still be updating you on all the Big Brother related news and houseguests! Don't forget to keep coming back for all the Spoilers, News, and Rumors throughout the off season!
WATCH the Backyard Interviews after the Live Show Tonight!
FREE 3 Day TRIAL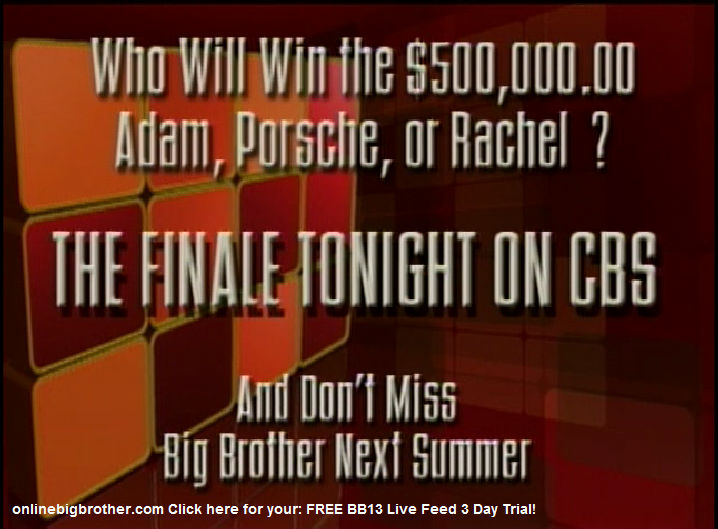 Big Brother 13 Live Feed Image Gallery
Follow: @BigBspoilers and @Dawgsbigbrother on Twitter for recent crazed out spoilers. Theres also our Facebook page.
Big Brother 13 Spoilers POLL CAST your VOTE!