Watch the Big Brother 13 live feeds on your Android and iOS devices. Sign-up for the 3 Day Free Trial
12:10am Out in the backyard Adam is in the hammock talking Jordan and Rachel are in the kitchen studying the phrases. Jordan says that she doesn't have them all done like they do …she can't just hear them one time. Jordan tells Rachel that Adam told her if he wins HOH he will put up her and Porsche. Jordan says that he said it will give you motivation to win and take yourself off the block. Jordan heads out into the backyard and Adam says what's up stupid? Adam says they haven't called you that in awhile have you? Jordan says no I miss it. Porsche asks if he thinks they are going to play it again. Adam tells Porsche he thinks the fortune teller is going to wake them up more in the middle of the night. Adam says to Porsche I don't mean to be rude …but did you finish packing? Porsche asks Jordan if she thinks they will repeat it again. Jordan says no, she thinks they will just be told the once and they have to remember all of them. Adam goes inside and recites all of the phrases as he touches each houseguests memory wall photo. Rachel is studying the memory wall photos. Jordan heads up to the HOH room to lay on the couch. Adam comes by the kitchen again and recites all of the dates times and important information about each houseguests fortune. Adam breaks the frame around Keiths photo and then fixes it with tape. Adam starts reciting the information again and touching the photos again and Big Brother tells him to stop that. Porsche joins them in the kitchen and stares at the memory wall. Rachel joins Jordan up in the HOH room.
Big Brother 13 Live Feeds
Click here for your FREE TRIAL: SUPERPASS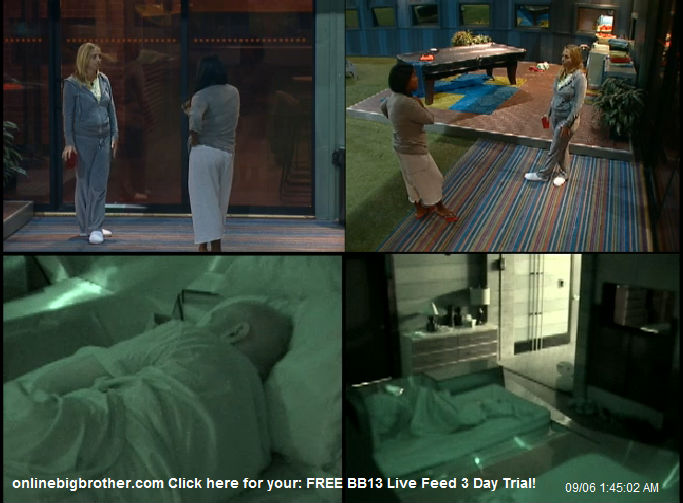 1am – 2am Jordan and Rachel talk about how Adam. Jordan doesn't think Adam will study with Kalia or Porsche because he really wants to win HOH. Jordan says that Adam said no offense but I think you and Porsche are going to mess them up. Rachel starts helping Jordan study. Rachel knows the phrases and Jordan keeps leaving out details. Meanwhile in the kitchen, Kalia and Porsche are talking about how Jordan said that she didn't even study the things she was given in her season and that she got off the final HOH competition after just 2hrs. They talk about how they wonder how she won her season by not paying attention or winning anything. Kalia and Porsche start studying the fortune teller phrases. Adam has gone to bed. Porsche is studying the memory wall and painting her nails. Kalia is out in the backyard. Rachel is up in the HOH room reading the bible. Porsche joins Kalia in the backyard and they go over the phrases and talk about how Adam was either feeding them wrong information or he is messing up the fortunes. Adam gets up from bed and starts studying the memory wall. All the houseguests go to bed.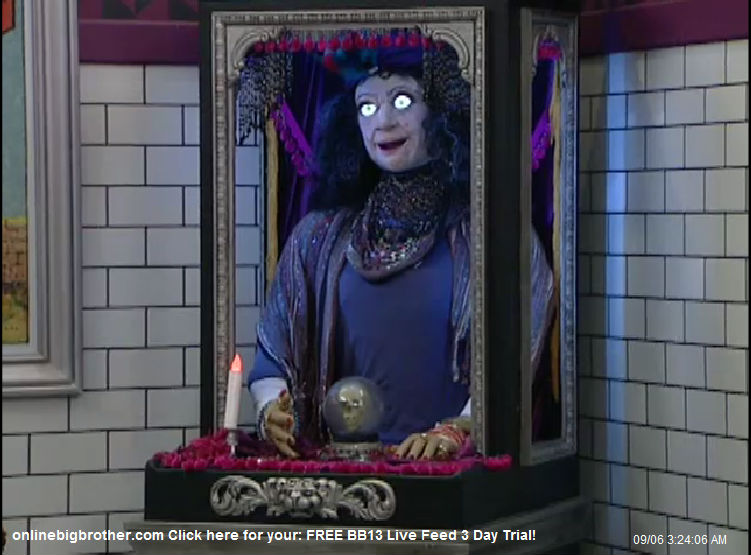 WATCH all DRAMA unfold LIVE on SuperPass! FREE 3 Day TRIAL
2:10am Fortune Teller: In 2012, Cassie will land a role alongside international mega-star, David Hasselhoff in the countrified Baywatch re-boot, River Watch.
Kalia tells Porsche that she is afraid to go to sleep and that she will stay up all night study. Kalia says that she will just sleep tomorrow. Rachel stops getting up to hear the fortunes.
2:30am In 2018, Rachel will give birth to a 9lb, 6 oz bouncing baby boy, naming it Bookie Jr, after its proud father.
2:50am In 2015, Keith will land a job hosting a new dating show called love rejection. But it will be short-lived after it's revealed he tried to date all 29 female contestants.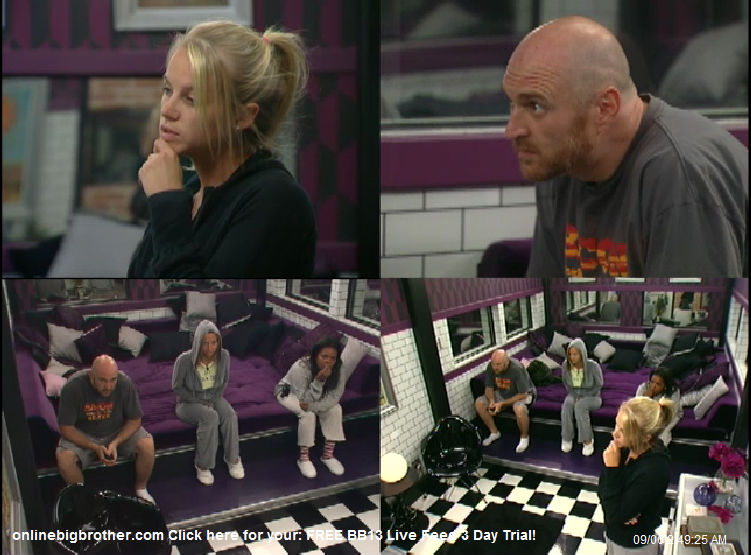 3:07am In 2015, Evel Dick will start a Christmas tradition by bringing gifts to heavily-tattooed orphans, changing his name from Evel Dick to Old Saint Dick.
3:23am In 2018, Shelly will make millions when her book "How I created the perfect tan, and how you tan too" reaches #3 on the all-time best-seller list.
3:55am In 2017, after the hot Miami sun becomes too much for her to bear, Porsche will move to Anchorage, Alaska and buy an igloo with an Eskimo named Ernie.
Porsche and Kalia go into the bathroom and study the phrases.
4:07am In 2014, Jeff will disappear from society. He will be last seen wandering the Chicago streets muttering only two words. Clown Shoe.
4:12am In 2020, Adam will file for bankruptcy after investing his life savings into a line of bacon-scented heavy metal teddy bears for children.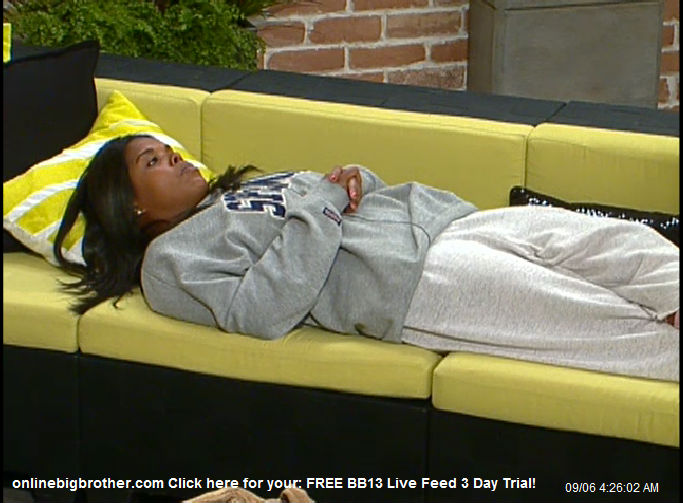 4:47am In 2011, after the runaway success of the Humilitard, Jordan will launch a line of Humilitard-inspired items including the Humili-car, Humili-fire, and the Humili-bake oven.
4:55am Fortune teller: In 2016, Lawon will take New York fashion week by storm when he launches his hansom-fied line of hats, ties Jackets.
5am Fortune Teller: In 2013 Dominic will grace the cover of Seventeen magazine with the headline Total DOM-INATION, he'll dethrone America's pop sensation Justin Beiber as America's favourite heart throb.
5:13am Fortune Teller: On Oct 15th, 2011 at 3:42pm Dani will reconcile with her father Dick. On Oct 15th, 2011 at 3:49pm they will go back to not.
5:40am In 2014, after sleeping for 19 straight days and making national headlines in a sleep study, Kalia will earn her dream job as a mattress and pillow tester.
5:50am After taking 9 years to earn his PhD, Brendon will shock scholars and physicians alike after discovering the cure for an ailment that plagued him his entire life. Athletes Foot.
6:30am Kalia is still up reciting the fortunes over and over again. After staying up all night Kalia finally climbs into bed.
FLASHBACK – Don't miss all the drama!
Superpass – 3 Day FREE Trial
If you like this site and want to help us keep it running please consider donating, Your donations go directly to paying the server and bandwidth fees. Donate Link

Big Brother 13 Live Feed Image Gallery
Follow: @BigBspoilers and @Dawgsbigbrother on Twitter for recent crazed out spoilers. Theres also our Facebook page.
Big Brother 13 Spoilers POLL CAST your VOTE!