Watch the Big Brother 13 live feeds on your Android and iOS devices. Sign-up for the 3 Day Free Trial

If you like this site and want to help us keep it running please consider donating, Your donations go directly to paying the server and bandwidth fees. Donate Link
8:40am – 9:30am Big Brother wakes up the houseguests and switches the live feeds to the control room screen.. There were no more fortune teller wake ups since the 5:50am one. When the live feeds come back, Rachel is up and in the HOH room getting ready for the day. Rachel comes down to find Jordan and asks if she is sleeping. Jordan says yes. Rachel asks if she is going to sleep through the show time thing. Jordan says that they were up till 6am with the fortune teller. Rachel asks really after 4am?! Adam and Jordan both says yes. Rachel asks they were still playing the same stuff. They tell her yeah. Jordan tells her that she is on her period and cramping. Rachel heads back up to the HOH room to get ready. Big Brother calls Adam to the diary room. Adam gets up and tries to go to the diary room but can't. He talks to Jordan in the metal room. He tries to get her to get up but she isn't feeling well. Adam is really excited and then goes into the candy room. Porsche tells him that they have playing cards and a shirt dying kit in the storage room. Big Brother calls Adam to the diary room again. When Adam comes out he heads to the kitchen to make get some cereal. Jordan is now up and in the shower.
FLASHBACK – Don't miss all the drama!
Superpass – 3 Day FREE Trial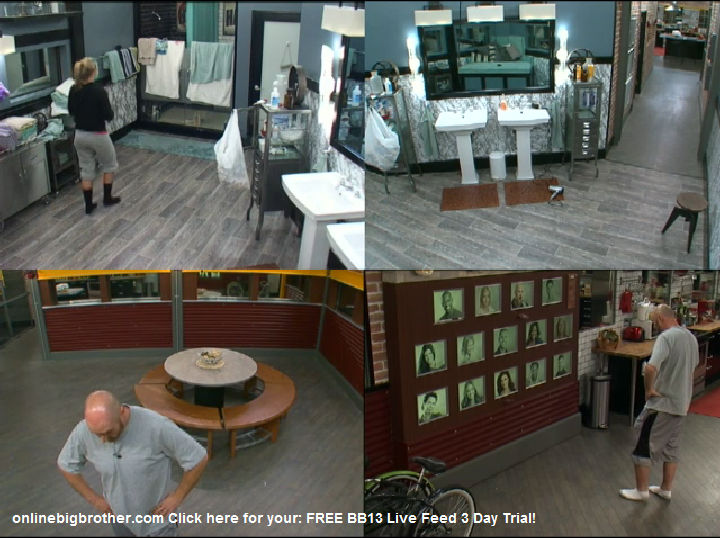 9:30am – 9:40am Adam and Rachel are in the kitchen talking. Adam asks Rachel if she heard the fortune teller laughing. Rachel says yeah …she just didn't want to get up any more because she isn't playing in the HOH competition. Rachel says that she thinks she knows enough to help them. Adam explains how many times they got woken up. Rachel notices that they are building out in the backyard. Rachel says that she is going to do a workout and then make some t-shirts with the dye kit. Rachel goes up to the HOH room, lays a towel down on the floor to do sit-ups and stretches. Rachel then gets called to the diary room.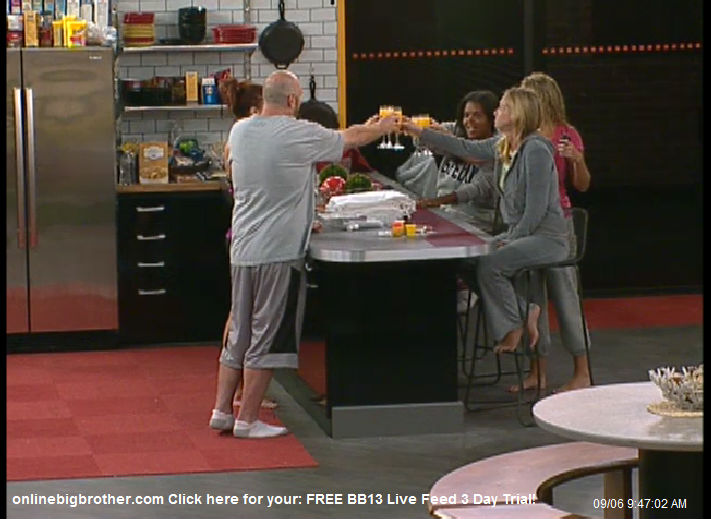 9:50am Rachel comes out of the diary room with Champaign and yells who wants to pop Champaign. Adam and Rachel are yelling and screaming who wants a mimosa in the kitchen. Rachel yells YAY FINAL FIVE!! No one else comes into the kitchen. Rachel says I guess Adam and I will kill this bottle by ourselves. Rachel keeps yells at them to come get some. Jordan tells her that we didn't sleep. Rachel says that she did …she just didn't come down. Adam and Rachel are being super happy and annoying. They all come into the kitchen to toast to making it to the final five. Kalia asks why are we on show time today do you think? Rachel jokes and says because its the live show on Tuesday. They continue to talk about the fortune teller wake ups.
WATCH all DRAMA unfold LIVE on SuperPass! FREE 3 Day TRIAL


10am – 10:20am Kalia wonders if they will have a live show tonight and then another POV competition right after. Rachel says that she doesn't think there will be a veto after. Rachel says that she thinks the live show will be Wednesday. They are confused about what is happening and when it will happen. They get out the dye kit and start dying the t-shirts. Jordan and Porsche get ready in the bathroom. Adam joins them and Jordan asks why they are so happy. Adam says he just woke up and was happy. Adam tells them that he has lost 13lbs while being in the BB house. Adam asks they why they are putting on makeup … we're allowed to go back to sleep at noon. Jordan wonders if the live show will be at 6pm. Adam says that she assumes so ..but they haven't told him. Adam heads back to the kitchen where Rachel, Porsche and Kalia are getting the dye ready.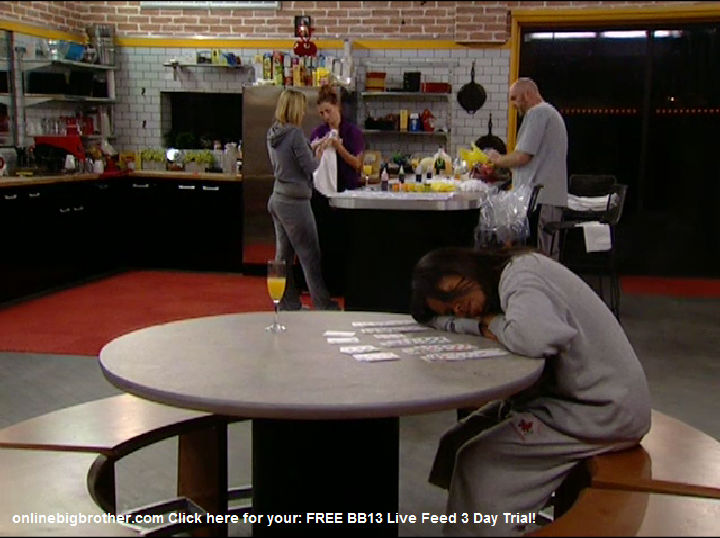 10:50am – 11amPorsche, Adam and Rachel are dying clothes. Rachel is dying a bathing suit. Porsche and Adam are dying t-shirts. Kalia is sitting at the kitchen table playing solitaire. Jordan is vacuuming. Jordan continues to clean. Adam and Rachel are still dying clothes.. Jordan says that she isn't going to make one because she doesn't know how to tie dye. Adam tells her he that he doesn't know how to either …but he will show her.
11am – 12pm All of the houseguests are playing cards in the kitchen except for Jordan. Jordan continues to clean the BB house. They finish up playing cards and Porsche and Kalia head into the candy room. In the kitchen Rachel and Jordan are whispering about what they think the HOH competition might be like. Jordan goes to join Adam in the purple room and he tells her that he is voting out Kalia. Jordan says that it might be a tie vote because she isn't sure how she is going to vote. Jordan goes back into the kitchen and tells Rachel that she isn't sure who she is voting out. Jordan tells Rachel that she will let her know how she is voting before it happens.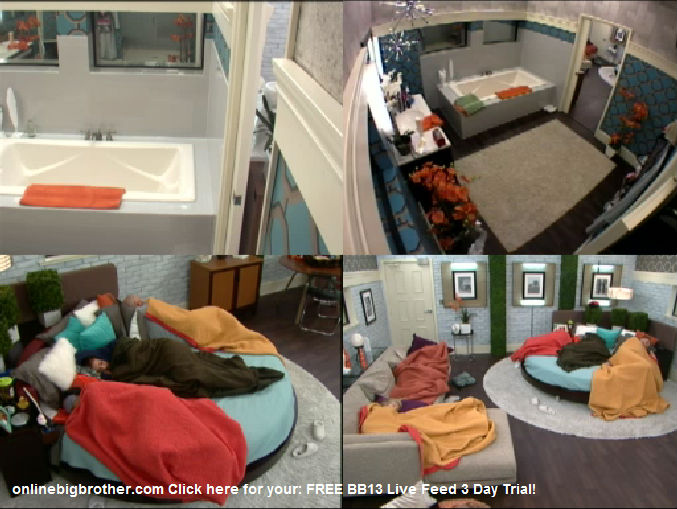 12:10pm All the houseguests are on an HOH lock down. They are all sleeping..
1:30pm HOH lock down continues …houseguests continue to sleep…
1:50pm HOH lock down is over! All the houseguests leave the HOH room. Jordan tells Rachel that she can't wait for this to be over. Kalia heads down from the HOH room and gets right back into her bed to go back to sleep…
2:20pm The houseguests guess that tonight is being taped to air on wednesday and that thursday will be a live show as usual. Kalia is the only one still napping. Rachel and Adam are in the kitchen making lunch and joking around. Rachel says that she has a confession that she has had a crush on a former houseguest for 1 year and 67 days….and his name is Brendon …and they're really engaged. Adam that he has a confession too … That he and Shelly are really the parents of 13 year old Dominic.
2:40pm Big Brother switches the live feeds to TRIVIA and then the live feeds start showing repeats of the season…. They are currently showing Brendon & Dominic the night they dressed up as super heros.
7:08pm Feeds on repeat
*****
Unconfirmed Kalia evicted Adam HOH
*****
Feeds have been off since 2pm still off 8:18pm
SuperPass: Flashback and rewatch BB13 and BB12
Click here for your FREE 3 Day TRIAL: Big Brother Live Feeds


Big Brother 13 Live Feed Image Gallery
Follow: @BigBspoilers and @Dawgsbigbrother on Twitter for recent crazed out spoilers. Theres also our Facebook page.
Big Brother 13 Spoilers POLL CAST your VOTE!