Watch the Big Brother 13 live feeds on your Android and iOS devices. Sign-up for the 3 Day Free Trial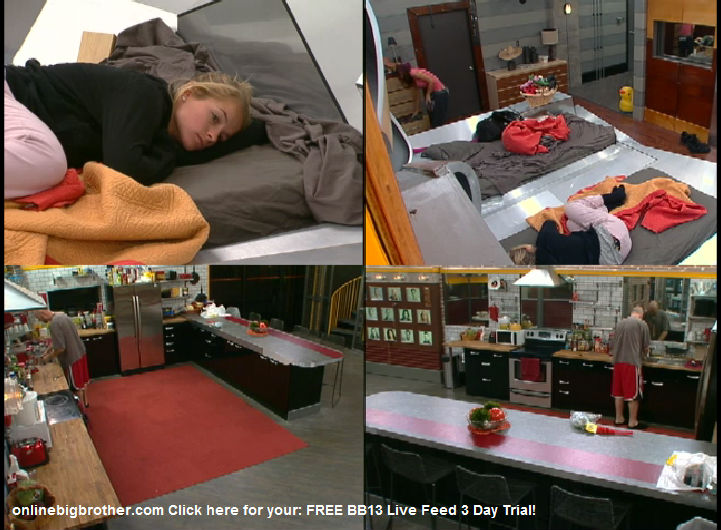 If you like this site and want to help us keep it running please consider donating, Your donations go directly to paying the server and bandwidth fees. Donate Link
WATCH all DRAMA unfold LIVE on SuperPass! FREE 3 Day TRIAL
10:30am – 10:50am Big Brother wakes up the houseguests. When the live feeds come back, Jordan and Rachel are talking. Rachel is packing her suit case. Rachel tells Jordan that she is really sorry that she couldn't do this for us. Jordan says that she should have won the veto. Jordan says that if Kalia were still here it would probably be Rachel going home. Rachel says that she is glad that Jordan is her friend. Jordan says that she just wants this day to be over. Jordan says that she didn't even leave out any endurance clothes in her bag. Rachel asks why? You should have some. Jordan says no she won't need them. Jordan says she got up at 6am and they were still working out in the backyard. Meanwhile in the kitchen Adam and Porsche are making breakfast. Rachel heads to the bathroom to get ready for the day. Rachel just put deodorant on over her shirt. She laughs and then goes to tell Adam and Porsche. Rachel heads back to the bedroom to continue packing.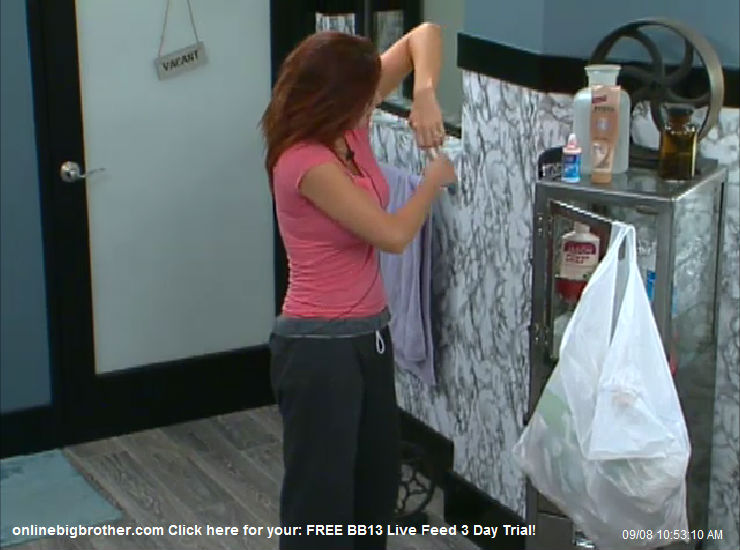 11:15pm Jordan and Rachel are talking in the bathroom. Jordan tells Rachel to go with her gut. Rachel and Jordan head to the candy room to talk. Jordan tells Rachel that she needs to think about all the votes. Jordan tells Rachel that she has her and Jeff's vote. Jordan says that Kalia said that she will vote for whoever played the best game but that if Porsche is in the end she will vote for her. Jordan says that she has me, Jeff, Brendon for sure. Jordan says that Porsche will have all four girls votes in the jury. Jordan says that she really thinks Rachel will win today. Jordan says that if Porsche tries to offer you a deal tell her that she is safe and for her to drop. Jordan tells Rachel not to drop, don't get discouraged and keep your head up. Jordan says that she thinks Rachel has a way better shot in the final's with Adam. Jordan tells Rachel to make sure she weighs everything out. Rachel leaves the candy room to make sure to to draw attention to them talking.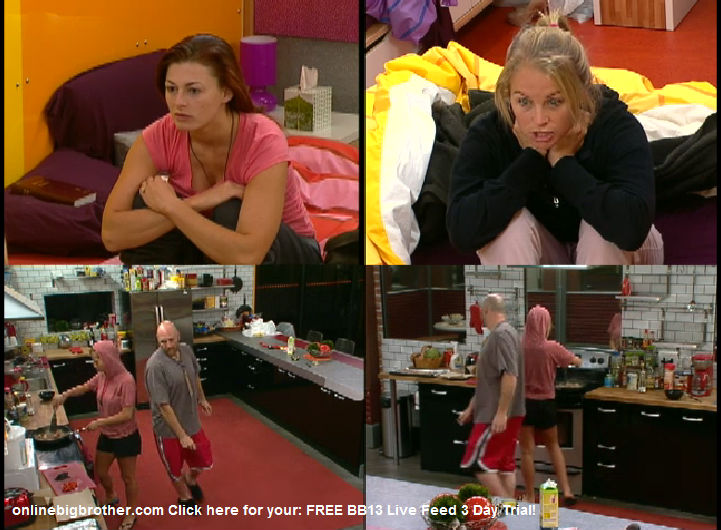 11:30am In the kitchen, Adam, Porsche and Rachel are eating their breakfast. Rachel tells them that she has had an upset stomach and that the last three days she's had diarrhea. Adam and Porsche both say GROSS! Too much information. Jordan is up in the HOH room laying on the couch staring at the wall.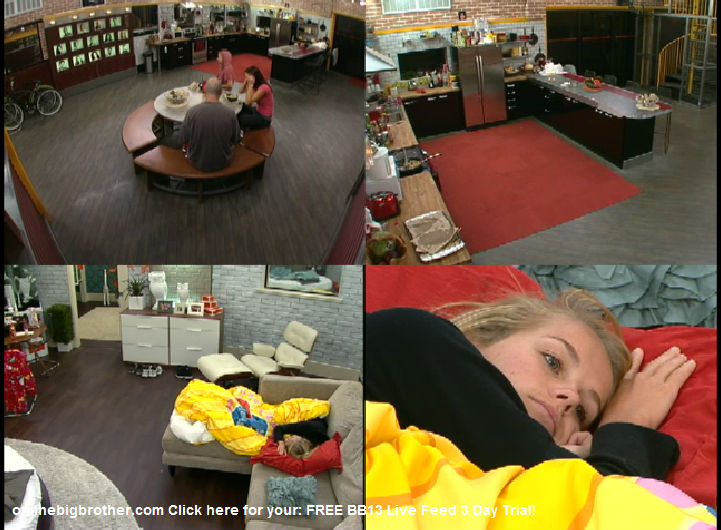 12pm All the houseguests are silent in the HOH room. Thursday HOH lockdown for the live show tonight.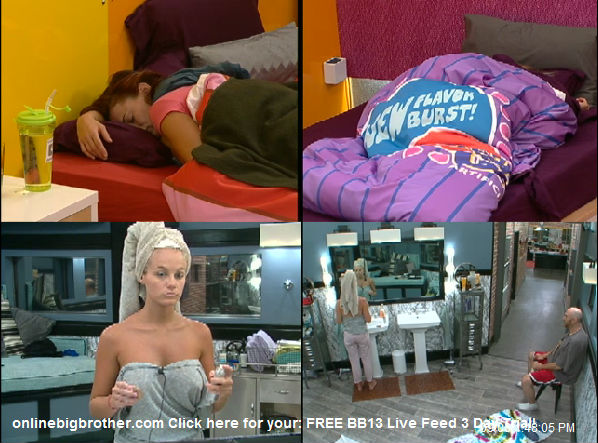 1pm – 1:40pm Jordan is getting ready in the bathroom. Rachel and Porsche are sleeping.
1:50pm – 2:25pm Adam and Jordan are talking in the bathroom as Jordan gets ready. Adam start talking about past competitions. Adam tells Jordan that he doesn't think Porsche will take him to the final two. Jordan asks why? Adam says that he thinks she would take Rachel. Jordan asks because she knows that people won't vote for her. Jordan says if she evicted you would you vote for her? Adam doesn't answer. Jordan says that she wouldn't either .. I think I would be… Adam says no ..if she won the final I might just because… Jordan says if Rachel wins the last two she will have won seven or eight competitions. Adam says that if Rachel wins and doesn't take me I will still probably vote for her… but if Porsche wins and doesn't take me I might vote for her because she did win the veto to keep herself in the final three and if she won the final HOH… you know that's why I am saying my best bet for winning is that I have to win and then I don't think it really matters who I take. Jordan says that is something you are really going to have to think about because who knows everybody could be fine after Dani was in the jury with all them. Adam says honestly I don't know you just got to go with your gut …you have to do what you think is right. Adam says that he has some good arguments but that it is kind of like the last plea the housemates make before you go vote. Adam asks how many times has that really changed somebody's mind? Jordan says that Rachel said the fourth person that goes to jury is very important because they tell everyone in jury what has been going on in the house since they are the last person entered the jury house. Adam says well the only thing I can ask you for, if you do go is to tell everyone everything. Adam says to tell them that I have been a true and honest player as much as I could and that I worked with the people that wanted to work with me…. and people that I didn't feel comfortable with I didn't want to work with. Adam tells Jordan to not tell kalia know that I am still holding a grudge. Jordan says that she wont… I won't do anything like that to hurt your game.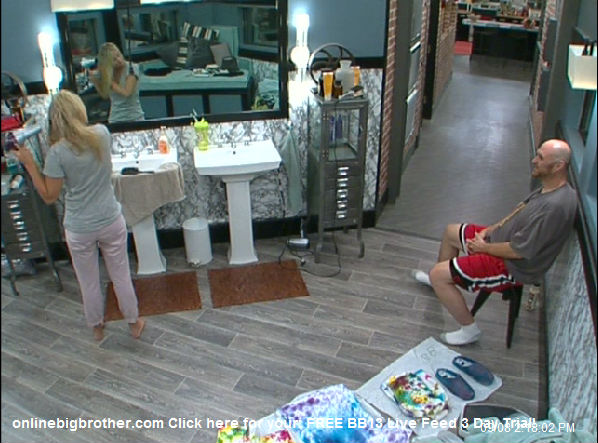 Adam says that he hates being played whether Dani and Kalia were playing me or being honest with me, it's a realty show but perception is everything… you make a final two deal with somebody and then you tell everyone about it then you don't even campaign for me. Adam says that she hung me out to dry.. Adam says that actions have shown this whole game the people I am behind who I am working with 100%… and people that tell me they are with me but don't show me they are with me I don't give a BLANK about. Adam says that every decision I made in this house was for me. Jordan says that she is not going to go there and talk a bunch of crap I'm not like that. Adam says that if he doesn't take Rachel…. then Rachel and Brendon won't vote for me. Jordan says that she thought about that too and that it would be two that you would lose but with Porsche its only one its not two votes. Adam says that we will have more time to talk later. Jordan says yeah you are smart. Jordan tells Adam to just win… study the faces because it could be next. Adam says that this endurance thing especially with these two depending on what it is I might have a hard time with it. Jordan says that she knows Rachel isn't going to let go. They talk about what the competition might be like. Jordan tells Adam that he will do well. Adam says thank you…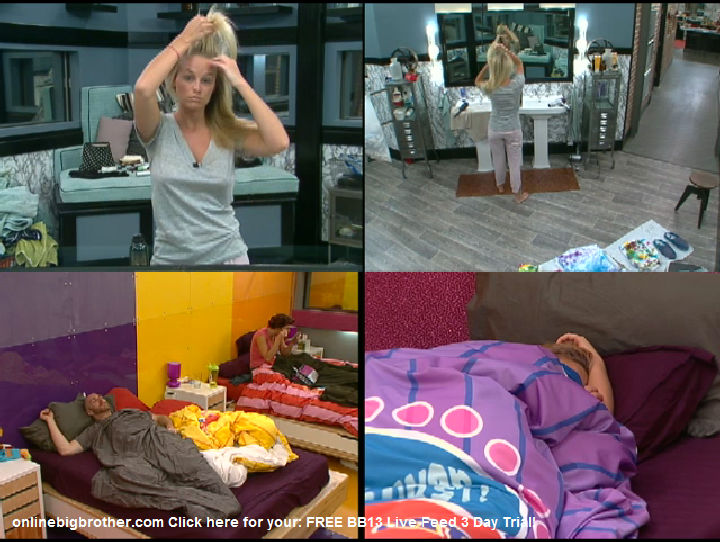 2:30pm – 3pm Porsche and Adam are trying to nap. Rachel and Jordan are now in the kitchen making something to eat.
3:05pm – 3:50pm Big Brother switches the live feeds to the TRIVIA screen….
SuperPass: Flashback and rewatch BB13 and BB12
Click here for your FREE 3 Day TRIAL: Big Brother Live Feeds

Big Brother 13 Live Feed Image Gallery
Follow: @BigBspoilers and @Dawgsbigbrother on Twitter for recent crazed out spoilers. Theres also our Facebook page.
Big Brother 13 Spoilers POLL CAST your VOTE!