Catch the Final HOH endurance COMP all night on the live feeds 3 DAY FREE TRIAL Sign up NOW.
Jordan Evicted
Porsche won the POV which means she is the only person that will vote to evict either Rachel or Jrodan tonight. I'm pretty sure she will evict Jordan leaving Adam, Rachel Porsche to battle it out in the final HOH comp.
This is how it'll go down.
PART 1 – First part of the HOH is usually endurance.
PART 2 – The second part of the HOH is skill the 2 losers from the PART 1 Compete in this comp (?)
PART 3 – The Winner from Part 1 and the winner from part 2 face off in this final part of the HOH comp usually questions (Wednesday's show)
The winner of the final HOH gets to decide who to go final 2 with.
7:05pm Feeds on Trivia HOH Comp will be shown soon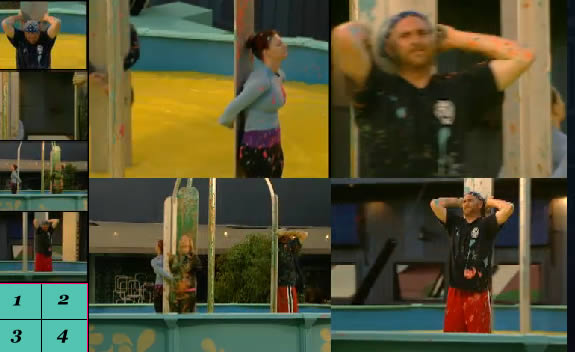 7:12pm HOH Comp is on the feeds.. Everyone is still on
7:19pm Rachel and Porsche are looking fine.. Adam is already suffering, he appears to be in major pain.
7:25pm Adam is out already.. holy BLANK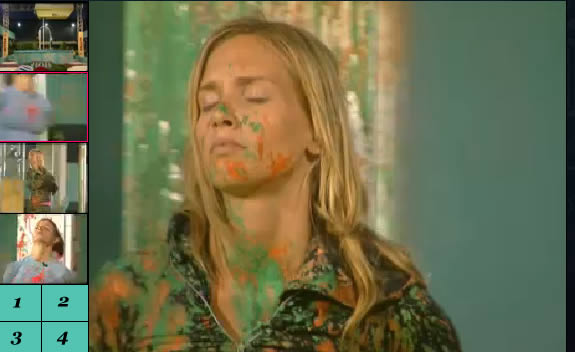 7:34pm Rachel and Porsche are doing fine.. this could go a long freaking time..
7:40pm Porsche dropped… Holy BLANK these people suck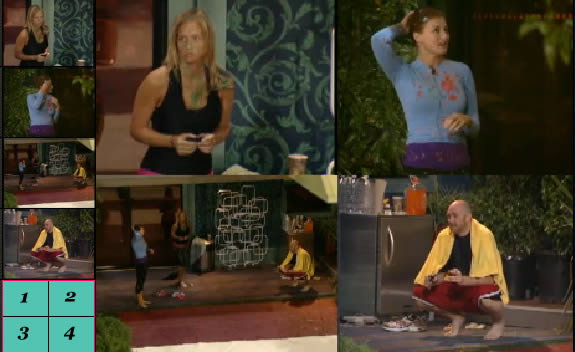 7:47pm Rachel wins part 1 of the HOH…
Use FLASHBACK to re-watch the endurance competition!
Superpass – 3 Day FREE Trial
7:50pm – 8pm Adam, Porsche and Rachel are in the bathroom. Rachel is taking a shower. Adam and Porsche are in a lot of pain. Adam is walking like an old man. Rachel says that she felt it in her arms, legs and stomach. Adam says that when he came off he looked and saw that Rachel was fine … Porsche gets into the shower. Rachel leaves the washroom to change in the candy room.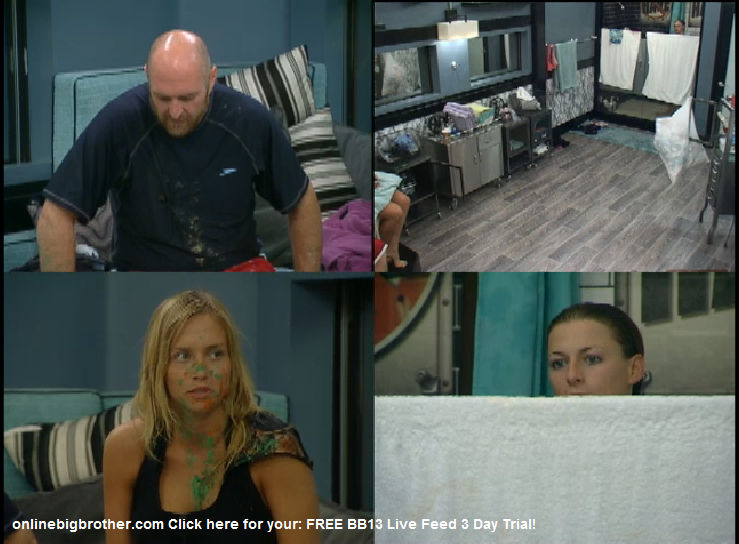 8:10pm Porsche and Adam are in the bathroom talking about the competition. Big Brother tells Rachel to put on her mic. Adam asks who is she talking to? Porsche says soon after it started she started feeling sick. They talk about the different ways they were trying to hold on. Rachel comes to the bathroom and Adam jokes about who she was talking to.. Adam says that if she is seeing people maybe she should just self evict and let him and Porsche go to the final two. Rachel laughs. Rachel leaves the bathroom and goes to the storage room. She grabs some bags and does a happy dance and yells YAY! Rachel then heads back to the bathroom. Adam tells her that she is making him sick that she is walking around without a care in the world and his is in so much pain. They give credit to Evel Dick who stayed on for hours and they couldn't even last an hour. They talk about the 17hour endurance from season 6. Porsche finishes her shower and Adam gets in to take his shower.
WATCH all DRAMA unfold LIVE on SuperPass! FREE 3 Day TRIAL
8:15pm – 8:30pm Adam, Rachel and Porsche continue to talk about past competitions. Porsche tells Rachel that she is going to go take a nap. Rachel asks her really?! Rachel asks Porsche and Adam if they want dinner? Adam says that he doesn't because he is feeling nauseous. Rachel wonders if they will get alcohol. Both Adam and Porsche don't think so after an endurance competition. Rachel talks about dying her hair more red. They all talk about all the bruises they will have after this competition. Adam says that they will give up food for a spa day. Adam struggles to even put on his socks. He says that he wishes he could have worked out his legs more .. they are usually stronger. Adam says that his feet were barely on the foot rest. Adam heads into the kitchen to grab a beer. Rachel and Porsche are in the bathroom talking about how fast they were being spun around in the competition. Adam says oh ..well that was fun … only two more competitions left this summer. Porsche starts saying that it's not good for your feet to be sitting in water for so long. They talk about how disgusting the goo was. Adam says that he barely had his feet on the foot rest and that they had way more of their feet on it. Adam says that except for the vetropopolous …he played in every competition this summer…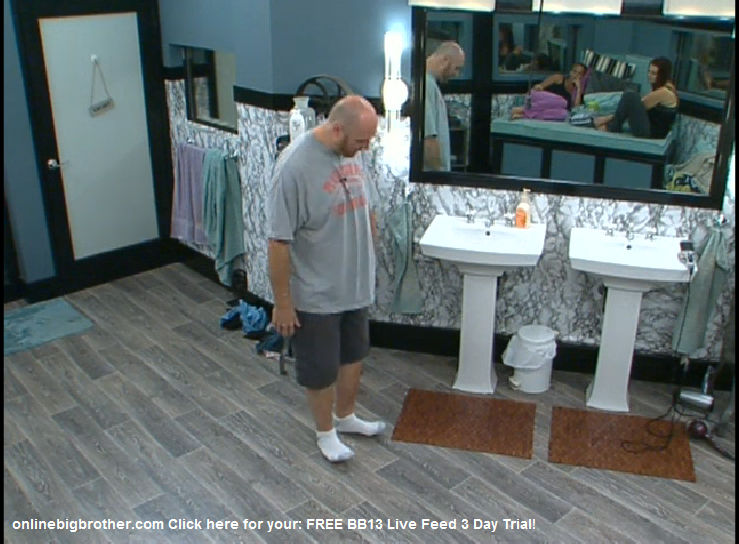 8:35pm Adam and Rachel recount all the competitions. Adam says that he competed in 26 out of 27 competitions. Rachel says she competed in 20. Porsche says shes been in 19. Adam says that there are 29 competitions for the entire summer. Rachel says that out of 20 she has won 7 competitions. Porsche says that she felt really bad for Jordan …but that she already won it two years ago …and that its time for someone else. Adam says that she went out classy. Porsche says that Jordan did shout outs …like she wasn't supposed to but… Porsche says that she told Jordan she is a great competitor and that she told her that she played just as long as Dr. Will and he was a great competitor.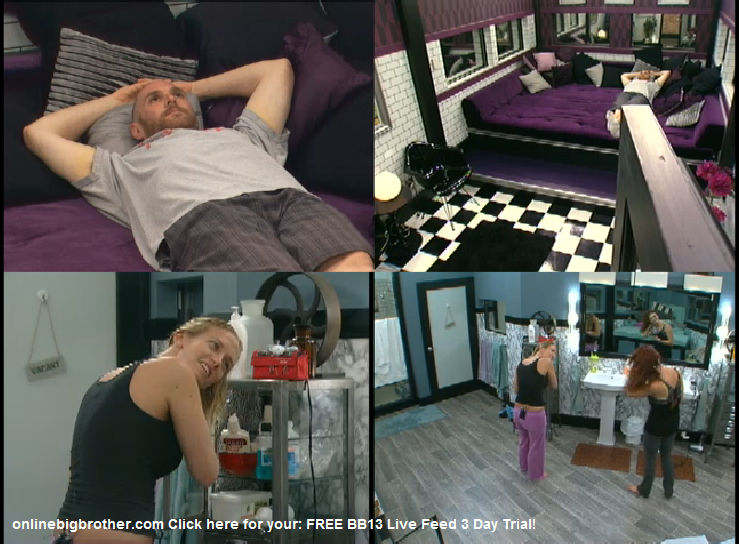 8:45pm – 8:50pm Adam leaves to go lay down in the purple room. They talk about how Jordan got a loud applause. Porsche says that all of the rest of us will get an even louder applause because it will be finale night. Rachel and Porsche talk about how they can't feel bad for Jordan because she won two years ago. Porsche says …and she wasn't going to share money with me ..she was going to share it with Jeff. Rachel says that she didn't realize that she would make friends because on her season … why do I keep calling it my season… on season 12 .. Rachel whispers to Porsche that she thinks we got this.. Porsche says I hope so… Porsche and Rachel continue to blow dry and straighten their hair as they talk and joke about random stuff… Rachel heads into the storage room to grab soup for each of them.
WATCH the Last Few Days of Big Brother 13 For FREE!!
Click here for your: SUPERPASS – 3 DAY Trial!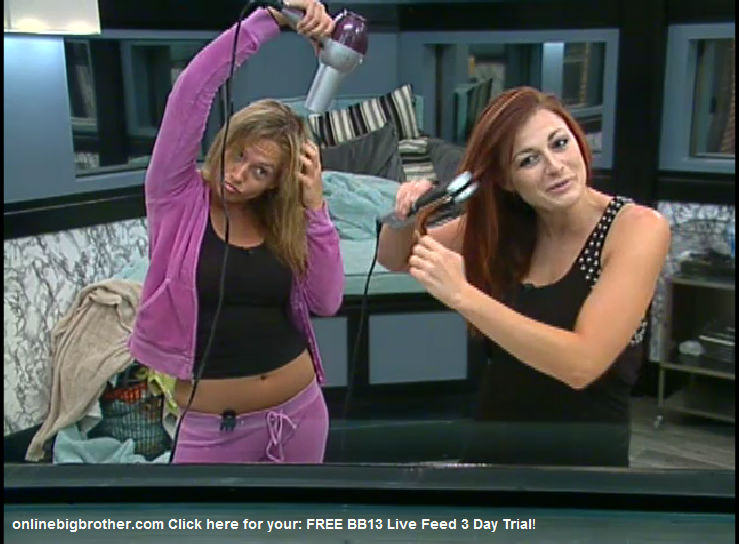 8:55pm Porsche and Rachel walk by the memory wall and Porsche points out that the whole middle row of houseguests are in the jury house. Rachel says wow ..I never noticed that.. Rachel and Porsche start cooking the soup to eat. Rachel asks Adam if he is okay. Adam says yeah. Rachel says that those endurance comps aren't easy.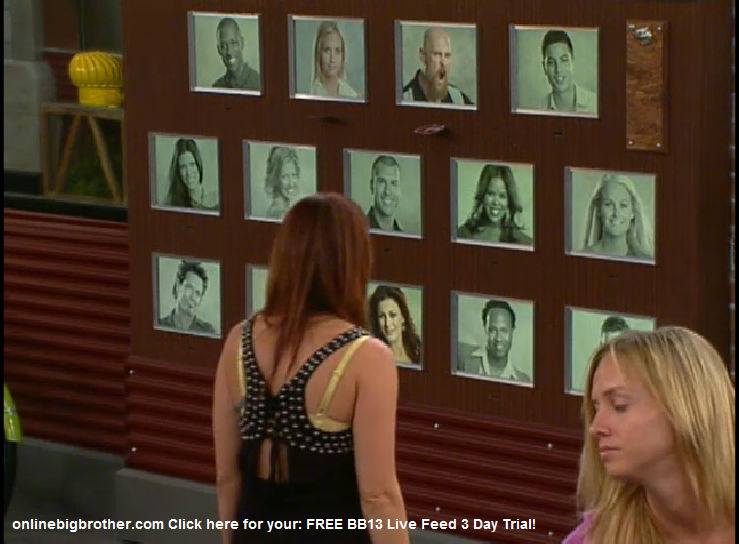 Big Brother 13 Live Feed Image Gallery
Follow: @BigBspoilers and @Dawgsbigbrother on Twitter for recent crazed out spoilers. Theres also our Facebook page.
Big Brother 13 Spoilers POLL CAST your VOTE!