POV Holder:
?
Next POV
Aug 31st
POV Used
POV Ceremony
Sep 1st
HOH Winner:
GM
Next HOH:
Sept 5th
Original Nominations:
Amanda and McCrae
Current Nominations:
Last Evicted Houseguest
Aaryn
Have Nots
Amanda and McCrae are up on the block
5:17pm Bedroom Amanda tells McCrae that Spencer was in on it nbot only
Amanda: "Poopy was right"
Amanda: "Andy or us have to win the veto… I don;'t care anymore honey.. it doesn't make sense"
Amanda – "She's working with Spence and JUDD"
MC – "Probably"
Amanda leaves marches into the cockpit where Andy and Spencer are schemeing she says Spencer is in on otherwise why would she do it.
Amanda – "Poopy was f*** right.. she's working with JUDD and ELissa.. "
Amanda charges up into the HOH.
Amanda – "Gm I don't understand the logic .. She sent howm Nick she sent hom your best friend.. it doens't make sense.. "
GM – "Amanda .. you guys.. Aaryn told me so much bullshit.. "
Gm explains to her that Aaryn did a lot of shit for them and when she needed Amanda and McCrae the most they weren't there for her.
Amanda – "Elissa was the one that put up NICK and he went home.. Elissa was the one that put up Aaryn and she went home.. what the F*** gm .. she taunted you every week"
It's Free give it a try.. 48hr free trial! Access to EVERYTHING they can't show on TV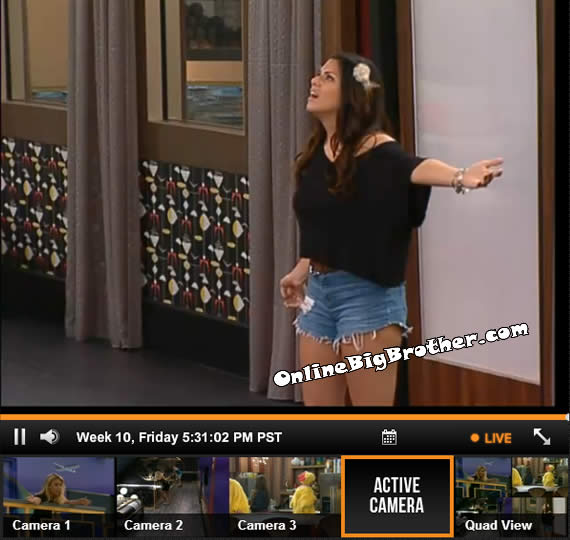 5:28pm HOH Amanda and GM (Andy and JUDD come in 1/2 way though)
A – "It doesn't make sense"
A – "Gm we were not coming after you.. Aaryn was right you are working with Elissa"
Amanda – "Now you are going to have f*** everyone after you"
GM tries to explain to her that Amanda and McCrae are a duo and the duos need to be broken up otherwise none of them have a chance to win it. Once the couple is broken up everyone is on a level playing field.
Amanda reminds her that Elissa put up Nick and Aaryn and they went home.
Gm tells her she was trying to get Elissa out for the first couple weeks and Amanda/McCrae lied to her they also lied to her about the Nick vote.
GM says why didn't you vote for aaryn to stay
Amanda says why didn't you vote for her
GM says she was voting with the house
Amanda scoffs points out that GM can't get mad at her for voting out Aaryn when she did the same thing.
Amanda – "you f*** yourself.. it was a sh!tty game move because if one of us win POV JUDD or Spencer are going up and going home"
Amanda asks her who told GM to put them up. Gm says she figured it out on herself. Amanda crying says it obvious she is working with Elissa now. GM says it's a level game she gave them all a chance to play for Veto which is more than Amanda and MCcrae gave other people.
JUDD – 'You all run the game.. than.. you just said whoever wins the veto will take you off"
Amanda – 'Ohh I see.. now I see"
JUDD – "You just f** said I was going up"
Gm – "Amanda it's a game thing .. you still have a chance"
Amanda – "To be honest with you I don't even want to be in this house anymore.. "
JUDD – "Love you too"
Amanda storms out JUDD and GM follow her. They are yelling from the balcony Amanda is in front of the memory wall.
Amanda calls GM a liar says she told her JUDD and Elissa were going up.
GM yells down says she said she would consider it.
GM – "Can't take the heat get out of the kitchen"
(I really could not keep up with the drama in the house during this time period.. Amanda is freaking out)
You can re-watch ever second on the feeds using the flashback feature.. It's just like a DVR and is super easy to use. click this link for a Free Trial —> Subscribe to the Big Brother Live Feeds
5:38pm Havenots Amanda and McCrae
Amanda is crying says GM knew what to do since the moment she won the HOH and Aaryn told her to do that.
Amanda whimpering says she doesn't want to be in the game anymore and have to look at joker face all week. Amanda would rather just leave.
Amanda tells McCrae that she is going home and wants to spend the last days getting to know each other. She continues to cry.
Amanda adds that McCrae can only trust Andy, JUDD and Spencer are with GM and Elissa.
Amanda points out that GM would have never put them up if she didn't have the votes, "Now watch Andy's name won't get pulled for VETO"
Amanda says she cannot stand being around joker face she would rather just leave right now. If tomorrow's Veto is luxury she is going to grab all the luxuries and McCrae can grab the veto.
Amanda thinks Andy will go up as a replacement, She comments how Andy must have been as surprised as they were.
Amanda – "I can't believe I'm going home before that fake a$$ b!tch Elissa"
Amanda – "I cannot believe Aaryn f** me like this.. " (what goes around comes around)