POV Holder:
?
Next POV
Aug 31st
POV Used
POV Ceremony
Sep 1st
HOH Winner:
GM
Next HOH:
Sept 5th
Original Nominations:
Current Nominations:
Last Evicted Houseguest
David, Nick, Jeremy, Kaitlin, Howard, Candice, Jessiem, Helen, Aaryn
Have Nots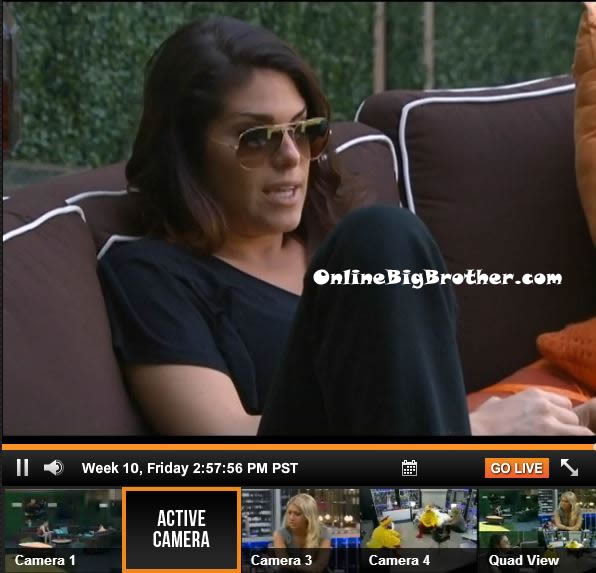 Big Brother 15 Live Feeds FREE TRIAL: FLASHBACK FEATURE
2:50pm Out in the backyard – Amanda is talking with Andy. He says that he told her that he really didn't want her to put up me, you or McCrae. Amanda asks do you think all four of us (Andy, Spencer, Amanda and McCrae should go up there to talk to her. Andy says I don't think that would be good she would felel that we were strong arming her. Amanda says that she doesn't even care anymore. She says Gina is going to put up whoever she is going to put up. She should put up Judd and Elissa that would cause the least waves. Gina says and if she does put me up then we will see how much that helps her next week. Amanda says that Gina better not listen to Elissa. Andy says that Gina only talked to me for like 5 minutes and said I was fine. Amanda asks well why was Elissa up there for so long? Andy says she was talking about starting over with a clean slate with her while I was up there. Andy tells Amanda to let Spencer talk to Gina first.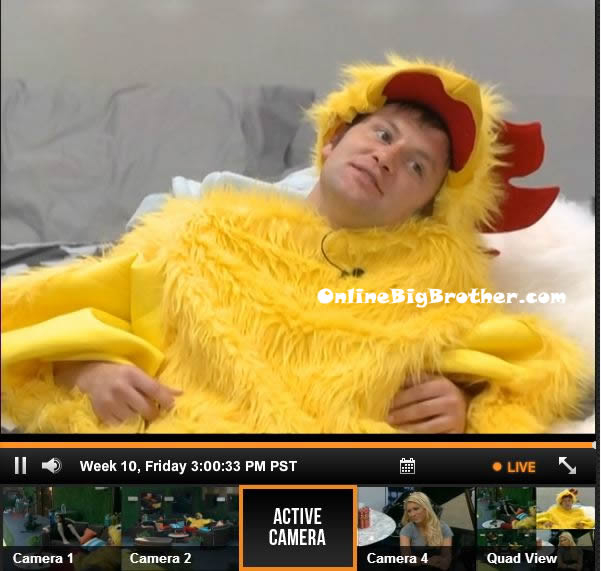 3pm – 3:20pm Up in the HOH room – Judd and Gina are talking. Gina says how great would it be for Amanda and McCrae to both still be sitting up in those seats on Thursday .. holding hands. Judd agrees and says I he really wanted it to be him to put they up but this is great too. Gina says I didn't say it was me getting them out either. I've been saying it's the exterminators alliance (Gina, Judd, Spencer, Andy) getting them out. Amanda joins them. Judd leaves. Amanda says this is what I would do if I was HOH. I would put up Judd and Elissa. And if you didn't everyone would be enraged! The propagative of the HOH is to go into next week with the least amount of people mad at you. If you put up Judd and Elissa then I will volunteer to go up as the replacement because I am pretty certain I would stay over them. Gina says that she is think about Elissa going up and someone else she isn't sure about yet. Amanda says Judd has made deals with everyone, he needs to go. McCrae joins them. Amanda explains if you do that they you would only have 1 person coming after you instead of 3 people. Gina says I am all alone in here where as every one else pretty much has someone. Amanda leaves and McCrae talks to Gina.
3:25pm McCrae tells Gina he doesn't want to tell her what to do. I want to see what you want to get out of this week. Gina says she thinks this week there will be a double eviction. I know also that if I put up Judd there wouldn't be any hard feelings. If I put up Elissa no one would be mad either. McCrae says and Spencer won that money today too. McCrae tells Gina that if it is the reward/punishment and Judd/Elissa were up then you could go for all luxuries. I want to be the one to win the veto because I want to send Elissa packing. McCrae asks if Gina has any deal with anyone. McCrae tells Gina that she could tell Judd that everyone pushed for him to go up so you had to do what the house wanted, that way he wont be mad at you. And you can tell him that Elissa is the target anyways. McCrae tells Gina no matter what you do I will respect your choices. McCrae leaves. McCrae heads downstairs and tells Amanda that his talk with Gina went well. They head outside to smoke.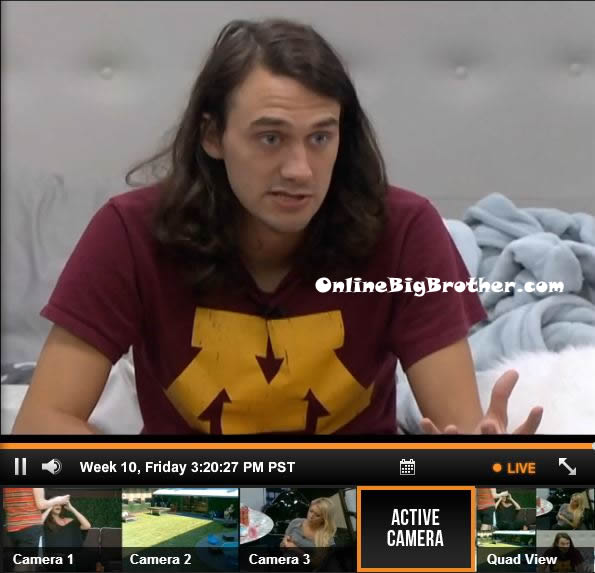 3:25pm – 3:35pm Out in the backyard – Judd tells McCrae and Amanda that he is nervous and doesn't feel safe. Who is going up me and Elissa? McCrae and Amanda says they aren't sure and think they could go up too. Judd and McCrae both say if its the punishment competition they will take all the punishments just to win the veto. McCrae says that if it is that competition Elissa wont go for any of the luxuries because she doesn't need anything. Judd says I really wanted to win the money today. McCrae says he didn't want to win the 10G's today. I would have given it to Gina to not put up Amanda and I. Judd questions it and says 10g's is a lot of money. McCrae says it just makes you a bigger target and I don't need any more reason for people to want me out. Judd and McCrae head inside. Judd and Andy talk about their talk with Gina. Judd says he is worried he will go up because Gina was so vague.
Big Brother 15 Live Feeds FREE TRIAL: FLASHBACK FEATURE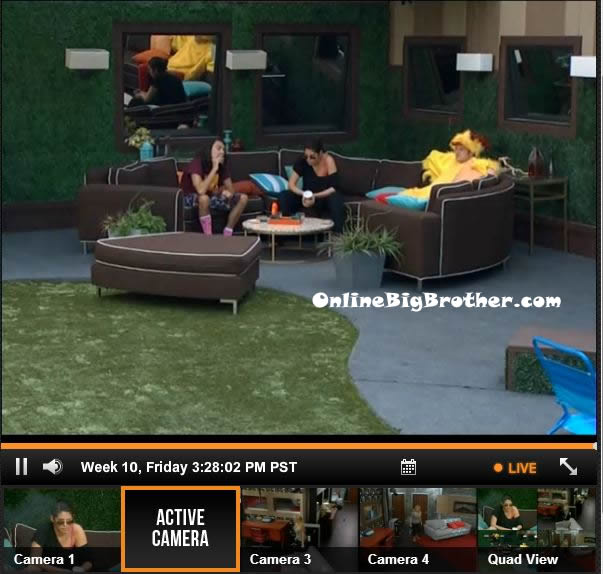 3:35pm – 3:45pm Andy heads up to the HOH room and talks to Gina about her conversations with Amanda and McCrae. Gina says that they were pushing for Judd and Elissa to go up. She says the push was that way I would only have one person after me. Andy says the thing is that they don't know you, me, Judd and Spencer are all working together. Gina says I didn't tell them they wouldn't go up because I don't want to lie and for them to use that against me. They talk about how they are happy Spencer won the money and not Elissa. Andy says I wish I had won it since it would change me life. Gina says if Elissa had won the money she would have bought a new pair of shoes with it. Andy says we need to get out McCrae this week but Amanda needs to go next week. Gina agrees. Andy takes a shower in the HOH shower. Gina tells Andy about how she asked Spencer to take some punishments since he won things already. Andy agrees. Gina says if one of them Amanda or McCrae come off and Spencer had taken a bunch of luxuries I would put him up as the replacement.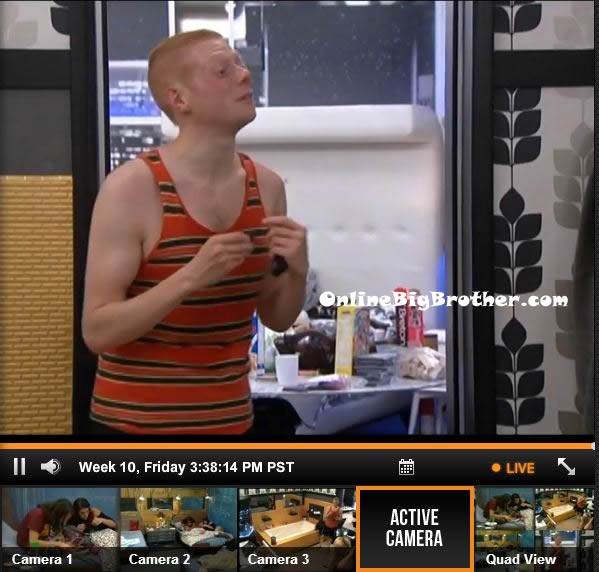 3:45pm – 3:50pm In the bedroom – Amanda and McCrae make up and kiss. McCrae says part of the reason he was mad at her was because Amanda put confetti in Elissa's bad and denied it. He says that he looks like the a$$hole because he said who the f**k would do that when she asked. Andy Judd saw you smile when he came around the corner. Amanda says maybe I just shouldn't have told you about it. She smiles. (She is super happy now which is a complete turn around from earlier today.) Amanda tells Spencer when he joins them that she thinks Gina is going to put up Judd and Elissa. Amanda says that Gina said she wouldn't tell Judd he was safe even though he wanted her to tell him he was.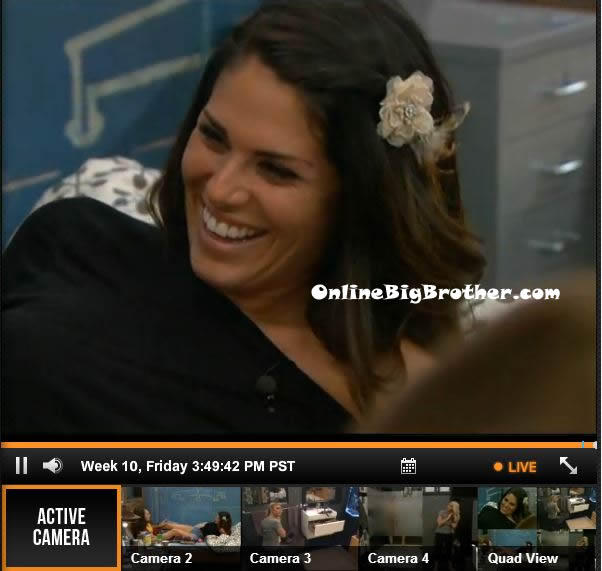 3:55pm – 4pm In the backyard – McCrae, Amanda and Spencer are talking. Amanda is super excited and thinks that Judd and Elissa will be going up. Amanda says this will be awesome if this works! They talk about their conversations with Gina. Amanda tells Spencer not to be nervous. If this works then we will be final 6! Amanda says then next week we only have one person to worry about and I hope it isn't c**t face (Elissa). McCrae says watch Judd and Elissa's keys come out first. I will vomit! Amanda says she wouldn't do that, she doesn't want any targets next week that's what she told us. Amanda heads inside. McCrae says he feels that Gina was genuine and thinks she will put up Judd and Elissa. Spencer says I want Elissa out so bad, my mouth is watering.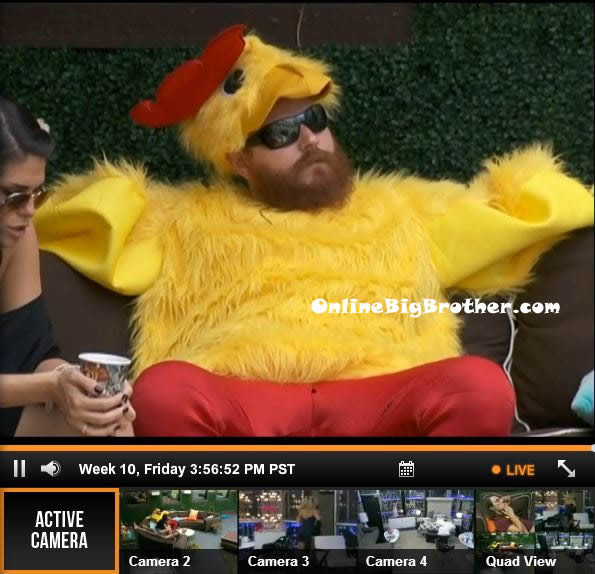 4pm Big Brother calls for an out door lock down and tells all the house guests to go outside and close the sliding glass door. McCrae says this is it! (Nomination Ceremony will be happening soon.)
4:03pm The live feeds switch to TRIVIA..
Use the Big Brother Live Feeds to FLASHBACK to SEE what they can't show you on TV: