POV Holder:
Andrew
Next POV
April 20th
POV Used
Yes
POV Ceremony
April 15th
HOH Winner:
JILLIAN
Next HOH:
April 18th
Original Nominations:
Andrew and Peter
Current Nominations:
Peter & Talla
Last Evicted Houseguest
ALEC & TOPAZ
Have Nots
Talla & Andrew (Servants for haves)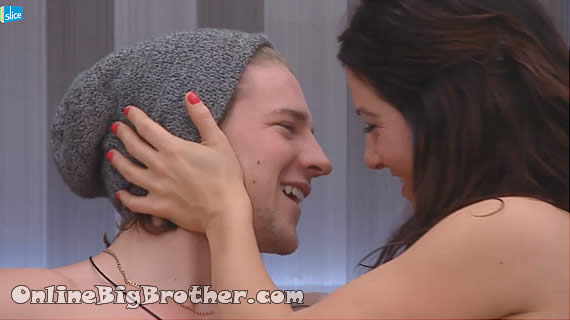 7:23pm HOH Jillian and Peter
Jillian: "So I'm thinking about calling out the whole house.. "
Jillian explains what she will say: "OK guys what's going on in the house right now.. Talla you are not taking me to the final 3.. did you say that to Peter"
Jillian: "I need to know if Peter is lying or if Talla is lying"
Emmett: "I think you should do it in private call them both up"
Jillian: "Andrew and Talla have a final 2.. it's 100%.. is that true"
Emmett: "That makes me scared cause he'll cut me out"
Jillian: "Petes scarier than Talla"
Jillian: "Maybe Me and Talla should talk because Andrew made a final 2 deal with me"
Emmett: "It's not time.. you need to find out first what Peter is saying is true"
Emmett: "I don't care what you do.. you do what you want to do.. after you make your decision I will figure out where to go from there.. I can look at positives and negative to keeping them both"
Jillian: "What will you hold against me for my entire freaking life"
Emmett: "If I'm that mad at you I never will talk to you again.. Just joking"
Jillian wants to ask Talla "Talla did you tell peter you would choose Emmett or Andrew to the final 2 because you can beat them in the final endurance.. and did you tell Peter that you had a final 2 deal with Andrew 100%"
Jillian: "If Peter makes it to final 2 the Jury is choosing Peter.. Look who is there Topaz, Alec, AJ.. Peter cannot win and he's smart as a wipe.. He promises that if the three of us make it to final three he steps down immediately.. he says I'm pulling a Mike Boogie and stepping down"
Jillian: "So i'm sending Talla home that is my final decision.. I'm telling Andrew and Talla tomorrow morning"
Emmett: "Thats what I told you this morning"
Andrew comes up
Chit chat
Andrew leaves to use the washroom
Jillian: "We got to lay it out.. otherwise they see no reason why they went home"
Emmett: "The only reason Andrew feels comfortable to send me is if he thinks that he has my vote and he has your vote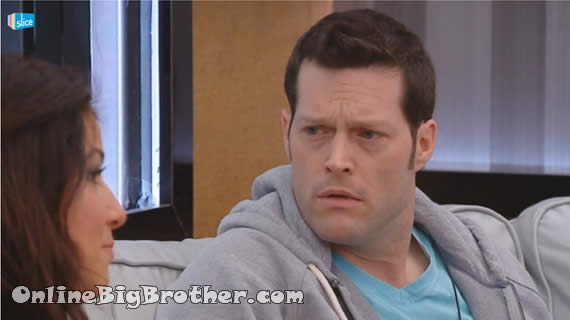 7:40pm Jillian and Andrew.. Comparing notes
Jillian: "I just found something out… and I believe it.. Peter in the backyard just told me that Talla is going to take Andrew or Emmett to the final 3 because she feels that is her only chance to win the Endurance is against them"
Andrew: "OK.. what do you want to do"
Jillian: "I don't know.. I'm more scared of Peter than Talla.. I think he's smarter than we think"
Andrew: "Have you talked to Talla about that"
Jillian: "No I'm thinking about calling them both out"
Andrew: "She wouldn't say that to him.. he's campaigning.. to stay this week"
Andrew: "I promise you she never said that to me.. what Peter is saying implies that she won the Veto.. Why would she .. I think that is just him saying that"
Jillian :"Do you think I should talk to them both"
Andrew: "Ya you could.. but listen to this.. of course Peter is saying this because he's trying to campaign because look now he has you thinking about getting rid of Talla.. "
Andrew :"Look at me I promise you that Talla and I have not talked about final 2.. all we have is final 4"
Jillian: "Peter is saying you and Talla have a final 2 100%"
Andrew: "That is a load of sh1t i'm telling you I Promise you"
Jillian: "You don't have a chake deal like us"
Andrew: "No.. you can check the tapes.. I swear.. I would think Talla would want to take you and me instead of Emmett"
Jillian decides to call Talla up to talk to her.. She says she trusts Andrew 100%
They both Agree that they do not want Talla and Peter in the final 2. They are both Dead set against Talla/Peter making it to final 2
(Lots more coming ;) )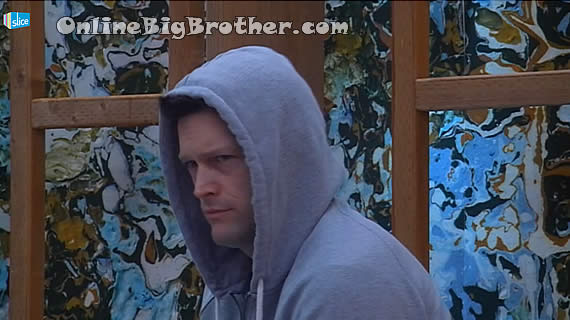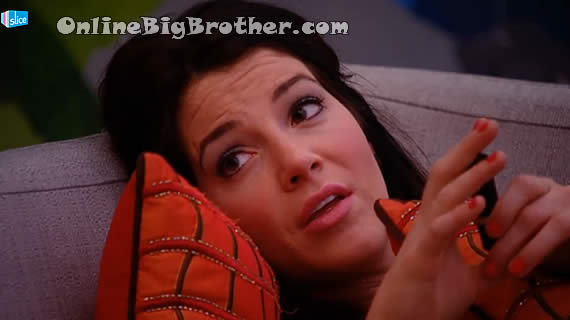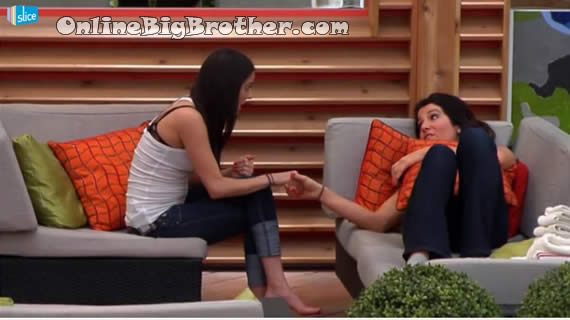 8:09pm Talla and Jillian
Talla: "What's wrong.. "
Jillian: 'Peter has me going insane.. telling me you won't take me to the final 3"
Talla explains that Peter asked her who was in her final 3. She told him "I haven't thought that far ahead" . Talla adds that it was Peter who recommended she take Emmett and Andrew because she would have the best chance to win the endurance comp.
Talla: 'He's trying to pit us against each other.. Of course he's trying to do this to stay in the game"
Jillian: "he told me that he would take me and Emmett to the final 3 and step out from the Final HOH"
Talla: "Jillian.. we have a pact as long as it's me, you and one other guy that's it.. I don't care what he says.. we have a pact" (They shake on it)
Talla: "He's a real proponent of Chaos Theory he's trying to get you against me"
Jillian: "We got to get rid of him he's just messing with all of us.. He told me point blank that you are going to take Emmett and Andrew"
Talla says he was trying to trick her into saying she would take Emmett and Andrew so he could run to Jillian and tell her.
Talla: "I liked Peter up until now.. "
Talla remembers bringing up to Peter that her and JIllian are good friends. Jillian mentions that during her talk with Peter he told her "You are sadly mistaken to think that girl (Talla) is going to take you because you are friends"
Talla: "You want me to go fu*** rip him a piece right now.. I'll be like YOU are sadly mistaken if you think your sh1t is going to work right now.. Chaos is going to happen in your f***ing face.. you should just self evict right now"
Talla and Jillian both agree if Emmett wins he'll take them and if Andrew wins he'll take them so they are in a perfect spot.
Talla: "Your chaos theory is F*** Shit"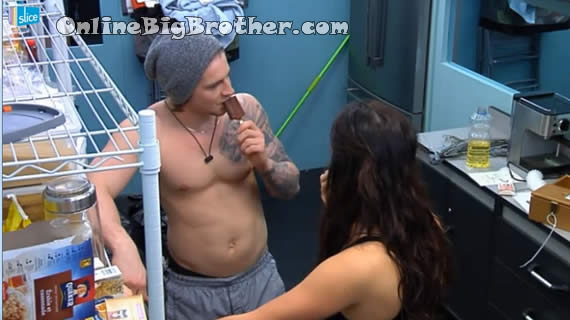 8:30pm Storage Room
Emmett asks Jillian who does she want to send home. Jillian: 'Peter I don't trust him as far as I can throw him.
Jillian: "He just threatened me.. I told him I don't want to get in Talla's bad book.. And he said to me.. We'll I don't know how to say this without sounding really blunt if I go home tomorrow you don't have my vote"
Jillian: "Wicked.. I don't have anyone's vote I don't care anymore"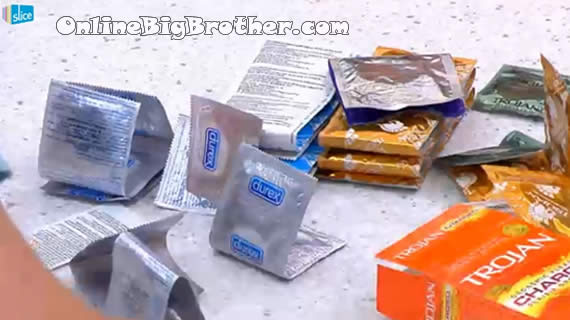 9:05pm Everyone has calmed down.. Peter back to being a target and Andrew is messing around with the condoms
Andrew: "This one says.. do you have a donkey d1ck" (He's got the box of magnums in his hands)
Jillian: "I wish there was a better alternative to the condom or the pill"
Andrew: "There is it's called abstinence.. I've been practicing that for many moons"
Jillian mentions that there was a guy in her high school that allegedly used a plastic bag instead of a condom
[polldaddy poll=7031963]
Share it YO!
Tweet