POV Holder:
Andrew
Next POV
April 13th
POV Used
?
POV Ceremony
April 15th
HOH Winner:
JILLIAN
Next HOH:
April 18th
Original Nominations:
Andrew and Peter
Current Nominations:
?
Last Evicted Houseguest
ALEC & TOPAZ
Have Nots
Talla & Andrew (Servants for haves)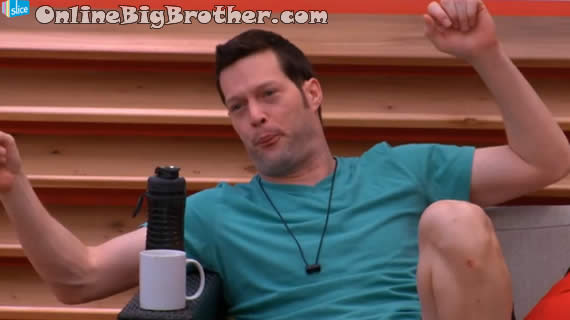 9:30am Backyard Andrew, Emmett, Talla and Peter
TAlla: "What day is it"
Andrew: " Monday day 54"
Standard morning chit chat..
Andrew ate salmon, steak and lobster, ribs, sushi the week before being on slop he thinks he's lost 6 pounds so far.
Andrew: "Sometimes I weigh myself before and after I take a dump. Wow that was a 1 pound dump. yours (Talla's) are probably 3 pounds because you're mostly full of sh1t"
Talla says she never farts outside the house like she's been farting inside. Andrew jokes that Emmett has never farted in his life.
Emmett: "I only fart after I eat McDonalds"
Andrew: "I love to fart.. my father taught me Pull my finger at a young age.. I was like YES this is the greatest thing ever"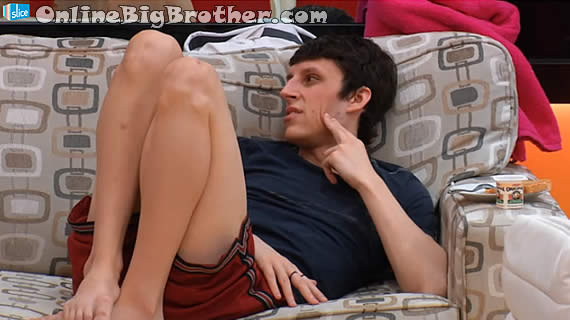 9:50am Kitchen Andrew and Peter
Talk about how self absorbed Talla is but in an adorable way, Andrew: "Adorable Most of the time" They agree that Gary was also very self absorbed and he believed it whereas Talla would joke about it. Andrew mentions how Gary cried when he was put on slop, "HE handled it well though" Peter agrees.
Andrew mentions that Talla is a nightmare on slop. Peter:"It's one of the toughest aspects of the game"
Andrew: "And I have to serve you guys on top of it"
Peter: "We'll that will be over by 5 o'clock today"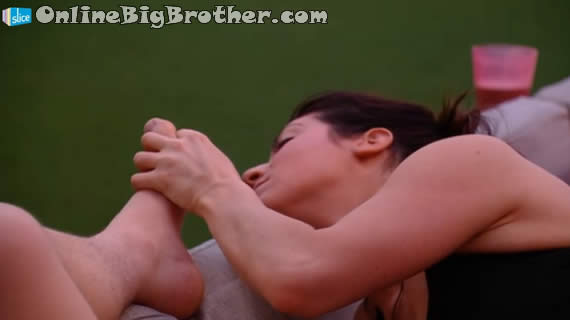 10:00am Backyard Jillian and Emmett
Jillian: "Emmett we're going to have to talk to Peter.. have you?"
Emmett :"No.. but about what.. how we're voting"
Jillian: "Ya"
Emmett: "tell him Wednesday"
Jillian: "Do you think he knows"
Emmett: "Maybe"
Jillian: "Like I don't even have to vote.. "
Emmett: "You'll vote if Peter is to stay"
Jillian: "If you vote Peter to stay I have the decision and I can't go against what you do or that makes something look wrong with us.. and you have a wart on your foot"
Jillian: "Do you want Peter to stay don't you.. "
Emmett: "No it's not our best move"
Jillian: "I thought you changed your mind"
Jillian jokes that she could get Emmett out this week.. "That would be my best move"
Talla joins them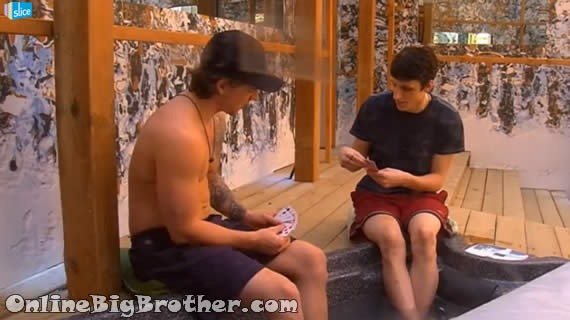 10:16am Cards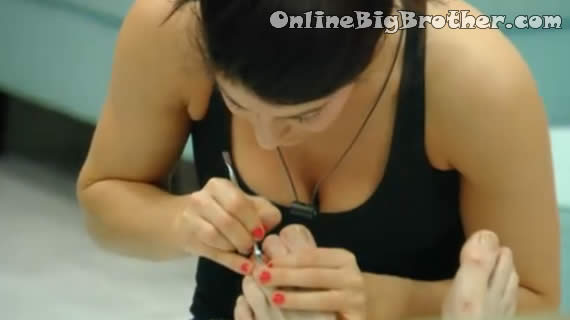 10:25AM Jillian giving Andrew a pedicure. He says he's going balls to the walls in the next HOH. Jillian: "You better win it"
Pedicure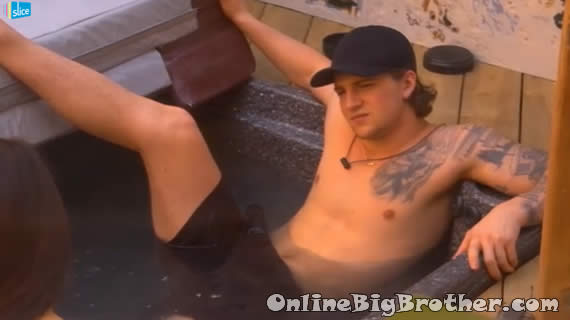 10:50AM Hot Tub Talla and Emmett
Talla is nervous about the upcoming competitions, Andrew says the last ones are really hard. She's been trying on every one and still cannot win.
Emmett telling her the best thing she has going for her is she hasn't won a lot of comps.
Emmett: "Andrew is going to try and win this next HOH for sure"
Talla starts counting the Jury votes.
Gary = Emmett
AJ = Andrew
Alec = Andrew
Peter = Emmett
Topaz = Emmett
Peter joins them and starts talking about Biter Jury syndrome and how last season Dan was the best player in the season but Ian won in the end. Emmett: "How did they justify giving it to Ian"
Peter: "he was a student.. the best player does not always win"-
Peter brings up that sometimes there is a final 2 with people so disliked in the house that they pick the lesser of two evils. Peter points out that Season 8 was like this everyone hated Danielle more than Dick so Dick won.
Talla and Emmett hottub

(Video coming)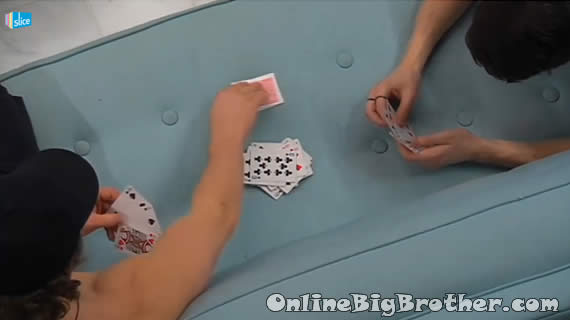 11:45AM More cards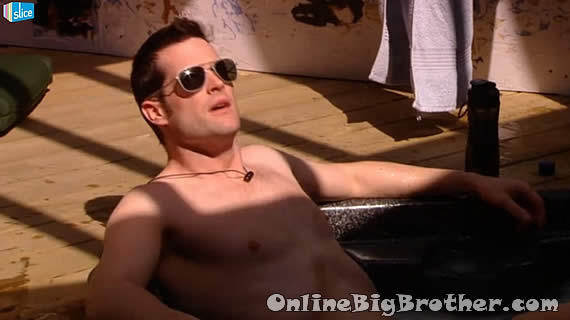 12:00PM Hot tub Jillian and Andrew chit chatting
Andrew mentions that his twin brother "Peter" says he was being recognized around in public. Andrew: "We have no idea how big this show is"
12:16pm Andrew and Talla
Hilarious Stooge talk.. Andrew does the Talla cheer. (Probably the best video of the bunch so far.. slow morning the video is uploading)
12:51PM
Peter/Emmett sleeping
Andrew showering.. and the girls are chit chatting while Jillian gives Talla pedicure.

(PArt of Talla's pedicure is being uploaded)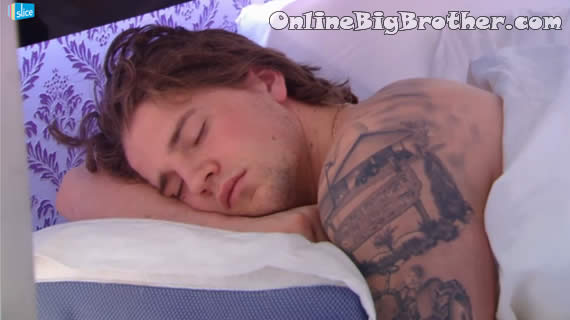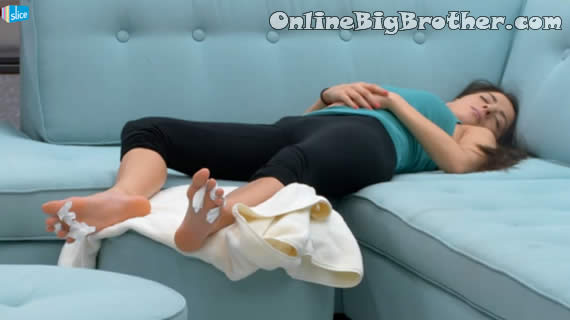 1:30pm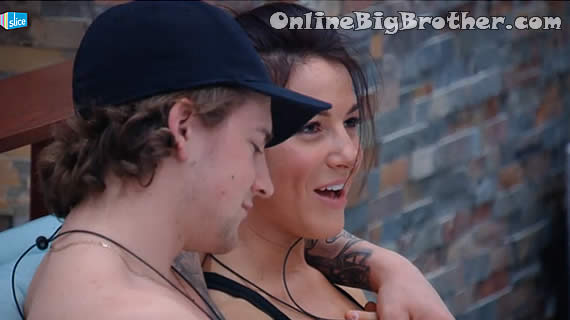 2:20pm Random chit chat about past Big Brother seasons. Andrew joins them says he hopes the POV Ceremony is quick today.
Slooow
Big BRother: "all houseguests except for Andrew will be locked out of the Big Brother House in One hour"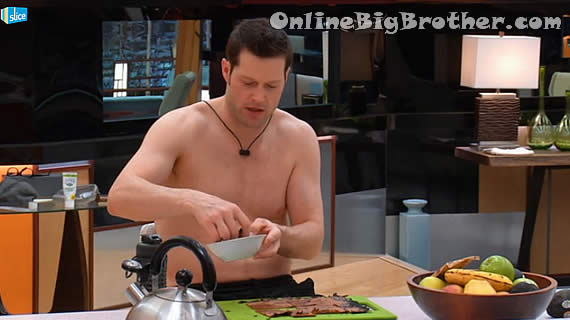 2:30pm Slop chips
[polldaddy poll=7031963]