POV Holder:
Andrew
Next POV
April 13th
POV Used
?
POV Ceremony
April 15th
HOH Winner:
JILLIAN
Next HOH:
April 18th
Original Nominations:
Andrew and Peter
Current Nominations:
?
Last Evicted Houseguest
ALEC & TOPAZ
Have Nots
Talla & Andrew (Servants for haves)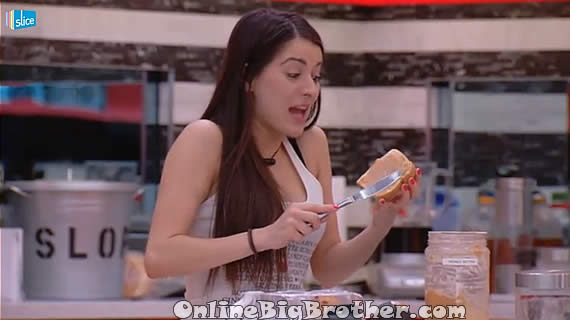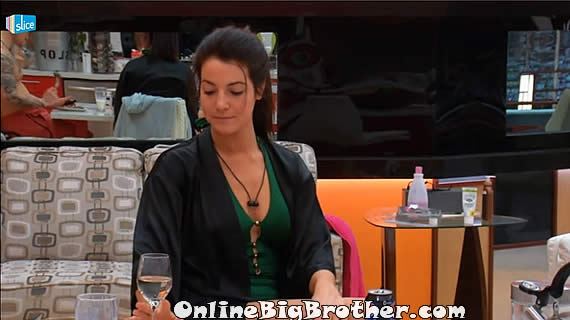 11:40pm Kitchen
Andrew is preparing food for Emmett. He's really playing up the "servant" roll. mostly chit chat..
Talla comes back from the Diary room. Andrew tells her part of their duties is to make the beds. Talla doesn;t want to do it she wants to go to bed. Talla tells Jillian the Diary Room wants her. She says goodnight to everyone and tries to leave. Peter calls her back, "Talla.. Talla.. May I please have a peanut butter sandwich and a glass of milk"
Talla: "Why didn't you ask while I was a way"
Peter: "Because I was waiting for you … lovely"
Talla goes to grab a cup, Peter: "Can I have a large cup that's clean"
Emmett says him and Jillian are going on a date he's drinking milk and she's drinking wine.
After preparing the food for Peter Talla heads to the bedroom to help Andrew out with the sheets. when she meets up with him
Talla: "what are you doing"
Andrew: "What do you mean what am I doing"
Talla: "What are you doing"
Andrew: "We gotta make the beds"
Talla jokes "You've only done one"
Andrew: "You only made one sandwich"
Talla chants out her name "T-A-A-L-L-A-A Talla Talla Talla Cheer" Peter points out she spelled her name wrong.. (Everyone laughs like crazy)
Peter: "you put to many A's in there"
Talla: "Sh1t I was doing a chant"
Peter: "You were spelling and you got it wrong"
Stooges banter at it's best,. They are making the beds in the main bedroom. Andrew comments how one of the sheets is stiff. He doesn't like stiff sheets.
Andrew starts telling Talla what he knows about her. Born in Turkey, spent the first 12 years in Denmark. Talla: "You're wrong.. 4 years" Andrew: "Your mother is living with you with your twin.. Tannis she's the better looking more successful twin" .. "You won't tell me what you do for a living.. you recently reunited with your bother and father after 16 years" Talla: "Yes correct you know a little more about me than I do about you"
Andrew explains to her how important the next POV is.. THe HOH only gauntness you safety the POV give you safety and the only vote.
Andrew: "Nothing else to do just a game.. I'm going to give Peter this crunkly old sh1t sheet I hope he gets a rash.. kidding I love him.. This feels like a bunch of 5 dollar bills sown together"
Talla is grabbing clean sheets, "here these ones are feeted" Andrew: "Feeted" Talla: "Fitted"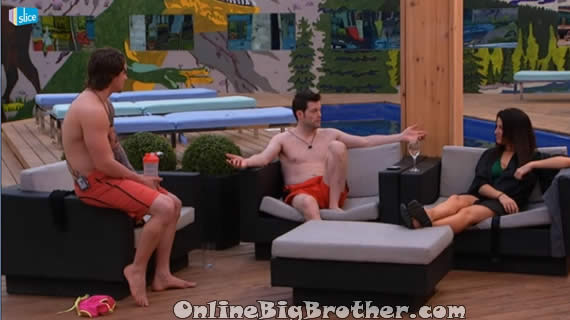 Backyard Jillian asks Andrew if he would ever have a relationship up with Talla. Andrew says no way he's not attracted to her one bit. He likes her as a friend but nothing more, "She's too self absorbed.. my good my twin brother was here and all she was rambling on about was cheerleaders".
Andrew: "I like her very much.. but she's very self absorbed many people in this game are self absorbed"
Jillian: 'I hop I'm not"
Emmett and Andrew agree the three of them are not.
Emmett: "her and Gary stand out the most"
Jillian: "That is a teenage thing to be so self absorbed"
Andrew: "She's a sweet girl.. but she's in this game because we've taken her she's floated her way to here.. Look at us between the three of us we've gotten 10 of the competition wins.. There's only 20 comps so far"
Jillian: "Us three and Talla I feel like we played the least amount of game.. I played game when I had to I was HOH and Had to put people up but I wasn't scheming for no reason. "
Andrew: 'Like Liza and Alec"
Jillian: "It's more that we played naturally won competitions and put people up"
Emmett: "It's going to be funny.. 15 people came in here only three from Nova Scotia are going to make it to the final"
Jillian: "Thats weird and EXCITING"
Jillian and Emmett decide to head into the hot tub to have their date
Andrew: "Peter has been living in Vancouver for 6 years but was born and raised in New Brunswick"
2:05AM Everyone sleeping
[polldaddy poll=7031963]