POV Holder:
Shane
Next POV:
Sept 8 (Saturday)
POV Used
POV Ceremony
Sept 10 (Monday)
HOH Winner:
Ian
Next HOH:
Sept 13 (Thursday)
Original Nominations:
Jenn and Shane
Current Nominations:
Last Evicted Houseguest
Frank And Joe
7:07pm Cam 1-4 Kitchen Dan, Ian and Jenn
Jenn says Ian and Ashley should do podcast for Dan seeing as they both read Dans Big Brother casting book.
Ian wonders if Frank or Boogie will want to talk to him and Dan after. dan says Ian might need to hash out that "Get to stepping" Comment but other than that he doesn't think there will be a problem.
Dan says they will know by finale night where everyone stands. He doesn't' think the house will hold many long term grudges.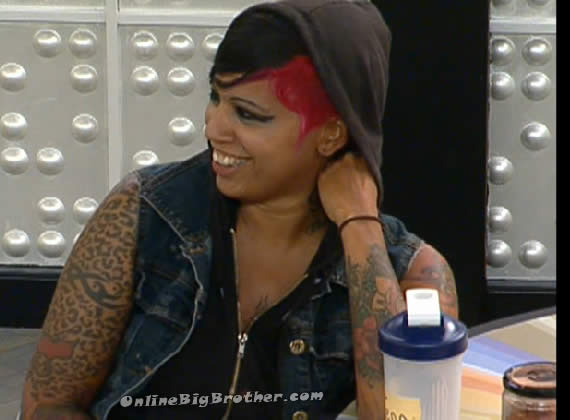 7:22pm Jenn and Dan
Jenn says if she was asked to come back she would. She would know how to play it better the second time. Dan thinks it's all about how the fans like them. Popular players are asked to come back. Dan: "You are the first and only legit rock star to come in here" Dan thinks Jenn will be asked back in.
(It took 6 weeks on the feeds before we knew who she was. )
Jenn brings up how Ashley told her she was smart and she was going to make it far in the game.
Dan couldn't understand Ashley and Frank.. he couldn't see any attraction between them. Jenn says because she turned Ashley down "ashley was looking for something"
Jenn brings up Boogie and Frank being so close.
the difference was Will would calm him down whereas Frank would amp him up.. Dan: "I'm telling you Jenn if you ever have the time you got to see how that guy plays the game it's amazing.. pretty much guided Boogie to the win" Dan thinks it is something Boogie was trying to shake he wanted to win on his own.
Dan says Frank would walk around saying he was the best player in the game. Dan doesn't respect that very much. Dan points out that every week Frank was a target .
Dan thinks Britney was the most dangerous player near the end game, Her social game was potent and she could have won many competitions. Dan adds that Jenn had a solid game to. Jenn says she has no regrets going on slop for the season to prevent Dan from getting the Veto then using the veto to save Dan. She explains she needed to take a stand keep it real. Jenn: "Dan to be honest with you I never expected to have survived this long.. "
Dan thinks that the game has a large element of luck involved. Jenn agrees.
Dan :"regardless of what happened.. I know I played my balls off in this game"
Jenn: "You are completely bad a$$"
Dan: "thanks Jenn same with you"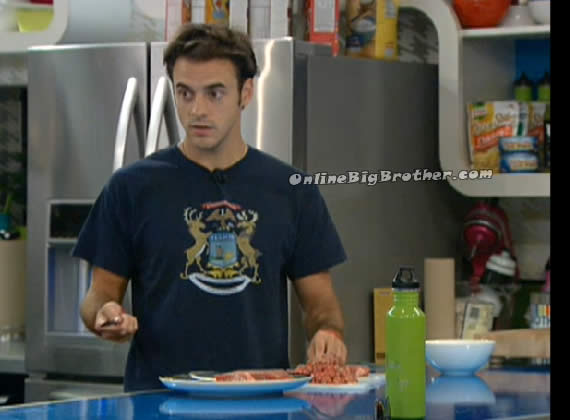 8:00pm Kitchen Jenn talking about doing recordings Real to Real instead of using pro tools. Jenn says it was her best album , "It captured a great moment in time for the band.."
Band talk goes on for a long time.. If you are a Kittie fan, Jenn fan or female heavy metal fan this conversation is worth using flash back it's interesting.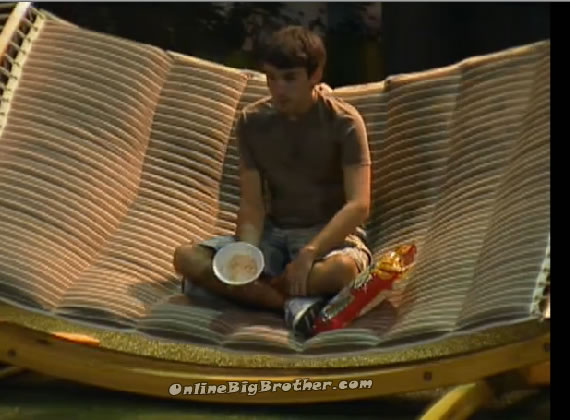 8:30pm Cam 3-4 Ian eating chips and working the hammock pretty hard
9:00pm Cam 1-4 Kitchen Dan, Ian and Jenn
Talking about the different houseguest and how they made it on the show.
Joe was cast after they saw him on youtube
Kara was recruited
Danielle and Ashley applied to be on a dating show
Shane and Jenn were facebook
Ian, Frank, Jodi went to casting
Britney went to a casting call (Season 12)
Boogie sent a tape in (Season 2)
Janelle was "Found"
Dan went to casting sent in a tape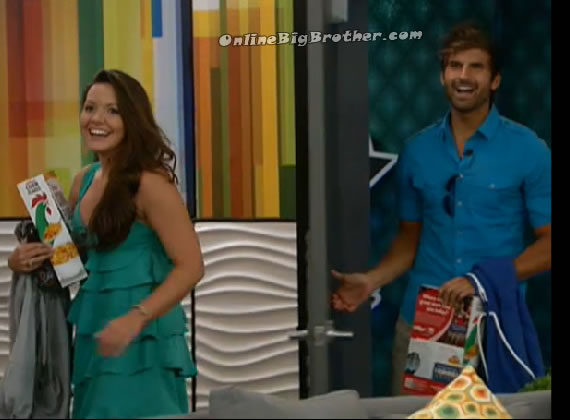 9:30pm Shane and Danielle come back they went to the Kelloggs Olympic special. Danielle says it was very showy and featured USA gymnastic Olympians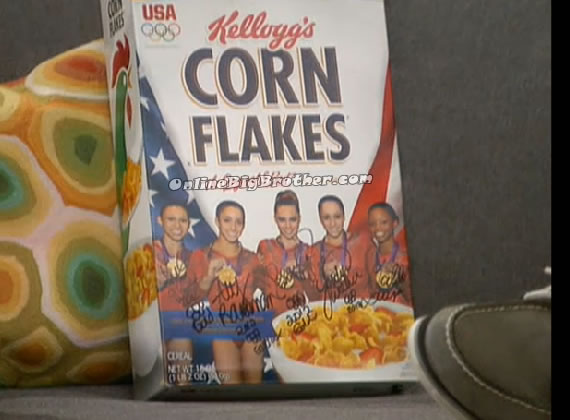 9:52pm Living Room Danielle and Shane are talking about their trip.. Danielle says she feels really anxious right now.. (Image Link)
9:54pm Shane eating a banana (Image Link)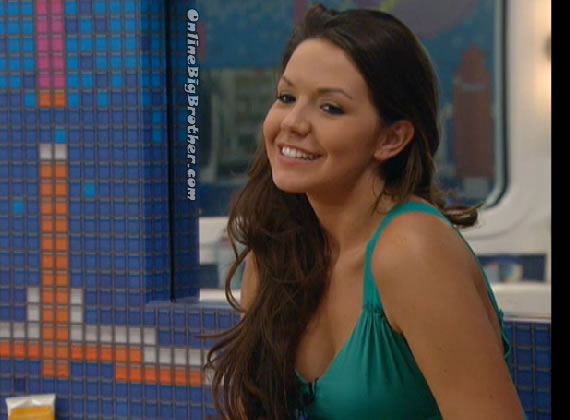 9:55pm Cam 3-4 Danielle and Dan Bathroom
Danielle saying that "they" told her Shane, Ian, Danielle and Dan are the most favorite this season. This is why when Ian was asking her in the living room earlier she didn't say anything. Jenn is apparently not liked and she didn't want to say it in front of her. Danielle: "Everyone likes the QP"
Shane joins them.
Shane says they kissed 3 times on the "Date", both Shane and danielle giggle. Danielle: "I'm so embarrassed.. I'm blushing"
Feeds cut..
when they come back Danielle is explaining the experience and how weird it is to be back in the house. She says they was 5 -10 thousand people at the event and there were cameras right in her face. Now she's trapped back in the house and she's feeling crappy
Dan heads outside to drink with Ian.. Dan tells her to put something comfortable on it will help her feel better.
10:17pm Everyone but Danielle is in the backyard chatting about the even he went to. Shane mentions that he's grateful for going put it wasn't something he would normal go to. Points out that Danielle really liked it because apparently she was a Ninja when she was younger and knew about the tumbling.
10:30pm Jenn says the Olympic event that Shane and Danielle must have been full of Big Brother Fans because Big Brother fans would also like seeing young girls perform gymnastic routines.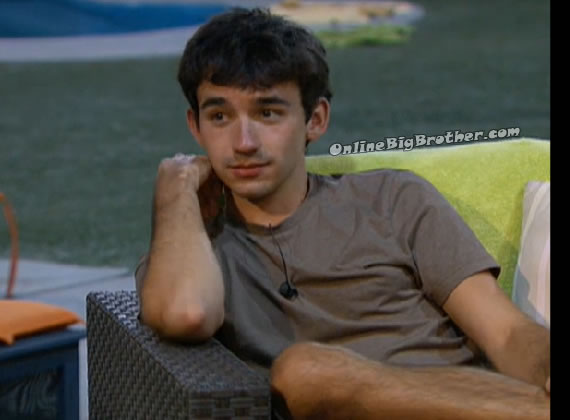 11:13pm Backyard Random chatting.. Talk drifts to the players of Big BRother 13. Dan gives Ian a hard time when he says Shelly was one of the better players and he would pick her over Rachel. Ian defends Shelly's game, says she played a smart game and Rachel was a constant target.
Ian says that Frank erased half his "hash marks" Everyone else is shocked. Jenn calls that dirty. Ian: "He's bitter"
11:24pm Cam 3-4 Dan and Danielle
He spent most of the time trying to make sure Jenn and Ian were not alone. He didn't trust her with him alone. Danielle says she didn't talk much game with Shane but the little they did talk involved her being the replacement nominee and Shane/Dan voting to evict Jenn. Dan never had a chance to talk to Ian tonight.
Dan brings up that Jenn was kissing ass to Ian so bad today..
Ian tell her that she is going up as the replacement nominee. Danielle: "I am the ultimate pawn this season" Ian: "Joe was.. Originally it was Ashley"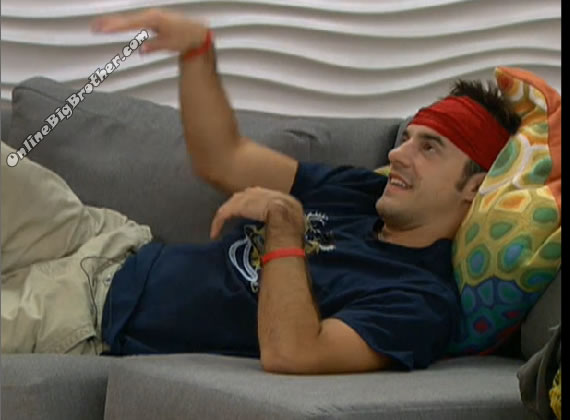 11:57pm Cam 3-4 Ian and Dan They are playing pass with a hard rubber ball. Dan says during Big BRother 10 he hit Jerry in the nuts with a ball like that. Jerry doubled over in pain and the DR called him in. He had to explain what happened.
Shane's Ebay name is BigSoftTeddy . .Dan says he signed his PS2 and sold it for $250.
12:04AM Danielle's giant pimple may be finally healing. (Image Link)
12:25AM Danielle is complaining to Jen about being taken out of the game today then thrown back in. She feels like she's in a cage being poked by the live feeders.
12:37 AM Cam 3-4
Ian says Erika was always getting in trouble for playing with the cameras. Shane asks if she was cute. Ian says no.. wasn't cute in Big Brother 7, she was cute in Big Brother 4.
Dan asks Ian top ten cutest Girls in big brother
Cassi
Kristen
Angie
Danielle Donato
Kara
Alison
Lisa Donahue
Michelle (BB4)
Janelle (In her prime)
Britney (They give Ian a hard time about Britney they joke that she would be in his top 3)
Sarrah (BB6)
Jen (BB9)
Shane mentions laura Big Brother 11.. "She had a really nice body but her B**bs were way too big"
Dan liked Laura because she was a solid fan of the game.
Dan top 5 least.. Wants to rephrase it top 5 best personalities but they know what he means. Ian doesn't want to play that game. Dan says how about most vile player
Ian: "Chima, Natalie, Ronnie"
Dan asks funniest girl/boy, Ian: "Britney and Enzo "
Dan asks him most unaware, Ian: "Lawon and Holly"
12:47Am Dan tells them that Big Brother 15 will be straight up all new players but Big BRother 16 will be 100% allstars.
1am Ian head to bed. Danielle, Dan and Shane are in the bathroom. Danielle puts medication on her hand and wraps it up and then does the same for Dan. Danielle keeps putting her thumb in his wounds. Danielle tells him she needs him to be a big boy. She says OMG I have never had someone like you. Danielle then wraps up Shanes hands. Jenn is laying out by the hot tub. Dan heads to bed to read the bible. Shane and Daneille join Dan in the bed room and climb into bed. Dan then reads them a bible verse. Dan asks so what was the deal made to get back to sharing a bed? Shane says no deal.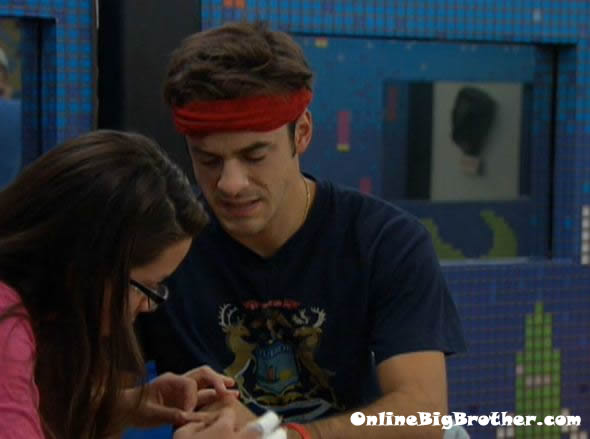 1:40am Shane says no matter what happens tomorrow, we are still four strong. Dan asks if Shane talked to Ian. Shane says no, when would I have had time to talk to him? Shane says that he is not going to say much to him, I bet you had plenty of time to talk to him for 10 hours today. Dan says that Jenn was talking to Ian today sucking up. Shane asks like what? Dan says she hasn't talking to him in like 30 days and was asking him personal stuff. Dan, Shane and Danielle go to sleep. Shane and Danielle are curled up together in the same bed. Jenn gets ready for bed and then goes to the stereo room to sleep.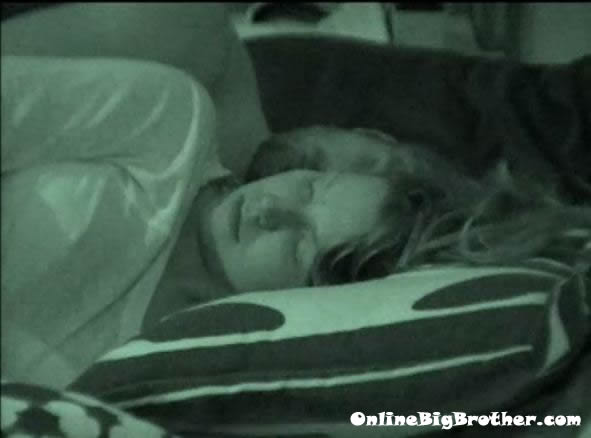 2am All the house guests are asleep..
8:33AM CAM 1-4 SLEEPING
Like this site? please consider a small donation to help with the server fees. Donation Link
Share it YO!!
Tweet