POV Holder:
Shane
Next POV:
Sept 8 (Saturday)
POV Used
POV Ceremony
Sept 10 (Monday)
HOH Winner:
Ian
Next HOH:
Sept 13 (Thursday)
Original Nominations:
Jenn and Shane
Current Nominations:
Last Evicted Houseguest
Frank And Joe
2:30pm Cam 3-4 Jenn and Ian
Ian says the next person out does not go to jury but the evictee after that does not. They are in the hotel for a night. Jenn would be OK with that, she would like to spend as little time in the jury house as possible. Ian mentions that the Jury house must be "hook up central" with Frank and Ashley being together. Jenn agrees, tells him that Ashley really did like Ian she thought he was a great guy. Ian knows, he really liked Ashley to, he just felt that they were such different people. Ian says nominating Ashley was purely strategy he needed to get rid of Frank or at the very least weaken him.
Jenn brings up Frank and Ian having a rollercoaster relationship this year. Ian recounts what he told Frank after he voted our Boogie. Ian reminds Jenn that Frank wanted him to vote her out. He points out that Boogie wasn't even practicing for the next competition and barely tried to stay in the house. Jenn says the practice was just 5 minutes long it looked bad when Boogie slept through it.
Jenn brings up Frank not shaking anybody's hands during his eviction says it wasn't cool. Ian mentions how Dan thinks Frank and Ian will come back for allstars. Ian would love to work with Frank again, he's not taking any of this personally. Jenn agrees that Frank may take time but eventually will be cool with Ian. Ian laughs says their relationship started of close then after Boogie it was rocky. Ian was just starting to get close to Frank again but then he put up Britney and since then Ian's been trying to get him out.
Jenn tells him there was a good chance the vote for Frank was going to be 4-0.Ian: "I know I heard him say he was pissed because he was going home by my hand"
Jenn: "You just gotta let all this go.. Frank left bitter"
Jenn says that Joe got louder cheers when we was excited than Frank. Ian agrees, Danielle told him she heard boos but he doesn't believe it.
Jenn: "I've never come after you Ian…"
(No reply from ian)
Jenn: ".. F***ing Joe.. I wonder what he is doing.. "
Ian: "Cooking turkey burgers for everyone"
3:00pm Cam 1-2 Ian and Jenn Chatting about 911 and how it impacted their lives. Ian says he was in 5th grade.
Jenn brings up how in New york city the biggest concern is chemical weapons in the subways. Jenn mention that all the tourist heavy locations have heavy duty security, "These swat guys with huge guns".
Jenn recounts a story when she was at the best buy and their was a sniper on the "roof or something" so they closed the building down. Jenn was trapped inside and didn't know what was going on until they turned the radios on. Jenn: "he shot someone in the a$$ at the gas station..There was this guy in a white van shooting people in the a$$"
Conversation moves to the USA being on Yellow alert. They go through a series of attacks/ threats that occurred recently. Ian mentions that before 911 his family was leaning more towards Clinton but after they became more conservative. Ian brings up that the war started on his birthday.
3:29pm Cam 3 Dan joins Jenn and Ian's random conversations.
Ian throws out a shout out to Mrs Robin's who if it wasn't for her he may not have gone into Chemistry. She taught him what chemistry classes were going to be like in College. It was tough but he really benefited from her teaching.
3:34pm Cam 1-4 Backyard Ian, Dan and Jenn
Dan asks Ian how high he can swing the hammock. Ian gives it a shot (See picture above). Dan wonders if the hammock is designed to take so much swinging. Ian and Jenn think it can.
3:40pm
School talk
4:15pm Cam 3-4 Backyard Ian and Dan
Ian says he played a mole type of game.
4:33pm Cam 1-4 Backyard dan, Jenn and Ian Ian tells them that he told Jodi he was a virgin by choice. Dan mentions it didn't take Jodi long to spread that throughout the house.
Ian says Dominique and him are the most notably virgins to be on Big Brother.
5:10pm Random conversations going on.. Some about Willie. apparently production took Ian's pork rinds he was planning on selling. The ones that Willie threw a Janelle. Ian says Willie had a lot of rage. Dan brings up how week one Frank would do the most insane workouts outside. They all agree it wasn't the best hing to do because everyone started to fear him.
Talking about Kim Kardashian
Ian: "I don't really watch them or care about what they do.. Like Who the hell are they.. it's pretty trivial"
Jenn: "So true"
6:05pm Cam 1-2 dan playing Cards
Cam 3 Jenn cleaning her face
Cam 4 HOH Bathroom.
6:23pm (silence)
6:39pm Ian use to walk down the spiral stair case one step at a time. It would take him a long time to make it down. Now he goes down 2 steps at a time. When asked by Dan a couple weeks ago he said that the stair case seemed a bit dangerous to him.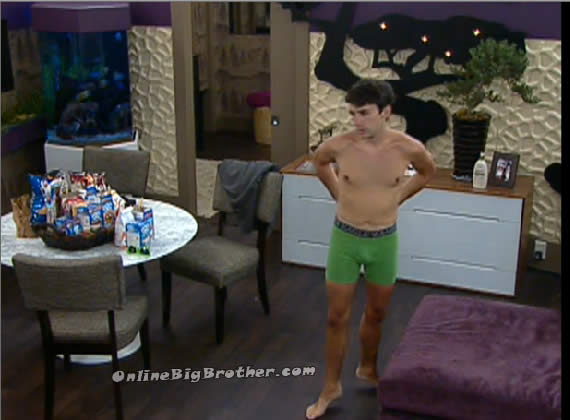 Save the polar bears vote Dawg
Share it YO!!
Tweet