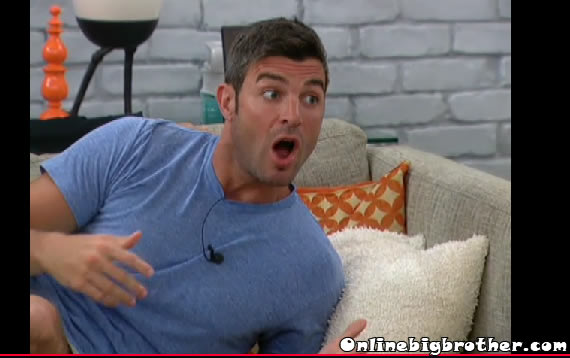 Looks like there's some people out there that do not like Big Brother super stud BIG Jeff Schroeder .
Jeff has been ranked one of the worst Reality TV Stars of 2011 from TV.yahoo.com. Here is what they had to say.
Jeff ("Big Brother"): We've only been able to see Jeff's homophobic rant via the magic of YouTube, since CBS chose not to air it, but it still was pretty reprehensible, not only because Jeff thinks that gay people (specifically the fictional Dumbledore) shouldn't be able to teach children, but also because he accused Kalia of pretending to defend the gay community just so she'd look good on TV. And to think that we had thought that Rachel was going to be the most hateful person in the house.
There is no denying it Jeff is one of the most popular players in Big Brother history. He's been in 3 televised reality shows; Big Brother 11, Big Brother 13, The Amazing Race and a bunch of straight to web shows. BB fans voted him their fan favorite TWICE but still Jeff has his haters and plenty of them.
It really wasn't until Big Brother 13 were Jeff's douchness start to really show around the time he decided to go on a crazy rant about Dumbledorf being gay.
After that it was really down hill for Big Jeff, under the stress of the Big Brother show he became more and more aggressive. CBS tried hard and for the most part was successful in editing Jeff as the BB11 Golden Boy but the damage had already been done, he's now at 1 zillion fans down from 1.5 zillion a year ago.
It's not all negative press for Jeff, the Big Brother house is stressful and people are not themselves while partaking in the summer show. Many people that have met Jeff says he's an all around nice guy. His latest appearance on a web show supports this. doing charity work for Ethiopian sex industry workers.
What do you all think Jeff YA or Jeff NAY?
Big Brother 14 has been confirmed and the BB Application form and rules have been released. Big Brother 14 Casting Calls should be known in March.