POV Holder:
Gary
Next POV
April 20th
POV Used
?
POV Ceremony
April 22nd
HOH Winner:
Emmett
Next HOH:
April 25th
Original Nominations:
Gary and Andrew
Current Nominations:
?
Last Evicted Houseguest
Peter
Have Nots
Gary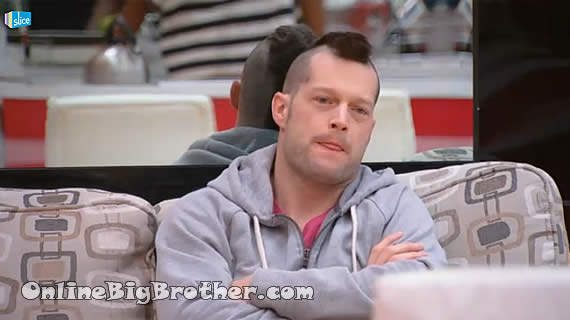 9:20AM Kitchen Andrew and Emmett
Andrew saying that Talla hasn't done anything in the house she's playing for second place. Andrew adds that last person to leave the house that hadn't done much was Suzette. Emmett says seven Liza did something in the house, she never won anything. Andrew: "Unless of course you are putting Jillian up" Emmett looks at him the both chuckle. Andrew is going to see if he can cut his mohawk off this morning..
Gary joins them they start talking about specialty restaurants . Gary mentions a restaurants in the "Beaches" that just serves Milk and Cookies. Gary says he was thinking about starting to restaurant because his aunts can cook but they all felt like it would tear the family apart.
Gary starts talking about his hair how he cannot afford to get it cut because it's part of his image. Andrew: "They said a BIg Brother Hair Cut.. not a Bad Hair Cut"
Talla joins them.
Gary is going around looking for Jillian so he can wear his makeup. Andrew mentions that Jillian doesn't really want Gary to use her makeup. Talla: "It's not exactly good to share your makeup.. but he lost most of his palette" Andrew cannot understand why Gary wears so much makeup he looks just fine without it on, "For God's sake he's only 21".
Talla: "it's easier to say when you are on the other side.."
Andrew: "what do you mean"
Talla: "If he didn't have to wear makeup he wouldn't"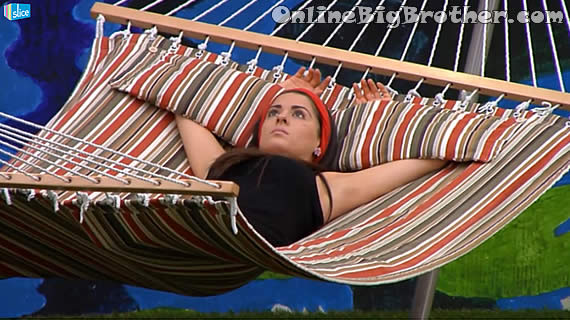 10:11AM Talla whispering to herself on the hammock going over stuff she will say to Emmett..
"Andrew won't take Emmett to the final 2.. Jillian is playing a good game.. Oh my God"
(Random stuff)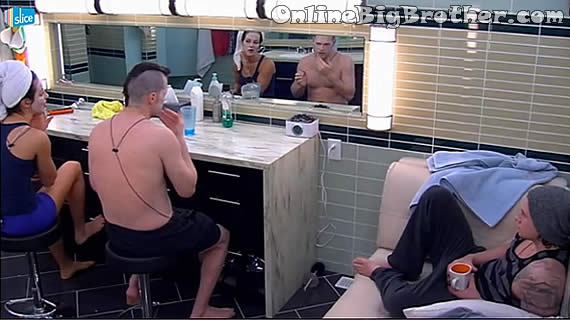 10:25am Bathroom, Jillian, Andrew and Emmett
Andrew: "Emmett any idea what you are going to say today.. short but sweet"
Emmett: "Ya"
Andrew: "That Veto could have been different"
Emmett: "It's not how bad you want it it's how fast you are"
Andrew hints that Talla must of gotten some prizes during the POV competition.
Andrew brings up what Dan says about a big move, "Big move could mean getting rid of me"
Emmett: "Big move doesn't have to mean getting rid of a big player"
Andrew: "Day 61 my friends we're down to single digits.. congratulations"
Andrew wants to get his hair cut, They go over with Jillian what she can do to fix it up. They are guessing maybe cut the mohawk down a bit.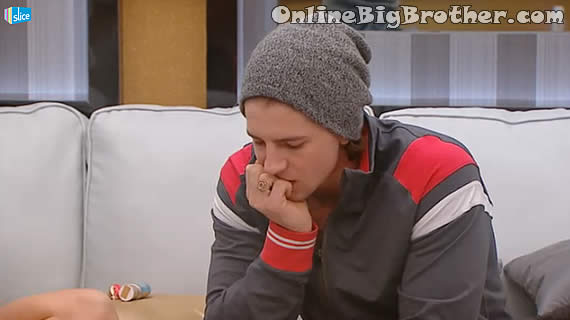 10:30am HOH Emmett, Jillian and Emmett Andrew and Emmett are going to play chess.
Andrew: "What do you guys think about this week.. I would like to talk a bit of game. "
Andrew: "We're in an alliance so obviously you will vote to keep me.. and JIllian you will break the tie"
Jillian: "YA"
Andrew points out that HOH does matter next week because if Gary does win HOH then it'll mean one of them do not make it to final 3. Emmett still thinks POV is more important. Jillian disagrees thinks HOH is still very important.
Andrew points out if Gary wasn't brought back into the house Emmett would have still won the HOH and he would have won the POV. They would all be going to final 3 like planned.
Jillian says she would have been pissed if she needed that Veto and had to cut her hair to get it.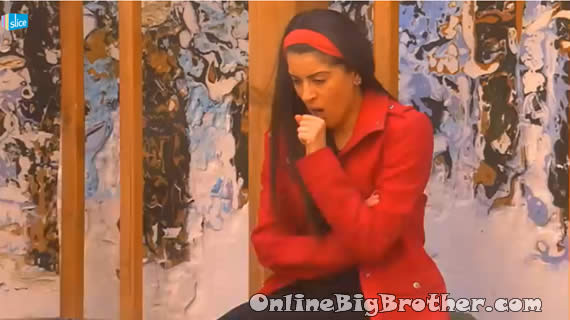 10:34am Talla wandering around the house talking to herself about what her game moves are.. she was on the hammock and now she's in the hot tub room
Talla: "I did make a promise to Gary.. I will definitely be breaking a promise with Gary.. what I am doing is i'm covering both ends just in case"
Talla: "I don't know what to do right now.. I need to figure this out"
Talla: "I'm a way better final 3 to Emmett and Jillian than Andrew is"
Talla: "I need to talk ti Jill.. figure this out.. Gary won't take her to final 2
Talla is talking to the moose in the Hot Tub room. She calls it "Henry" . Tells Henry she's going to take care of business.. "lots of work to do.. that's what I saw play my cards right.. OK Henry good talk thanks"
Talla: "Maybe a little bit of a twist and you can come into the game and play.. Oh.. don;'t count on it.. OK"
Talla: "Yup i'm losing my mind.. talking to a moose"
Talla gets up to leave "ceya Henry"
Talla heads up to the HOH and tells Jillian she wants to talk to her later. Emmett beats Andrew in chess.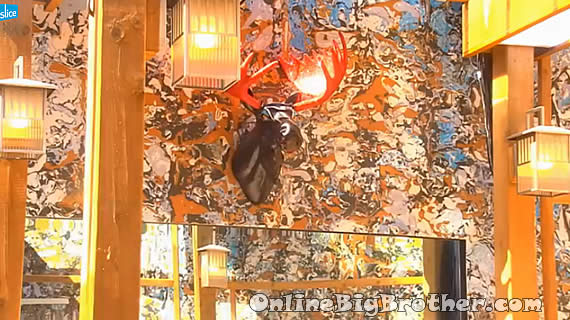 11:07am Talla, Emmett and Jillian HOH
Talla: "I cannot speak english.. I went from speaking english fluently to… "
Jillian: 'We're all losing our minds"
(Just a bunch of slow chit chat.. )
Stay connected and interact with other Big Brother Fans on our Facebook page.
And Follow: @BigBspoilers and @Dawgsbigbrother on twitter