POV Holder:
Gary
Next POV
April 20th
POV Used
?
POV Ceremony
April 22nd
HOH Winner:
Emmett
Next HOH:
April 25th
Original Nominations:
Gary and Andrew
Current Nominations:
?
Last Evicted Houseguest
Peter
Have Nots
Gary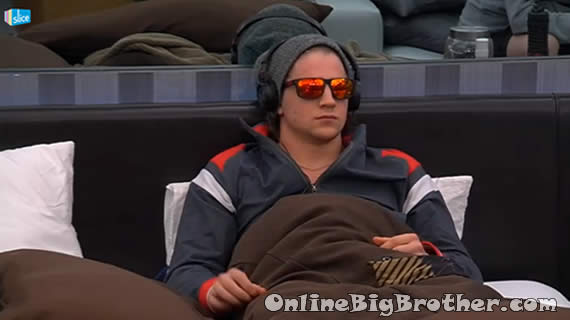 9:30pm HOH "Chest" games still underway
Jillian: "look at Emmett listening to music"
Andrew: 'Hey Emmett don't take offense but you look like a D1ck"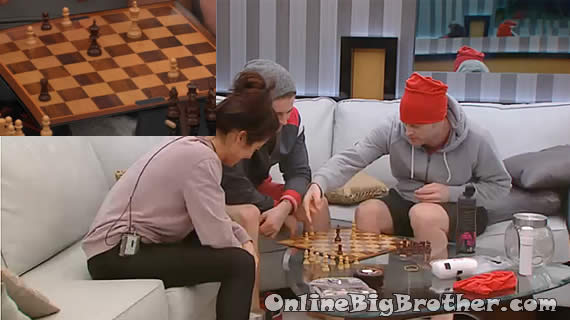 10:00pm Really hasn't been much talking.. Andrew and Jillian are still playing a game of "chesT"
The Rooster alarm keeps going off downstairs. Andrew blames it on Gary who is dozing off. Yells out to Big Brother "Take away his Veto"
Jillian and Andrew have worked themselves into a position in Chess that will be very difficult for Andrew to win.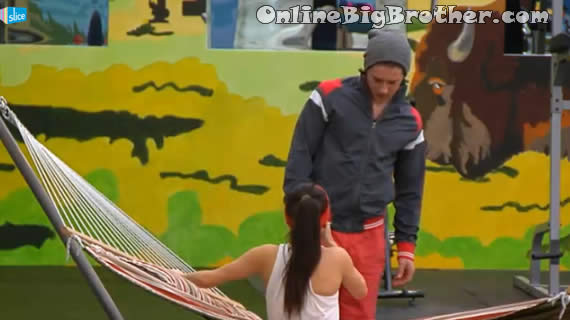 10:04PM Talla and Emmett Hammock
Emmett to Talla "We should be able to go to bed soon"
Talla tells Emmett that Andrew might have a better chance to win the final 2 because he's gotten so far by himself. Talla thinks that Andrew will take Jillian to the final 2 not Emmett.
Emmett knows this tells Talla not to worry. Emmett: "I know I will win over Andrew.. "
Emmett: "Just..
10:09Am Talla Alone on the hammock "I'm staying this week I don't care.. what is in my best interest.. "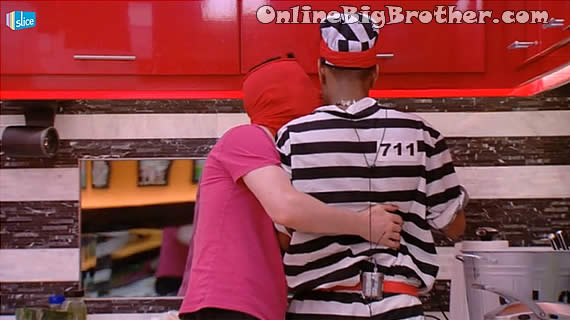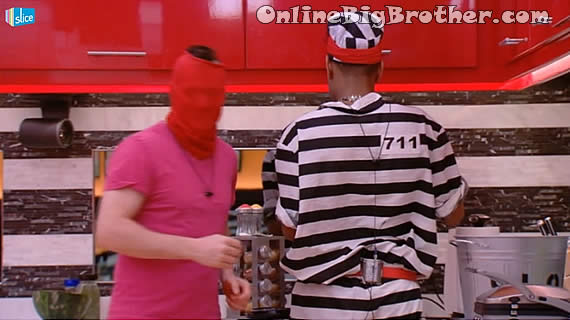 10:20PM Andrew gives Gary a kiss.. Gary: "You are so weird"
Andrew then heads to the HOH where Emmett is training her in the game of Chess. Andrew asks Emmett if it's cool he stays up there, "Otherwise I have to sit downstairs talking to those guys"
10:31pm HOH Ragin Cajuns.
Andrew says he's glad they are all getting along and it's not like how Dan said.
TAlla: "Does Chest take 2 hours to end"
Andrew explains to her how "Chest" games can be very quick or long like when they use to play Alec, "He stared at the pieces for 10 minutes"
Andrew: "Talla you going to sleep in Dan's bed tonight.. smell his sheets"
Talla: 'Creepy"
Talla says she felt like she made a friend in Dan. Andrew brings up how Dan was telling them that Jamie-Lynn Sigler of Sopranos was a huge Big BRother fan. Dan and his wife when to her house and they did some type of Mock Big Brother Party.
Andrew says that Emmett could do that at his place and use the corn maze as a competition. Andrew jokes if Talla enters the maze 48 hours after they would have to burn the corn down so they could find her remains. Talla laughs..
Andrew: "Single days remaining tomorrow Mein Freund.. holy cow"
Talla gets called in the diary room.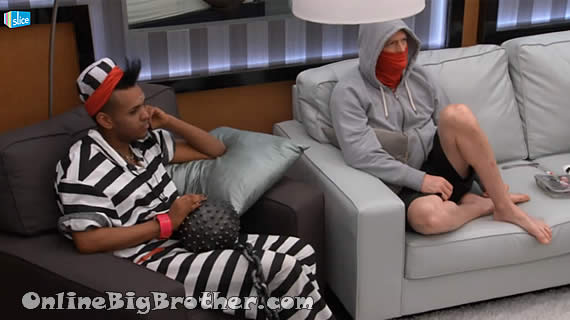 10:51pm Gary joins Andrew, Emmett and Jillian.. Emmett is coaching Jillian in a game of Chess. Andrew and Gary watch.. Everyone is stupid tired very little being said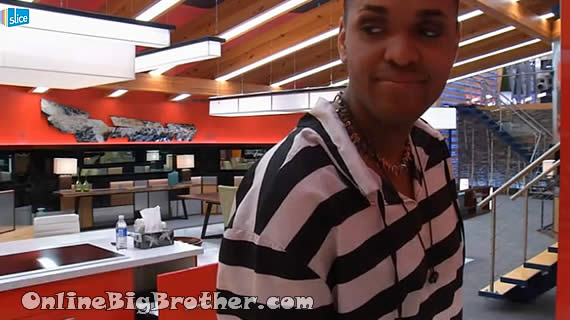 11:00pm Talla and Gary Kitchen
Talla: "This means we are playing this together you know that right"
Gary: "Umm hmm"
Talla: "And would you rather play with them or me"
Gary: "They don't even talk to me"
Talla: 'So we're picking up where we left of"
Gary: "Umm Hmm"
Talla: "if me or you win POV.. we're on the same page"
Gary: "their done"
Talla: 'So they are going to think .. fighting and not working together and that benefits us"
(Hard to hear Talla.. but I think she's planning to try and make Jillian/Emmett think that her and Gary are fighting)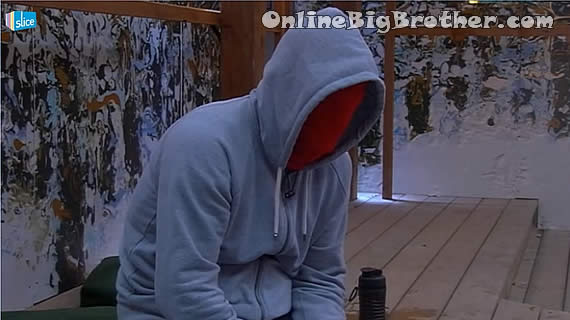 11:18pm Backyard Jillian, Andrew and Emmett
Andrew tells them he he's been trying to figure out what to say to GAry tomorrow. Andrew jokes that maybe he'll take the funny route say something like "I did get you out 2 weeks ago as HOH.. I think it's only fair that you respect the game and use the Veto on me so that I can do the same thing on thursday Night"
Andrew: "Useless or what"
Emmett: 'I don't think that will work.. We have to think outside the box"
Andrew: "Nothing is going to work"
Andrew jokes "Gary if you respect this game I know you go Mano-a-mano
against me while on the block.. and we'll see what the people want.. the real people"
Jillian: 'Who's the people.. use?"
Andrew and Talla head to bed.. Emmett tells Jillian they really need to start studying so they are faster than Gary. They head to the hot tube room to study..
(Video Uploading)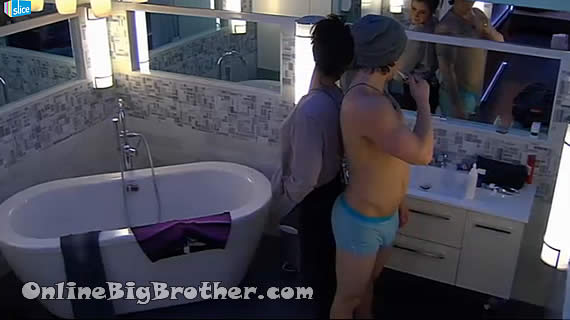 11:47pm Everyone is sleeping but Emmett and Jillian They are getting ready for bed.
Emmett tells her that it doesn't matter who wins HOH next week it matter who wins POV.
Emmett: "Who do you want to compete against. Talla or Andrew"
Jillian: "I Don't care.. Talla is going to win 20 thousand dollars doesn't that freak you out"
Emett: "Why"
Jillian:" She's going to make it"
Emmett: "Would you rather we take Andrew and he wins it all "
Jillian: "Too tough for me to call.. you decide"
Stay connected and interact with other Big Brother Fans on our Facebook page.
And Follow: @BigBspoilers and @Dawgsbigbrother on twitter