POV Holder:
Gary
Next POV
April 20th
POV Used
?
POV Ceremony
April 22nd
HOH Winner:
Emmett
Next HOH:
April 25th
Original Nominations:
Gary and Andrew
Current Nominations:
?
Last Evicted Houseguest
Peter
Have Nots
Gary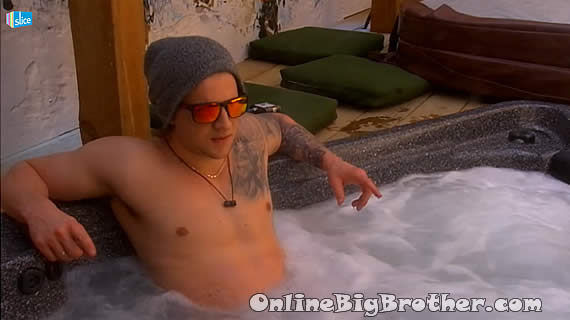 11:33AM Andrew and Emmett hot tub
Andrew: "I wonder what this week will bring"
Emmett :'What did last week bring.. there was five people"
Andrew :"Nothing it was boring.. we'll we had the freeze task"
Andrew: "Gary is walking around like a zombie which is good.. "
They both Agree that Talla is much quieter
Andrew: "I can't get over the fact there is 5 of us instead of 4"
Andrew presses the dangers of It being Talla and Jillian against Gary in the HOH. Andrew: "Then what if Talla and Gary team up"
They start working through the scenarios. Emmett brings up if Andrew goes home this week then it's him versus Talla for the Veto which is better than HIm versus Andrew, "I'm being honest with you.. man to man"
Emmett does understand they have a better chance to win HOH if Talla goes cause it will be Jillian and Andrew Vs Gary but if Talla stays it doesn't matter who wins the HOH.
Emmett goes on about how honest he's been with everyone and told them if they are staying or going. Andrew knows that Emmett will make the decision that is best for his game. Andrew mentions how Gary was complaining yesterday that the next HOH will be mental and the ask questions about what happened in the house when GAry was in the jury. Andrew: "Don't come to me telling me what's fair you got you a$$ voted back in"
Emmett: "I'm pretty sure you are fine Big Guy"
Andrew goes on about how they should have put Andrew and Talla up and maybe Gary wouldn't have tried so hard in the VETO. Andrew: "How much were you willing to do? I would have done it all.. everything he was willing to do plus this haircut"
Emmett says it is funny that Gary came back then won the Veto. Andrew points out that To Gary it's more important to have his hair than the Veto he's said it many times.
Emmett and Andrew confirm that Gary is on Slop for the rest of the season.
They start talking about the possibility of another twist. Emmett jokes that Gary is in the house for just one week. Says arisa will say "We brought Gary back for one week you are now all competing for final 3" Andrew smirks says it's just wishful thinking.
Andrew says there's a better chance of Arisa saying "Gary's back in the game and we also want him to win.. we've given him the coup d'etat"
Emmett: "THey didn't give him anything though"
Andrew: "I wouldn't be surprised that Gary wins Canada's favorite player"
Emmett :"Ya he'll probably win Canada's favorite player"
They talk about who will come back in Allstars. Andrew thinks it will be Emmett and Gary. Emmett thinks Andrew and Jillian would be on it.
Emmett: "Two people leave Thursday night"
Andrew: "we don't know that for sure.. you would think that"
Andrew mentions how he would have thought there was a least one girl in the house "With big ol Fake b**bs" and flashing them around. Emmett says the closest thing they had was Liza walking around in her thong, "She used what she had"
Emmett plans on checking out the internets when he gets out of the house see what people say about him. Andrew: "There's 15 websites Andrew Monaghan is a A$$Hole"
Emmett says he hasn't been truthful the entire time, "There is some merit in telling the truth.. but nobody won Big Brother being 100% Truthful"

(Pt1_)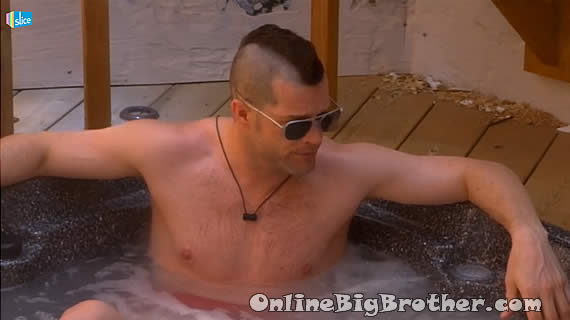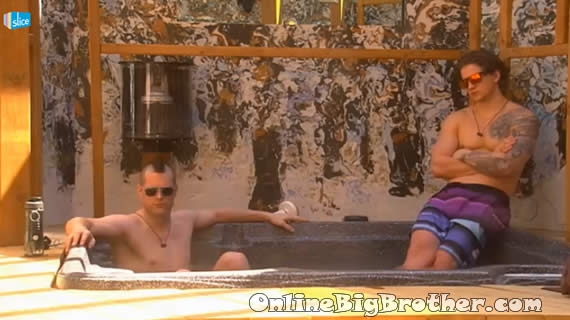 12:30pm Andrew and Emmett
They both agree there should only be one chance in this game and bringing someone back is bullsh1t. Emmett adds that it'll hurt Gary a lot with jury votes but he'll still win against Talla in the final 2. They both agree Talla has zero chance to win this game.
Emmett: "Jillian and Gary have the highest percentage chance of wining this game.. they both have 2 chances to protect themselves next week.. I only have one"
Andrew: "Makes you wonder who is watching.. they save Suzette and Gary… we have no chance"
12:50pm Everyone milling around Emmett invites Gary up to the HOH to play him in Chess after he plays Jillian.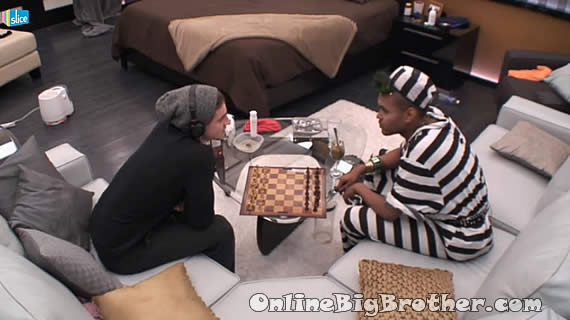 12:55pm HOH Emmett and Gary .
Emmett says he just told Andrew he's going home in Thursday and now he's pissed.. Emmett: "It doesn't benefit me to send Andrew Away.. it only benefits you"
Emmett says he's screwed himself out of Andrew, Aj's and Talla votes in the final 2 now.
Emmett: "I know i'm taking you.. and so is Jill.. you are fine mother f****r the only person that might beat you in this game is Talla.. so I know you are taking Jill"
Gary: "Emmett.. you are getting too shaky.. "
Emmett: "NO I know what is going one.. Gary it's smart for you to take me and Jill because Jill will take you and so will I.. "
Gary says if Andrew stays he'll win the HOH and take Gary out that is what Gary is worried about.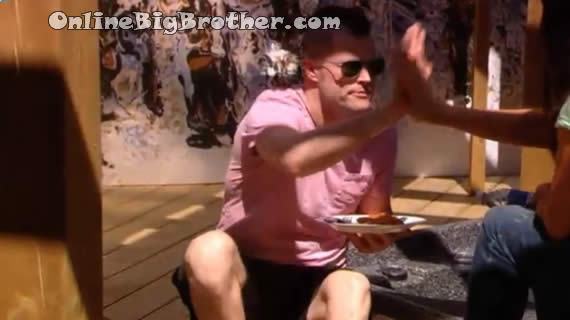 1:26pm Andrew and Jillian
Jillian tells Andrew she needs him in the game, he helps her more than Talla .. Andrew says Emmett is scaring the sh1t out of him right now.
Andrew: "I'm like Emmett what are you doing man..we had a final 3 deal"
Andrew: "He's pissing me off completely.. I think Dan told him to make a big move"
Jillian: "Dan didn't say anything specific just ran through scenarios"
Andrew says he's taking Jillian to the final 2 and so is Emmett so she's set but Emmett can't play in the HOH. Jillian adds that Gary will take either Emmett or Talla to the endd.
Jillian points out that Gary was saying that everyone in the jury will vote for Andrew, Jillian suspects it's all part of Gary's game.
Andrew suggest that maybe he should go up to Gary and offer him a deal to team up with Andrew and take out Jillian and Emmett. Jillian: "ya sure do whatever you can to stay in the house"
Jillian points out that Emmett makes it sound like all the competitions she's won are nothing.
Jillian: "I'm scared of Emmett changing.. I need to get him away from Gary"
Jillian mentions that maybe Emmett is still with the beast coast maybe he's just covering his a$$ with Gary.
Andrew: "You are my number one.. I do like Emmett but I want it to be you and I"

(Video uploading)
1:47pm HOH Jillian and Emmett
Emmett explains why Andrew has to go this week..
(Sounds like they are both on-board to get rid of Andrew.. Jillian would rather Andrew stays but will listen to Emmett on this one. )
(Video coming)
1:50pm Hot tub Room Andrew and Gary
Andrew explains to Gary how the finale works and going in alone is very dangerous. (Kinda hinting that Emmett and Jillian are a locked final 2)
Gary says he wants to be like "p-diddy.. stay up all night an hustle" He wants to work the social media and interact with his people.
Stay connected and interact with other Big Brother Fans on our Facebook page.
And Follow: @BigBspoilers and @Dawgsbigbrother on twitter
[polldaddy poll=7054334]