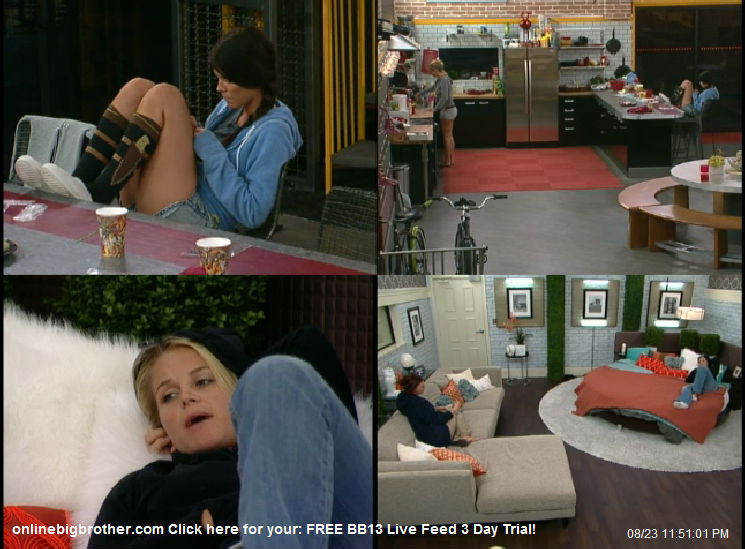 Watch the Big Brother 13 live feeds on your Android and iOS devices. Sign-up for the 3 Day Free Trial
11:40pm Up in the HOH room, Rachel and Jordon are talking. Jordan says that she thinks Shelly is 100% with us. Rachel thinks the double eviction isn't this Thursday but the next.. and says that they have to win HOH this Thursday so they will be set for the final three. Rachel says that we have to figure out the whole Adam thing, and says that maybe if she goes and plays pool with them and see if she can find out his zing… like calling him Uncle Fester. Rachel and Jordan start reciting the facts Big Brother gave them like the perimeter of the backyard is 19 and a quarter laps around the yard to equal one mile. Rachel says that Dani is probably coaching Porsche and Kalia. Rachel says that if they aren't studying the questions then they don't even deserve to be here. Jordon says that when she played this game during her season Big Brother changed just one word and got it wrong. Rachel says she doesn't know how Big Brother is going to change the words in the competition. Jordon said that it will be easier to remember what was said as soon as she hears it. Rachel says that she is going to go play pool with Adam and Jeff scheming that maybe they will tell her exactly what the zingbot said about them.
WATCH all DRAMA unfold LIVE on SuperPass! FREE 3 Day TRIAL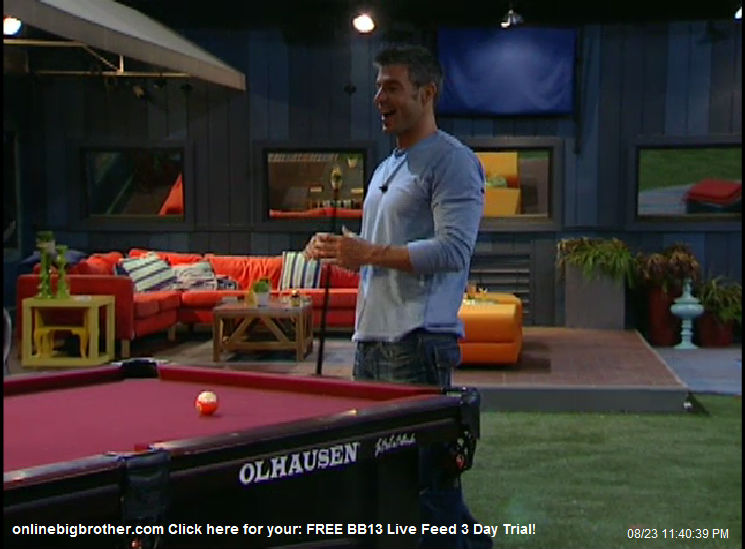 Meanwhile, Jeff and Adam are talking about making nice with everyone before the HOH competition on Thursday. Adam says that if Jordan wins she will be putting up Kalia. Jeff says that the other side is going up ….the other side has to go up. Adam asks if Jordan would put him up. Jeff says BLANK no! Jeff says that Jordan is just nervous about him and Porsche. Adam says that he doesn't view Porsche as big of threat as Kalia. Adam is making sure that Kalia is going up. Adam says that Porsche will eventually have to go.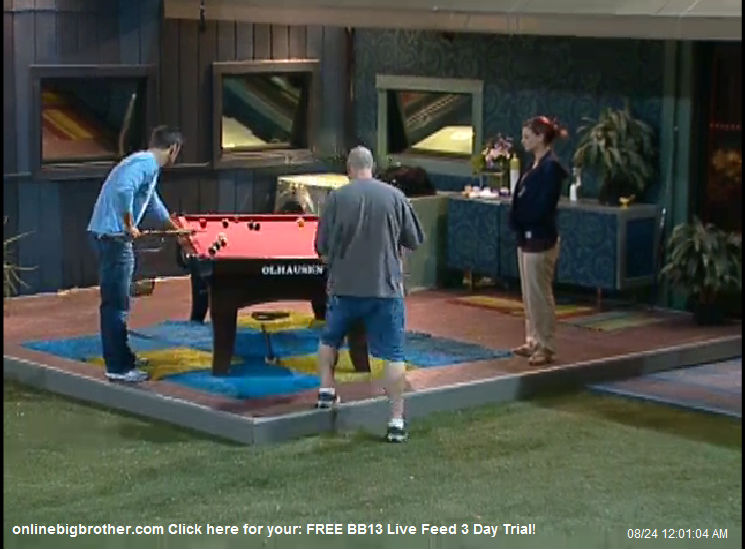 12am Rachel asks Porsche if her zing was said bigger or larger? Porsche says she doesn't remember. She takes it as being rude rather than fishing for info. Jeff and Rachel come into the kitchen. Rachel asks Porsche if she wants to play rummy. Porsche says no thank you. Porsche says to Dani me and my fat ass needed to eat! Dani says apparently! Rachel is just standing there playing with the toy crafts. Rachel then heads outside. Dani and Porsche tell Kalia about Rachel talking about the bigger trunk comment. Shelly comes inside and starts bashing Rachel. Rachel and Jordan asks Jeff about the zingbots comments and tell him to trick him" about getting the zings. They start going over the zings. Jeff doesn't remember them or the exact wording. Rachel says that Dani is coaching her minions …they know the exact words. Adam comes out into the backyard and does a zing. Adam them corrects Jordan about his zing and then tells them all the other ones. Jordan is asking Adam questions about them as Rachel smiles. Kalia comes out and Jeff changes the subject. Jordan and Rachel are happy. Jordan says that she doesn't need to ask Kalia now. Jordan wonders about the soviet union fact and says that she think it was 15 republics. Rachel says that she thinks she is right. Adam confirms that it was 15. Jordan and Rachel are by the hot tub talking about how Jordan has to use her hands to help her. Jordan says that she has to look at her hands because it helps her remember better.
FLASHBACK – Don't miss all the drama!
Superpass – 3 Day FREE Trial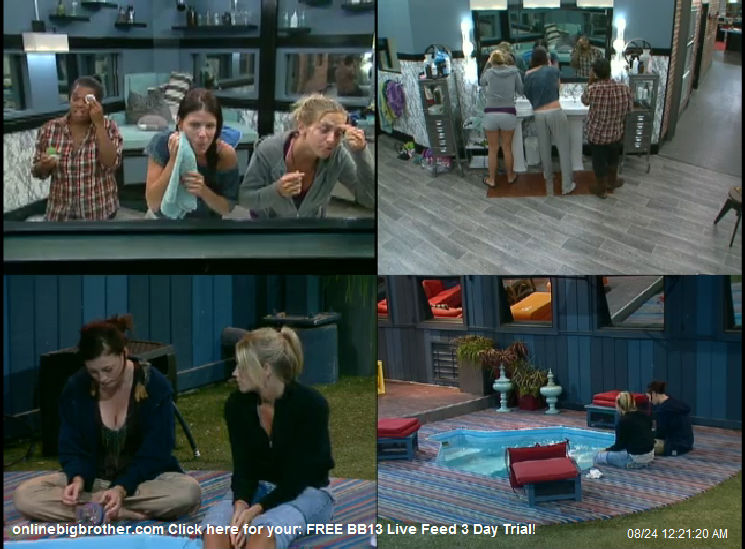 12:20am In the bathroom, Kalia, Dani and Porsche are talking and making fun of Rachel. They are making fun of Rachel about being pregnant. They make fun of Rachel's parenting skills. They joke that she would get her kid a boob job and that she would be drinking during the pregnancy. They head into the havenot room. Kalia and Dani talk about how much the havenot room sucks, its so cold and uncomfortable. Kalia is surprised they can eat suckers and asks are you sure? Kalia doesn't want one just in case. Dani complains that all those gross eggs made her stomach hurt. Kalia complains that her bikini line is sore from her panties and from her shaving. Kalia says that she is taking her parachutes off. Kalia says that she should get up to go take her fibre. Kalia and Porsche get up and leave the room. Porsche comes back to the havenot room and calls Rachel a stealer for decorating her wine glass. Dani says that she is leaving and when Adam tells her no she is just going to punch him and Rachel in the face! Porsche says then she would get to go to jury.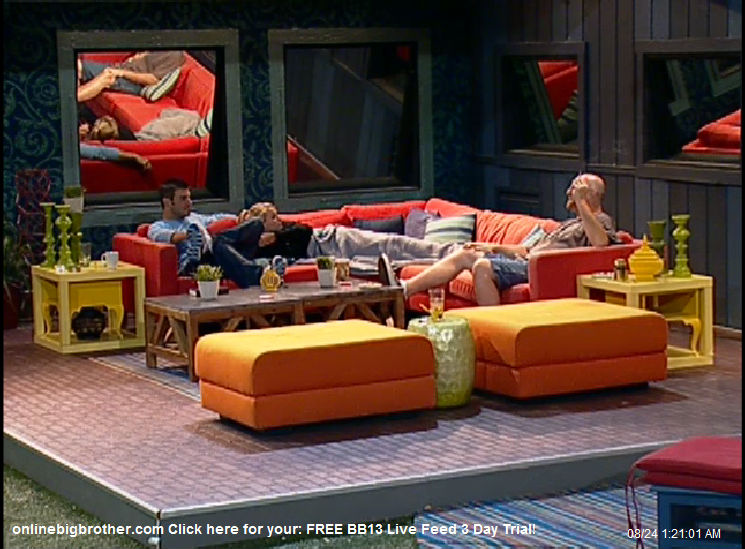 1am – 2am Adam, Jeff and Jordan are talking about Dani asking him to flip his vote and if he would work with her. Adam says that she said that she would brink her father to Hoboken for trivia night. Jordan says that it feels like Dick was never there. Jeff says if Dick stayed they would have never flipped. Adam says that he would have challenged dick. They talk about the beginning of the season and the first HOH competition. Jeff questions how many really threw the first HOH and says that once you moved you lost your grip. Jordan says that Dick was nice. Jeff says that his hacking and spitting was already getting on his nerves. Jordan says that Dick had energy… he sat up till 6am and then would sleep 2 hours and be fine. They talk about past competitions. Adam starts talking about how he can't wait for the next season of Big Brother to premiere. Adam says it's much easier to watch than play. Adam says that he doesn't trust Dani and says that she is his biggest target. Jeff says that she BLANK up bad. Adam says that she was bored and wanted to get in this game. Adam says that Dani used people in BB8. They start making fun of Lawon and his "big move". Adam asks why would you want to play the game with him, he never said a word. Jeff says that its going to be a different house without Dani. Jeff says that she made terrible BLANK moves, she should have let Kalia win the first HOH and Porsche the last one but she's too egotistical to let anyone else win. Jordan says that she can't wait to her speech. Jeff says that she is probably thinking about it right now and says that he thinks she will go classy. Jeff goes inside. Adam tells Jordan that he doesn't have any side deals with Porsche. Jordan tells him we need to stick together and that she will be happy no matter who wins from their alliance. Adam says he and Shelly compared notes and found out that Dani told Adam that Shelly was going home and that she had told Shelly he was going home. They talk about how they can't trust Dani.
See What They Can't Show You On TV! SUPERPASS – 3 DAY Trial!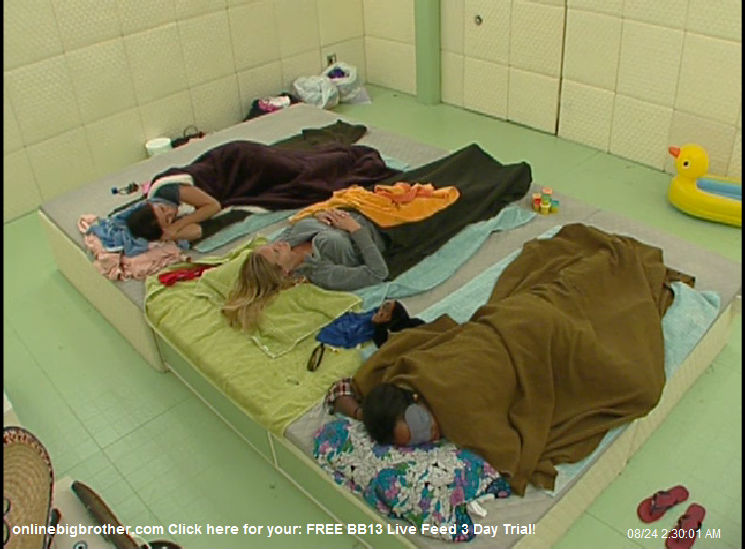 2:30am In the havenot room, Adam and Kalia talking. Kalia is talking about a final four deal with Shelly, Porsche, Adam and her. Kalia says that she thinks they have a chance and that it's a smart move. Adam says that Dani is a strong competitor and that he doesn't think that he can beat her in the end. Kalia wants to know how he will be after Thursday because she says that everyone thinks that he's with Jeff …just like people think I am with Dani. Kalia tells him that he needs to pick a side. Meanwhile, up in the HoH room Jeff and Jordan are talking about Thursdays live show. Jeff wonders what questions Julie Chen might ask him. Jordan says that she wonders what the people out there are thinking and if they are like awe poor Dani? Jeff says that some people are happy and some are pissed.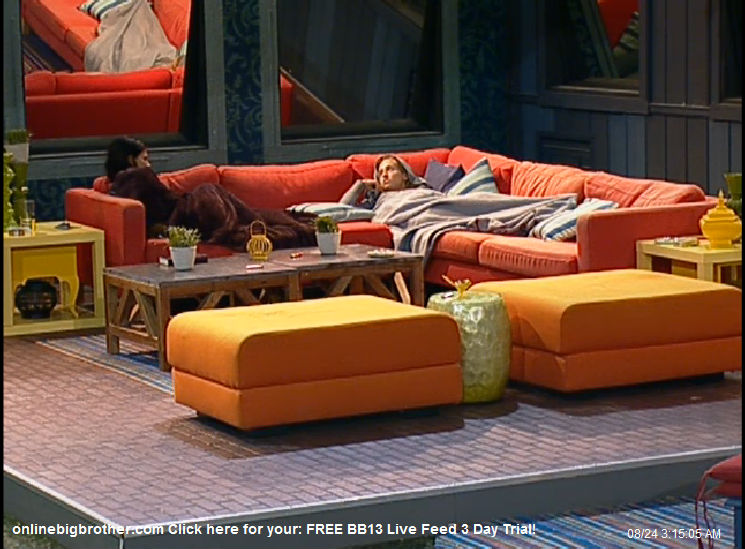 WATCH the houseguests LIVE on SuperPass!
Click here for your: FREE 3 Day TRIAL!
3am Out in the backyard, Dani and Porsche are talking. Dani complains that she thought that she would make it to the final and that it sucks she is going home. Dani tells Porsche to stay close to Shelly and talks about how their relationship has improved. Porsche says that Adam would have been great to have on their side but that she's not giving up and says that there has to be something she can say or do to get him on their side. Porsche says that she offered Adam a final four deal with Dani, Adam, Porsche and Shelly and that she tried to stroke his ego but it didn't work. Dani says that she wonders if Adam is 100% sure that he's voting her out. Porsche says that if Dani leaves she can only trust herself. Dani says that Kalia is not stupid and tells her to go with her gut instinct. Porsche tells Dani that if she is leaving talk to Kalia to make sure she doesn't think I was working against her. Dani says that she will talk to her and Kalia together tomorrow. Dani says that Kalia is not stupid ..she knows she has to work with you but she is stupid in some of her game moves gets way too stressed out and over thinks everything. Dani says that she should have gotten Jeff out week three and even if he came back in the house that it would have been a great game move. Dani tells Porsche that during the double eviction she needs to grab the people that you need into the havenot room or where ever and talk to them, you have to keep talking to those people and not let them get out until the vote… because the last voice in their ear matters the most. Dani says that no matter what you have to get either Jeff or Jordan out next week or you don't have a chance.. you won't have the numbers. Dani says that if Jeff is evicted.. Rachel is gonna flip flop. Dani says that as much as you want to evict Rachel you have to keep her, at least for a couple of weeks. Dani wonders why Adam is even here if he isn't going to make any big moves. Dani says that he will be remembered as the guy in the elf suit. Porsche asks Dani what she will be remembered as. Dani tells Porsche that she will be remembered as the blonde bimbo with big boobs! Porsche adds ..and a big butt!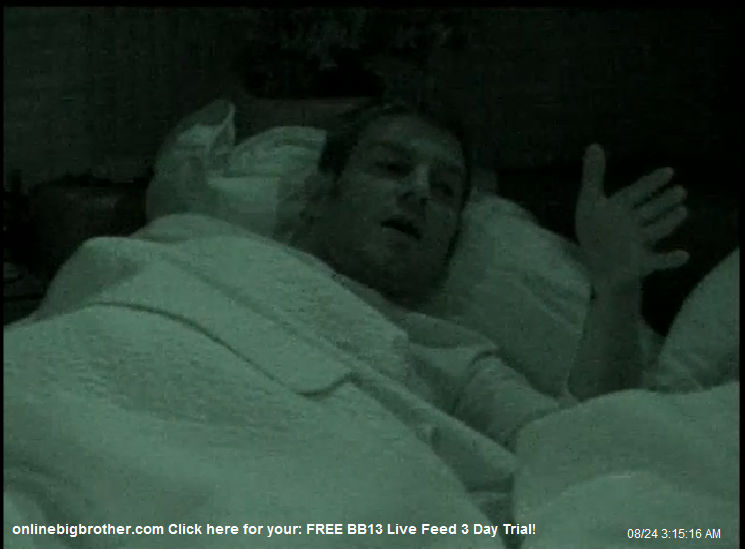 Meanwhile up in the HOH room, Jeff and Jordan are talking. Jeff says that they are working harder this time and that's why he is stressed out the last two days. Jordan tells him not to be stressed out and just because he can't play in the HoH. Jeff says that he doesn't want to be knocked out by a floater. Jeff asks where the chess pieces are? They are wonder what the point of taking them was unless it was for money like how Ragan was the saboteur. They laugh about the saboteur tasks and how much per money he got per task. Jordan keeps saying task instead of tasks. Jeff tells Jordan its tasks not task …just like it's not three dog but three dogs. They are laughing. Jordan tries to say the word tasks but can't and says it doesn't make sense to her. Jeff tells her to just say that he had to complete more than one task. They start talking about the missing items again. Jeff says that if no one is America's player ..then where the BLANK did those chess pieces go. Jeff and Jordan both talk about how they are going to look for the missing items tomorrow. Jeff says that if they find the chess pieces …he wants to plant then near Adam's stuff to freak him out. Jeff and Jordan decide to go to sleep. Jeff says I love you stupid. Jordan says I love you too.
4am All the house guests are now asleep…
6:30am All the houseguests are still sleeping..
Sign-up NOW and watch the houseguests live!
Click here for your: SUPERPASS – 3 DAY Trial!
If you like this site and want to help us keep it running please consider donating, Your donations go directly to paying the server and bandwidth fees. Donate Link

Big Brother 13 Live Feed Image Gallery
Follow: @BigBspoilers and @Dawgsbigbrother on Twitter for recent crazed out spoilers. Theres also our Facebook page.
Big Brother 13 Spoilers POLL CAST your VOTE!

Share it YO!!
Tweet