POV Holder:
Jared
Next POV
April 9th
POV Used
Yes
POV Ceremony
April 11th
HOH Winner:
Maddy
Next HOH:
April 14th
Original Nominations:
Jared and Kelsey
Current Nominations:
Kelsey and Raul
Last Evicted Houseguest
Paige, Sharry, Christine, Kelsey, Loveita, Dallas, Mitch
Have Nots
Raul, Nikki, Kelsey
Watch the Big Brother Canada 4 Live Feeds anywhere in the world with HideMyAss VPN.
ALLIANCES IN THE HOUSE
There will likely be a lot of alliances during the season – keep track, read our alliance help guide.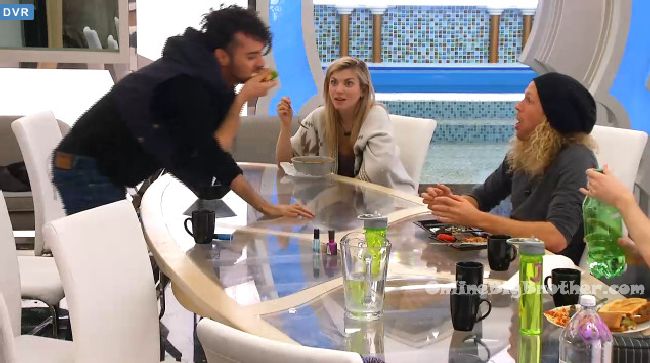 2:30pm
Big Brother ends the lock down. The house guests head inside to make food. Tim makes fish burger and sits down to eat it. Rual is eyeing it up. He says Oh my god, OH MY GOD! I CAN'T TAKE IT ANY MORE!! All of a sudden Raul rips part of Tim's burger off his plate and eats it. Rual says F**K IT!! Tim says if you're going to do it, eat more! Make it worth while! Raul then grabs some of Joel's pasta and roast beef eats them. Rual says it tasted amazing. That was so good. That was the best thing I've done in my entire life. Tim says they're having a meeting right now on what to do. Tim tells Kelsey that she didn't stop him. Kelsey says how do you stop that. They talk about how Raul turned into an animal. Raul says I'm such a pig! I'm a bush pig! Jared tells Raul he should go in there (the diary room) and apologize. Raul says I'm f**ked! I couldn't handle it for another 2 days. I just blacked out! Tim says it wasn't a bush pig move… it was a warrior move! Tim asks are you afraid of the consequences? Raul says yeah. Tim says no, that's the wrong answer. Tim says I think its great when people are pushed to their limits. That's just like what an animal would do. Like a dog. There's got to be consequences otherwise people would r@pe and murder each other. If I was big brother I would strap you down and shove a tube down your throat and feed you slop till you can't take it any more. I think you need to be humiliated. What's important to you ..fashion. Tim says its very fascinating what just happened! That will do me for the whole day.
In the bedroom – Tim, Kelsey, Nikki and Cassandra are talking about watching Raul eat food while being a havenot. Nikki is worried she's now been a havenot for nothing and that the whole house will be punished. If that happens I'm done!
3:30pm Hot Tub room – Jared, Kelsey, Nikki and Raul are talking. Nikki says that she hopes she isn't punished for Raul eating. I've already been pushed as far as I can take it this week. Kelsey says I think the worst would happen to us is that we're just still havenots. Raul tells Nikki that he thinks he needs to talk to the doctor today. Did you talk to the doctor? Nikki says yeah. Raul says he didn't know what he was getting himself into. Nikki asks have you asked to go in the diary room? Rual says yes but they won't let me in. Nikki says we all do things we regret and we learn from our mistakes. And its okay to cry.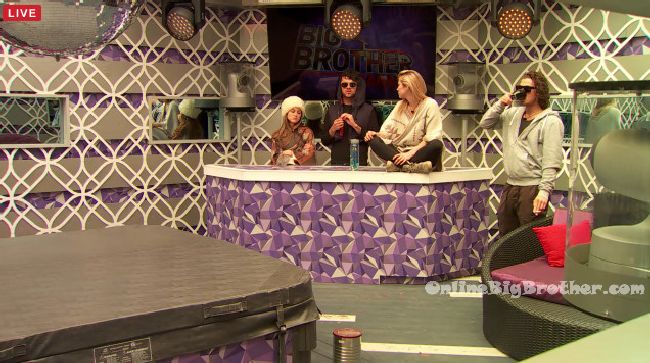 3:43pm
Big Brother calls all the house guests to the living room. All the house guests gather in the living room. Maddy says she can't wait to see what happens. I'm going to laugh in his f**king face. Nikki says they're taking all the food I bet. Jared says I think we're all going to suffer for this one. Raul says sorry guys.
3:50pm – 4pm Big Brother says house guests settle. Big Brother then shows the video of Raul eating on the tv screen. They then play it in slow motion. Big Brother then says Raul for breaking the rules of being a have not… You Rual will be put into isolation until tomorrow morning. Please proceed into the backyard. Raul gets up and says bye guys. Rual heads to the backyard and big brother closes the backyard door. Nikki says I'm sorry guys but he's just dug himself right out of here. Jared says we should pretend we're getting a party in here. Cass says he can't campaign for himself out there.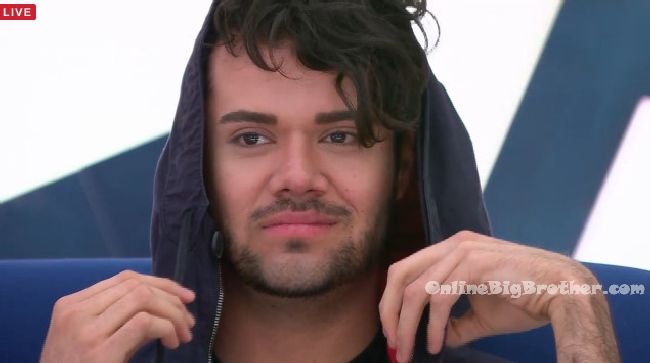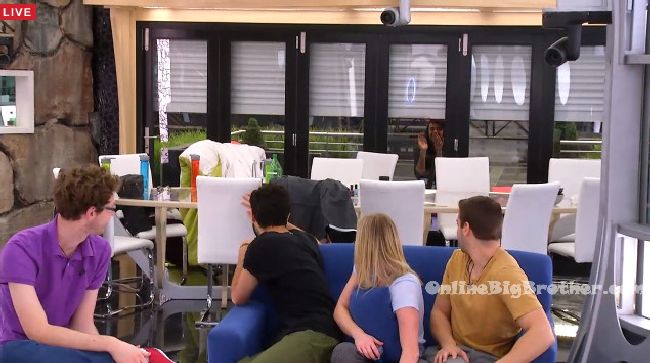 4:15pm – 4:35pm In the bedroom – Phil says if I win HOH .. I would put up Nikki and Tim in a triple eviction and everyone knows to use the veto if they win it. And then I would put up Maddy and get her out or Jared. Joel says if it isn't used then you run the risk of sending home either Tim or Nikki. We would have to be absolutely certain who ever won the veto would use it. Phil says Jared never talks game to me. Nick joins. Joel asks in a triple eviction do we want to be in good with one side or another? Joel wonders if it would be better to put up strong competitors so they'll win it and then put up who we want. Phil says I don't really want to put up Maddy because she was good to us this week. Nikki joins them. She's annoyed about Raul breaking the rules. Phil asks what do you want Nikki. Nikki says I don't know, I'm not here to win. Nikki says I hear Jared whispering to Kelsey every day .. and I think they're making fun of me. Phil says I don't think Jared would make fun of anyone. Nikki leaves. Phil tells Joel and Nick splitting up Jared and Kesley might be better. I don't know if I can work with Jared. Joel wonders if Rual is a bigger threat. Phil says lets just get Raul out then.
4:45pm In the HOH bathroom –
Nikki asks Tim and Cassandra if they can make an alliance deal. Tim says he doesn't makes deals. He then tells her she's a little late to the party. He tells her that she wasn't there for them when they needed her to vote out Dallas. Tim says I'm not going to give you a false positive of hope. You're fine.
6pm – 6:20pm In the storage room – Kelsey and Cassandra are talking. Phil and Nick walk in and Kelsey brings up the deal they made with Maddy. Phil and Nick start getting annoyed because they've been asked about it 3 times today. Phil says there was no deal .. it was an eye for an eye. Kelsey keeps telling them to calm down. Kelsey then goes to the havenot room and tells Jared about the conversation. Kelsey says that Tim or Jared will get the brothers out. Jared says I just want to slap some sense into those little boys.
Share it YO!!
Tweet