POV Holder:
Jared
Next POV
April 9th
POV Used
Yes
POV Ceremony
April 11th
HOH Winner:
Maddy
Next HOH:
April 14th
Original Nominations:
Jared and Kelsey
Current Nominations:
Kelsey and Raul
Last Evicted Houseguest
Paige, Sharry, Christine, Kelsey, Loveita, Dallas, Mitch
Have Nots
Raul, Nikki, Kelsey
Watch the Big Brother Canada 4 Live Feeds anywhere in the world with HideMyAss VPN.
ALLIANCES IN THE HOUSE
There will likely be a lot of alliances during the season – keep track, read our alliance help guide.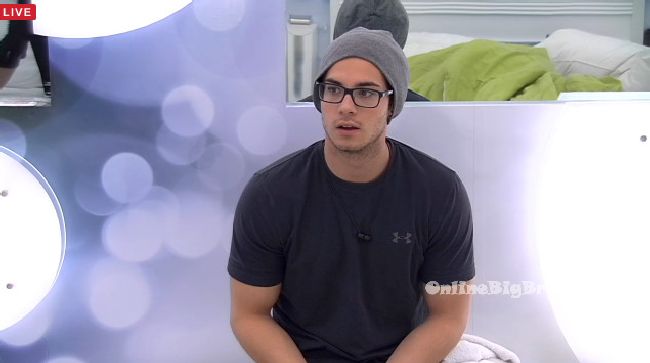 10:30am In the bedroom – Raul wants to talk to Jared and Kelsey. Raul tells Jared I'm going to have to go against you guys now. Jared asks are you f**king kidding me? Kelsye says you can't be mad. Raul says yeah. You can't be mad though, that's the thing. Jared says whatever and leaves. If you're going against me then why do I need to humor you. Kelsey tells Raul its too early for this. He'll feel better after his morning breakfast and cigarette. Raul and Kelsey hug and leave the room. Raul says he's so mad. Kelsey says he'll be fine. Kelsey and Jead head out to the hot tub room with Tim. Tim says we need a plan guys for next week. Jared says Rual just said he is going against us now. He's going to go to the brothers. Tim tells them to work on Nikki. She's already angry at you. And that's just how Nikki works. If you do one thing… Kelsey says it was literally nothing. Tim says just work on her. Kelsey says she literally woke up in her sleep and got made at us while we were sleeping. Tim says just keep her on our side for now and then she'll go. We just need her vote. Jared says its just me, Cassandra, you and Joel. That's all we need.
By the pool – Rual asks Joel I just want to know where you stand with me, or Jared and Kelsey? Joel says there are pros and cons to both. Rual says this is my deal, right now I'm an outcast. I have nobody. If I get you, Maddy, Ramsey and the brothers we can at least create a group. I know at this point Kelsey is going to stay because she has Cassandra campaigning for her and Cassandra has Tim. My deal is that we stick together and start working together. With me leaving they will probably start picking off the people that aren't doing a lot in the game. I have to go against Jared. Jared is always going to put Kelsey first before me. Joel says I see what you're saying but I'm not going to say one way or another right now.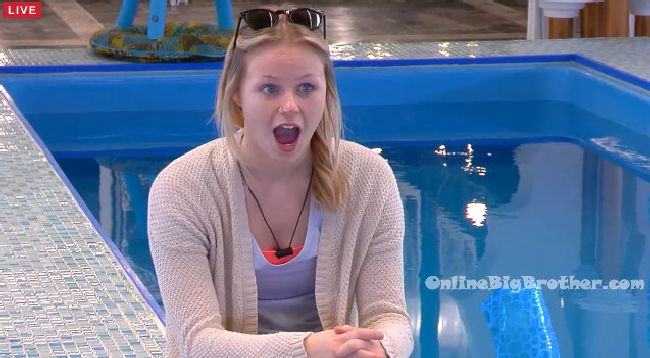 11:20am – 11:45am By the pool –
Ramsey, Cassandra, Maddy and Nikki are talking about Raul. Cassandra says if Raul says one think to me I will have a BB scene …I will go Rachel Reilly Reilly on his a$$. Nikki talks about how Rual was asking her to help him get on Big Brother UK. Nikki says you're the last person I would help. Maddy says that he is going to get so f**king roasted on twitter. Like really bad. Nikki says he is suck a bully. Ramsey says goodbye Felicia. Maddy says I am not f**king hugging him. Bye B***H! Cassandra says that if Kelsey wins HOH she would probably put me and you up because I've distanced myself from her and am friends with you now. Maddy says Kelsey can't win anything to save her life. Maddy says if its mental I know I can win it, then I could be HOH back to back. Cassandra says If I go to the end with them I am 3rd… I need to start thinking about my game. Nikki impersonates Rual when he gets voted out and says are you kidding me? I'm sure I'm not suppose to be going. Check the votes again! This is my house!
12pm – 12:50pm By the pool – Tim and Maddy are talking extensively about the movie "Into the Wild". It was the movie they watched while being head of household. They finish their movie club talk. Tim comments on how he thinks this is the last time he'll do big brother.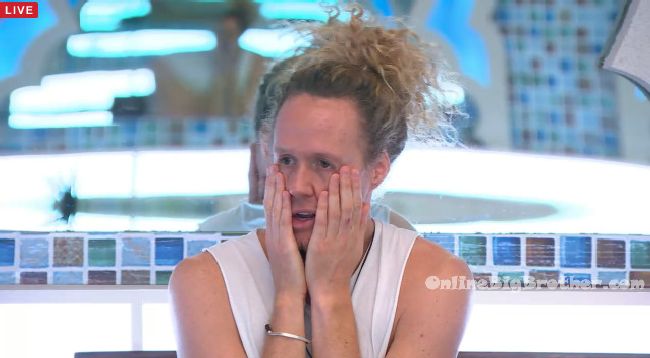 1:45pm The house guests are on a backyard lock down. They're all lying around. Tim is chatting about what animals would win in a fight: Great white shark vs a polar bear, etc. Tim then starts talking about the House Guest backyard photos. Tim thinks Paige looks like she's in her 30's not 19. He wonders if Kelsey had gone home the first week if Paige would have gotten together with Phil or Nick and they would have been the Jared/Kelsey of the house.
Want to watch the rest of big brother Canada 4 & all of Big Brother 18?
Sign up for the 6 month plan with HideMyAss VPN.
Share it YO!!
Tweet