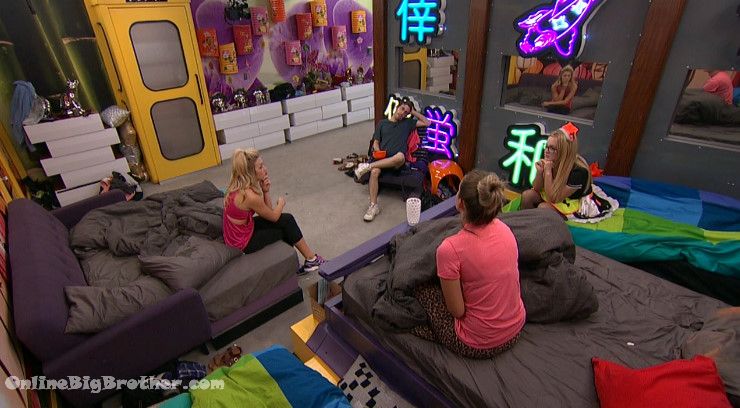 5:59pm Ball smashers
Discussing getting Jusitn to vote out Neeley
Scott – if Justin isn't down with it.. I don't know what else I can do.. .
Scott tells them his plan is to get America's vote by shit talking Danielle. He's thinking America doesn't like Danielle so if he positions himself as the advisary of Danielle maybe they'll keep him in the house.
Scott – likes that's my only plan.. pots and pans in the London room… WAKE UP DANIELLE Eval Dick style..
The girls tell Scott to chill about his plan until they get a chance to talk with Justin and get a feel for it.
Alex is listing off possible deals they could make with Justin.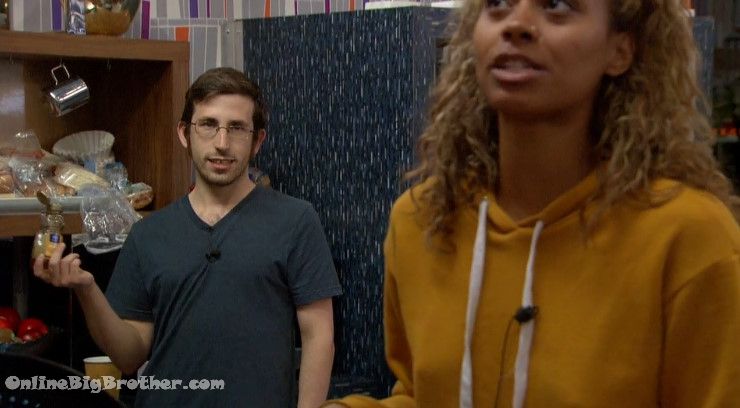 6:13pm
Scott messing with Danielle in the kitchen about Shane's speech. Jason and Justin also in the room.
Danielle – I can't wait for you to go home.. God I can't wait for you to go home..
Scott keeps trolling her
Danielle – you're going home everyone is voting for you to go home
Scott – oh are they.. OK .. that's news to me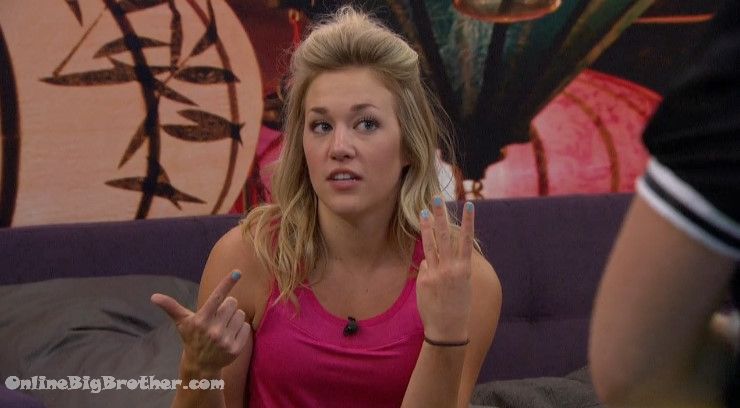 6:15pm Alex, MOrgan, Shelby and Whitney
Scratching their heads why Scott is doing what he's doing. Morgan says she' no way using the veto on him now.
Alex – I didn't know he was goign to do that..
they laugh..
Counting the votes.. they have 3 votes on their side and 3 on the other side.
Shelby – America is the tie breaker
They wonder if they can get Justin's vote.
Whitney doesn't think Justin will lie to them.
Alex says if Scott is still in the game he's goign to be a huge target. Neeley is a threat to win this game.
Whitney says Justin isn't playing strategically..
Jason comes by tells them Scott is being a d1ck "he's being arrogant"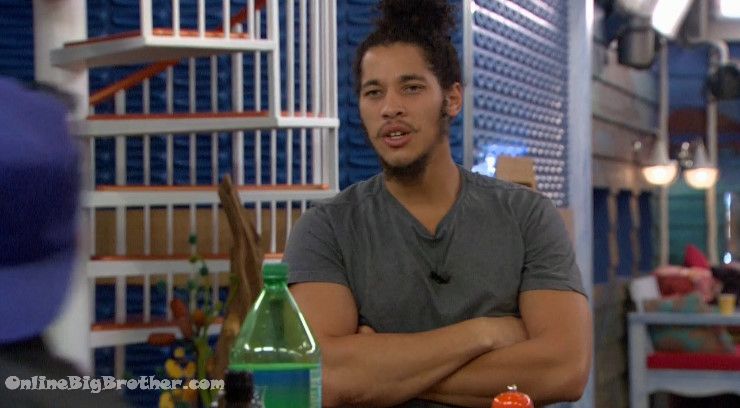 6:33pm Kryssie and Justin
Kryssie – Scott seems to think they are goign to vote out Neeley ..
Justin – really
Kryssie – you go to make sure your girl MOrgan…
Kryssie – it's dead even
Kryssie tells him she's putting Whitney up when Morgan uses the veto.
Jason joins them says he thinks America will vote out Scott but they still need insurance.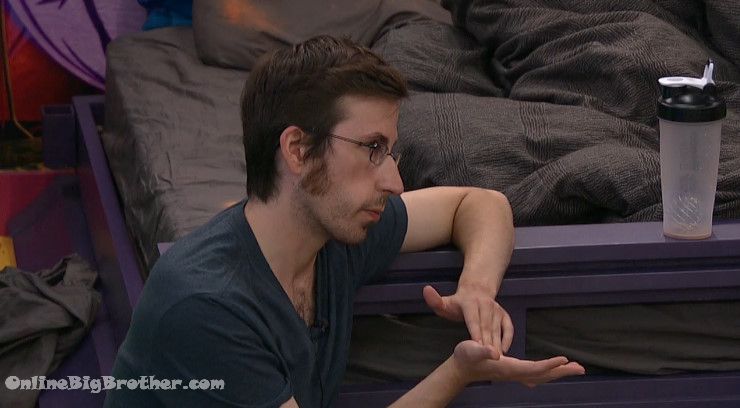 7:36pm Alex, Scott and Whitney
Scott says they have a much better shot now. "I have way more faith in Justin than Shane and America"
Scott – our odds are way better than week 2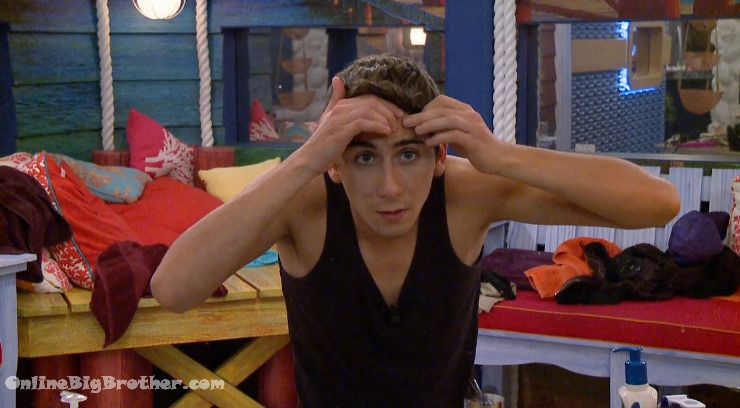 7:39pm Bathroom Jason and Shelby
Jason tells her they need to stop lying about their votes to regain trust. Shelby doesn't think neither side will be able to rebuild trust.
Jason says the 4 girls are close and they will get rid of Scott before they get rid of Shelby.
Jason – to walk in on him(Scott) cheering… he's all about TV time.. we gave him his tie vote.. ugh..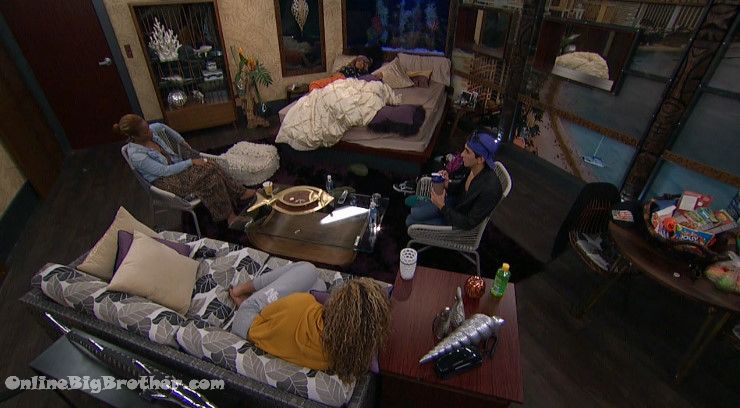 7:47pm HOH
LNJ complaining that the other side is still playing games with the vote. They want everyone to vote out Scott.
Jason calls Shelby, MOrgan, Alex and Whitney "Centipede of 4 b1tches"
They agree to all vote out Scott and they will try to get MOrgan's vote. Neeley will work on MOrgan.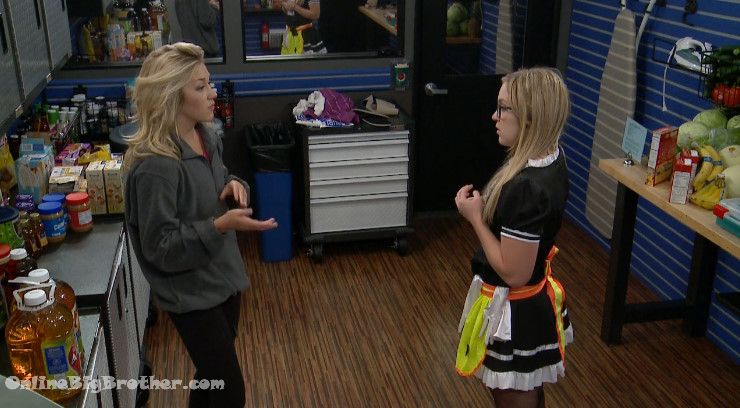 9:04pm Morgan and Alex Storage room
Alex saying they need to try and get Neeley.
Morgan says keeping Scott is more beneficial for Alex's game and keeping Neely is beneficial for Morgan's game.
Alex reminds her they trust each other 100%.
Alex says Scott annoys her and she feels that he gets mistreated by the other side. Says Scott will always vote for her and Morgan.
Share it YO!!
Tweet