Monte get Head of Household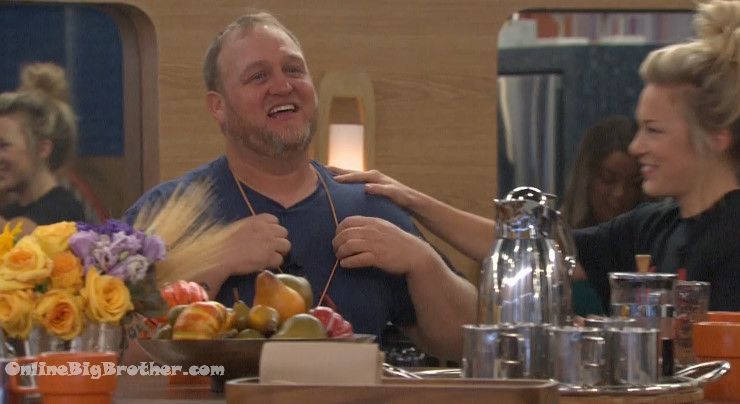 10:15am Morgan infected Cornbread.
Corn – I got the crabs..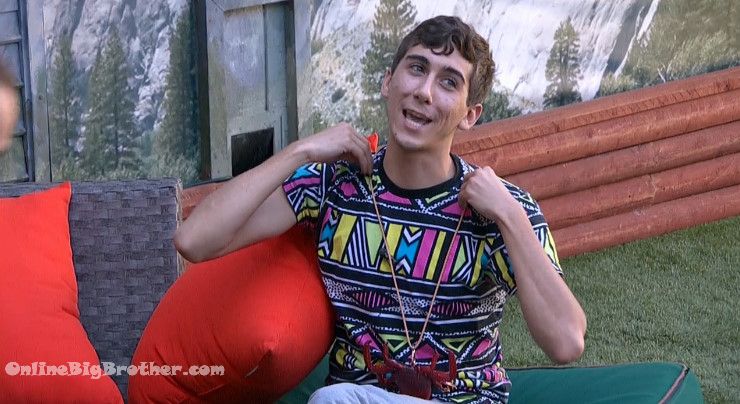 11:04am Cornbread infected Jason
Watch the FIRST WEEK of BBOTT for FREE! Click here for your: 1 Week FREE Trial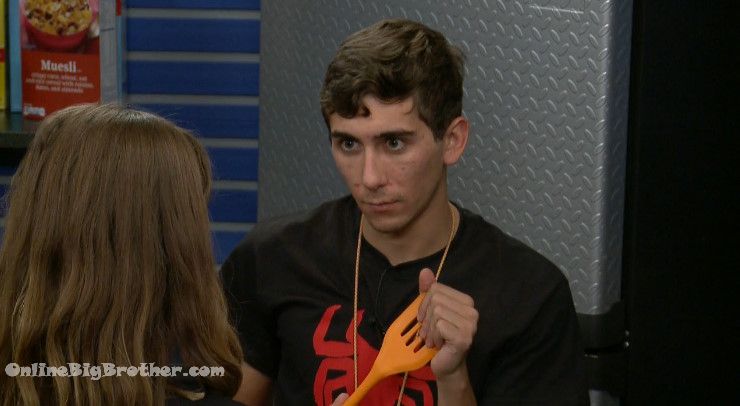 11:39am Jason and Shelby Storage room
Jason tells her he'll be giving Whitney the crabs. He hopes that Whitney will let Alex be the HOH. Jason says that Whitney is a Big Brother fan. He told her not to worry she's good with him.
They agree Justin is really nervous about Justin.
Shelby says if he knocks out Alex Whitney will give the HOH to Monte. If Whintey wins the HOH the guys will run it so it'll the be same as if MOnte won.
Jason says Cornbread has made it obvious that he's coming after him.
JAson – Don't worry i'm coming for you too b1tch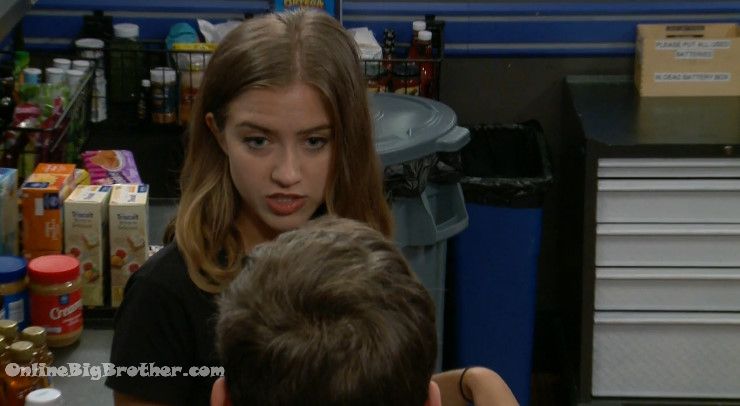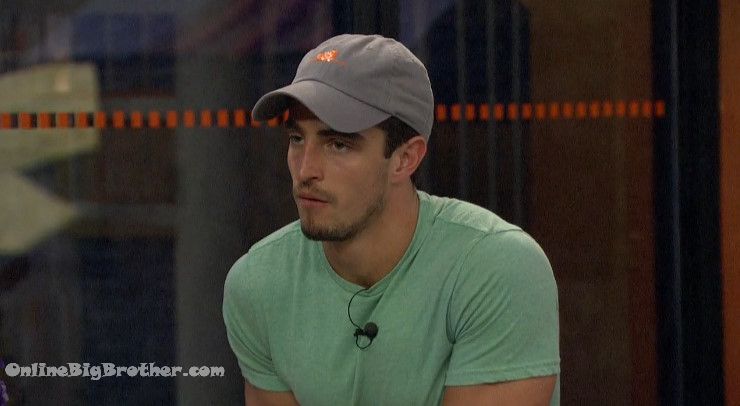 12:04am Kitchen Alex and Monte
Monte says that Jason told him they are good but he doesn't believe him, "He sees me as a threat".
Alex says Jason went up to Morgan trying to get teh HOH.
Monte says his plan is to put up Jason and Kryssie.
Doesn't sound like Monte is set to put him up adds that he might put up Justin. Calls Justin a floater but adds Justine can cook they might want him to stick around. Monte is wondering if they should put up a pawn and their target or 2 targets. They agree to talk about it later.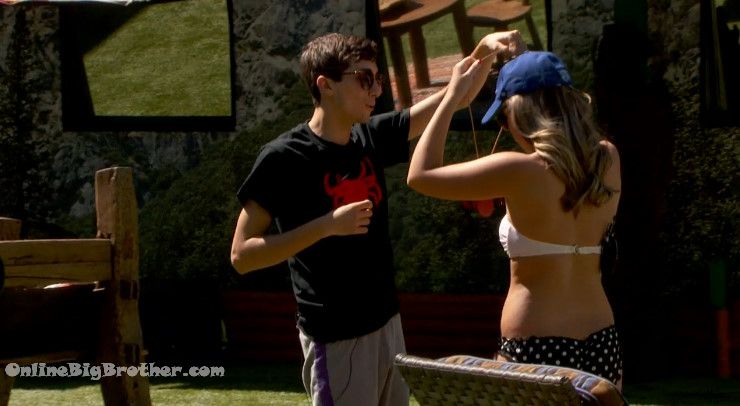 12:21pm Jason infected Whitney.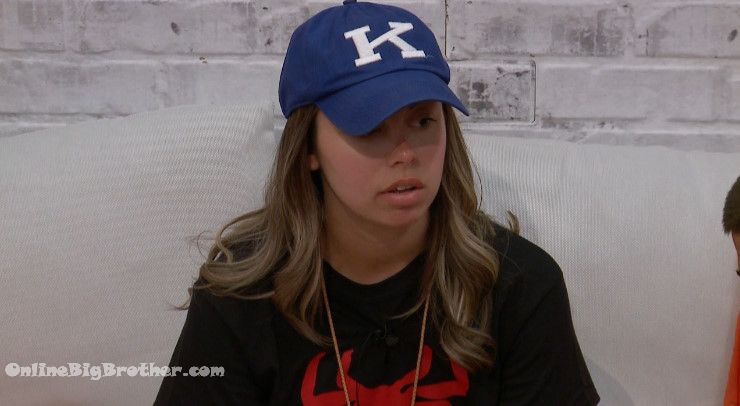 12:50pm Whitney and Monte
Whitney tells him she's giving him the HOH.
MOnte – I got your back.. you and Alex
Whitney is worried about next week. Monte says he's the one putting 2 people up he's taking the risk. Monte adds that JAson will put him up.
Whitney stays Jason is scared of her "He thinks I'm goign to give it to you"
Monte says Jason thought he was goign to be HOH "He told me i'm safe .. I don't believe him he knows how to play the game"
Whitney – he's scared of me..
Whitney thinks it's because everyone likes her "you and me are strong to work with"
Whitney wants them to leave the the game talk until he gets he HOH, "Jason is obviously targeting me and you"
Monte agrees.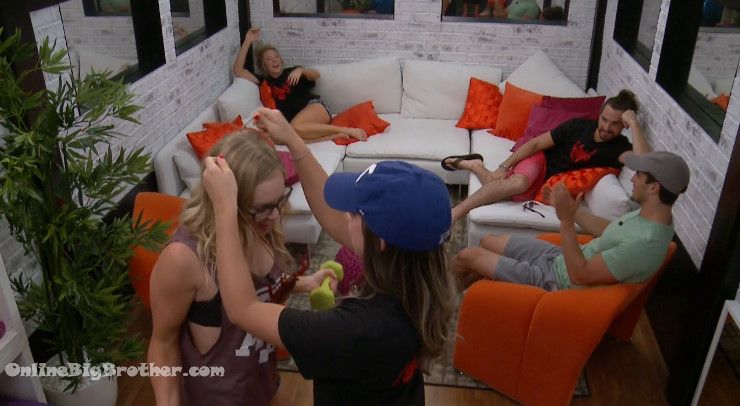 1:02pm Whitney infected Alex.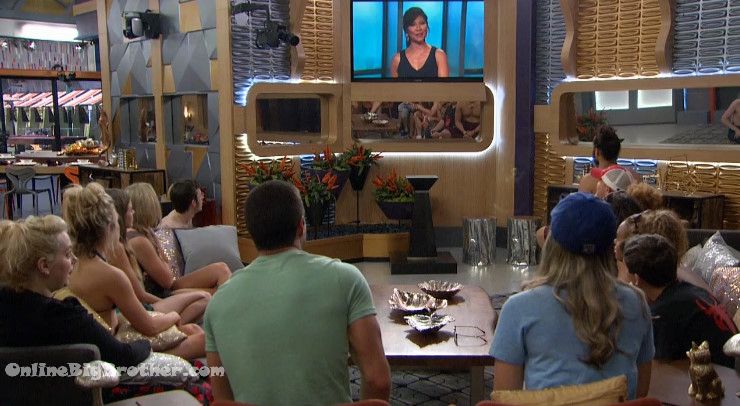 2:05pm Living room
Julie Chen – Congratulations to our First Head of household for Big Brother rover the top
HOH must nominate 2 houseguests for eviction but this season there are no Nomination ceremonies instead twice during the HOH's reign he or she will told by Big Brother that it's time to make a specified number of houseguests safe.
In the end 2 houseguests will not be safe leaving them the nominees for eviction. THe Power of Veto is in play this season the nominees will have a chance to save themselves. Julie adds that even if you are made save you can still be a replacement nominations. The only way to be save from being a renom is to have the Veto or be HOH.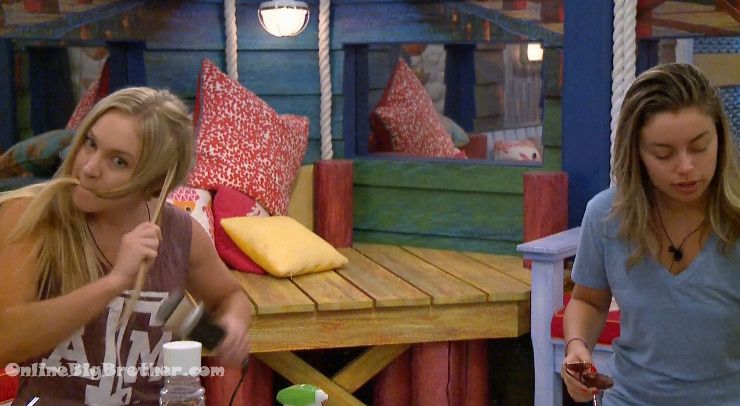 2:52pm Whitney and Alex Bathroom
Alex says she talked to Morgan last night she's going to work with them.
Alex – she says she trusts Shelby the most
Whitney is surprised by this
Alex changes it says Morgan "Vibes" with Shelby but can't read her fully.
They talk about Morgan "Working the other side of the house" and reporting back to them.
Alex calls Cornbread a wildcard, neither of them trust him.
Whitney says Cornbread wants to make big moves, "He did take out Jason"
Alex – "I don't trust him i'll pretend to.. he gives me this vibe like a James he'll make promises.. "
They agree Corn is playing the nice guy trying to be everyone's friend.
Whitney – I don't want to put him up
Alex – not yet..
Whitney – he's not voting for Jason's side.
Alex says Cornbread is going to try to make deals with Jason.
Whitney says Shane is in his ear.
Whitney – I don't think Shane wants to work with us
Alex says Shane is making deals with everyone in the house.
They agree MOnte can be trusted and they both trust each other.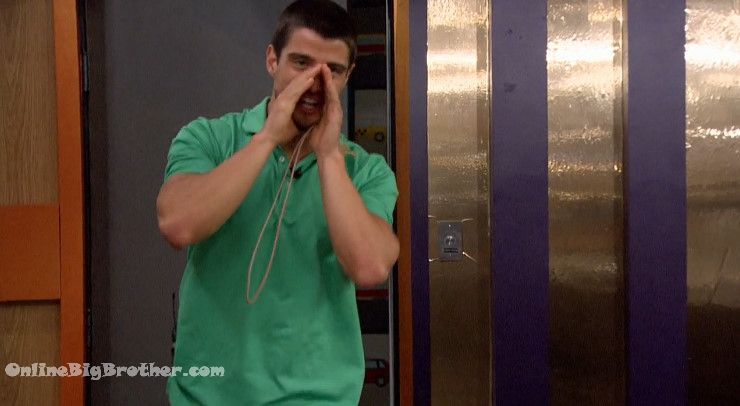 4:23pm Who wants to see the HOH room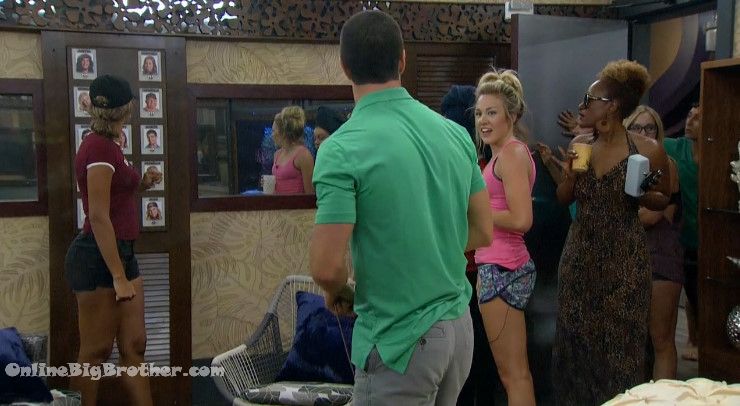 Monte tells them not to touch the buttons on the wall production told them they are doing something with that later.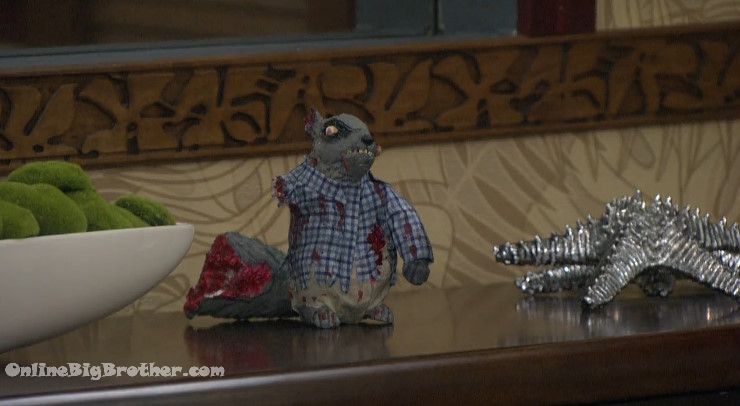 4:53pm Jason says he wanted the final decision. (With the bug) Justin says there's a good chance he's going to get f***d this week. Jason says Monte has no personality
Kryssie joins them Justin leaves. Jason says he might be safe because of the work he's down it Monte but is worried about Justin. Kryssie is worried she might go up.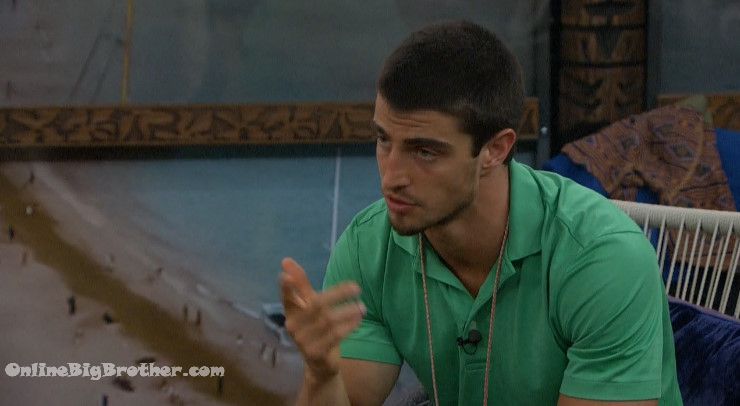 6:35pm HOH Monte and Scott
Montes asks him what kinda reads is he getting?
Scott says Jason told him that he's really tight with Danielle. Adds that Jason wants Monte, Danielle and Shane to stay for a long time in the house because they will be the targets.
Scott says he's been fishing for information from Jason, "I feel bad for throwing him under the bus"
Scott suggesting that he puts up Kryssie is the perfect pawn
Monte wants to put up a strong character and a floater thinks Kryssie is a floater.
Scott tells him that Jason doesn't want to go directly against Shane and him
Monte says Jason is realizing that they have power and they have the votes..
Monte says even if he goes up next week he feels he's got the votes to stay
Scott says he loves Justin "hes a great guy" but thinks "he's a wildcard"
Monte wants to get Jason out of the house but he doesn't want to put him up and he doesn't leave.
Monte is wondering maybe he should put up Shelby and Kryssie
Monte tells Scott to act like he doesn't know what is going on. Tells him he's safe along with Cornbread, Shane, Whitney, Alex and Danielle because she's close to Shane
Scott says Neely and Kryssie are very close.
Monte says he's "Handicapped" himself because he's been too nice and will have to make two enemies.
Scott reminds him they've been in the house for 3 and a half days
Monte says Jason and Shelby might be good nominations.
Monte – Jason is one of those guys you don't want to touch him because he's such a big name..
MOnte adds he has to go after Jason because Jason is coming after him "He's been taking note of who the leaders are"
Monte says Neeley he will not touch this week.
SCott keeps reminding him to keep a open mind.
Monte plans on hauling everyone up into the HOH to talk..