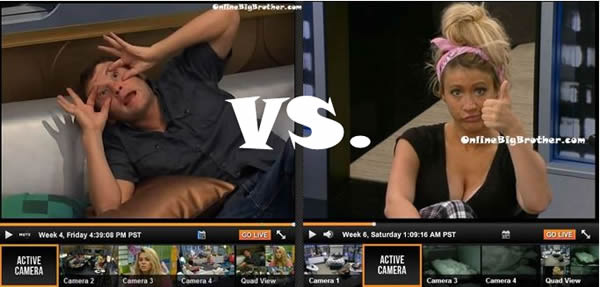 Tonight on the Special Eviction Episode we find out the actual results of what has transpired over the last couple days. Big Brother has blocked the live feeds since 11am yesterday morning to keep the eviction and HOH competition a secret until tonight's television broadcast episode. Unconfirmed spoilers of the results were leaked last night after the episode was taped and tonight we find out if those results were true or false.
Actual Results:
Andy votes to evict: JUDD
McCrae votes to evict: JUDD
In the event of a tie Spencer will break the tie and decide who goes home.
JUDD was evicted by a vote of 2 to 0
FINAL 4 House Guests: Andy, McCrae, GM and Spencer
HOH WINNER: ANDY (unconfirmed spoilers are right!!)
The winner of the HOH is automatically in the final 3. The House Guest that wins the Veto competition will also be in the Final 3 and get to decide who to evict. This is the most important Veto competition of the season.
What's to come in the FINAL WEEK?
When the feeds come back we should know who won the POV..
Thursday
Someone goes home and we go from 4 to 3 house guests
Whoever wins the POV has the one deciding vote to evict.

3 PART HOH Competition leading up to the FINALE on September 18th:
FIRST of the three part finale HOH competition is played. This will probably be endurance.
SECOND part of the three part finale HOH will be played over the weekend / early next week. This one is usually the skill/physical competition.
THIRD part of the three part finale HOH will be played on the finale episode. This competition is a question competition where the winner will decide who they want to take to the finale 2. The final 2 house guests will then answer questions from the jury members and the jury members will then vote on who they want to win Big Brother 15.
Feeds come back after the west coast show airs.
Big Brother 15 Live Feeds: FREE 2 DAY TRIAL
Please consider donating. Simon and I work 24/7 all season long to bring you all the live feed updates and spoilers. ANY amount is greatly appreciated! Your donations go directly to paying the server and bandwidth fees required to run this site.
[polldaddy poll=7387228]
Use the Big Brother Live Feeds to FLASHBACK to SEE what they can't show you on TV:
BB15 N!p Sl!ps / N*des