POV Holder:
Kevin
Next POV
April 3rd
POV Used
Yes
POV Ceremony
?
HOH Winner
Bobby
Next HOH
April 1st
Nominations:
Kevin Cindy and Brittnee
Have Nots
Jordan, Brittnee, Naeha, Godfrey
POV Players
Godfrey, Willow, Johnny, Britt, Kevin, Bobby.
Jordan is the VETO HOST!
If you are outside Canada and want to watch the FREE Big Brother Canada Live feeds sign up for a VPN service here https://www.hidemyass.com/vpn/r16399/. It's safe to use, easy to set up, and cheap. Need to know more check out this post explaining how to set it up.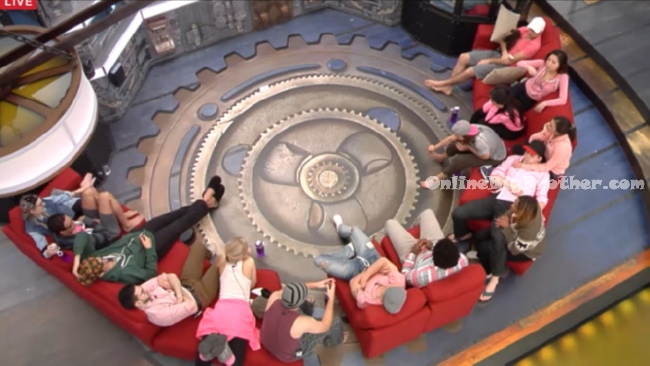 3:50pm All of the house guests are sitting around in the living room talking about random things. Like to catch a predator, movies, etc. Bruno and Graig suggest they each stand up and tell Big Brother to call them out if they were the ones that broke the camera. Godfrey says I think my idea is better where we all line up and each go into the diary room… Graig says we did that already! Godfrey says Oh I thought we were just supposed to leave the HOH room for 5 minutes. I thought only the person that did it was supposed to confess. The others tell him to go in and confess to everything he's done wrong. Sarah starts crying. She says that she feels like she's going crazy. It 100% could have been her and she's going crazy. Everyone says that if someone did it as an accident, no one will be mad at them.
"Big Brother if it was me, please expose me to the rest of the house"
Ashleigh and Naeha are in the kitchen making slop with condiments for everyone. They talk about how the person that damaged the camera had the opportunity to confess in a good way and now its just awkward.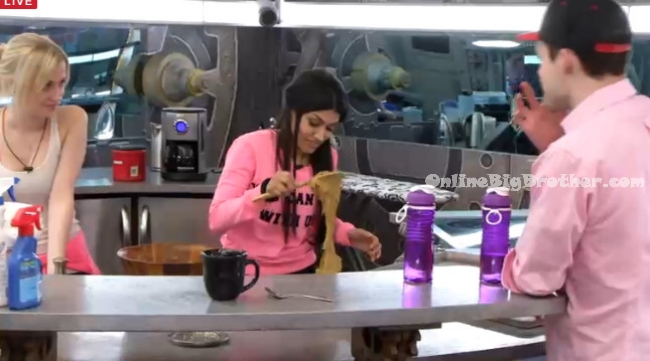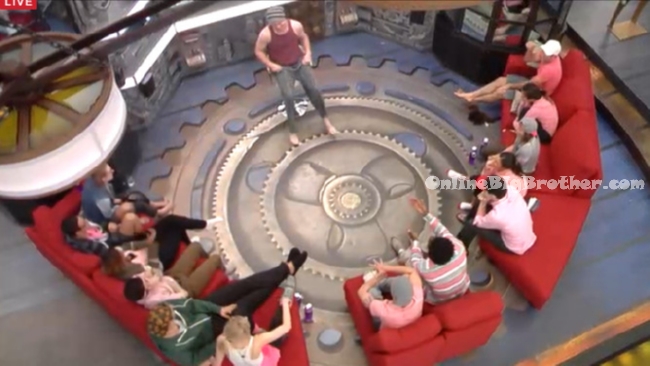 4:10pm – 4:30pm All the house guests stand up and ask Big Brother to expose them if they were the one that deliberately damaged the camera. After everyone stands up – Graig stands up and grabs a chair and puts it in front of everyone. He says all right I didn't do it but I have something else to confess. I don't work at Costco. I played professional baseball for 5 years. He tells them all about his baseball career and how after he started coaching kids how to play. He says baseball also got him into doing yoga. Graig says but I did NOT break the F**king camera. He says that he apologizes for lying and that he wanted to reveal it because he feels really comfortable with everyone. He also reveals that he's 36 years old. I really feel bad but the first impression – everyone might have been like get the pro athlete out. So I'm glad I did it. They ask him if he has dual citizenship? Graig says no, I am 100% Canadian. All the house guests think its really cool and ask him questions. Graig says man Ash I'm 36! He says now that s*xual number makes more sense eh?!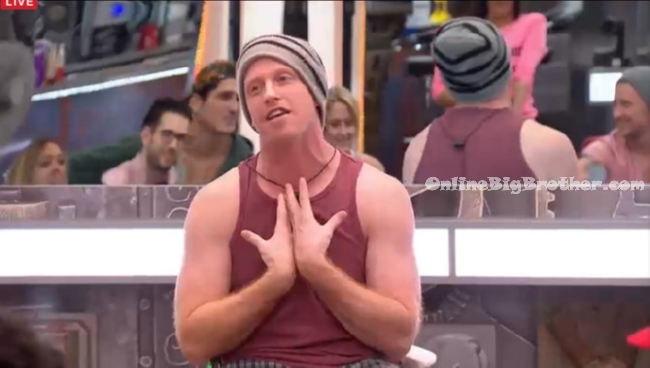 5pm Ashleigh and Sarah are sitting under the stairs. Ash says tomorrow's the 1st. Sarah asks "Could this be April FOOLS? No, No!" They both don't believe that big brother would prank them like this. Bobby joins them. Bobby says if I had to guess it would be someone that is dead in this game. A little FU to the rest of the house guests. I wouldn't expose them but.. Ash asks if that is the case would our punishment continue if they left? Naeha announces to the house guess in the living room – to celebrate Johnny's Birthday they'll all do a fashion show to get their minds off all this. They talk about how the guys and girls will be involved.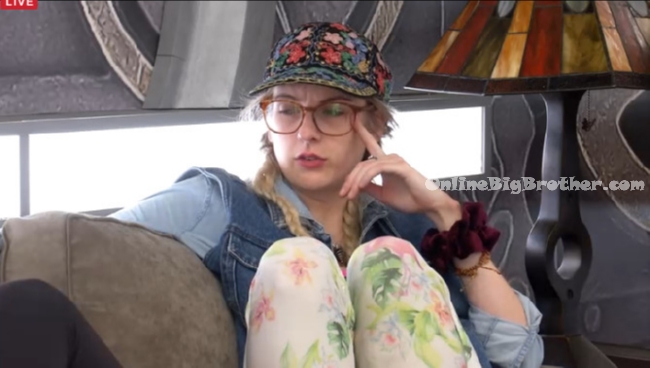 Up in the bedroom – Johnny, Zach, Ash, Bobby, Kevin, Pilar, Graig, Bruno, Godfrey are all talking about camera incident. Johnny says he feels sick to himself and is questioning if he could have done it. The others feel the same way. They talk about holding a court and calling the person they think did it. Graig says I'll do it! You know I will! Graig says she was as white as a ghost. She couldn't stop playing with her hair. Pilar says its scary living with someone who did it and lied about it. Its scary. Everyone leaves. Out in the backyard Willow finds Bobby's sweater that he wore when he walked in the house. It shrunk in the dryer. Ash tries it on and it looks better on her.

In the bedroom – Bruno confronts Cindy and asks her if she broke the camera. She says it wasn't her. He tells her its fine if it was you, just admit it. He holds out his fist for he to give him a pound. She says I'm not give you a pound. He asks her again if it was her and she says no. She asks him if it was her and he says no. Pilar comes in and Bruno asks her if she did it. She says no. He than asks Godfrey and he says no. Bruno says I'm asking everyone, lets just get it ou.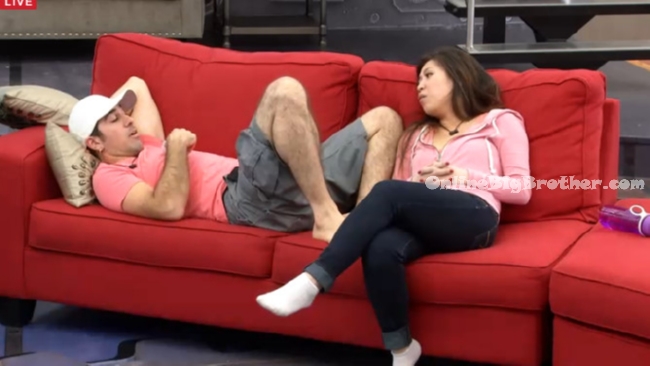 5:50pm – 6pm In the living room – Cindy reveals to Bruno that she has a crush on Jordan. Bruno tells her she would be very lucky to have him. Cindy says hey! Bruno says he would be lucky too. Bruno tells her she could be his cougar. Cindy doesn't like that either. He tells her to go kiss him. She says she did last night and today. She says she doesn't want do anything if she's just leaving.
Willow flirts with disaster touching the "broken" camera. Big Brother "Stop That!" @bigbspoilers #bbcan3 pic.twitter.com/J43hj6P1Pe

— Dawg (@DawgsBigBrother) March 31, 2015


Bruno, Kevin, Jordan and Willow investigate the "broken" camera. Willow touches it and Big Brother tells her to stop that. Kevin puts on a towel cape and then he and Zach check the camera for prints. He puts sugar on a plate and compares the house guests finger prints. When he checks Ash's prints he says they're an exact match and takes her to the havenot room to throw her into "jail". They both come out and he says she slept with the guard to get out.
6:30pm – 7:15pm Big Brother tells all the house guests to report to the Head of Household room. The house guests wait around talking about sports and tv shows. Graig says maybe they're filling the up the pantry. They talk about how they've been good and cleaned the bathroom and bedroom. Nothing going on. They're all just waiting for the HOH lockdown to end.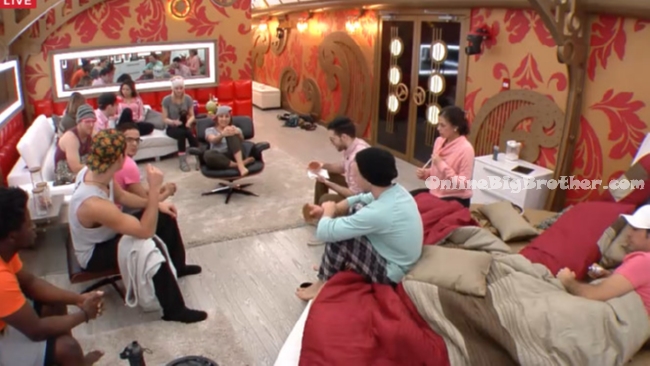 Support the site and purchase your Amazon goods through our link below. It doesn't cost you anything and we get a percentage of what you buy.
Amazon Canada
Amazon USA