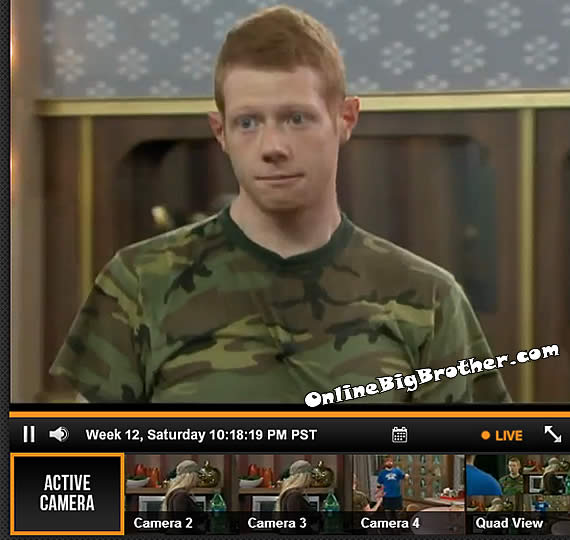 Ginamarie won part one of the three
Andy Won part two of three
Ginamarie and Andy will compete in the final HOH Wednesday night.
10:18pm the exterminators
Both Andy and Spencer tell GM that It was the most difficult competition of the season. They go over the comp with GM with emphasis on how hard it was.
Spencer says that Andy did the competition 15 minutes faster than him..
Big Brother 15 N*de flashback times here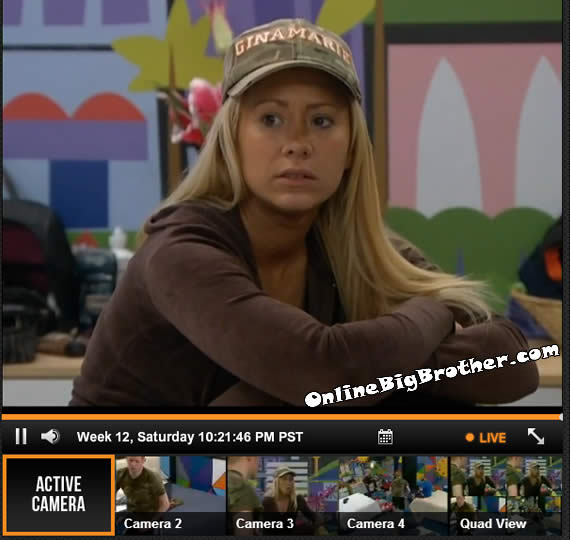 10:30pm Spencer and GM
Spencer tells her he fought his a$$ off in the competition. GM is worried "I don't know if I can f*** beat him in questions bro"
Spencer tells them he's angry at himself because he's heavy and cannot do the thing they can. Gm tell shim he did great he shouldn't worry about it.
S – "I want to put in a Alcohol request.. I think a bit of Alcohol will loosen up my muscles"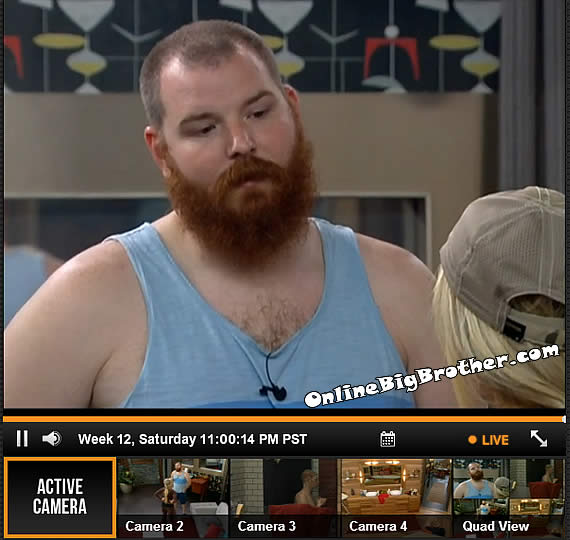 Gm and Spencer
Gm – "I'm nervous I cannot beat him in questions"
Spencer tells her not to worry the questions are from the houseguests she'll be fine, "It's really just guessing" Gm isn't convinced.. Spencer keeps telling her not to worry she'll be fine. GM – "I cannot let him win.. "
Spencer- "You know people you have relationships with them.. I know you can do it.. you can do it"
11:10pm They are hoping to have something to do these next couple days cause shits getting boring.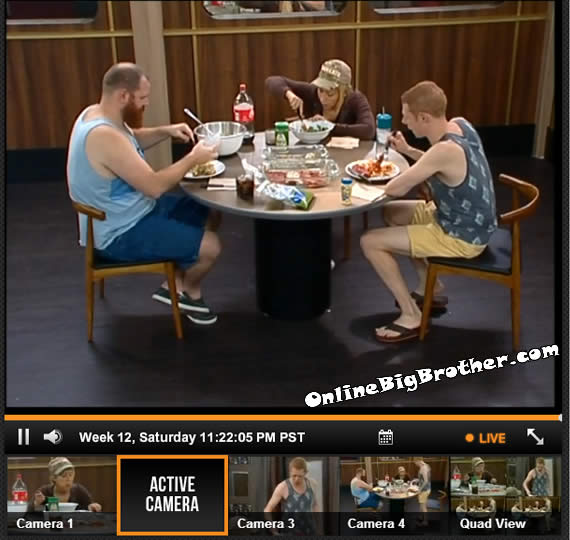 Andy mentions how GM would pull him into the storage room and tell him things like "I Don't trust JUDD" at the time it was hilarious but GM was right…
Spencer – "She was right"
Andy is talking about his strong relationship with his mom. When he left for college she cried. Spencer says he always loved his parents. Andy – "I'm going to be worried that I will be portrayed as some cold hearted person on the show"
GM – "Nahh I don't think so buddy"
GM – "You didn't backstab anybody.. First of all if you are thinking about that with Amanda and McCrae .. Amanda is a b!tch.. It's not like you did anything wrong that people didn't want you to do buddy.. you know what i'm saying.. "
GM – "It's not like you backstabbed like… freaking … Uhhhh … I'm talking like umm.. that chick who is blind and deaf.. "
Spencer – " Helen keller"
Gm – "Ya.. it's not like you f*** backstabbed that b!tch right.. You know what i'm saying… " (LOL)
GM – "You know what i'm saying"
Spencer – "I know what you are saying.. It's not like you backstabbed Helen keller"
GM "Ya you see what I'm saying.."
Andy laughs…
11:54pm Kitchen Andy and GM
Andy -"I'm so giddy right now" Andy says that spencer must be like "F***k" right now thinking that Andy will take GM over him. Andy – "I swear on everything I will not screw you over"
GM – "I will not screw you over"
GM – "My f*** foot hurts like a b!tch.. alright i'm going to have some ice cream and call it a day"
GM – "I haven't had ice cream in two weeks"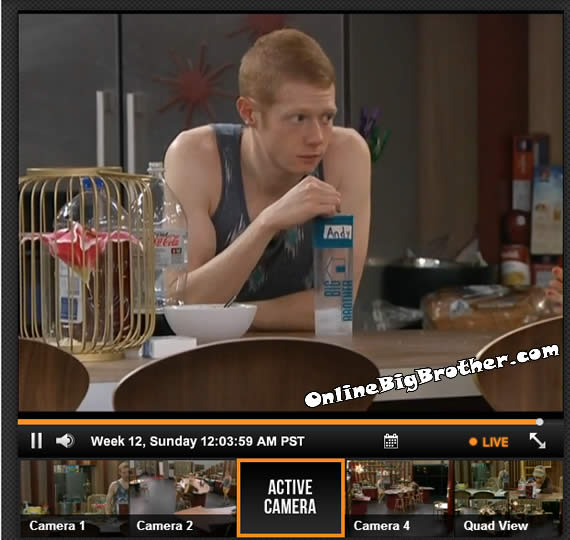 12:01AM GM and Andy
Andy – "one of us is going to get 50 grand another is going to get 500 grand"
Andy – "I only have 2 grand in savings I'm dirt poor"
GM – "I don't even have a bank account"
They go back and forth about how much they need the money.. the point that they won so little money while other players won prizes is brought up. Spencer having won money and a trip is a reason they should take each other to the final 2.
Andy – "You snagged the cutest guy here" Andy adds he knew Nick was a shady F*** but he thought he was cute.
GM – "I just don't know.. ohh Andy.. "
Andy – "Don't be sad.. I think he's so proud of you"
GM says she likes Nick, "I really have feelings for him.. I've never met anybody like him"
Andy -Ya.. even if things don't work out with Nick you know what a nice guy is and that is what you deserve"
GM – "My ex boyfriend was so mean to me.. I was so nice to him.. Stupid kid" GM starts to cry feeds cut to fish.
GM sobbing saying she had feelings for Nick she's not saying she was in love with him she just had feelings.
Gm goes on a little breakdown she blames it on her period, "once I get my period I start crying like a little b!tch" . She start listing off negative things about her self. GM – "I'm not a person that does smart school things I do my things"
GM – "Most guys want a b!tch and I'm not a b!tch" GM says she felt something with Nick she looking forward to seeing him again. .
Andy – "He was so cute i'm jealous"
They hug out and reassure each other to go to final 2
(I think the winner of final HOH takes Spencer and Wins Big Brother 15)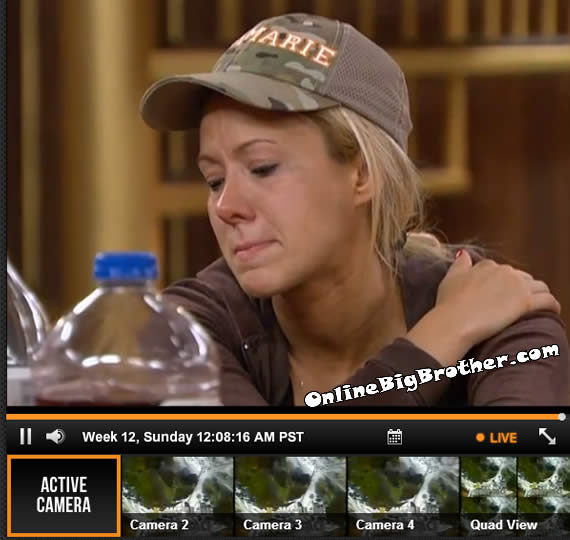 +
12:42AM Gm tells Andy she doesn't use tampons girls give her a hard time over it, "F*** them"
GM says that Kaitlin got a urinary track infection because she had dirty hands and was applying a tampon.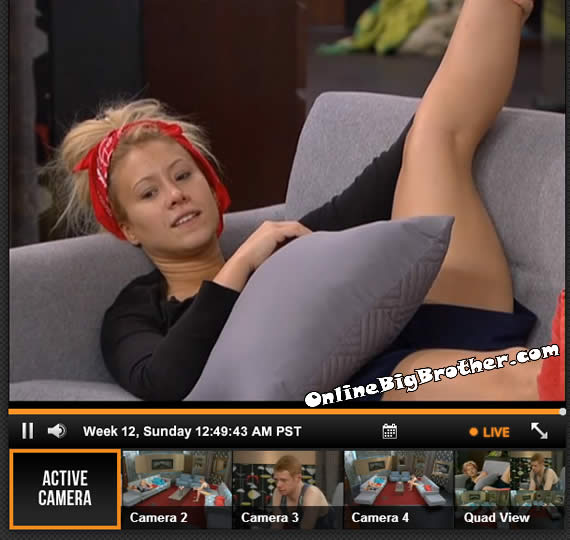 If you enjoyed the site this season please consider a donation.
[polldaddy poll=7394123]
Use the Big Brother Live Feeds to FLASHBACK to SEE what they can't show you on TV:
BB15 N!p Sl!ps / N*des