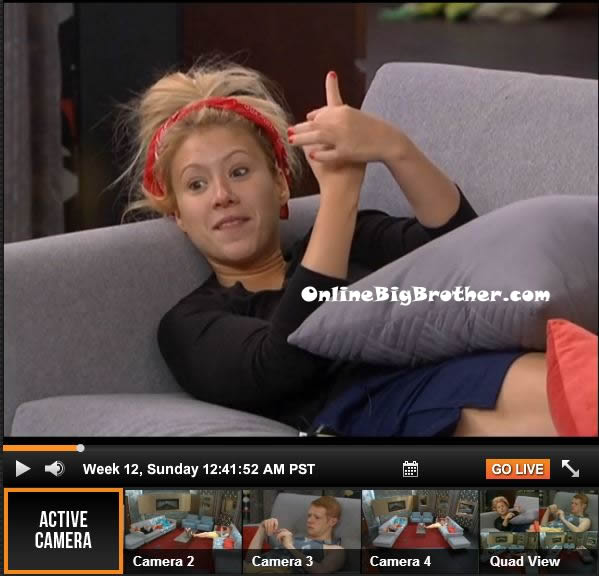 3 PART FINAL HOH Competition:
Part 1 – Spencer Vs Andy Vs Ginamaie = GM WON
Part 2 – Spencer Vs Andy = Andy WON
Part 3 – On Finale night – Ginamarie Vs Andy = ?
FINAL HOH winner = ?
12:45am In the living room – Ginamarie and Andy are talking. Gina says that she wants to work out. I want to look good for Nick on Wednesday. I've got 4 days to get my a$$ in shape. Andy asks if these HOH comp wins count towards their comp wins? Gina says yeah, you still won a competition. Gina says she has 3 wins then. Andy says he has 5. Gina says at least we will both sleep a little easier now. Andy says yeah and knowing that we will both be okay. Andy says that's what I was really scared about, like if I lost and you and Spencer would strike a deal or something. Gina whispers I didn't think he would win this one. I was getting nervous because it was a puzzle. Andy asks Gina if she knew when she saw it. Gina says yeah and when she saw the wall she was like uh ah. Gina says when I gave you the thumbs up I knew you were good. When he did it I was in the cockpit and fell asleep and when you did it I was like what?! Andy asks like in and out. Gina says almost. Dude his was almost double your time. Plus reading the rules then setting up. Andy says this week has been so stressful because I wanted you here over anybody. I trust you over anyone and wanted to take you to the end. Andy says that spider web veto I knew your life was on the line. If McCrae had won that one you would have gone home. Andy and Gina talk about past events of the house. Andy says thank goodness for the way things happened because we will be in the final two together. Andy says that saying he started in the house were: sl*t ever, get your sh*t together. Ginamarie talks about the things she's made up in the house like: Rosco's Name, flip flopper, shaddy lane, shaddy f**k, cockroaches, check yourself, rat, classy broad, all a-yous! Andy comments that at finale Elissa will hate us both equally. Gina talks about lying to Elissa. Spencer comes out of the diary room. Spencer says it's amazing that that is the only lie you told in the game. Ginamarie gets called to the diary room.
Big Brother 15 Live Feeds: FREE 2 DAY TRIAL
1:05am Spencer tells Andy that he feels deflated. Andy says don't. Spencer says it's not really about the competition, it's about the next couple days. Andy says that thinker in me is weighing all the options but she is terrifying. Spencer says I know. Andy says I just wish we didn't have so much time before, like what are we going to do for 3 days. Andy comments that this was one of the most elaborate sets ups we've gotten. Spencer says it was bad a$$. Andy says it was so cool waiting at the top to repel down. Spencer asks was your d**k and nuts hurting. Andy says yeah. Spencer says mine were pinched. Andy gets called to the diary room when Gina comes out.
1:25am In the kitchen – Gina talks to Spencer about the part 3 of the HOH and says it's just questions about people. I think I will be okay. Spencer says yeah. Gina says I just don't know what they would ask. Spencer says it will be like what was so and so's favorite moment in the house, and then they will give you two options. Gina says if I have to win a question comp it has to be now. Spencer says you and him know everyone about equal. You probably know the girls a bit better. Gina starts cleaning and Spencer watches.
Andy comes out and joins them. Andy comments that Spencer is going to be peeing tonight after his 3 beer. Spencer says honestly I am pretty drunk.
Gina says you should go for 4, you will sleep like a champ!
The conversation turns to Gina talking about her pageants. She says she's probably in like 60 of them and won like half of them.
She says now that she doesn't compete she gets to run them.
Spencer says that Candice said she was the best pageant queen's ever.
Ginamarie says she can lick a f**king dirty a$$hole because she ain't sh*t and I never even heard of her.
Spencer says she said she has her own trading cards. Spencer says Candice wrote a book about it.
Gina says if she competed in a pageant against Aaryn and I we would kick her a$$.
Spencer says I would believe that, 100%.
Gina says I bet Aaryn looks amazing on stage. Spencer says Aaryn's beauty radiates like across on fire on someone's yard. Gina laughs. Andy says oh my god!
Spencer says I love how the only question I got all year was how messy I am.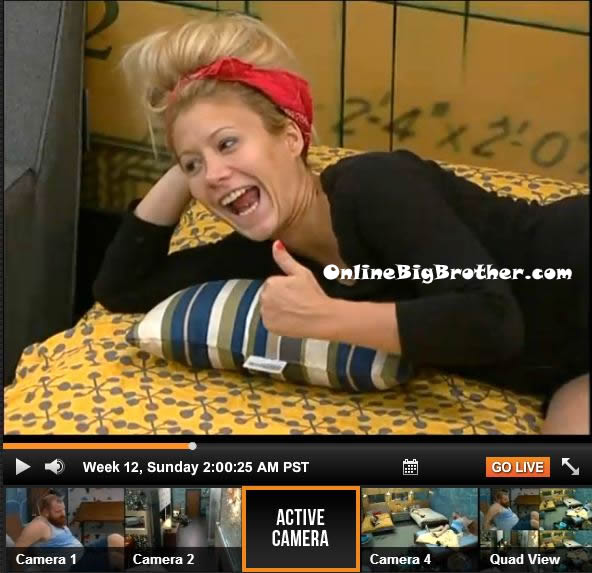 2:30am – 3:35am The final 3 play cards at the kitchen table. After play for a half an hour they finish up and head into the living room to lay down on the couches. They talk about movies and other random things and then get ready for bed.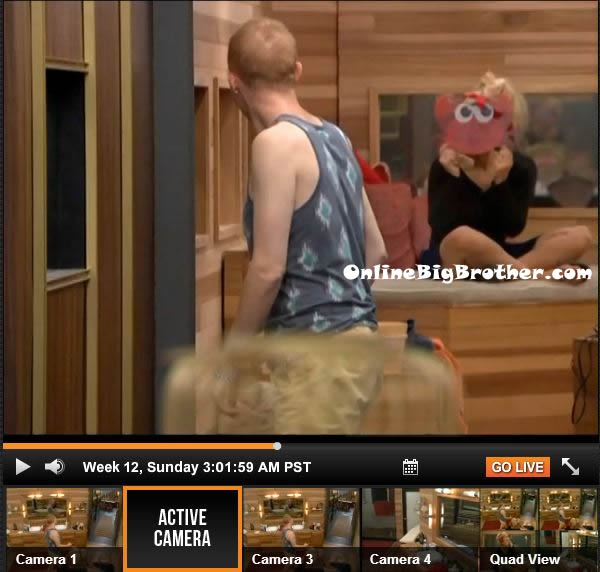 6:55am All the house guests are still sleeping..
9:45am The House Guests are still sleeping..
10:30am – 10:45am Big Brother wakes up the house guests..
11:07am – 11:20am The live feeds return from waking up the house guests. All of the house guests head back to bed…
12pm All is quiet in the BB house..
2pm Final 3 are sleeping up a storm..
2:15pm Andy and Ginamarie wake up. Andy goes to the diary room and asks when the back door will be opened up. He comes back out and tells Spencer they told him they would get it when they get it. Andy complains how that is a bullsh*t answer. Andy says It's like your mom telling you can't do something without a reason. F**k you mom! Andy complains about not having any clean clothes and needing the washer.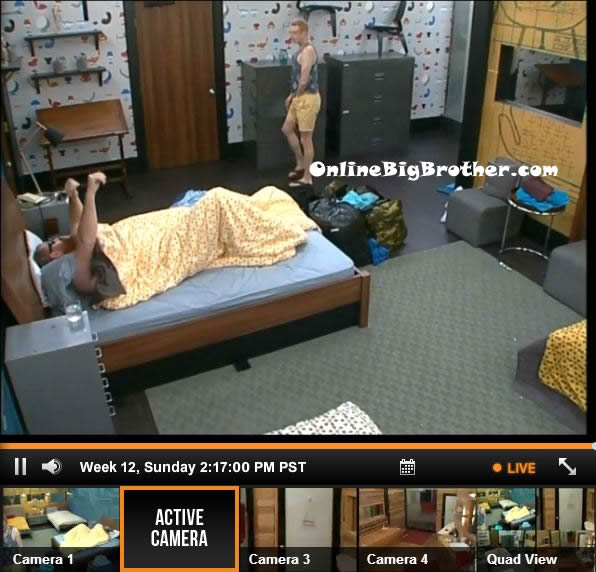 2:25pm – 2:35pm Andy and Ginamarie sit around Spencer bed. Gina talks about how she used to sing. Andy goes to make a pizza. Gina complains about wanting games or something to do. Andy comes out of the storage room and complains about his wrists. They discuss where they're sore. Andy says please give us something to do!!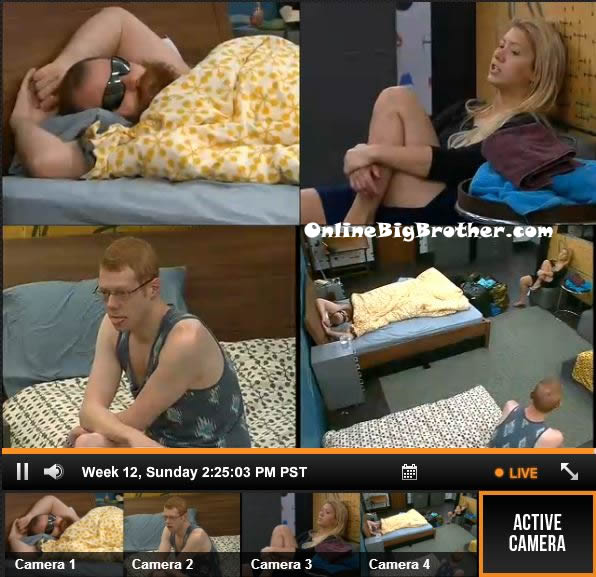 2:35pm – 3pm Big Brother opens up the backyard. Andy and Ginamarie run yelling and screaming to the backyard. Ginamarie says she's going to lay out, it's beautiful. Andy says he's going to do laundry. Spencer goes back to sleep. Andy asks Gina so we're still good, nothing will change your mind. Gina says oh yeah we're good, nothing to worry about. I don't even need part 3. Andy tells Gina she can sleep easy because I will not.. Andy says your areola is out by the way.. Gina asks which one? Andy says your right one. Gina talks about wearing the same red dress on finale that she wore coming into the house because people will remember her because of it. She says I don't want to be confused with the other blonde Aaryn. She says like you will be remembered for your red hair and Candice because she's the only black girl, you know what I mean. Andy heads inside and tells Spencer about how Gina was telling him about her dress for finale while her right areola was hanging out the entire time. Andy talks to Spencer about how this is a great experience but that he just wants it to end. Spencer and Andy comment about how they both lost about a pound being in the house. Spencer jokingly says he gained 15 pounds while on the Elissersize exercise diet. Andy jokes and says I became a bigot and had racist thoughts while on the Elissersize diet. Spencer says yeah I developed a cough while on it.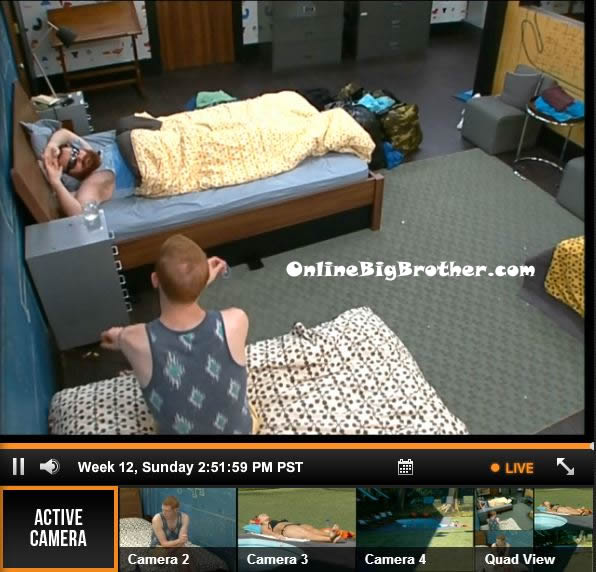 Please consider donating. Simon and I work 24/7 all season long to bring you all the live feed updates and spoilers. ANY amount is greatly appreciated! Your donations go directly to paying the server and bandwidth fees required to run this site.
[polldaddy poll=7394123]
Use the Big Brother Live Feeds to FLASHBACK to SEE what they can't show you on TV: